10 Essential Exit Interview Questions to Ask for Team Managers
When an employee decides to leave, it can be difficult for the employee and the team manager. However, it is also an opportunity to gain valuable insights into improving your team's culture, processes, and overall employee experience. That's where exit interviews come in. This blog post will discuss the essential questions to make the most of exit interviews. We will cover the top 10 questions managers should ask during exit interviews to get honest feedback from their departing employees. Additionally, we'll talk about how to handle sensitive topics and use employee feedback to improve your team's overall experience. So let's dive in and learn how exit interviews can help you build a better team!
Understanding Exit Interviews
Exit interviews
are interviews conducted with employees who are leaving a company, either voluntarily or involuntarily. An exit interview aims to gather feedback from the departing employee about their experiences and reasons for leaving the team. Conducting compelling exit interviews is essential for understanding why employees are leaving and how to improve retention. By asking the right exit interview questions in a confidential and non-threatening manner, you can gain actionable insights into company culture or management issues that may be impacting employee satisfaction or morale. Use the best exit interview questions to gather honest feedback from departing employees and identify common themes that may be contributing to high turnover rates. Then, follow up with former employees and use this valuable information to create a workplace environment that encourages top talent to stay on good terms.
Common Exit Interview Questions
It's essential to ask the right exit interview questions to conduct compelling exit interviews. These questions should focus on why the former employee is leaving, their experience with management and coworkers, and any areas for improvement. By using open-ended questions that encourage honest feedback, you can gather actionable insights to improve retention rates and identify common themes that may negatively impact morale or turnover rates. Remember to interview in a confidential and non-threatening manner to ensure employees feel comfortable sharing their thoughts.

Exit Interview Question 1: Why are you leaving?
Asking employees why they are leaving can offer valuable feedback on the team's strengths and weaknesses, identifying areas for improvement. In addition, non-confrontational questioning can maintain positivity. It's common to ask about job satisfaction, management feedback, and suggestions for improving the workplace culture during exit interviews. By understanding why some team members might consider leaving, a manager can learn about the weak areas of their team. It can help them devise strategies such as better
training and career development opportunities
or an updated job design to improve retention.
Exit Interview Question 2: Did management support your growth?
Asking about management support for growth is crucial for employee retention and engagement. It can reveal if employees feel valued and provide feedback on development opportunities. Further, it will help the managers determine what support team members are looking for, enabling them to create various avenues for the team members. Addressing concerns that can improve the overall employee experience and retention.
Exit Interview Question 3: Did you feel valued with the team?
Inquiring about an employee's sense of value can reveal their overall job satisfaction and company loyalty. Therefore, it's crucial to use open-ended questions for honest feedback. A
sense of belongingness with the team
is built based on how valued the member feels; hence, it becomes an important area to probe into. Further inquiries can pinpoint areas where the employee may feel undervalued and provide insight into where the team can improve recognition and appreciation.
Exit Interview Question 4: Was there anything that could have been done differently?
Asking about areas of improvement can provide valuable feedback for enhancing employee satisfaction and identifying potential issues that contributed to the departure. It's crucial to approach this question with an open mind, without confrontation. Document responses and consider them in policy changes. Additionally, an openness toward change and improvement helps teams build better equity as employers.
Exit Interview Question 5: How was your overall experience with the team?
Enquiring about the interviewee's overall experience can provide valuable insights into the team's performance. Asking follow-up questions and keeping an open mind can reveal potential issues or growth areas for the team. This feedback can help improve the team's performance in the future. For instance, as the team member near their exit, they could talk about untouched issues impacting the team.
Exit Interview Question 6: What advice do you have for the team to improve?
Ask departing members for feedback and constructive criticism to enhance team performance. Managers should listen attentively and note insights without getting defensive or dismissive. The provided feedback can be used to improve the work environment and identify areas that need change. In addition, while being a part of the team, the member can give the manager an insider's view of how daily functioning feels.
Exit Interview Question 7: Did your work receive sufficient recognition?
Inquiring about recognition is crucial to gauge employees' sense of worth. Recognition can take various forms, including verbal praise, bonuses, or promotions. Failure to recognize efforts may lead to low morale and job dissatisfaction. Evaluating your team's acknowledgment system can help you identify areas for improvement. Consider implementing a recognition program or regularly acknowledging team members' achievements to boost morale and retention.
Exit Interview Question 8: What was your best experience with the team?
Asking about positive experiences with the team at the end of an interview is beneficial for both parties. First, it provides valuable feedback for managers on what they are doing well and can inform future hiring decisions. It helps them double down on the initiatives that team members genuinely love. Managers should actively listen and ask follow-up questions to gain insight into what makes a positive team experience.
Exit Interview Question 9: Was the work-life balance healthy for you?
Inquiring about work-life balance is crucial to understanding employee satisfaction and identifying potential problems in company culture or management. In addition, it's essential to take feedback seriously, especially if multiple employees raise concerns. Managers can change some patterns and switch p things – such as hybrid working and
felxi time arrangements
– to bring a more autonomous and comfortable environment for the team. Finally, a healthy work-life balance can improve productivity, job satisfaction, and employee retention.
Exit Interview Question 10: Did your role change since you joined? How?
Asking if your role has changed since joining can uncover whether the team member had opportunities for growth and felt challenged. It can also identify communication or expectation issues with management. Knowing how roles shift over time can improve team structure, workflow, career development, and training opportunities. In addition, it also helps you account for changes in the industry pertaining to the team member's operations – enabling the team to create a more modern workflow that is equipped to take on the competition in real-time.

How to Handle Sensitive Topics in Exit Interviews?
Exit interviews, while great tools for managers and leaders to get new insights right from the people who are closest to action, can also turn into difficult conversations if they are not appropriately handled. Hence, it is critical to ensure that exit interviews are done with utmost care and respect for the individual to has contributed to the team's success. A few simple tips to keep in mind are:
When conducting exit interviews, treat sensitive topics with respect and empathy.
Use open-ended questions to encourage the employee to share their perspective.
Listen actively without interrupting or contradicting. Do not get defensive.
A third-party facilitator can also make the conversation more comfortable for everyone involved.
Using Employee Feedback To Improve The Employee Experience
Exit interview questions are a great way to gather honest feedback from departing employees and improve the
employee experience
. Managers can gain actionable insights about morale and company culture by asking purposeful questions about leaving, job description, work-life balance, employee satisfaction, development opportunities, and more. It's essential to follow up with departing employees after the interview process and use their constructive feedback to improve management practices and create a better workplace environment for current and future employees. Sample exit interview questions can include inquiries about the employee's reasons for leaving or any negative feedback they may have. In addition to improving retention rates, compelling exit interviews can also help attract top talent by showcasing a team's commitment to inclusion and employee benefits.
Conclusion
Exit interviews are an essential tool for team managers to understand why employees leave and identify areas of improvement. Sensitively asking the right questions can provide valuable insights into your organization's culture, management, and work environment. It is important to make sure employees feel comfortable sharing their thoughts and opinions during the exit interview process. Use employee feedback to improve the employee experience in your organization. Implement changes based on feedback to show that you take your employee's concerns seriously.
Grab more insights from experts with a free Exit Conversation Toolkit
Download your free copy of the Exit Conversation toolkit to learn through more samples and guides.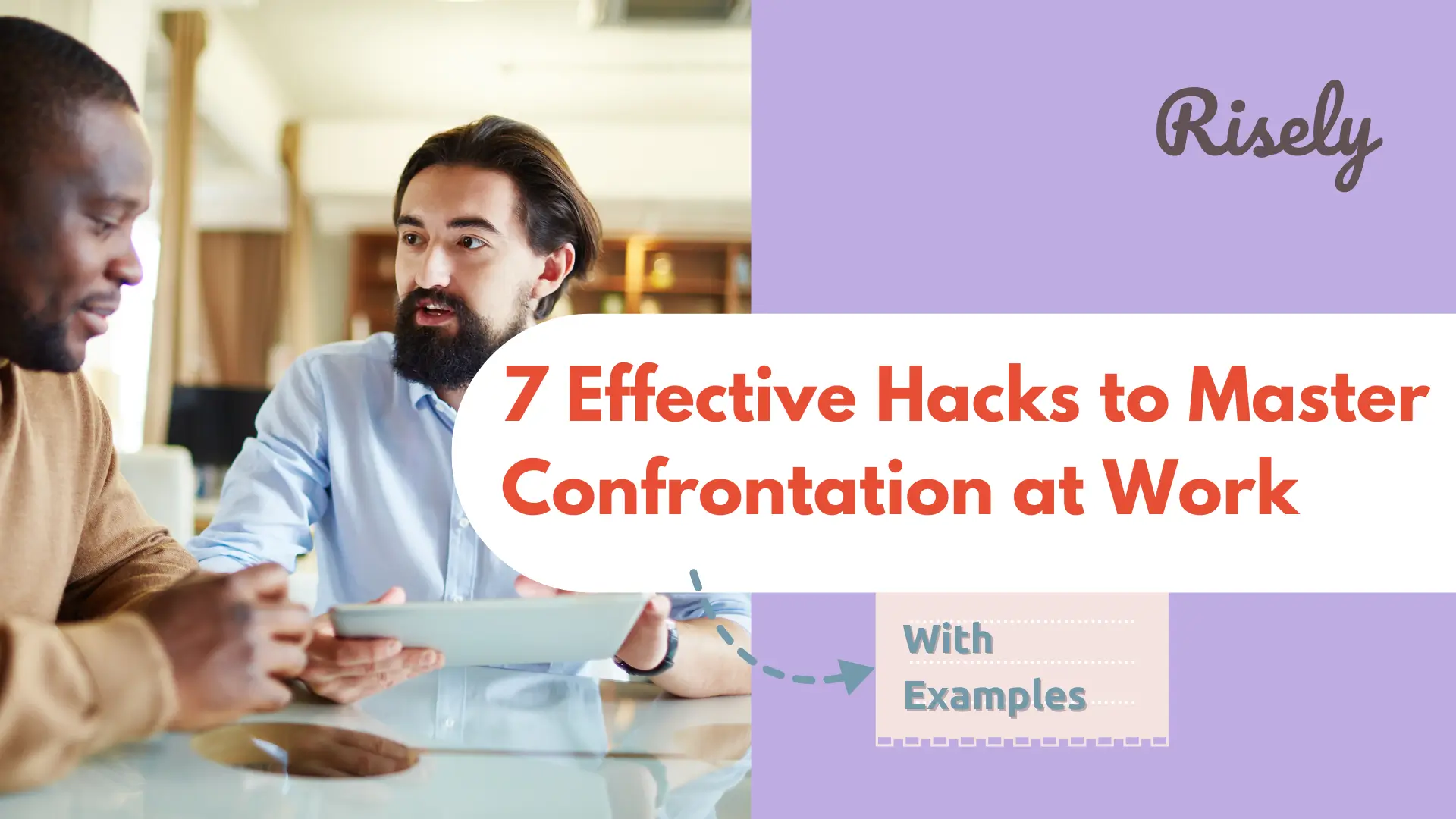 7 Effective Hacks to Master Confrontation at Work (With Examples) Working in a team can be a fantastic experience but it comes with challenges. One of the biggest challenges that…
How to have difficult conversations at work? 5+ Examples and Tips Difficult conversations are inevitable, whether in personal relationships or at work. Avoiding these conversations can result in negative feelings…