7 Tips To Conduct An Effective Performance Review For Productivity
Managers worry a lot about performance. After all the hectic efforts to boost performance, the game finally moves to performance review. It is an important task for any person managing a team. Conducting an effective performance review in your team can be a challenge in itself. In order to overcome this, you should know to hold a great performance review meeting with your employees. In this blog, we will understand performance reviews and how to conduct them. Moreover, we will see how managers can use performance reviews to improve teamwork, which enables higher productivity.
What is a performance review in your team?
A performance review is a regular assessment of an employee's work during a particular time. It is usually conducted with the manager or supervisor responsible for guiding the employee. In this setup, the employee understands whether they have been able to meet the company's objectives or not. In short, a performance review is a meeting between the manager and employee to appraise the work's progress. This allows employees to reflect on their progress and that of their team over time while also providing feedback for development planning purposes. This meeting is an opportunity to give feedback that shows appreciation and motivates employees to improve their work. A performance review in your team can hold multiple purposes. Let's understand a few of them here-
What are the purposes of a performance review in your team?
Every team and individual members work toward a set of long-term goals. Further, these goals are broken down into tangible actions that can be reliably measured. The performance of an employee is a measure of achievement of these goals. Hence, a performance review primarily serves to track progress across the variety of objectives that the employee has been working on – this includes everything from organization-wide to individual objectives. Afterward, after looking at the progress made by the employee, the manager can identify gaps in the track. Through this, they can list the areas that need work to be done and accordingly shift the focus of their efforts. Based on this, the manager
provides feedback
to the employee for multiple purposes. This includes encouraging and
motivating employees,
helping them improve performance, and
enhancing effective communication
. Additionally, this meeting can also help the managers understand the issues of the employees. They can bring up hurdles that have been slowing down their progress. All in all, it is a way for managers to express their opinion on the performance of the employee. If there are any shortcomings, those can be discussed with the employees. You can share potential changes in job roles or duties too. Managers can also use performance reviews as a means of
employee recognition
. Positive words of appreciation act as an amazing confidence booster for people. Moreover, you do not need to keep this limited to professional goals, and you can also discuss the impact made by the employees on the
team's environment
or attitude. For instance, you can use the opportunity to applaud an employee who made the atmosphere more collaborative by taking the initiative and involving everyone. To sum up, a performance review in your team paints the big picture of the employee's work so far that the small bits can be fine-tuned and improved upon.
When should a performance review be done?
Now that we have understood the what and why of performance reviews, we need to look at the when. If your meetings are too close, you might end up without having a lot to say about your employee's performance. But if they are too far away, you might forget what you thought of saying. The solution to this conundrum lies somewhere in the middle. Performance reviews are most effective when they are conducted once every quarter. Quarterly performance reviews give you sufficient time to study their work. The changes in an employee's performance – improvements or worsening – can be noticed. Further, the manager gets adequate time to form an opinion in the present and ongoing context. It is also beneficial for the employees, as they can get regularly updated feedback. It establishes an ongoing conversation between the two parties; managers can keep a check on issues that employees raised in previous meetings. Reviews must be held frequently enough so that both employees and managers can track changes over time. Feedback from reviews helps groups stay on top of
industry trends,
making it easier to adjust the organization's strategy when necessary. Moreover, performance reviews should not be delayed excessively as they will fail to serve the whole purpose of the review. The information may be irrelevant to the present context in the case of reviews offered after a long time. Consequently, the knowledge gaps identified and the steps suggested will be misleading too.
How to prepare for a performance review in your team?
A performance review is an important event that team members need to be prepared for. However, even a manager would do great to make some preparations for the meeting. Here are a few things that you can do before a performance review:
The key is to ensure you have everything ready in advance so there are no surprises. This means you should prepare a list of key points you want to discuss with the employees. Further, you can also prepare a tentative list of questions to ask the employees. Keep in mind to ask questions that help you access the required qualities.
Decide on the team's goals and focus on building upon the successes that have been achieved. The performance review should be a positive experience for all parties. It would help if you aimed to give the employees feedback that will help them improve their skills and abilities. The goals of the review are to identify areas where progress has been made, as well as provide helpful tips on how to continue improving in those areas.
Discussing feedback ahead is important so everyone knows what to expect. You have to provide a comfortable experience to the employees during the meeting. Intimidating them or getting the better of them is not the goal. Make the employees aware of the process and clear misunderstandings, if any.
In addition, make sure that everyone feels included and acknowledged during the review process. Try to look for ways to make them a part of the process rather than the pivot of it. By doing this, team members will be more likely to work better. Lastly, please start thinking about the upcoming performance review and what you need to do in the meantime to make the most of it.
How can you conduct a performance review for productivity?
Performance reviews are an important part of the workplace. They help to create a good team culture and foster better communication between team members. It's important to be objective but also consider team members' contributions. By following these tips, you can ensure that your performance review is constructive, professional, and effective. Conducting a performance review, a step-by-step guide:
Take enough time
Your performance review meetings need extensive discussions that dive deep into the employee's experience so far. This cannot happen amidst a rush. Therefore, enter a meeting with a calm mind and plenty of time on your hand. You might need to go back and forth on several issues, and employees need time to express themselves freely. Listen attentively to get the most insights out of the conversation. An hour for a performance review is an investment in the team's culture, not a wastage or a formality.
Create a comfortable atmosphere
Make sure that your conversation does not turn into a monologue. A manager will surely lead the meeting and provide most of the review. But a great manager will be considerate of the employee too. You should ensure that they are engaged and get enough time to speak. They may use this meeting to raise issues that may not have other avenues available. Learn the
art of conducting effective one-on-one meetings with a free toolkit!
Open on a positive note
Start the meeting on a positive note. You might begin by appreciating the employees' contribution in the previous quarter, or you can appraise their behavior. Give precise feedback and appreciation. General phrases like "Good job" may do more harm than good. It is among the
things that you should never say to your team
. Instead, highlight their achievements in a way they feel seen and valued. It will translate into motivation.
Do not shy away from hard topics
Not all is always good, so the manager has to take both sides. While beginning on a positive note may keep the conversation rolling, you also must consider matters of concern. Performance review in your team is where you can discuss falling productivity, unprofessional behavior, or any such issue that is detrimental to your team. Further, you can ask employees if they are facing any problems. Together you can try to resolve these issues and improve things for the whole team.
Offer solutions
Once you have figured out the situation, you can offer solutions to the problems. You can also introduce employee rewards for achieving certain goals or performance standards. The solution might need some tailoring to suit the needs of the employees. Thus, you can look to introduce new things to your management style.
Establish employee journeys
Further, you can highlight the direction in which the company is moving forward and its upcoming goals. Use the performance review meetings as a moment to stop and figure out the next steps. You can engage with employees to understand what parts of the projects they will be fit to work on. After sorting the objectives to be achieved, you can help the employees establish a course of action. This can include things to do until the next performance view, where you will be accessing the progress in these goals. Equip the employees with the help they need in doing so.
Record and review
Lastly, take note of the discussion. The key points will help you prepare for the next performance review in your team with the employee. However, you will be able to track progress over a longer period. The takeaways from these discussions will be a handy tool in your managerial kit. It will help you tackle situations beyond the review meetings. Continue reading here for a
comprehensive guide on performance reviews
.
Conclusion
A performance review for productivity is an important process that helps improve a company's productivity. Knowing the purposes of a performance review in your team and the steps involved in conducting one can ensure that the review is successful. Make sure to prepare well and give your team the feedback they need to improve their performance. We hope this blog was of help!
Make performance review cycles fruitful by practicing active listening.
Get the free active listening toolkit to maximize the value generated from your team members' feedback.
---
How do you write a performance review for productivity?
The key to writing a good performance review is being honest and helpful for the team members. Hence, you should point out the habits that limit productivity and appreciate behaviors which lead to high performance too.
What is a good statement for a performance review?
Some phrases to use for a performance review can be: "Tries to solve problems with creative thinking always"
How do you comment on productivity?
---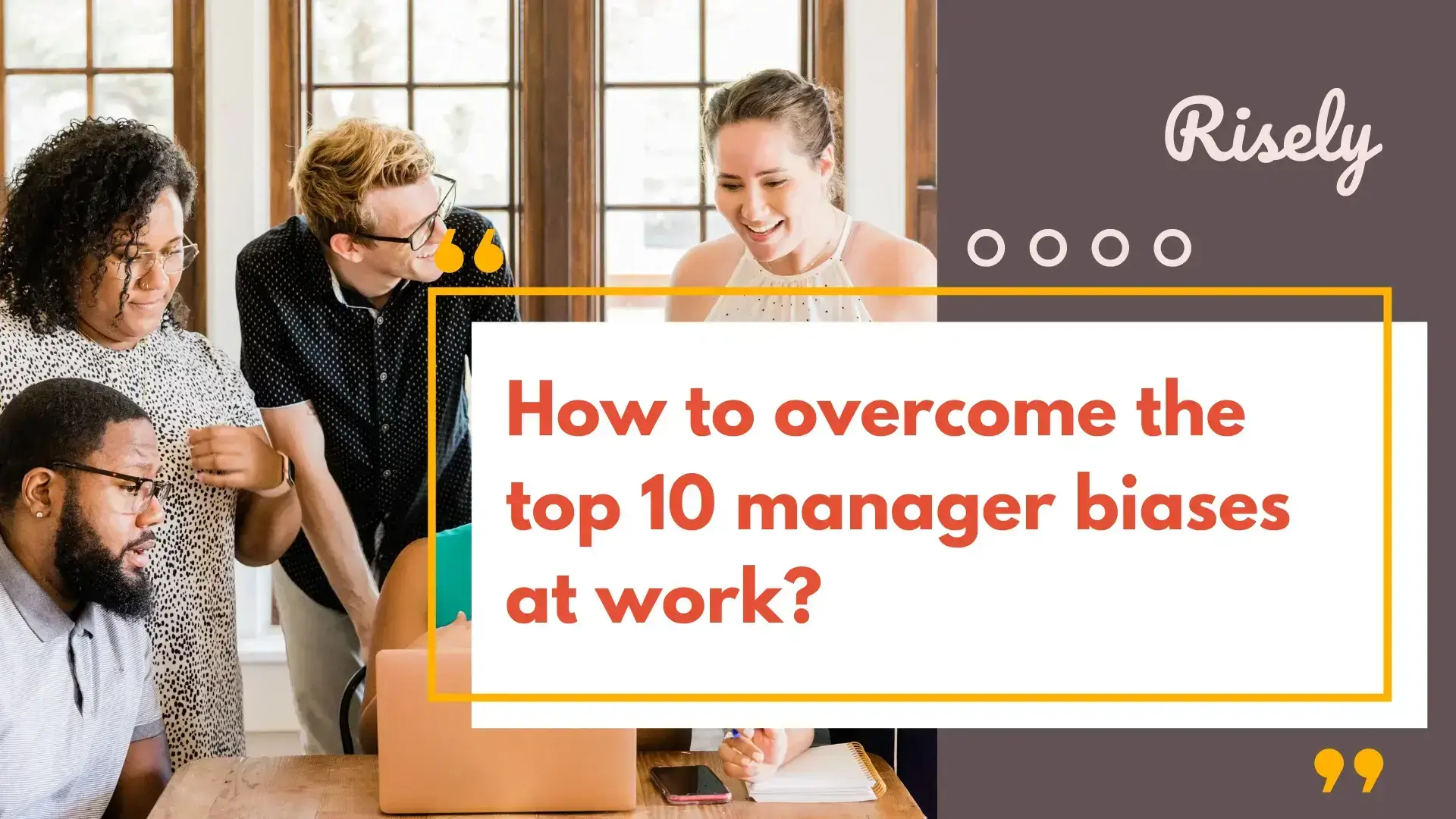 How to overcome the top 10 manager biases at work? In our day-to-day interactions, unconscious intuitions play a significant role that goes unnoticed. Nobel laureate Daniel Kahneman has been a…
What is the 10/20/70 Rule? How It Effectively Maximizes Your Productivity Are you tired of working long hours and not feeling productive at the end of the day? Do you…