How to equip your team for your exit from the company? An effective stepwise guide
Change is a prominent part of the journey of any team and team member. The resilience of your plans is unveiled when the team swims through significant changes without losing significantly. Over time, a manager may have to steer their team through numerous changes. However,
change management
becomes critical when a change occurs around the team's manager. A manager is like a pivot to the team, and their exit can create manifold repercussions. It is essential to safeguard your team against any trouble that a change of guard can put them into. As a manager, it's crucial to have a solid exit plan in place. This plan will help you plan and organize your exit from the company, minimize the impact of your departure on team members, and make sure that productivity and efficiency are maintained in the future. This blog outlines the steps that a manager can take to prepare their team for their future exit from the company. By following these steps, everyone involved can minimize the disruption and ensure a smooth transition.
How does your exit from the company impact the team?
A departure of a manager can have a significant impact on an organization. The effective management provided by a manager would be hard to replace. Departments may be left without leadership, and employees may scramble to fill the void haphazardly. Without a clear guide and a set path, the team might fall prey to disarray. Plus, the menace of miscommunication can run loose too! A manager has several vital functions in any organization, and in the absence of whom, the organization can fall into pieces. To minimize these impacts, managers need to develop a plan to exit from the company that keeps working as circumstances change. That's why it's essential to prepare your team for the possibility. Additionally, ensure that your employees are briefed on the plan and ready to take over as necessary. Lastly, create a clear and concise outline before you leave the company to help everyone know what to expect. Doing this will ensure a smooth and seamless transition for all involved. This plan determines how you will leave your company or business and should be updated regularly to ensure it's relevant and aligned with changes in the market. Some critical considerations in developing a plan for your exit from the company include determining the best way to protect yourself and minimize the impact of your departure on employees and customers. Additionally, it's essential to have measures in place to ensure your team is transitioned smoothly and that any pending legal matters are handled promptly and effectively. Moreover, you must communicate your exit plan to all stakeholders so they know the plans and can make adjustments necessary for your exit from the company. There is no one perfect way to execute an effective exit plan when a manager leaves- each organization will have different needs that must be considered when creating and executing a plan.
Steps a manager can take to prepare their team for their exit
A manager critically needs a plan for when they leave the company for two primary reasons. First, it allows them to take pride in their work and be satisfied with the end result. Second, it allows the manager to move on positively, knowing that their team will be in good hands. Here are five key steps that a manager can take to help prepare their team for a successful exit from the company:
Communicate with your team
Managers must regularly communicate with their team when planning a significant change. Therefore, you should also communicate with them about your upcoming exit from the company. A meeting where you inform everyone about your decision and the upcoming course of action can be a good start. This way, the team knows what's happening and can make sense of the big picture. Collecting their feedback on the subject is essential in order to ensure that everyone continues working towards a common goal and that their concerns are addressed. If you don't collect
feedback
, it will eventually come out in other ways – such as tension or chaos. In this way, your team will not only be unhappy, but they may also sabotage each other instead of
collaborating
in the absence of leadership. When you are managing a dynamic squad of people who work together closely, good communication is key to sailing them through the ups and downs. Continue reading here for tips on
effective communication for managers
.
Analyzing and putting safeguards
Before making your moves, it is vital to analyze how the change will impact your team. This bird's eye view of the situation will enable you to enlist the tasks you must do after or during the exit. This can include things like looking for a new manager for the team and putting in measures that help make the change easier. Moreover, it will help you understand if the team will suffer some problems in your absence. If you can identify any concerns, you can take measures for them specifically. For instance, you might feel that the team may be hostile to new management owing to unfamiliarity. You can inform them about changes in the lifecycle of the team and individual employee journeys to resolve that concern. There may also be individual cases regarding your team members' growths that you may want to close or give a proper handover to the incoming manager.
Prepare the second generation of Managers
During your employment as a manager, you can try to pick suitable people for the role. Preparing the next generation for leadership roles can offer tremendous benefits. An
employee mentoring program
can significantly help you. Primarily, it creates a new line of in-house leaders who understand the values and vision of the company already. The new manager can quickly come from within the team if you can find a suitable candidate. If you have a person in mind, you can offer them training and begin the process of sharing responsibilities with them. In this way, you can prepare your team not to feel astray when you eventually leave. The next manager can take up exactly where you leave the company, offering seamless continuity. The team will look at the change as a natural part of the process, reducing stress. The transition to the new manager will be easier if they come from within the organization.
Transfer knowledge to the next line of managers
Take time to transfer your knowledge and insights based on experience to the new generation of upcoming managers so they can readily use it and jump into the managerial role. Your information regarding the team culture, methods and techniques, and vision can significantly help the incoming manager. Further, you can share insights with your team so that they can assist the new manager in acclimatizing to the new team and role. A document that broadly covers all the aspects can become a handy guide for the next manager to understand the team better and manage it effectively. You should also share details concerning your ongoing projects and plans with the next manager.
Leave a legacy in stable systems
It is super easy to run into chaos in the absence of guidance. To save your team from the same fate, you can take steps as a manager to create resilient management systems that work independently of the people who established them. You can take the help of management tools such as OKRs to design the future trajectory of work. In this way, your team can continue progressing until a new manager takes charge of matters. Additionally, this program creates an essential bond between you and the team that will last long after you've left. Moreover, it will help the next manager, as they will not have to figure things out from scratch. It also establishes a toolkit that the next manager can easily access in order to facilitate team decisions. The process overall becomes smooth and runs freely. Further, depending upon the circumstances during and after the parting from the team, you may continue giving a helping hand to your team. Your experience and understanding will always be instrumental for the next line of team managers.
Conclusion
As a manager, it is vital to have a plan in place in case of an exit. Doing so creates a smooth transition for your team and helps them maintain continuity while you move on to new opportunities. This plan should consider the impact of the manager leaving on the team and how best to prepare them for the future. By understanding these key points, you can create a plan that will help your team be as successful as possible in the future. Don't hesitate to leave your thoughts and comments below!
Handle exit conversations like a pro with the free exit conversation toolkit.
The free exit conversation toolkit is an effective guide for managers to handle exit conversations with their team members swiftly.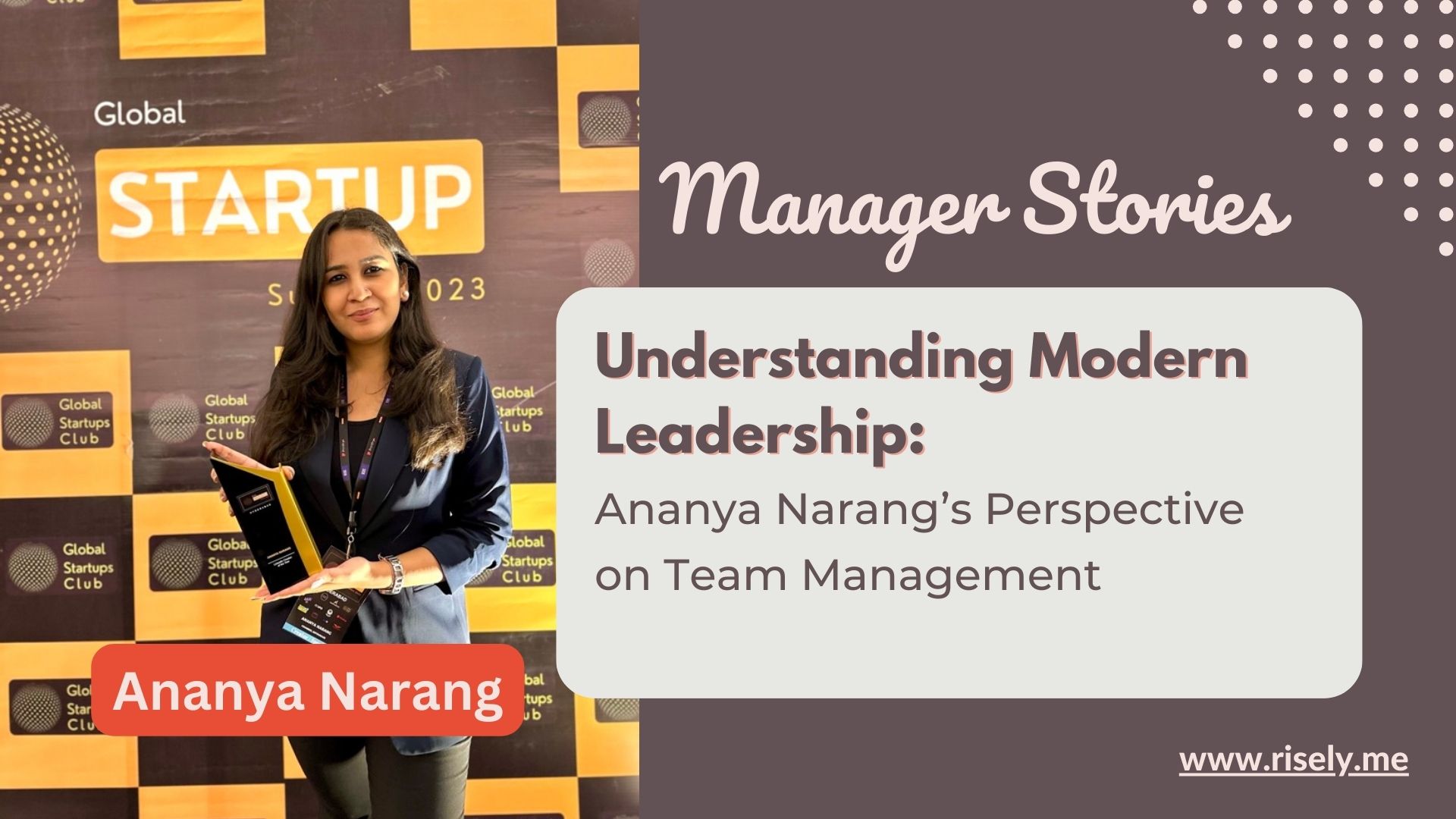 Understanding Modern Leadership: Ananya Narang's Perspective on Team Management Founders and managers, the unsung heroes of the business world, often find themselves juggling various challenges. From instilling accountability to motivating…
Manager Effectiveness: A Complete Guide for Managers in 2023 Manager effectiveness is everyone's favorite buzzword. But the road to achieving it is trickier than it looks like! While manager effectiveness…