20 Ways on How to Help Employees Manage Stress
As a manager, you ensure your employees' mental and physical well-being. Stress management in the workplace is an essential aspect of creating a healthy, productive work environment. It not only benefits the employees but also has a positive impact on the organization's overall performance. Therefore, it is essential to give some time to think about how to help employees manage stress. This blog will help you understand why managing stress is essential, how it affects employee health and performance, and what ways can help employees manage stress. We will also discuss how can organizations help employees manage stress.
Why is Managing Stress Important in the Workplace?
Introducing stress management techniques in the workplace is crucial for maintaining a healthy and productive work environment. High-stress levels can lead to burnout, decreased productivity, and job dissatisfaction. Additionally, stress-related absenteeism and healthcare costs can become significant financial burdens for employees and the company. On the other hand, a workplace culture that prioritizes managing stress can help attract and retain top talent, increase employee morale, and improve job satisfaction. In addition, resources such as counseling services or meditation apps can benefit employees and the company by decreasing stress levels and improving overall well-being. Implementing stress management techniques is an investment that yields long-term benefits for everyone involved.
Effects of Stress on Employee Health and Performance
Stress is a common experience in the workplace that can lead to adverse outcomes for employees and organizations alike. When employees are stressed, it can negatively impact their overall health, well-being, and job performance. Research has shown that high-stress levels can cause physical symptoms such as headaches, muscle tension, and fatigue. Furthermore, stress can affect mental health by increasing anxiety and depression, making it harder for employees to focus on tasks. Employers are responsible for recognizing the effects of stress on employee health and taking action to decrease stress levels in the workplace. By promoting work-life balance and providing resources for stress management, organizations can help support their employees' mental and physical health while improving productivity and morale.
How to help employees manage stress? What managers can do
Employee well-being should be a top priority for managers, as it not only benefits individual employees but also positively impacts the organization's overall productivity and success. Here are some ways to help employees manage stress, along with examples for each point:
Promote a positive work environment: Fostering a culture of appreciation by publicly recognizing employees' achievements and contributions is one of the ways to help employees manage stress. This can boost morale and reduce stress by making employees feel valued and acknowledged.
Set clear expectations: Communicate project deadlines and prioritize tasks to alleviate ambiguity and help employees manage their workload effectively. This clarity reduces stress caused by uncertainty and conflicting priorities.
Encourage work-life balance: Encourage employees to take regular breaks during the workday and discourage working long hours. Lead by example by promoting work-life balance and avoiding excessive work demands.
Offer flexibility: Allow employees to have flexible work arrangements, such as remote work or flexible hours, to help them manage personal commitments and reduce the stress associated with commuting or rigid schedules.
Provide resources for stress management: Offer access to stress management workshops, mindfulness sessions, or relaxation techniques. Bring guest speakers or provide subscriptions to meditation apps to help employees develop effective stress management skills.
Foster professional development: Support employee growth by providing skill-building workshops or conference opportunities. By enhancing their skills and knowledge, employees can feel more confident and less stressed about their ability to perform their job effectively.
Recognize and reward achievements: Implement a system to recognize and reward employees for their hard work and achievements. This can be in the form of monetary bonuses, public acknowledgments, or professional development opportunities. Celebrating accomplishments boosts morale and reduces stress.
Foster a healthy work environment: Encourage physical activity by organizing wellness challenges or providing on-site fitness facilities. Create a designated area for employees to take breaks or unwind, such as a relaxation room or outdoor space.
Encourage self-care: Promote the importance of self-care by encouraging employees to engage in activities that promote well-being. Provide resources such as information on stress reduction techniques, resilience-building strategies, or resources for counseling services.
Be approachable and supportive: Maintaining an open-door policy and create a safe space for employees to express their concerns or seek guidance is one of the best ways to help employees manage stress. Show empathy, actively listen, and provide support and resources when employees face challenging or stressful situations.
We discussed managers helping their team members in managing stress. But what about managers themselves?
Here are
7 effective ways for managers to handle their own stress.
How to help employees manage stress? What organizations can do
When managing employee stress, organizations need to take a proactive approach. Here are some ways to help employees manage stress.
Establish a supportive culture: Foster a culture prioritizing employee well-being and mental health in the workplace. This includes promoting open communication, respect, and empathy throughout the organization.
Conduct stress assessments and surveys: Regularly assess employee stress levels through surveys, focus groups, or confidential assessments. This can help identify areas of improvement and guide the organization in implementing targeted stress management initiatives.
Provide stress management training: Offer workshops, training sessions, or resources that teach employees effective stress management techniques. Topics may include time management, resilience building, mindfulness, and emotional intelligence.
Implement flexible work policies: Provide flexible work options such as remote work, flexible schedules, or compressed workweeks. Flexibility allows employees to manage personal and professional responsibilities better, reducing stress associated with work-life balance.
Encourage breaks and vacations: Employees should take regular breaks throughout the workday and utilize their vacation time. Promote the importance of disconnecting from work during non-working hours to promote relaxation and rejuvenation.
Offer employee assistance programs (EAPs): EAPs provide confidential counseling and support services to employees facing personal or work-related challenges. These programs can help employees cope with stress, mental health issues, or complex life events and is another one of the great ways to help employees manage stress.
Lead by example: Leaders and managers should model healthy stress management behaviors. By practicing self-care, setting boundaries, and managing their stress effectively, they can inspire employees to do the same.
Provide resources for work-life balance: Offering resources that support work-life balance, such as child care services, eldercare support, or flexible leave policies is one of the best ways to help employees manage stress. These resources can help employees manage personal responsibilities alongside work obligations, reducing stress.
Evaluate workload and staffing levels: Regularly assess them to ensure they are reasonable and manageable. Overloading employees with excessive work can lead to burnout and increased stress levels.
Promote wellness programs: Offer wellness programs focusing on physical health, mental well-being, and stress reduction. This may include gym memberships, mindfulness sessions, yoga classes, or access to wellness apps.
Here is an interesting read about how
wellbeing is essential for an organization and how it can be incorporated into it's culture.
Conclusion
Stress can be a significant factor that hinders employees' health and productivity. Therefore, employers must ensure employees are not subject to an unhealthy work environment. This begins with open communication and creating an environment of trust and support. Offering mental health benefits, promoting work-life balance, and providing flexibility in work schedules are some of the ways organizations can help manage employee stress. In addition, managers should set an example by practicing stress management techniques and encouraging their team members to do the same. By taking these steps, employers can foster a healthy workplace culture that promotes productivity, creativity, and employee satisfaction.
Enable your team to adopt a growth mindset for stress-free professional lives.
Grab a free copy of the growth mindset toolkit to unlock resources curated by experts today.
---
Frequently Asked Questions
How do you help employees overcome stress?
There are several ways to help employees manage stress. One of the most important things employers can do is create an environment that promotes open communication and support. This can be achieved by offering mental health benefits, promoting work-life balance, and providing flexibility in work schedules. It's also vital for managers to set an example by practicing stress management techniques and encouraging their team members to do the same. By taking these steps, organizations can foster a healthy workplace culture that promotes productivity, creativity, and employee satisfaction.
How can employers help employees deal with stress?
Employers can help employees deal with stress by offering support and resources such as mental health benefits, counseling services, and stress management training. They can also promote work-life balance and provide flexibility in work schedules to help reduce stress levels. Managers must lead by example and encourage their team members to prioritize self-care and healthy coping mechanisms. By taking these steps, employers can create a positive and supportive workplace culture that promotes employee well-being and productivity.
What are the five stress management techniques for employees?
Employees can use several stress management techniques, including deep breathing exercises, exercise, physical activity, mindfulness meditation, time management strategies, and seeking social support. By incorporating these techniques into their daily routine, employees can reduce stress and promote a healthy work-life balance. However, employers must provide communication resources and support to help employees implement these techniques effectively.
---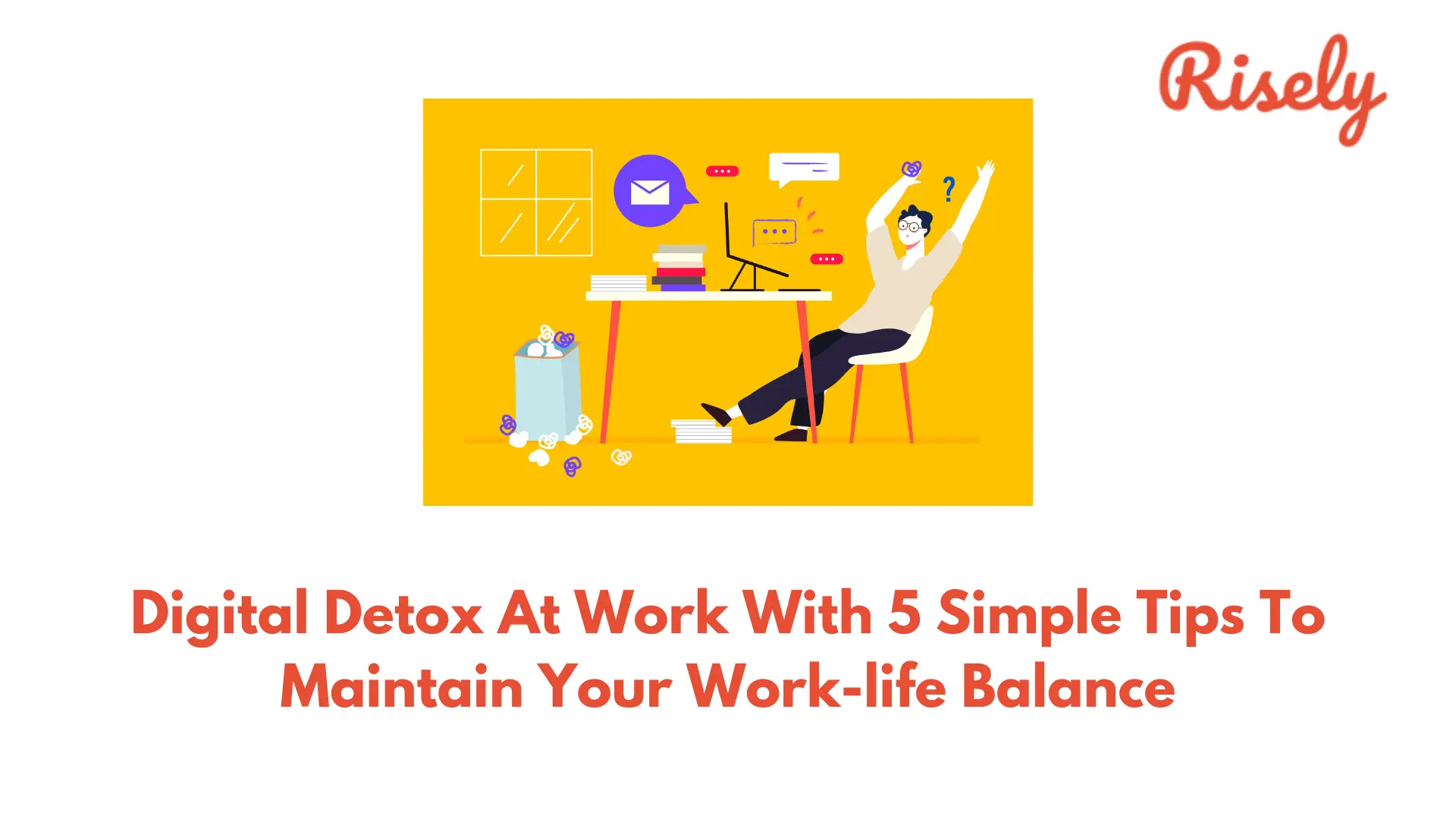 Digital Detox At Work With 5 Simple Tips To Maintain Your Work-life Balance Is your smartphone practically glued to your hand during work hours? Do you mindlessly scroll through social…
Understanding The Different Types Of Stress At Work With 10 Effective Strategies Are you tired of dealing with stress at work that feels like a never-ending rollercoaster ride? We've all…