The Guiding Principles Of Leadership Coaching You Need To Look For
In order for coaching to be effective, it needs to adhere to a set of principles of leadership coaching. These principles of leadership coaching help improve leader performance by helping managers understand their strengths and weaknesses, setting achievable goals and action plans, and rewarding consistent success. As you can see, leadership coaching is beneficial to the coaching recipient and everyone involved – from the coaching practitioner to the leader! So if you're looking for ways to improve your leadership skills, or need assistance in coaching subordinates, be sure to check out these guiding principles of leadership coaching that enhance benefits for everyone involved!
What are the core principles of leadership coaching?
Leadership coaching is an effective tool for improving executives' leadership and management skills. It primarily helps improve a manager's core functions in addition to
professional growth,
which range from coordinating operations to setting progress journeys for their teams. To do these things effectively, managers often look for leadership coaching. But, choosing the right leadership coaching can be confusing. You might be sure of the tangible outcomes you are looking for, but what values will help you achieve them with ease? A few core principles of leadership coaching need to be in place to ensure the process works efficiently. That is why we list the core principles of leadership coaching that are needed to churn out the best leaders and managers for teams. If you are searching for leadership coaching or looking to become a coach for your team, here is the handy checklist you need!
Having The Right Spirit For Coaching
As a leader, it's your responsibility to help others grow and develop in ways that benefit them. This is the coaching spirit in action, which you should look for when choosing a coaching partner. The coaching spirit provides practical support and feedback so the individual can achieve their goals. It's about creating an environment where the person feels listened to and understood. A successful relationship needs mutual respect and trust among the core principles of leadership coaching. As a leader, it's important to be open to new ideas and experiences so you can continue growing as a coach yourself. All in all, the coaching spirit is the core idea from where the rest flows. Once you have the right mindset to enable coaching leadership, you can start the process and hope for the best results.
Ensuring A Safe and Supportive Environment
A coaching environment should be
safe and supportive
for both the coach and the learner. The coaching space must be free of potential distractions or threatening elements. Moreover, it should make the learner feel safe to open up about their weaknesses and concerns. The coach must also ensure a positive attitude to empathize effectively with their clients as one of the key principles of leadership coaching. Providing support throughout the coaching process ensures that both parties come out successfully. The ultimate goal of coaching isn't just about helping someone reach their current goals- it's about improving their skills overall.
Gain Confidence To Ace The Job
Leadership skills are essential for any individual, regardless of position or industry. However, being a leader takes more than good leadership skills – it also requires self-confidence. Fortunately, there are numerous ways to gain leadership confidence and develop the skills required to succeed in your leadership role, and good leadership coaching is among the best of those. Good leadership coaching should help learners overcome challenges to boost their ability to get things done like a boss. While confronting their flaws and hindrances, coaching should guide them to look at the positives and come out of the situation with pride in having overcome it.

Promote Learning from Experience
To be successful, leaders need to keep
learning and expanding
their knowledge. Doing so can help their team members grow in different ways – both professionally and personally. Encouraging team members to take on new challenges is a great way of developing skillsets and leadership capabilities. It not only leads to success on the job but also strengthens the bond between coach and coachee alike. Experiential learning is of the important principles of leadership coaching. Therefore, the leadership coaching must focus on drawing lessons from experience. Those are the most effective, and learners can easily retain them. On the other hand, leadership coaching that focuses on theoretical solutions and typical examples might not equip candidates very well to deal with real challenges.
Building Internal Accountability
Leadership coaching is a key component of success for anyone looking to build a great professional career. However, to achieve long-term success, leaders need accountability and accomplishment. That's why coaches should provide regular conversations about both. Hence, it is also among the core principles of leadership coaching, This way, individuals know where they stand and can stay motivated and focused on their goals. Additionally, progress reports allow individuals to see how they're doing against their goals, which helps them stay accountable and motivated. In the end, leadership coaching is a powerful tool that can help you achieve your goals and reach your potential by embedding key values. By following this, you will also understand the importance of cultivating personal and internal accountability in your teams.
Asking Questions and Curiosity
Leadership coaching is a valuable tool to help individuals and organizations achieve their goals. The first step is always asking questions. Curiosity needs to be on the list of key principles of leadership coaching. It allows for a deeper understanding of the problem and builds trust and rapport. When you're curious about what's going on, your clients will be too – this helps them open up and share their thoughts and feelings. Questions are a great way to learn, and leadership coaching that fosters this habit is a great one.
Goal-Setting And Planning
Leadership coaching is essential for any leader looking to grow and improve their skills. However, it's important to do so properly – with a plan. The first step is to develop action plans. This helps individuals stay focused and on track, as well as helps them measure their progress. Together,
goals and action plans
provide a roadmap for success. Leaders should be able to see where they're heading, what obstacles need to be overcome, and how best to achieve the desired outcome – all in an organized way. This way, you'll get the most out of your coaching journey and see real results. Moreover, it will develop an essential habit of setting goals and help you practice achieving deadlines, which is important for being an efficient leader. That's why goal-setting needs to be among the essential principles of leadership coaching that you pick.
Developing Solutions And Creativity
Successful leaders ask questions and focus on the solution, not the problem. They coach their team to find a better way of doing things, even if it's different from what they believe. It takes a collaborative approach in which both parties work together towards a common goal. Successful leaders keep moving forward – by constantly asking questions, looking for solutions, and coaching their teams to do the same. Any leadership coaching that promises to develop good leaders must help you find solutions and resolve problems together. It means emphasizing collaboration and facilitating innovation, so your team always ends on top.
Relationship and Trust
There's no doubt that leadership coaching can be a powerful tool for personal and professional development. Relationship and trust are two of the most important principles of leadership coaching in a relationship; a lack of either can impede performance. That's why it's important to find a coach who understands this and can help build trust over time. This type of coaching is a process, not a one-time event. As a leader, you need to be open to continual development in this area. As a leader, it is important to know your strengths and weaknesses. However, acknowledging weaknesses can throw many off-kilter, leading them to self-doubt. Effective leadership coaching must ensure that learners are not stuck on failures at work. Instead, it should help you overcome challenges and reduce the feeling of guilt that your might fail over your decisions. This way, you can develop the skills needed to lead effectively.

Feedback and Awareness
Being a successful leader comes with a lot of responsibility, including receiving and giving feedback. Feedback is essential to help leaders identify their strengths and weaknesses. Leaders also need to be aware of their work environment to make the best decisions. This is where coaching comes in – coaching helps leaders build the skills necessary for success in their role. As a leader, it's important to be open to feedback and seek guidance whenever needed. Doing so will help you stay on track and reach your goals; otherwise, your inability to give constructive feedback can hurt your team.
Conclusion
After reading this blog, you will know the principles of leadership coaching and how they can help improve a leader's performance. By understanding and applying these principles of leadership coaching in your search, you can develop a successful coaching relationship that supports leadership development. Continue visiting us for more helpful tips on leadership and management!
Are you making the most of constructive feedback with your team?
Try Risely's free constructive feedback self-assessment for managers to identify key areas that need focus.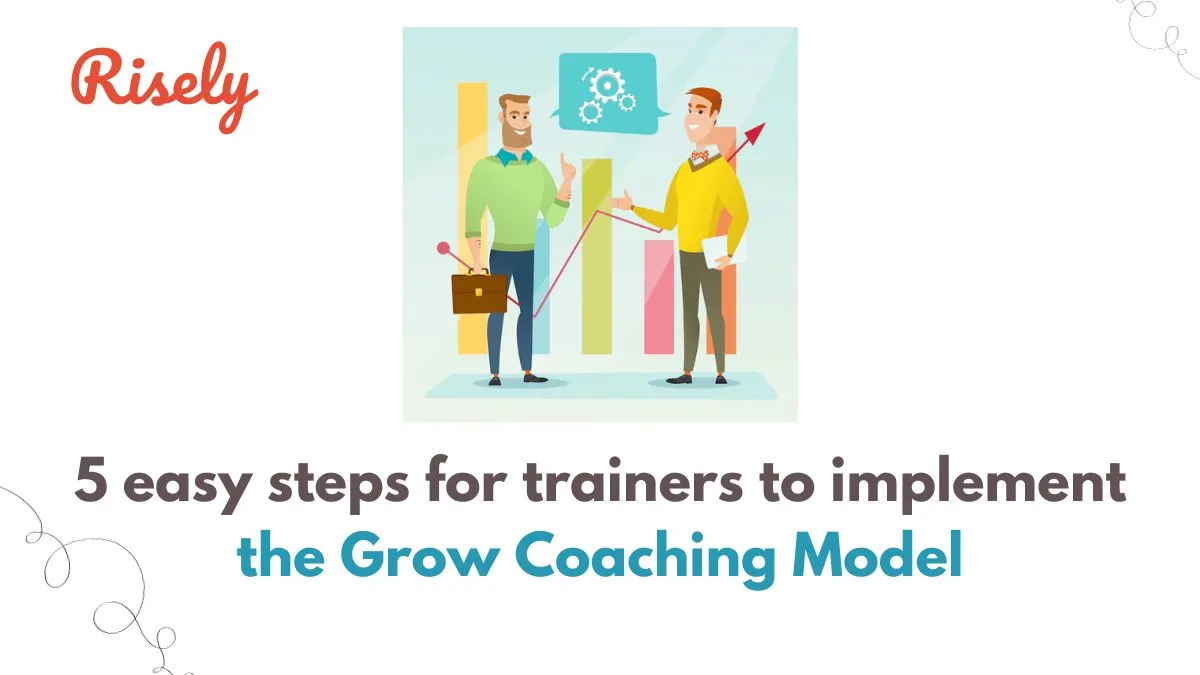 5 easy steps for trainers to implement the Grow Coaching Model As a coach, you strive to empower your clients to reach their full potential. Sometimes, however, knowing where to…
6 Essential Coaching Skills for Leaders and How to Develop Them Fulfilling the job of a manager needs us to wear multiple hats. Often, we find ourselves guiding our team…