The 5 Major Types of Interviews Team Managers Need to Know
Interviews are an essential function for managers. Hiring managers primarily use interviews to get the best picks for their teams. Not only that, interviews play a crucial role during the employee's time in the company. Interviews are not just for hiring, there are many different types of interviews that managers use.
Stay interviews
and exit interviews are meaningful conversations that deliver significant insights to managers. Ergo, there is no doubt about the importance of interviews, especially for managers and leaders. However, when we talk of interviews, we typically envisage two people sitting and holding the stiffest conversation ever. Otherwise, it is an individual facing a panel of strict experts. But, interviews need not become monotone and tedious perpetually. Here are five different types of interviews that you can experiment with in the next round of interviews you take. It will make the process fun and engaging for both parties – beyond making the conversations more authentic and forthcoming. So, what are you waiting for – let's head straight in and check out the five unconventional types of interviews.
Different Types of Interviews
Behavioral Interviews
Behavioral interviews are one of the most common types of interviews used to assess whether a candidate is a good fit for the role or not. Usually, these interviews focus on questions about how the applicant has handled similar situations in the past. To do this effectively, you can ask them about their experiences. For instance, to gauge their reaction to disappointment, you can ask the candidates about failures in their life. Their earlier response to such situations will help you draw insights into their future behavior in similar contexts. This way, you can get an idea of their skills, ability to work under pressure, and problem-solving abilities. Interviewees usually respond best when the interviewer takes time to understand them better instead of just focusing on their qualifications alone. Moreover, these questions are a great way to gain insights into the candidates' values. By asking open-ended questions, you allow the candidate to express themselves in a way they choose – so they can put their best foot forward. In their answer, candidates can eloquently demonstrate how they have used their skills and job-related skills to get out of tricky situations and perform their best. It helps managers analyze their behavior and views and also serves as an indicator of communication skills.
The Case Interview
The case interview is a standard interview format used by industries like consulting and litigation heavily. It carries the reputation of being among the most challenging interviews to crack. They are longer than the traditional interview and deliver insights into a candidate's hard and soft skills. The interviewer will ask the candidate a series of hypothetical questions about a hypothetical case to get an idea of how they would have handled the situation and what logic they use when making decisions. The issue can be similar to or derived from real-life situations, and it serves as a field where the candidate can apply their knowledge, skills, and abilities to get to a solution. These cases are typically derived from real-life situations only. This demonstration will help the interviewer accurately analyze the candidate's on-the-job performance. At times, there can be multiple solutions and multiple ways to reach them. As there is no set right or wrong, the tracks chosen by the candidates will help managers decide whether their way of working fits well with their team or not.
The Group Interview
Group interviews generally happen when the company does not want to interview all its job applicants individually. It is a great way to save time for hiring managers and leaders. In group interviews, candidates are divided into small groups interviewed together by an individual or a panel. Usually, the group consists of two or more candidates applying for similar roles. This type of interview is used more often for screening candidates rather than hiring them outright. The interviewer will ask each candidate, in turn, what they think about a common question, and their answers can give valuable insights on how they work together as team players or not. However, candidates with good interpersonal and communication skills can quickly overtake the rest in such discussions. Group interviews also help managers assess
communication skills
as it allows them to see how each applicant reacts under pressure and whether they can problem solve effectively. The interviews can be structured in different ways, and the questions depend on the type of interviewee.
A 360° Interview
The 360° Interview is a type of interview that gives the interviewer an overview of the candidate's skills and personality. This interview is advantageous when hiring managers want to see how candidates would fit in with their team. During a 360° interview, the interviewer asks questions about different aspects of the job, such as company culture, working hours, and workload. They also ask questions about hobbies and interests, which can give insight into how well-rounded the applicant is. Questions in a 360° interview cover a wide range of topics, from the candidate's experiences to how their values were built over time. It is an excellent tool for managers and leaders to check how well candidates can fit into their teams. Moreover, it provides an edge over traditional interviews as it does not focus solely on educational qualifications to determine suitability for a role; instead, it considers each aspect of the person and organization and allows the managers to make an intelligent choice. In the end, managers can use it to hire candidates that
stick to their team in the long run
through an accurate alignment of values and
culture
.
The Working Interview
The working interview takes place in the workplace. It is used to assess the candidate's skills and abilities and to see how they would interact with the environment. Questions typically asked during a working interview focus on the hard skills required daily at work, including a demonstration of work. The candidate has to complete a task that closely resembles their potential job during the interview process. Simply, managers can get an insight into the abilities and approaches of the candidates. This assessment is robust as it allows managers to see the skills in action instead of just discussing them with the candidates throughout a conversation. However, using this type of interview alone might not help you gauge the candidate's suitability for your team. You will need to determine their cultural and value fit too! These are some not-so-common types of interviews that managers can leaders can use to overcome the limitations imposed by traditional interviews. Moreover, you can also look into more helpful resources here –
Conclusion
Interviews are hard! Not just for candidates but also the interviewers. Among the many conundrums, is picking the best types of interviews to examine the candidates. However, with these unconventional types of interviews, you can explore your candidates' knowledge, skills, and abilities in greater depth. Then, you can pick the best candidates for the job that will help your teams grow leaps and bounds.
Is your communication assertive to deliver your points strong. Check now!
Try out the free assertive communication skills self-assessment to ensure that you are always prepared to assert yourself effectively when speaking.
---
How do you conduct an interview?
Conducting an interview can be as confusing as appearing for one. Start by creating a comfortable atmosphere for the candidate and begin the interview with simpler questions. Also, ensure that you address their questions as well.
What should I say at the start of an interview?
Use the initial moments of an interview meeting to set the tone and atmosphere for the interview. Provide a brief personal as well as team introduction. You can also use phrases like "It's nice to meet you," "thank you for coming today," etc. to put the candidate at ease.
How do you take interview questions?
---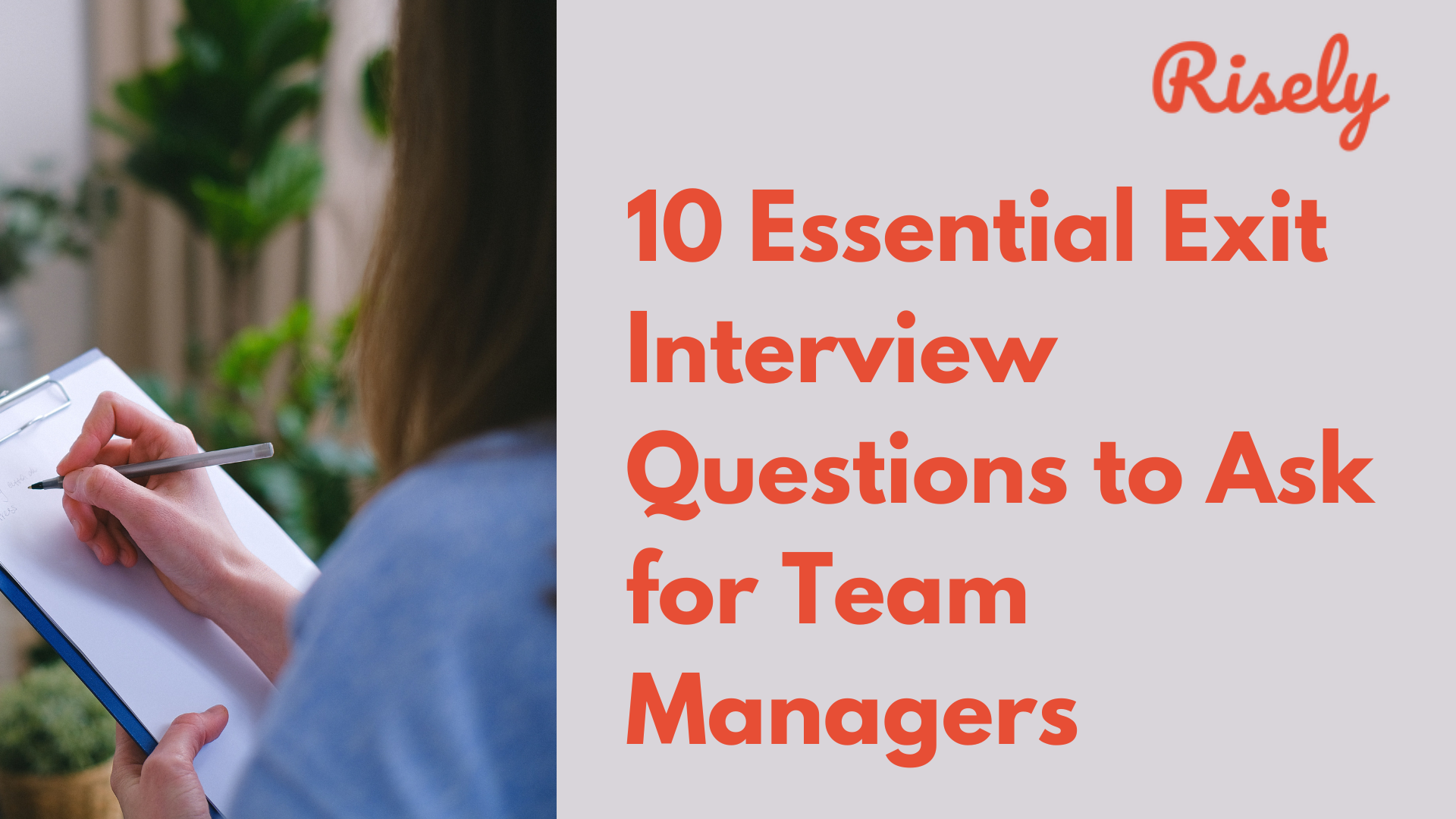 10 Essential Exit Interview Questions to Ask for Team Managers When an employee decides to leave, it can be difficult for the employee and the team manager. However, it is…
7 Collaboration Interview Questions A Manager Should Ask In An Interview Collaboration is an essential part of any successful business or organization. Working together towards a common goal produces better…