The decisive role of coaching in growing as a leader
It is widely agreed upon that leadership development is crucial in modern organizations. Leadership skills are necessary for everything, from enhancing communication skills to overcoming conflicts with ease. More so, leadership skills are essential for managers who want to grow their careers. Becoming a leader from a manager is a vital career journey for many, and there are many different ways to do this. Among the many options for leadership development, leadership coaching is one of the most well-known. In this blog, we will explore leadership coaching. After understanding what leadership coaching stands for, we will see how it can help you grow as a leader. Let's start by defining what leadership coaching actually is.
What is leadership coaching?
Leadership coaching is the process of developing leadership skills that
facilitate career growth
. Under a leadership coaching program, individuals work with leadership coaches to enhance particular competencies that make them efficient team leaders. It typically focuses on critical leadership skills, which include but are not limited to communication, conflict resolution, people management, motivation, etc. They also concentrate on theoretical know-how about the various leadership styles. All in all, individuals develop their leadership abilities under the guidance and support of experts.
Is the role of coaching for leadership same as executive coaching?
The short answer is no. The longer answer is that they are similar but pretty different nonetheless. While leadership coaching is designed for managers and up-and-coming leaders at all stages of their careers, executive coaching focuses on slightly experienced leaders. It helps senior executives hone thier craft and stay up to date in the rapidly developing world of leadership and people management. People typically use it to increase the speed of career growth by identifying blindspots and concentrating on them specifically. Leadership coaching, on the other hand, helps you grow professionally and personally in all positions. It covers challenges new leaders might face and helps them develop skills to overcome them accordingly. You can read more about the
difference between executive and leadership coaching
here.
How can coaching help leadership development?
As leaders, we constantly face new challenges and opportunities. However, without the right coaching, we may not be able to take advantage of these opportunities fully. Coaching provides leadership development in several ways. First and foremost, it allows leaders to discuss challenges faced by the organization or team openly and freely. Leadership coaches are often experienced people who have navigated the same or similar challenges in their careers. Hence, they can suggest actionable ways to overcome those challenges without wasting time or effort. Moreover, individuals get access to knowledge and insights collected over the years; they do not have to learn everything from scratch. It helps build relationships that are effective and beneficial.
Coaching relationships
might help you personally and professionally later too. Additionally, coaching helps leaders to evaluate their strengths and weaknesses.
Identifying our blind spots
can be a challenge often. An external view and feedback help us draw a more objective analysis of our situation. We can then determine the areas that need extra effort for growth. As a result, we can develop as leaders. Lastly, coaching provides feedback on how best to communicate with subordinates. This helps leaders build strong relationships based on mutual respect. Long-lasting relationships prove to be helpful when the team undergoes difficult situations. Moreover, the manager can learn coaching from their coach and
adopt a coaching leadership style
of their own. Coaching is an essential skill for managers. Being a part of a leadership coaching exercise will help hone this skill so that it comes in handy when managers need to turn into a coach for their teams. You can read more about
using leadership coaches
here.
How can I find the best coaching service for me?
Finding the right coaching service can be daunting, but it can be a lot easier with a bit of research and some help from online resources. First, you must begin by understanding what you need from the leadership coaching service. A few things can be:
Regular and real-time support
A good leadership caching platform first needs to offer training regularly. Not only that, real-time support is essential because challenges happen according to circumstances. Your challenges cannot wait until the day that topic has been covered. Therefore, your leadership coaching service should be able to support you in real-time as you navigate challenges with your team day after day.
Well-researched content
Second, your leadership coaching service should offer well-researched content. For the material to be beneficial and valuable, it must come from a credible source. This means that the experts have the required knowledge and experience, and their writing skills are top-notch. Additionally, all materials must adhere to high-quality standards so that your learning is effective and efficient. Moreover, it would be best if the material is not restricted to one medium but covers many – such as articles, guides, and toolkits – which help you review and retain your learnings.
Adaptable to your schedule
Third, the leadership coaching program should be suited to your schedule. It means that you do not have to miss any sessions for them to be of value. In addition, the coaching services must be affordable so you can invest in a good one without breaking the bank. Finally, it is also essential for leadership coaching services to be accessible online and offline. That way, no matter where you are or what time of day, you can access all resources at your disposal. Furthermore, having an online presence ensures continuity.
Suited to your needs and challenges
Fourth, leadership coaching should be tailored to your needs and challenges. The program should cover all areas of development, such as self-awareness, team-building skills, communication ability, etc. Additionally, leadership coaching should be personalized to meet each individual's specific needs and challenges. It is crucial because all managers do not face the same challenges. As the lives and hurdles are different, so should the learning.
Non-judgmental
Fifth, leadership coaching should be non-judgmental. The coach must not scold or criticize the participant during the development process. It is essential because it can undermine the self-confidence of the learner. Empathy is a crucial element in the learning process that you should not overlook.
Smart progress tracking and feedback
Sixth, leadership coaching should include progress tracking. The coach should know what their pupil has accomplished and where more work needs to be done. It helps the coach keep a sense of perspective and adapt the approach accordingly. The ultimate goal is to help participants retain their learnings to use in future endeavors. Moreover, tracking progress is essential to judge the impact of leadership coaching. In its absence, the utility will remain unknown! You need to keep an eye on these things while hunting for a leadership coaching platform. You can also check out the AI-enabled leadership coaching platform Risely. It smartly combines human knowledge with AI techniques to deliver the best coaching to you – as you want it. With the freedom to choose challenges and customize learn journeys with your team, Risely enables you to learn in real-time every day. It also includes handy toolkits, self-assessments, and anonymous feedback mechanisms that keep you on track!
Conclusion
Leadership coaching is essential to help you grow as a leader Nonetheless, the role of coaching is often forgotten, but you can get the most out of it by selecting a great leadership coaching service. By working with a coach, you can gain insights and skills to help you achieve your leadership goals. Coaching can help you develop your communication, goal-setting, and problem-solving skills. Additionally, coaching provides a critical support system to help you through challenging times. If you're interested in growing as a leader, get coaching today!
Is your proficiency in active listening helping you maximize the benefits of coaching sessions?
Try out the free active listening self-assessment for managers to gain insight into the factors that may be holding you back from achieving professional success.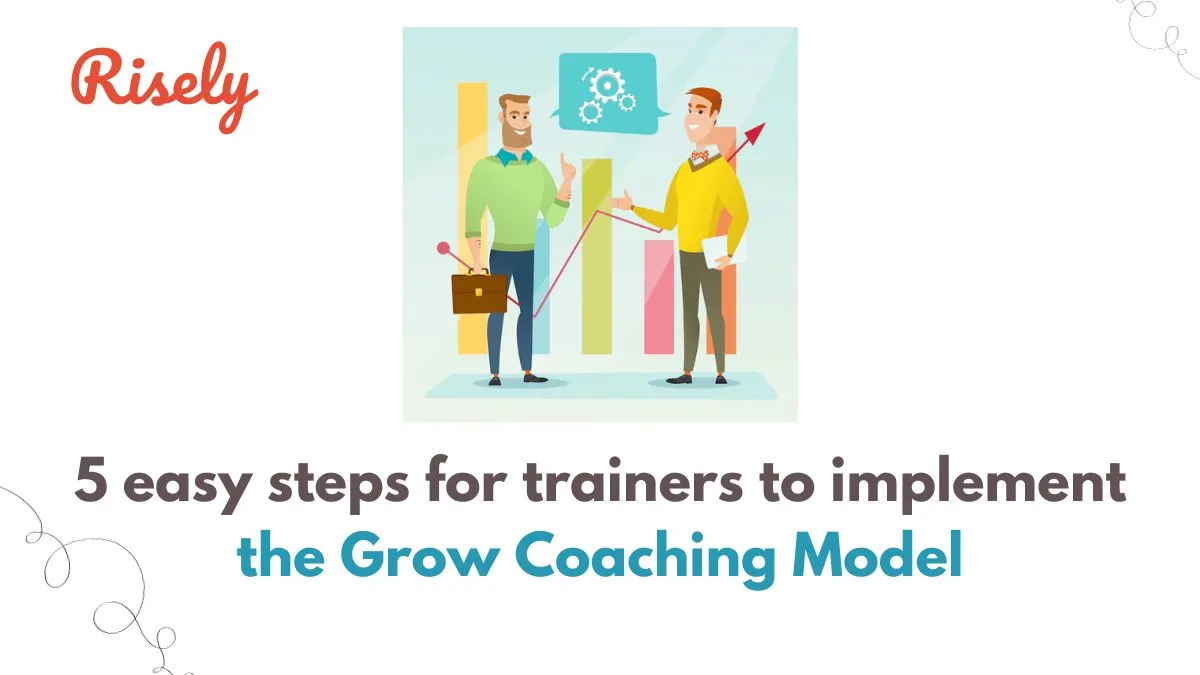 5 easy steps for trainers to implement the Grow Coaching Model As a coach, you strive to empower your clients to reach their full potential. Sometimes, however, knowing where to…
A Manager's Guide to Leadership Coaching: 5 Types and Tips Teams are always on the quest to improve performance. But what is the most effective way to do it? From…