What Is AI-based Leadership Coaching? How Does It Work?
Are you looking for a way to improve your leadership skills? If so, you're in luck! In this blog post, we'll introduce you to leadership coaching done via AI. This technology allows managers to receive personalized coaching advice regardless of location or time zone. We'll discuss the benefits of using leadership coaching via AI and how it can help you achieve your goals professionally and personally. So whether you're a manager who wants to take your career to the next level or be more effective in your daily work, this blog is for you!
What is AI-based leadership coaching?
AI-based leadership coaching is a type of coaching that uses artificial intelligence (AI) for analysis and feedback. The AI-based leadership coach helps leaders to identify their strengths and weaknesses and provides personalized guidance accordingly. In addition, it allows leaders to develop action plans and strategies based on their identified strengths and weaknesses. AI-based leadership coaching helps leaders to stay ahead of the competition by providing them with objective, actionable insights about themselves, their teams, and the competitive environment. This type of coaching positively impacts
leaders' performance
, providing meaningful insights into their strengths, weaknesses, skills development needs, and future goals. While doing all of this, it overcomes the limiting factors of conventional routes of leadership development. As a result, AI-based leadership coaching can help leaders stay focused on their goals and develop valuable skills required for professional growth.

Read more:
How Teams Use Leadership Coaching For Performance Improvement?
How does AI impact leadership coaching?
Increased use of technology and personalization are among the top leadership development trends set to rule 2023, and AI brings both of these to ease a manager's development journey. It lets managers choose their goals and access support from anywhere in the world – beating the geographical limitations that make leadership development opportunities inaccessible to many managers. In addition, AI helps leadership coaching reach a much larger number of managers than ever before. With the use of AI, the need for human intervention is reduced. As a result, a single platform can facilitate growth for numerous managers simultaneously. Scaling learning systems has never been easier for organizations that rapidly want to grow their managers into successful leaders. AI-based leadership coaching uses AI to identify and develop leaders' skills through a coaching program. The AI-based coaching algorithm helps leaders reflect on their leadership experiences and analyze how they have influenced others. It is done through standard evaluation systems, free from biases affecting humans. It ensures that the development approach is more holistic and fair towards everyone. Creating the way for standardization also lets managers accrue badges that testify to their proficiency in critical skills, allowing for easy testimonials. In addition to providing a practical coaching experience, AI-based coaching has the potential to help leaders become more effective and efficient in their roles. Overall, the benefits of AI-based leadership coaching are clear, especially for leaders looking to improve their skills and effectiveness in the workplace. Read more:
AI in Workplace: 8 ways it is being used in Modern Workplace
What are the unique benefits of AI-based leadership coaching?
Available anywhere and anytime
AI-based leadership coaching comes with a vast, unique factor – high availability. As it is a virtual platform, it can help many managers simultaneously. Moreover, the managers do not need to travel or set out time from their busy schedules. Instead, they can access leadership coaching and guidance anywhere, as and when required. Ai-based leadership coaching takes a few minutes of your day and
pushes you towards your goals in small bites
– perfect to be absorbed in the middle of a hectic schedule that every typical manager has. It removes the constraints of location and cost that make leadership coaching inaccessible to many, ensuring more team managers can grow to their best professional selves.
Designed to suit your needs
AI-based leadership coaching is personalized for you, unlike other cookie-cutter programs. The development team takes into account your current skills, experience, and goals to design a one-on-one coaching program that is effective, efficient, and tailored specifically for you. It allows leaders to move up the levels of their careers while mastering new skills simultaneously – an unbeatable combination. It also helps managers modify their challenges as and when needed to ensure continuous real-time support.
Up-to-date
AI-Coaching is constantly updated to offer you access to the latest skills and strategies in leadership coaching. It ensures you stay ahead of the curve, leapfrogging your competition with new skills and knowledge. AI-based leadership coaching is constantly evolving to keep up with the latest changes and trends in business. The development team evaluates your progress and works with you to improve upon any weaknesses you may have unearthed. As a result, you receive the most effective coaching possible while staying on top of industry best practices.
Defeats human biases and hesitation
When coaching, AI-Coaching considers
human biases
and hesitation and tries level best to overcome them. Leaders face a lot of uncertainty when taking risks or making significant changes; seeking help for leadership development is one such thing that can lead to hesitation in many managers. It is often due to fear of failure or insecurity in one's skills. AI overcomes these fears by providing leaders with unbiased feedback and constructive criticism that helps them grow their leadership skills. Moreover, adding self-paced processes lets managers take charge of their leadership development journey.
Overcomes limitations of existing techniques
AI-Coaching has the potential to overcome many limitations of existing leadership development techniques. For example, leaders often have one-on-one sessions with a
professional leadership mentor
in traditional coaching formats. This can be limiting as it can be challenging for leaders to take up all sessions and manage their work schedule appropriately. With AI-based leadership development, leaders can access coaching from their desktops or laptops anytime and anywhere in the world! In addition, self-paced training modules allow you to customize your experience based on your individual needs and interests. A major drawback of traditional leadership development approaches is that they offer routine content that lacks practical applicability. AI helps defeat those limitations.
How to start AI-based leadership coaching with Risely?
To begin, you will need to set up an account with Risely. This involves providing your information and setting up challenges your team faces. Risely lets you choose from 30+ challenges to design the most suitable programs for you. From there, the AI will analyze the data and create a customized leadership plan for you. The program will be designed based on your strengths and weaknesses. You will receive regular nudges to help you navigate people management better.
In addition to an online coaching program, you can also access toolkits designed to facilitate the growth of specific skills. The expert-curated toolkits provide frameworks to develop skills and adopt them in your daily work life. Moreover, they are also equipped with samples, suggestions, and valuable tips to make your progress easier.
Finally, Risely provides leadership skills assessments for managers as well as teams. While managers can assess their skills through these, they can also seek feedback from their teams in the relevant areas. It helps build a positive communication loop between managers and their teams.

Conclusion
AI-based leadership coaching is an effective tool that empowers leaders to make smarter decisions and drive business results. It helps leaders make more informed decisions by using data, AI, and coaching techniques. AI-based leadership coaching is thus a powerful tool that helps leaders improve decision-making skills and effectiveness. Sign up for Risely today to learn more and discover the potential that hides within you!
Grab a free copy of the growth mindset toolkit to guide your professional journey.
The free growth mindset toolkit for managers sets the stage for professional success with templates and activities designed by experts.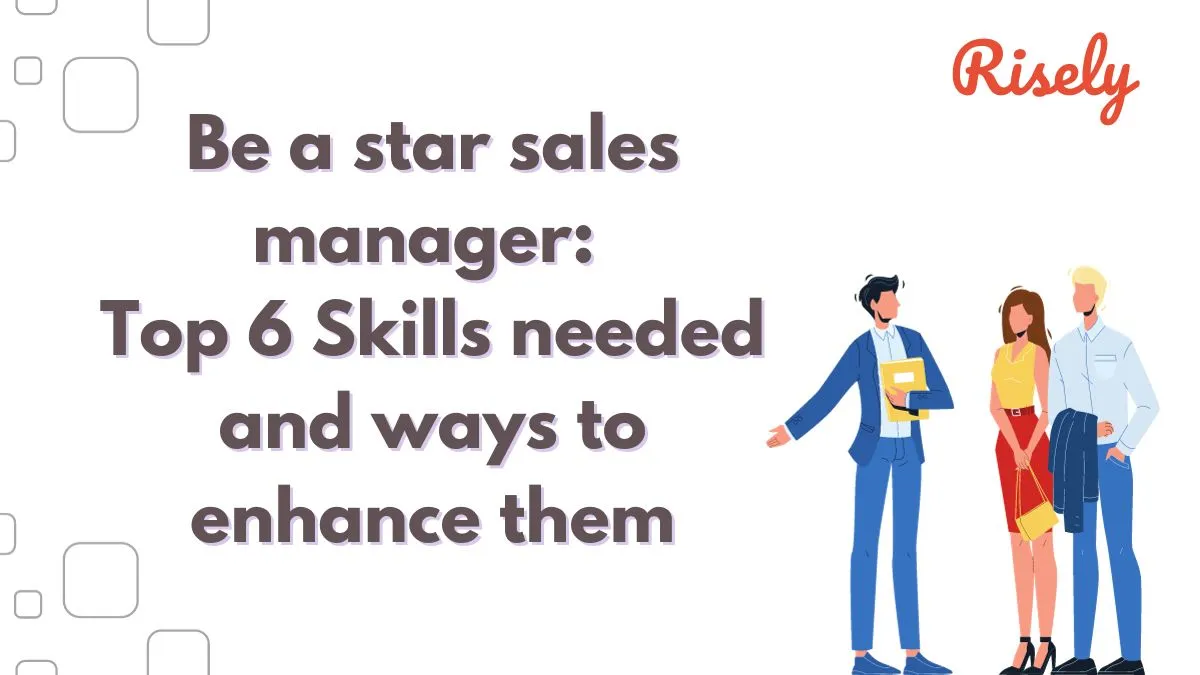 Be a Star Sales Manager: Top 6 Skills needed and ways to enhance them Behind every successful sales team, there is an exceptional sales manager. A sales manager is critical…
Leadership Gaps: Identifying and Filling the Loopholes as a Manager As a manager, you strive to create a cohesive team that works together to achieve common goals. However, sometimes, you…