Mentorship Matters: The Role of Managers in Shine Nagpal's Professional Journey
Shine Nagpal is a competent professional with a remarkable career spanning around 15 years, during which he has spent roughly 8 years managing people. His career began as a software developer, but it wasn't long before he recognized his true passion for sales, driving him to shift his career trajectory. Shine has mastered the art of people management with his inherent approachability and cheerful personality. Over the years, he has honed the skill of managing people and nurturing their growth into the best versions of themselves. This management style was not accidental; it resulted from his commitment to spending quality time with his team and the conscious development of his emotional competence. He finds his greatest reward as a manager in helping others excel with his support and guidance.
Navigating Diverse Managerial Styles: Lessons from Shine Nagpal's Journey
His professional journey has been enriched by exceptional managers and leaders who have played an instrumental role in shaping the manager he is today. He reflects on two stories of his managers that became pivotal in his evolution as a manager and gave him invaluable insights into the effectiveness of different management approaches and their impact on fostering team members' growth.
"My first manager took pride in calling himself a nerd. He hated team management." Shine Nagpal
Shine Nagpal's first manager was the epitome of technical brilliance. He was task-oriented and followed an individualistic approach. His manager primarily focused on his expertise, leaving little room for nurturing or understanding his team members. While he carried immense responsibility, his reluctance to invest time in uplifting,
training
, or even comprehending his team's needs underscored a gap in his management style.
"Working in his team was a honeymoon period in my career." Shine Nagpal
The manager's approach allowed him to focus on tasks without navigating complexities. Yet, it was also apparent that this
management style
, while convenient, was more about efficiency for the manager rather than fostering his independent growth. The underlying guiding belief of his first manager's approach was apparent: his time was better spent executing tasks than investing it in mentoring or explaining processes to team members.
"But after a few months, I realized I had not learned anything under him." Shine Nagpal
This realization served as a red flag, indicating a
skill gap
between his potential and the opportunities he was being given. As he recognized the need to expand his capabilities, he took the initiative to request more involvement in tasks and responsibilities. However, the response from his manager was not conducive to his growth. Despite Shine's willingness to learn and contribute, his manager's time constraints and focus on personal task completion hindered his ability to provide guidance and mentorship. The manager's lack of availability for teaching and guidance became a barrier to his and other team members' professional development. Shine was assigned a new manager around one and a half years later. Initially, he held reservations about this change as the new manager was a tough taskmaster, which meant an increased workload. However, his perspective shifted over time as he realized the immense value this new manager brought to his professional journey.
"The new manager influenced me and my work a lot." Shine Nagpal
Unlike his previous experience, where managerial guidance was lacking, this new manager exhibited a different approach. He actively engaged with Shine, allowing him to take on more responsibilities and challenges. Through this hands-on approach, Shine gained valuable insights, practical experience, and a deeper understanding of his role.
"He taught me that working can be fun by just attaching meaning to the task." Shine Nagpal
He learned the most significant learnings of his career from his new manager, one of the most important ones being that work isn't just a task to be completed; it can also be a source of enjoyment, learning, and personal growth. The new manager challenged him to question his actions, prompting him to ponder why he approached certain tasks in specific ways, contributing to his success. His outlook is that of an optimist, always seeing the glass as half full. He approached the varied managerial styles he encountered in his career, focusing on extracting the positives using each experience to refine his approach to management. While his first manager's approach of minimal interaction and focusing on personal tasks seemed counterintuitive to traditional management, it taught him the importance of self-reliance and resourcefulness. This experience made him realize the importance of taking ownership of work. Whereas the new manager highlighted the profound impact of effective mentorship and guidance on an individual's career. The experience demonstrated the significance of a manager who is invested in their team's growth, willing to share knowledge, and eager to facilitate professional advancement. By amalgamating these lessons, Shine Nagpal has shaped his
leadership style
—combining resourcefulness and empowerment and fostering personal and professional development within a team dynamic.
Delving Deeper: The Power of Empathy and Connection
"Right after my MBA, I got an opportunity to manage a team of 47 people, and I had no prior experience managing a team." Shine Nagpal
Having no prior exposure to managerial responsibilities, he was uniquely positioned to lead a sizable team. The prospect was exciting yet intimidating, and this led to the feeling of uncertainty about managing a large group. Complicating matters, some team members under his leadership had greater work experience than him. This dynamic led to
resistance to change
when he introduced new concepts to enhance work processes and efficiency.
"My performance as a manager for the first 2 months was poor." Shine Nagpal
Upon recognizing significant resistance within his team, Shine embarked on a journey to uncover and address the underlying causes. This period brought forth two pivotal lessons about effective people management. Firstly, he grasped the importance of investing time in understanding his team members deeper, delving into their likes and dislikes. He realized that building rapport and trust is a gradual process. When tasks remained incomplete, or challenges emerged, Shine leveraged his strengths to alleviate these issues. Through this, he established better camaraderie with his team, paving the way for improvement. He understood the significance of empathizing and connecting with his team members, positioning himself at their level to collaboratively address obstacles. Secondly, he adopted a more measured approach to reactions, recognizing that there's often more beneath the surface of any situation. Instead of instinctively responding, he absorbed the essence of understanding why particular circumstances unfolded the way they did. This perspective enabled him to see beyond the surface and grasp the complex reasons driving certain behaviors or events. This awareness allowed him to make more informed and considered decisions, fostering a more harmonious work environment.
"My team members were like a brick wall, and it was evident that I had to earn their trust and friendship." Shine Nagpal
He employed a range of strategies in an earnest effort to quell the resistance among his team members and enhance his management approach. He used diverse tactics, from arranging team lunches to initiating camaraderie and breaking down barriers. Additionally, he implemented a recurring practice of 30-minute TGIF sessions to create opportunities for better acquaintance with his team members and cultivate friendships. However, despite his sincere efforts, none of these approaches yielded the desired results.
"I didn't know what to do when every approach failed, so I just started spending time with the team." Shine Nagpal
When he saw that his previous attempts were ineffective in building rapport, he recognized a more direct approach that yielded results. He discovered that spending quality time with his team members and providing practical assistance were vital in creating a positive change. If a team member was absent, Shine comprehended their situations and adjusted workloads among the team to ensure tasks were completed smoothly. Additionally, he fostered a sense of unity by staying with team members during late working hours, demonstrating his commitment to the team's collective goals.
Shine's Insights: Key Tips for Effective Leadership
His advice for emerging and experienced professionals is straightforward yet profoundly impactful. Being an enthusiastic reader, he strongly encourages fellow managers to invest time in reading. His top book recommendations for personal and professional growth are "The Coaching Habit" and "The Miracle Morning." Furthermore, he offers two essential tips for managers aiming to lead effectively.
"Put yourself in your team members shoes." Shine Nagpal
First, he emphasizes the importance of empathy by suggesting that managers put themselves in their team members' positions. By understanding the challenges and perspectives of team members, managers can enhance their ability to lead more effectively.
"Have good coordination with your team members." Shine Nagpal
Secondly, highlights the importance of having good coordination with team members.
Clear communication
and collaboration foster a cohesive and productive work environment, allowing everyone to work harmoniously towards common goals with minimized hiccups in the team.
How Risely helps managers achieve their true potential?
Shine acknowledged that he still has a long way to go in his leadership journey to become a good leader. Despite successfully breaking the ice with his team members and integrating himself seamlessly into the team's dynamics, he continues to face challenges in upskilling himself as a manager. Many existing leadership courses and programs demand a significant time commitment from individuals seeking growth and development opportunities. But not with Risely.
"I could only attend 40 percent of the leadership sessions as I was occupied with my family and had no time to spend on weekends." Shine Nagpal
We here at Risely recognize that every manager is unique in leadership style and challenges. Risely offers a platform for managers to seek the guidance and support they need to navigate their leadership journey. It provides tailored steps and insights to help managers refine their approach and achieve their true potential without putting in extra hours after work. Here's how Risely solves challenges for many Managers like Shine:
Identify your challenges: The journey begins when a manager starts by defining their challenges. From 30+ challenges, managers and team leaders can identify the issues hurting their team.
Test your skills: In the second step, skills and qualities are tested, such as expectation setting and prioritization skills, to see how well managers have achieved these critical functions. Based on these assessments, they learn about their skills and abilities with detailed reports.
Start growing: With time, managers can start making progress with the help of daily nudges provided by Risely. It dynamically supports the manager's progress through resources like toolkits, samples, and assessments.
Risely, the AI co-pilot for leadership development, makes the road easy for up-and-coming managers and team leaders. While you are navigating the new ways of a managerial role, Risely takes the lead on your growth and creates personalized learning journeys leading toward your professional goals. In a busy world, it's the buddy you need to succeed!
Kickstart your leadership development journey for free now!
Learning from mistakes is great. But what if we skip them? Find the loopholes in your skills with Risely's range of assessments today.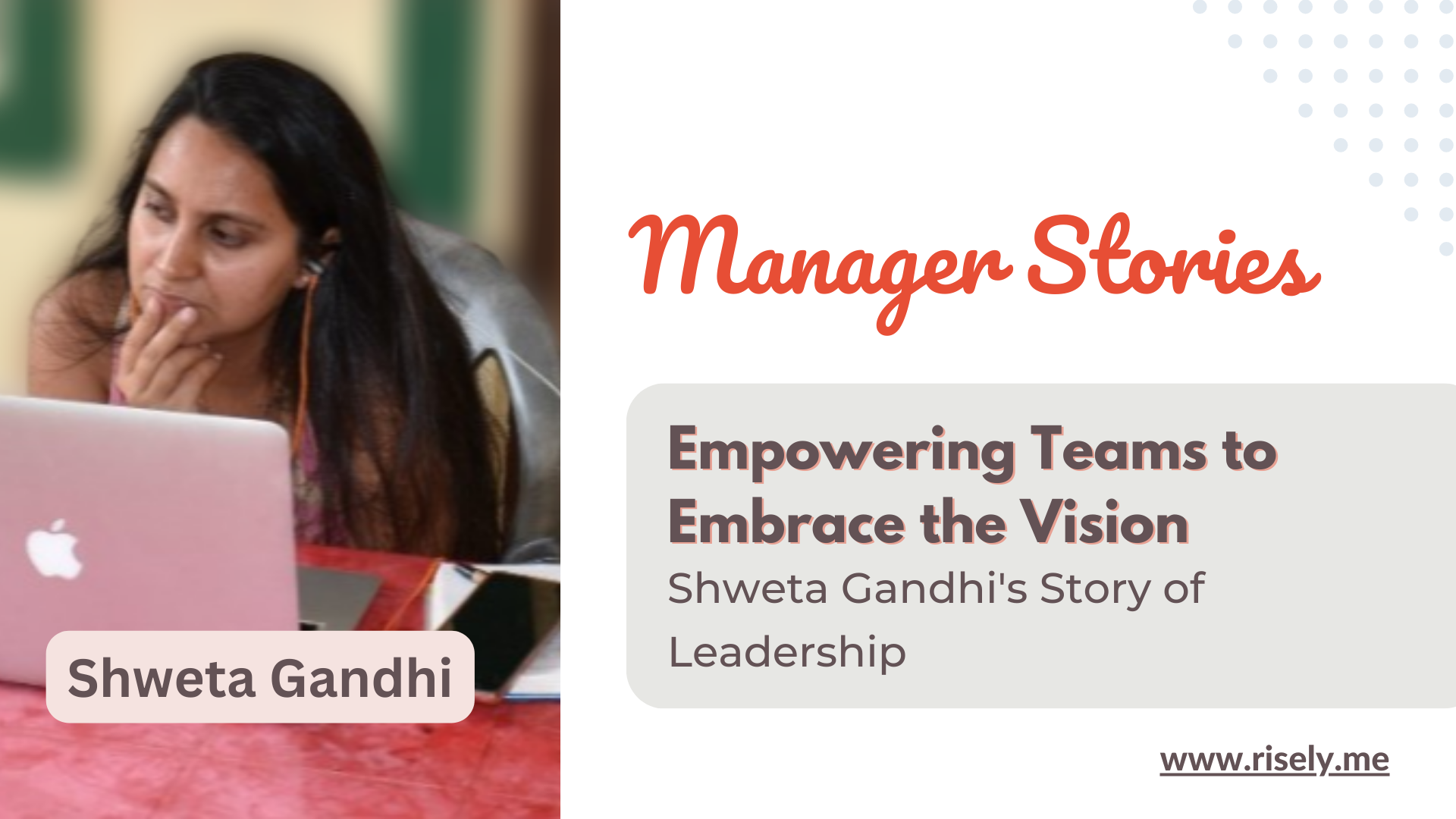 Empowering Teams to Embrace the Vision: Shweta Gandhi's Story of Leadership Meet Shweta Gandhi, a visionary Co-founder and business strategist taking care of business development, operations, and medical content of…
Inspiring, not managing: Unraveling Pavan Verma's Journey to the 3 Keys of Leadership Pavan Verma, the Co-Founder and CTO of Orgzit, a bootstrapped startup revolutionizing the realm of specialized all-in-one…
Rising above fear: Archana Mahour's Transformation from Scared Intern to Confident Team Lead In the bustling world of startups, where founders dream of revolutionizing the world from their ideas and…