Empowering Teams to Embrace the Vision: Shweta Gandhi's Story of Leadership
Meet Shweta Gandhi, a visionary Co-founder and business strategist taking care of business development, operations, and medical content of
NirogGyan
, a pioneering B2B healthcare SaaS startup revolutionizing the diagnostics industry. Shweta has done her MBA from the prestigious IIM Indore, and her journey as a manager in the pharma industry paved the way for her entrepreneurial spirit. NirogGyan, established in 2019, offers easy-to-understand medical reports packed with simple explanations and valuable tips. With pathology labs worldwide adopting their innovative approach, NirogGyan is transforming how patients engage with their health information. As Shweta took the plunge into her co-founder role, she quickly realized that building blocks alone couldn't prepare her for the challenges ahead. Despite being "50% prepared," she fearlessly embraced the uncertainties, recognizing that growth as a manager demanded more experience and essential skills.
Fostering Independence: Empowering Team Members
Shweta draws her leadership style of being work-oriented rather than micromanaging from her past experiences with different managers.
"One of my managers was concerned with her promotion, so she was very particular when the task would be done, so she used to follow up with me on odd hours and ask for review meetings regularly." – Shweta Gandhi
Shweta's journey as a leader was shaped by a significant learning experience from her past. Having encountered a
micromanaging manager
who stifled her productivity and motivation by constant monitoring and orders left her feeling demotivated and disconnected from the company's broader vision. Recognizing the negative impact of such leadership, she vowed never to adopt a micromanaging approach.
"As an employee, I loved it when I wasn't being micromanaged and was yet able to deliver stellar results." – Shweta Gandhi
As Shweta's career progressed, she became involved in a self-driven, work-oriented culture that fueled her motivation and success. Her new manager's approach of providing space and trusting her abilities left a lasting impact on her. This experience reinforced the significance of giving freedom and trust to team members, empowering them to take ownership of their work. As a leader today, Shweta passionately advocates for
fostering a culture of independence within her team
. By allowing her team members to excel in their unique ways while aligning with the company's goals, she has witnessed increased productivity, job satisfaction, ownership, and overall success for herself and her team.
"This style of management only works when the person on the other side is mature and takes ownership of their work." – Shweta Gandhi
Shweta firmly believes managers should treat their team members as capable and responsible adults and provide them with the opportunities and freedom to excel in their roles. This approach works well when dealing with individuals who can take responsibility and follow through. However, she also recognizes that not all employees may be at the same level of maturity. In such cases, Shweta emphasizes the
importance of clear communication
and regularly planned check-in meetings with employees to provide necessary support and keep them on track. Overall, Shweta advocates for fostering a self-starter and work-oriented culture. Managers should empower employees to take ownership and handle their tasks independently to benefit both the manager and the employee in the long run.
Tailoring Motivation: Recognizing Individual Goals
Shweta Gandhi faced a common challenge in managing teams both before and at NirogGyan. The major challenge was to help people thrive in a uniform culture and manage and motivate different people in teams.
"Most youngsters nowadays are treating an early-stage startup job as just a stepping stone for their next job." – Shweta Gandhi
According to Shweta, some individuals are genuinely passionate about working in startups, while others view it as a temporary platform to gain valuable experiences that can enhance their skills and resumes, making them more attractive to larger, established companies. This attitude makes it difficult to motivate them. Shweta believes the manager must recognize the candidate's and team members' unique motivations and aspirations. While their individual goals may differ, they all share a common objective of contributing to the company's success. To effectively motivate these young candidates and team members, managers must take on the responsibility of understanding what drives each individual. By providing tailored resources and support based on their maturity and understanding, managers can create an environment where team members feel valued, empowered, and aligned with the organization's goals. Shweta's personal experience of facing disengagement with company goals and a
lack of motivation
allowed her to empathize with her team's struggles. She acknowledged that this was a common issue among employees and had also impacted her at one point in her career. Reflecting on her past, she recalled a specific instance where an excessive focus on Key Performance Indicators (KPIs) led to a disconnection from the company's broader objectives. This overemphasis on KPIs reduced her and her team's motivation and job satisfaction. Through this experience, Shweta learned the importance of balancing individual performance metrics with a clear understanding of the company's overall goals to foster a more motivated and aligned workforce.
"At NirogGyan, I am more connected with the company goals and cause because it was born out of my desire, and I try to connect the team members with the overall cause." – Shweta Gandhi
Drawing from her past experiences, she adopted a management strategy that involves putting herself in her employees' shoes and understanding their motivations and concerns. This empathetic approach allows her to gain valuable insights into their perspectives, enabling her to find innovative ways to constantly remind the team of the company's overarching objectives and the meaningful reasons behind their work. Through this approach, Shweta successfully navigates the challenge of motivating her team members, fostering a more cohesive and motivated team at NirogGyan.
Striking a Balance: Quick Decisions vs. Thoughtful Consideration
"I lacked the experience of quick decision-making and as a founder, you make decisions on a day-to-day basis that make a lot of difference." – Shweta Gandhi
In her leadership journey, Shweta Gandhi encountered a significant challenge in her early days as a founder – the lack of experience in
quick decision-making
. As she navigated the dynamic startup environment, she realized the crucial role of timely decision-making in the success of her venture. The leadership role demanded swift action to seize opportunities, address risks, and stay competitive. Through her experiences, she learned that quick decisions are essential for entrepreneurs and managers, particularly when uncertainties abound. Her tip for other managers and leaders from her mistakes and failure is to find a balance between making quick decisions and carefully considering the outcomes. Leaders can make smarter decisions by taking the time to think about the advantages and disadvantages of each choice. It will help their organizations adapt, grow, and succeed constantly.
How to get Started – Lessons from Shweta Gandhi's Story
Shweta's tip to budding managers is to embrace humility, discipline, and open-mindedness during their first two years in a managerial role.
Being humble allows managers to be receptive to feedback and ideas.
Discipline helps them stay focused and accountable.
Open-mindedness enables them to adapt to changes and promote innovation within the team, creating a positive and conducive work environment.
"Manager should be connected to the end goal. They should plan well and divide long-term goals into small milestones." – Shweta Gandhi
To be an effective manager, connecting deeply with the company's end goal is essential. This connection will serve as a guiding light, inspiring your team to focus on the bigger picture. To achieve this, break down long-term goals into smaller, achievable milestones. By doing so, the seemingly distant objectives become more manageable and can be tackled step by step. Creating an actionable and well-documented plan ensures the team is aligned and aware of their roles and responsibilities in reaching each milestone. Create a well-structured plan with clear roles and responsibilities. By doing so, managers can foster better coordination, motivation, and a sense of progress, leading to greater productivity and success in reaching the ultimate objective.
How Risely helps managers achieve their true potential? 
Shweta Gandhi has developed her leadership style and perspective through years of experience. Her journey to find the right way to balance decision-making and motivation is truly commendable. However, it's essential to recognize that not all managers have the same time, resources, and opportunities to perfect their leadership style. Every manager is unique in their leadership style and challenges. That's where Risely comes in. Risely offers a platform for managers to seek the guidance and support they need to navigate their leadership journey. It provides tailored steps and insights to help managers refine their approach and achieve their true potential. Here's how Risely solves challenges for many Co-Founders and Managers like Shweta:
Identify your challenges: The journey begins when a manager starts by defining their challenges. From 30+ challenges, managers and team leaders can identify the issues hurting their team.
Test your skills: In the second step, skills and qualities are tested, such as expectation setting and prioritization skills, to see how well managers have achieved these critical functions. Based on these assessments,  they learn about their  skills and abilities with detailed reports.
Start growing: With time, managers can start making progress with the help of daily nudges provided by Risely. It dynamically supports the manager's  progress through resources like toolkits, samples, and assessments.
Risely, the AI co-pilot for leadership development, makes the road easy for up-and-coming managers and team leaders. While you are navigating the new ways of a managerial role, Risely takes the lead on your growth and creates personalized learning journeys leading toward your professional goals. In a busy world, it's the buddy you need to succeed!
Kickstart your leadership development journey for free now!
Learning from mistakes is great. But what if we skip them? Find the loopholes in your skills with Risely's range of assessments today.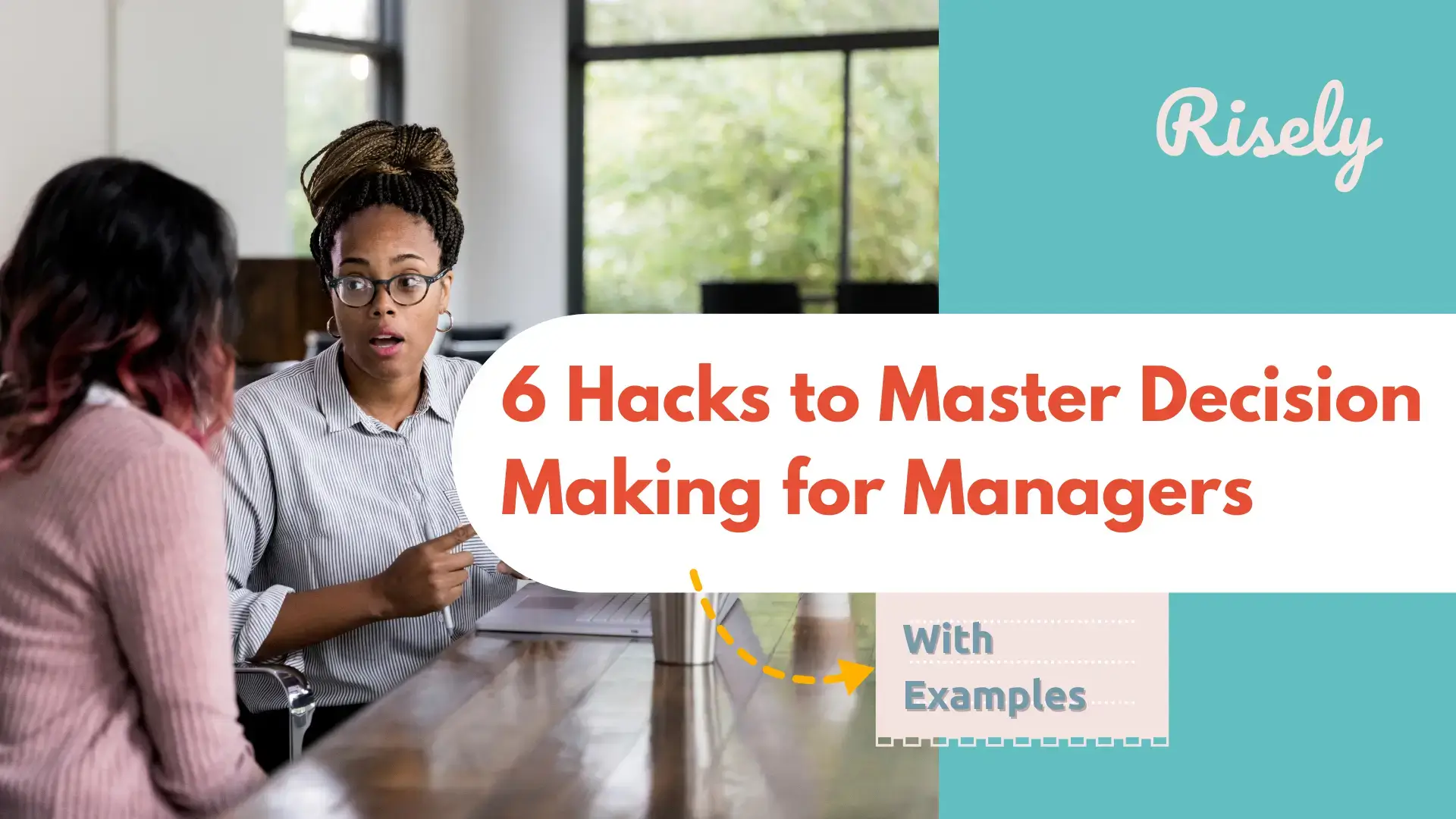 6 Hacks to Master Decision Making for Managers (With Examples) Decision making is the process of taking action when faced with uncertainty. It is the process of decision-making and action…
What Is Decentralized Decision Making? 6 Ways It Benefits Managers And Teams Decentralization is a fast-growing movement. It's one of the most talked-about organizational change strategies today. There are numerous…