4 Key Metrics for Measuring Training Effectiveness with A Questionnaire
Are you a manager looking to maximize the impact of your leadership development training programs? Are you eager to know whether your efforts are truly paying off? If so, you've come to the right place! Measuring training effectiveness is not just a buzzword; it's a vital aspect of ensuring that your investment in developing your team leads to tangible results. As a manager, you play a pivotal role in driving the success of your organization, and effective training measurement strategies are your secret weapon. Imagine confidently assessing knowledge gained, skills applied, and the overall impact of your training initiatives. By understanding how to measure training effectiveness, you can unlock invaluable insights, optimize resource allocation, and fuel the growth and development of your team. In this blog, we will explore the world of measuring training effectiveness specifically tailored for managers in leadership development. Get ready to dive in and discover the tools and techniques that will help you become an expert in gauging the success of your training programs. Let's get started!
What is Training Effectiveness?
Training effectiveness refers to how a training program achieves its objectives and produces desired outcomes. It measures the impact and success of training initiatives in improving participants' knowledge, skills, performance, and behavior. Effectiveness is not solely determined by the completion of training but rather by the extent to which it translates into tangible results and positive changes in the workplace. It involves assessing the degree to which participants have acquired and retained knowledge, applied new skills in their roles, and demonstrated improved performance. Measuring training effectiveness involves collecting data through various methods, such as assessments, observations, feedback, and surveys. The data collected allows managers and organizations to evaluate the return on investment (ROI) of training efforts, identify areas for improvement, and make informed decisions to enhance future training programs. In essence, training effectiveness is about ensuring that training initiatives align with organizational goals, enhance individual and team capabilities, and ultimately contribute to the overall success and growth of the organization.
Understanding the Importance of Measuring Training Effectiveness
Measuring training effectiveness holds immense importance for managers in leadership development. It goes beyond simply conducting training sessions and hoping for positive outcomes. By implementing robust measurement strategies, managers can assess the impact of their training programs and make data-driven decisions to optimize their efforts. One of the key reasons why measuring training effectiveness is crucial is its role in resource allocation. Organizations invest significant time, effort, and financial resources into training initiatives. By measuring effectiveness, managers can determine which programs deliver the best results, enabling them to allocate resources wisely and focus on high-impact training interventions. Measuring training effectiveness allows managers to gauge the development of essential skills and behaviors in their team members. It provides a tangible means to track progress, identify skill gaps, and foster growth. By assessing the effectiveness of leadership training, managers can nurture and empower their team members to become effective leaders who contribute to the organization's overall success.
4 Key Metrics for Measuring Training Effectiveness
When it comes to measuring training effectiveness, managers can utilize several key metrics. These metrics provide valuable insights into the impact of training programs and help assess the extent to which desired outcomes are achieved. Here are some essential metrics to consider:
Knowledge Acquisition and Retention:
Pre- and Post-Training Assessments: Measure participants' knowledge levels before and after training to assess knowledge gain.
Knowledge Retention Tests: Conduct follow-up assessments after a certain period to evaluate the long-term retention of training content.
Skill Application and Performance Improvement:
Observation and Performance Metrics: Observe participants in their work environment to assess how effectively they apply newly acquired skills.
Key Performance Indicators (KPIs): Track relevant performance metrics tied to the training objectives to determine improvements in specific areas.
Participant Feedback and Satisfaction:
Post-Training Surveys: Gather participant feedback through surveys or questionnaires to assess their satisfaction with the training program and its effectiveness.
Focus Groups or Interviews: Conduct qualitative discussions to investigate participants' experiences and gather valuable insights.
Supervisor and Peer Feedback
Feedback from Supervisors: Seek feedback from participants' supervisors to understand their observations of behavior or performance changes post-training.
Peer Feedback: Encourage peers to provide input on applying new skills and behaviors in a collaborative setting.
By combining these quantitative and qualitative metrics, managers can better understand training effectiveness. These metrics provide concrete data points, feedback, and observations that help evaluate the impact of training initiatives and guide decision-making for future improvements.
Creating a Measuring Training Effectiveness Questionnaire
Creating a well-designed measuring training effectiveness questionnaire is crucial for gathering valuable feedback from participants. Here are some steps to guide you in creating an effective questionnaire:
Determine the Objectives: Clarify the specific objectives you want to achieve through the questionnaire. Identify the key areas of training effectiveness you want to measure, such as knowledge gain, skill application, or overall satisfaction.
Define Metrics and Rating Scales: Decide on the metrics and rating scales that align with your objectives. For example, you can use Likert scale questions to gauge participants' agreement levels or numerical scales to measure progress or satisfaction.
Structure the Questionnaire:
Start with Introductory Questions: Begin with questions that capture demographic information such as job role, experience level, or department. This helps provide context for the responses.
Core Questions: Create questions that directly assess the effectiveness of the training program based on your objectives. Use a mix of closed-ended questions (e.g., multiple-choice or rating scale questions) and open-ended questions to allow participants to provide detailed feedback.
Follow-up Questions: Include follow-up questions that explore the reasons behind participants' responses. These can help uncover valuable insights and suggestions for improvement.
Optional Sections: Consider including optional sections for participants to provide additional comments, suggestions, or ideas.
Keep the Questionnaire Concise: Ensure the questionnaire is not too lengthy or overwhelming for participants. Focus on the most relevant and important aspects of training effectiveness.
Pilot Testing: Conduct a pilot test with a small group of participants before finalizing the questionnaire. This allows you to identify confusing or ambiguous questions, refine the wording, and ensure the questionnaire is user-friendly.
Anonymous and Confidential: Emphasize the confidentiality and anonymity of participants' responses. This encourages honest and unbiased feedback.
Clear Instructions: Provide clear and concise instructions at the beginning of the questionnaire to guide participants on how to respond and what is expected from them.
Data Analysis: Plan for how you will analyze the data collected from the questionnaire. Determine the key metrics or themes you will look for and consider using data analysis tools or software if necessary.
The questionnaire should be tailored to your training program and objectives. Regularly review and update the questionnaire based on feedback and evolving training needs to ensure its effectiveness in measuring training impact.
Conclusion
Measuring training effectiveness is not just a best practice; it is necessary for managers in leadership development. By implementing robust measurement strategies, managers can assess the impact of their training programs, optimize resource allocation, and drive continuous improvement. Through critical metrics such as knowledge acquisition, skill application, participant feedback, and supervisor input, managers can gain valuable insights into the effectiveness of their training initiatives. This data-driven approach empowers managers to make informed decisions, tailor training programs, and nurture the growth of their teams. If you're ready to take your leadership development efforts to the next level, explore the AI Copilot Leadership Development Platform offered by Risley;
sign up now
and discover how AI Copilot can revolutionize your leadership development journey.
Focus on active listening to spot gender inequality and bias in your team. 
Take the free active listening skill assessment to identify weak areas and get support.
---
FAQs
How do you measure training effectiveness?
Training effectiveness can be measured through pre-and post-training assessments, evaluations of knowledge/skills gained, performance improvements, participant and supervisor feedback, and business outcomes and ROI analysis.
What are the benefits of measuring training effectiveness?
Measuring training effectiveness helps identify gaps and areas for improvement, ensures the training aligns with organizational goals, validates the investment in training, enables continuous improvement, and maximizes the impact on employee performance and productivity.
What is the purpose of effective training?
Effective training enhances employee knowledge, skills, and abilities, enabling them to perform their jobs more effectively, improve job satisfaction, boost productivity, support organizational goals, and foster professional growth.
---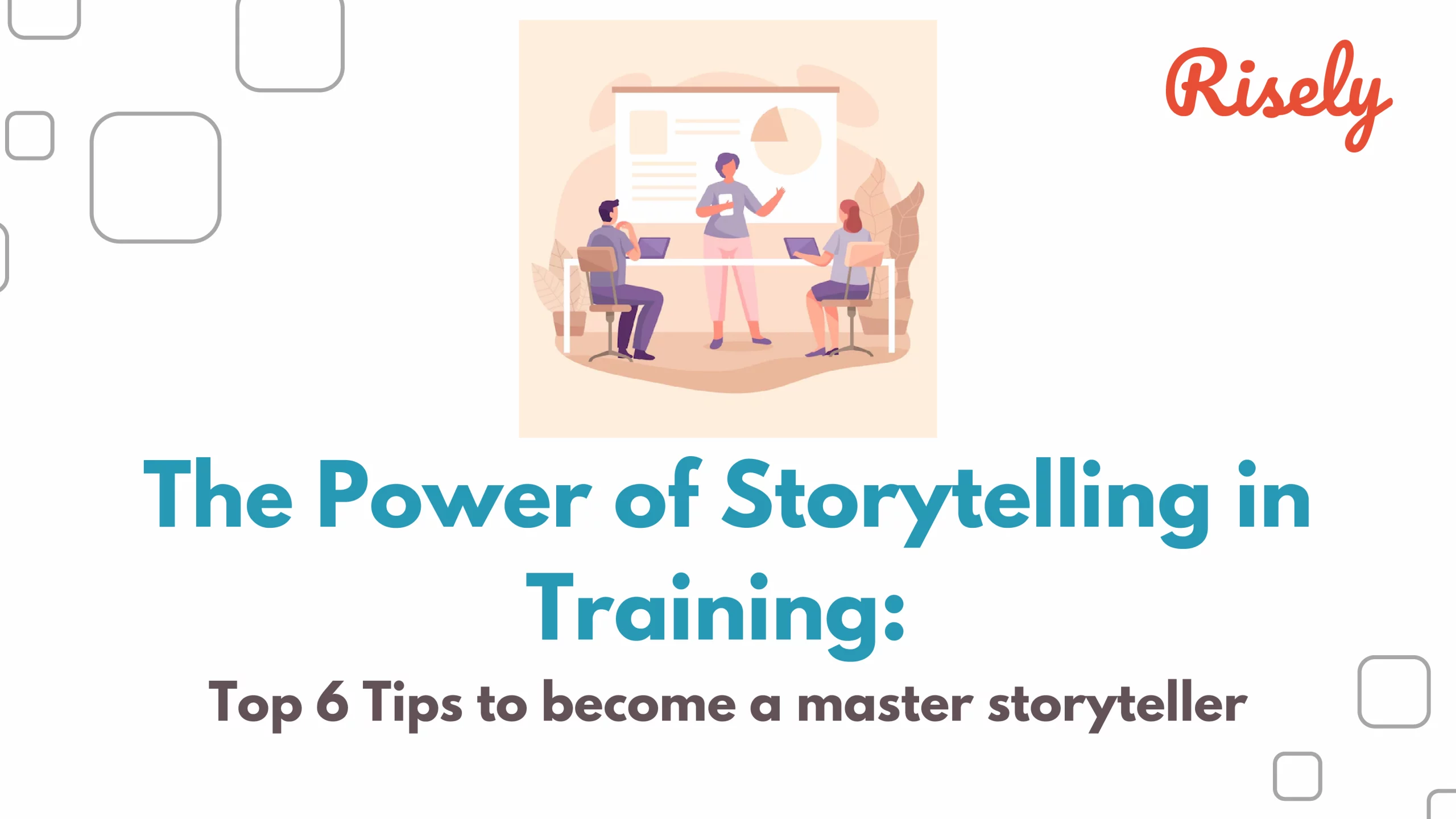 The Power of Storytelling in Training: Top 6 Tips to become a master storyteller Have you ever been engrossed in a story that made you forget everything else? That's the…
Employee Training Cost: Top 5 Tips on How to Optimize Your Budget As a business owner, you understand the importance of employee training. But have you ever stopped to consider…