How Healthy Conflict in the Workplace Boosts Productivity: 5 Benefits
Conflict is bound to happen in any relationship, whether personal or professional. So it is inevitable between team members to get into arguments and conflicts with each other or the higher authorities. Conflict has a negative connotation attached to it; whenever we hear the word conflict, we think of ugly fights and big drama. It is time to change that. Conflicts aren't always destructive; it has their fair share of benefits. Healthy Conflicts help improve communication, cohesion, trust,
teamwork
, and team camaraderie, among other things. This blog will help you understand how conflicts can sometimes create positive outcomes in the workplace. In this blog, we will elaborate on healthy conflicts and how they can constructively resolve and share a few examples of such conflicts in the workplace.
What is Healthy Conflict at Work?
Unhealthy Conflict at the workplace means having disagreements, aggressive fights and arguments between co-workers. Whereas, healthy conflicts are a way to express disapproval of something without disrespecting or personally targeting one another. When teams follow healthy
conflict resolution in the workplace
, member feel free to talk about controversial topics or bringing attention to an issue or situation that is considered difficult without the fear of getting insulted or punished. A healthy conflict is beneficial when it aims to improve the team's quality of work. To have an environment of healthy disagreement at the workplace requires openness to entertain coworkers' ideas, keeping one's ego and pride aside, and communicating without becoming defensive and aggressive.
Benefits of healthy conflict at work
Conflicts are a necessary part of any healthy workplace. They can help to clarify and solidify ideas, motivate employees, and illuminate areas of disagreement. Both parties can come out of a conflict feeling optimistic about the conversation. By engaging in healthy discussions, you can increase the level of communication and
cooperation within your team
.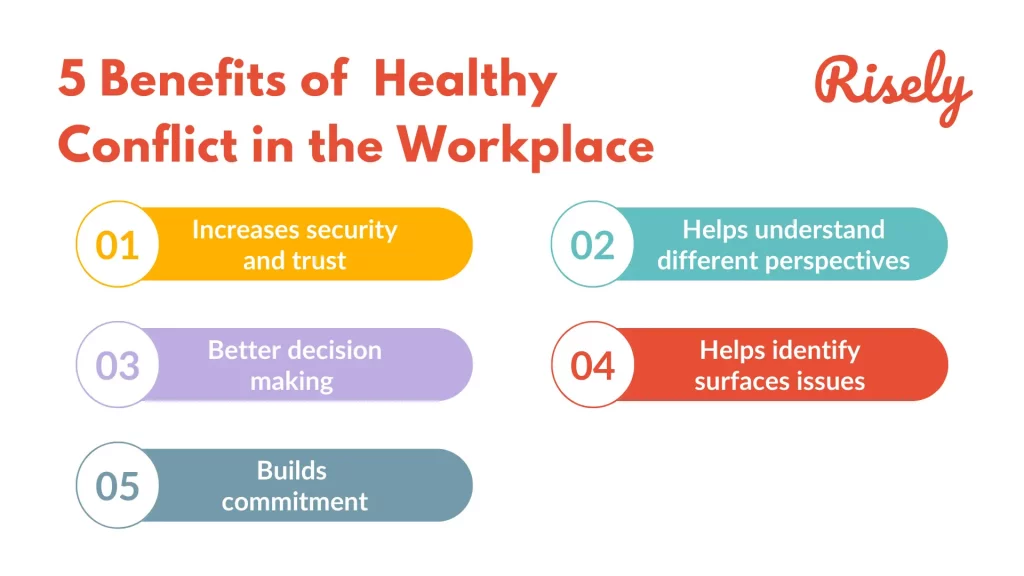 Increases security and trust
Conflict can be a difficult thing to deal with, but it is beneficial in the workplace if approached and handled correctly. Employees feel more secure when conflict is managed healthily and communication improves. In addition, it leads to improved teamwork and i
ncreases trust among each other
.
It helps in understanding different perspectives
When teams practice healthy conflict management, it allows the team members to speak up without being scared and share their perspectives with the team members. It will enable members to participate in the conflict, which in turn gives different viewpoints and helps in making the right decision. It also creates an environment wherein every member participates.
It leads to better decision making
Healthy disagreements at the workplace leads to
better decision-making by the leader
. When team members are allowed to share their ideas and viewpoints without fear, it gives the team an edge to perform better and come up with better solutions for problems. It creates a healthy working environment overall.
Helps identify surfaces issues
Healthy conflict is a good thing. When team members voice their opinions, it leads to more creativity, ideas, and viewpoints, which may lead to more conflicts later. So this allows managers to identify and resolve problems early on.
Healthy conflict builds commitment
Working in a team is essential, but it can be challenging to manage conflict. It's vital, however, as it helps build commitment among team members. In addition, healthy friction strengthens the bond between employees and their managers – ultimately leading to increased
performance
.
4 Examples of healthy conflict in the workplace
It's often difficult to manage conflict healthily. It is because conflict can be intimidating and overwhelming. However, by engaging in healthy disputes at work, both sides can be heard and understood. It allows for better communication and the resolution of problems.
Friendly competition
Competition is good- it helps employees become motivated and induces a learning and growing environment. The friendly competition allows creative problem-solving and
getting feedback from team members
in a conflict. Friendly competition builds a sense of community within the workplace leading to the high synergy among employees.
Employee feedback and reviews
The purpose of feedback and reviews is not to point out an employee's negatives traits or their shortcomings. Instead, it is an opportunity for the managers to guide the employees in the right direction. Managers should review employees by measuring their overall performance, giving
constructive feedback
, and acknowledging their achievements. Feedback will allow the employee to converse with the manager about their wants. The two-way dialogue will enable the managers and the employees to discuss grievances and conflicts.
Debates
Debates are a healthy way to address disagreements and conflicts. Debates help team members see the pros and cons of the idea. They can help employees learn from their mistakes and develop new ideas, which are essential for effective work performance. Debates can facilitate
brainstorming sessions
, which helps in brining out the best possible solution to the problem.
Disruption
Disruption can stimulate healthy conflict in the workplace by introducing new ideas, perspectives, or approaches that challenge the status quo and encourage people to engage in productive discussions and debates. When used effectively, disruption can help to stimulate creativity, innovation, and
problem-solving
and lead to better decision-making and improved outcomes. It is essential to manage disruption healthily and constructively, as it can also lead to conflict and tension if it needs to be handled correctly. For example, if disruption is used to undermine the authority or contributions of others or if it is used to dominate or manipulate discussions, it can create unhealthy conflict and hinder progress.
How to keep a culture of healthy conflict in the workplace?
Conflict can be a difficult situation to be in, but healthy conflict is an integral part of any productive workplace. But not all conflicts will be healthy and productive. Managers can do a few things to reduce detrimental and damaging conflicts in the workplace.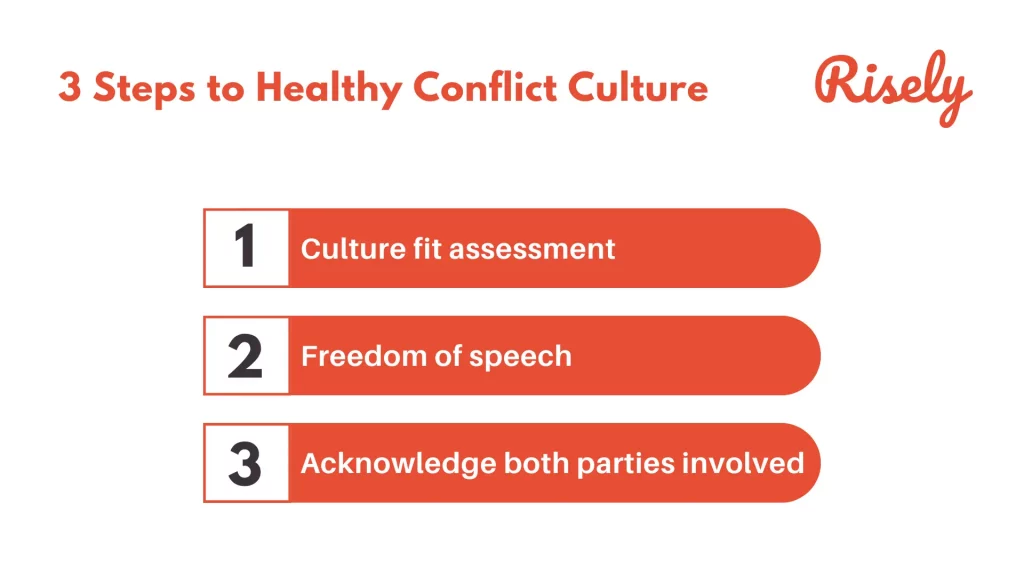 Culture fit assessment
Managers should evaluate the candidates based on the team's culture, among other assessments, while hiring. It will ensure that suitable candidates are hired based on the company's requirements. In addition, it will promote a constructive working environment and will help retain the right employees for a extended time.
Freedom of speech
Giving every employee a chance to voice their opinions establishes a healthy conflict resolution process in the team. Ensuring employees are free to express their views without fear increases satisfaction, engagement, and commitment toward their job. In addition, by voicing their concerns, employees tend to share potential ideas, boost creativity, learn problem-solving skills and create an environment wherein healthy conflicts are appreciated. Allowing team members to voice their opinions in daily tasks not only improves the work environment but also gives the employees confidence to share their
psychological issues
and creates a safe environment wherein employees feel safe and can share all sorts of problems without hesitance.
Acknowledge both parties involved
Managers should give fair chances to both parties to argue and defend themselves while resolving a conflict. Managers should understand the viewpoints and consider the situation, personal attributes, backgrounds, and
their way of communication
for constructive resolution of the conflict.
Signs of unhealthy conflicts at the workplace
By identifying the signs of an unhealthy conflict, you can prevent it from spreading and causing damage. Below are a few signs of unhealthy conflicts to look out for
Lack of respect
Lack of respect can harm workplace dynamics and morale. It can cause conflicts to escalate, leading to tension, conflict resolution problems, and, ultimately, disharmony in the team. To maintain the decorum of the office and
promote a positive work environment
, managers should conduct regular problem-solving meetups, address issues among employees, and solve them. It will increase trust among the team members, and they will also get to know each other better, reducing unnecessary conflicts.
Poor productivity
There are various reasons for unhealthy conflicts, which can lead to a decrease in productivity. Decreased
productivity
can cause tension, stress, and resentment among employees. In many cases, they may even escalate into conflict situations that harm both parties. Therefore, it is essential to identify the signs early to avoid this situation from deteriorating into an unhealthy conflict. Once managers have identified them, they should work towards addressing them before they spiral out of control. This way, everyone will be able to come away from the conflict feeling better equipped to deal with future challenges positively and productively.
High absenteeism
Studies have shown that people who experience unhealthy conflicts at work are more likely to be absent. In addition, unhealthy conflicts can have serious consequences, such as lower morale, decreased productivity, and cause feelings of hatred and anger among employees towards their co-workers. If your team member is struggling with
conflict at work
, it's best to discuss it with them in an open and non-judgmental way. It might not seem like a big deal, but untreated conflicts can eventually spiral out of control into more significant problems, affecting everyone involved.
Poor engagement in the team
There is a declining engagement of employees these days, as evidenced by the fact that they are more likely to leave their jobs or refrain from taking up new opportunities. This trend has arisen due to the lack of healthy conflicts at work, leading to low productivity and morale, loss of trust, and even conflict resolution failures. When teams have an unhealthy conflict resolution process, employees are poorly engaged at work, and their participation in co-curricular activities is also low. Therefore, teams must have a healthy conflict resolution process to combat this issue. And managers should organize regular discussions about
goals
, values, and objectives. Doing so will help keep everyone on track and motivated toward the same purpose. You can read more about conflict management and learn new tricks and tips on how managers can deal with
conflict management effectively
. And, if you're struggling to get your teams on the same page or working towards common goals, sign up at
Risely
! We will help you in implementing healthy conflict management into your conversations and workflow.
Conclusion
Healthy conflict can be a valuable tool for teams of all sizes. You can improve communication, team dynamics, and overall productivity by engaging in conflict constructively. Healthy conflict can also lead to innovation and creativity. So why wait? Start implementing healthy conflict resolution in your workplace today and see what amazing things happen!
Get the free conflict management toolkit for managers today!
Unleash your true potential as a team manager with free templates that make a resolution a breeze.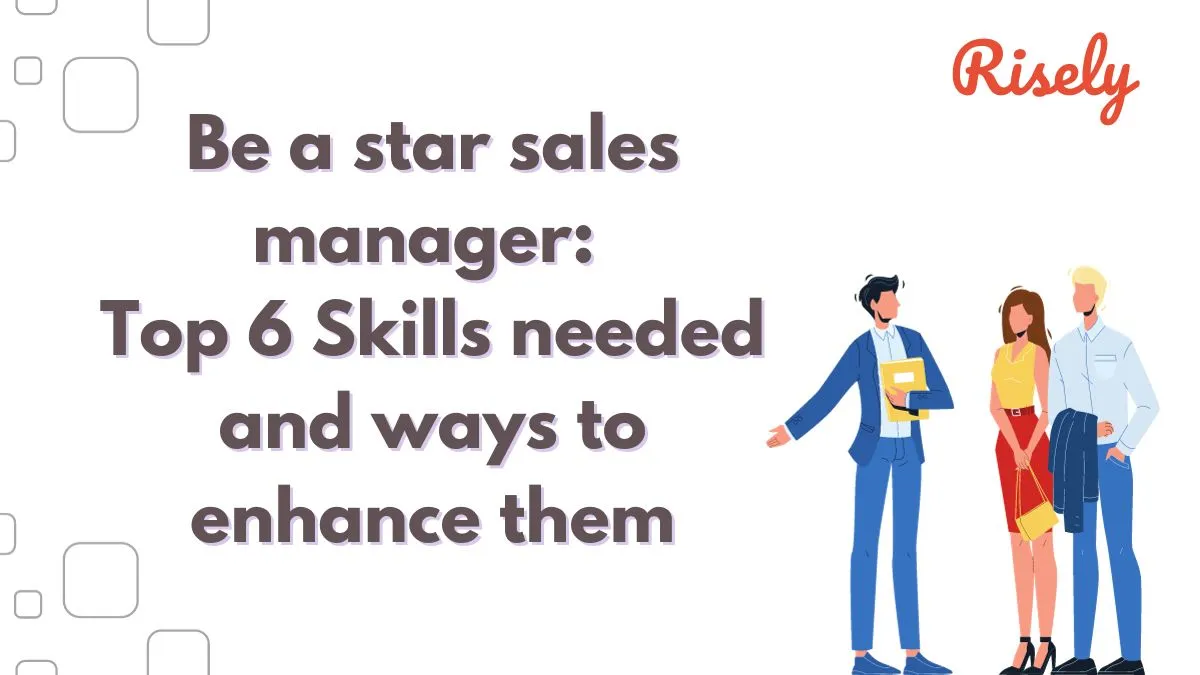 Be a Star Sales Manager: Top 6 Skills needed and ways to enhance them Behind every successful sales team, there is an exceptional sales manager. A sales manager is critical…
Top 15 Tips for Effective Conflict Mediation at Work As a manager or leader, you might be familiar with the conflicts that arise in the workplace. It's not always easy…