10 Proven hacks for Building Trust in the Workplace for Managers
No one likes a trust deficit in the workplace, and unfortunately, it's all too common. Managers who are ineffective in building trust in the workplace can even damage the team's productivity. So how can managers build trust with employees? And how can employees gain the confidence of their managers? In this blog post, we'll explore these questions in depth. But before that, let's understand what building trust in the workplace is in detail and why we need it with our teams.
What is Trust?
Trust refers to a bond or relationship between two parties willing to stand by each other in a meaningful way. Moreover, it means that people can rely on each other, especially when needed. A lack of trust could be detrimental to the productivity and efficiency of any workplace, which is why managers need to focus on building trust within a team. It is a two-way street where both managers and employees need to mutually put in the effort to build trust in a team. They need to use different types techniques to build trust in teams to reach a point where they can work together with high efficiency. Managers need to set an example by being honest and open, and employees need to trust that their managers will do the right thing. Similarly, managers should be able to trust their team members to take their vision forward. Building trust with employees is a long-term process, and it takes time and consistency for both sides to reap the rewards. It involves three essential qualities: care, competence, and commitment. If embedded in oneself, these qualities make it easy to build trust in a team with others. We will go deeper into how both managers and employees can build trust with employees. But, before that, let's understand why we need to build trust in teams in the workplace.
Examples of Trust in the Workplace
Delegating Important Tasks: A manager trusts an employee with a critical project, giving them the autonomy to handle it without constant supervision.
Open Feedback: Employees feel comfortable providing honest feedback to their manager about work-related issues, knowing their opinions will be respected.
Flexible Work Arrangements: A manager allows employees to have flexible work hours or remote work options, demonstrating trust that they will fulfill their responsibilities.
Confidentiality: Team members confide in their manager about personal or professional concerns, knowing that the information will be kept confidential.
Credit for Achievements: A manager gives credit to the team for successful projects, showcasing trust in their abilities and contributions.
What are the pillars of Trust?
Reliability: Consistently delivering on promises, meeting deadlines, and being dependable in both actions and words.
Open Communication: Encouraging an environment where team members feel comfortable sharing their thoughts, ideas, and concerns without fear of negative consequences.
Accountability: Taking ownership of mistakes, addressing them proactively, and holding oneself and team members responsible for their actions.
Empathy: Understanding and considering the emotions, needs, and perspectives of team members, fostering a supportive and caring atmosphere.
Consistency: Aligning actions and decisions with established values, principles, and expectations over time.
Confidentiality: Safeguarding sensitive information and maintaining trust by not disclosing private matters without consent.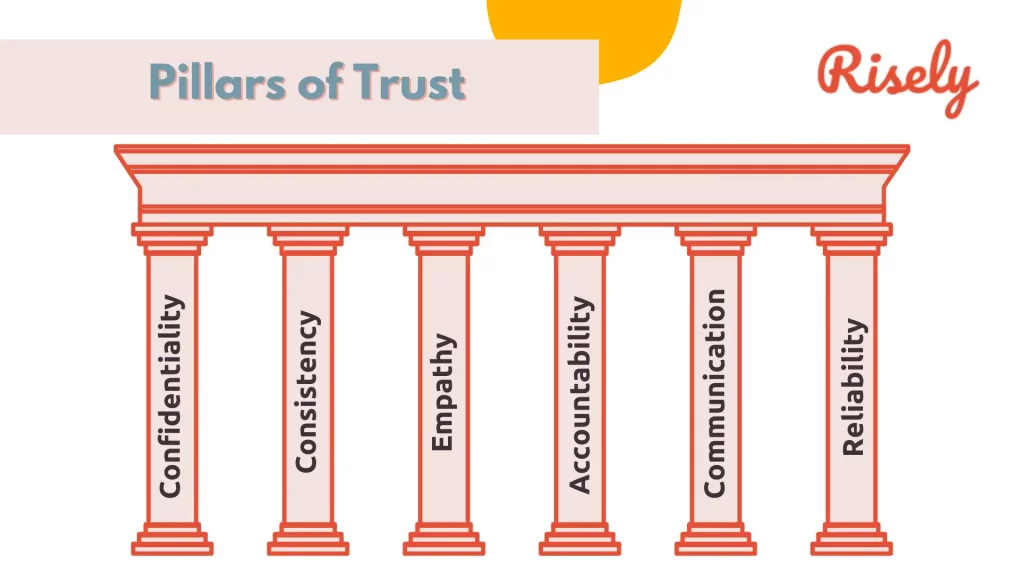 What are the types of trust managers need to know?
Cognitive Trust: Trust based on competence, expertise, and capabilities, where individuals trust others' knowledge and skills.
Affective Trust: Trust rooted in emotional connections and personal relationships, often developed over time through shared experiences.
Relational Trust: Trust that develops through positive interactions and consistent behavior over an extended period, leading to a strong, enduring bond.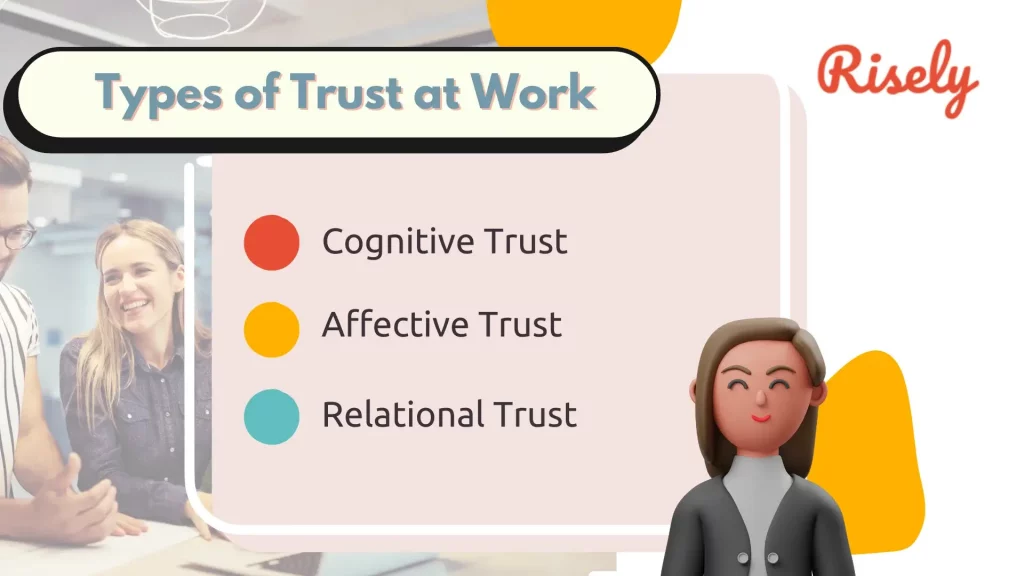 Why Do We Need To Build Trust In The Workplace?
Trust is essential in any workplace, but it's imperative in the digital age. If we don't have it, it can be difficult for us to
collaborate
or even get along with our co-workers. Building trust in the workplace is a two-way street. Employees need to trust that their managers are supportive and understanding and that the company culture is conducive to creativity and innovation. Managers need to trust that their workforce is committed to the team and product
goals.
If all of the following elements are in place, teamwork and productive action will follow. Building trust with employees is also important for managers to become trustworthy leaders and be confident that their 
leadership abilities
are compelling. Similarly, employees need to build trust with their managers because it ensures that they receive the backing and support from managers they need for their job. Read more here:
How Lack Of Trust In The Workplace Can Destroy The Work Culture
How To Build Trust In The Workplace? 5 Effective Steps For Managers
Be consistent in your actions
The first step in building trust in the workplace is bringing consistency, as inconsistency or unpredictability can make it challenging to develop relations. There must be consistency in being transparent, direct, and communicative with team members, setting expectations, and being accountable to them as a manager. Managers must be consistent in dealing
with and guiding
the employees if they want to build trust in team and make them confident. They should also maintain consistency in promise vs. action. In essence, you do what you say you will do as a manager. To create a sense of
teamwork and camaraderie
, managers must also make themselves available to their team for guidance and be open to feedback. By consistently guiding and leading the team, managers can help create a clear vision and set effective goals. Further, managers can create an environment conducive to innovation and creativity by working systematically towards building trust and confidence within the team.
Give employees autonomy
Employees require tasks and objectives and the freedom to carry them out in the best way. It is known as
"autonomy"
and is one of the key drivers of trust. It is one of the critical pillars of building autonomy. So to show that you trust your team members, you must start giving them more and more autonomy. When employees get autonomy, they are free to experiment and take risks, leading to better performance and hard work. It allows for open lines of communication, and employees are more likely to take the initiative and report any issues or concerns they may have. In addition to building trust in the workplace, providing autonomy also encourages employees to take ownership of their work and feel like they are part of a team effort which further gives rise to better
employee engagement
and, ultimately, a more extraordinary
employee experience
.
Improve your ability to manage teams
If you want to build trust in teams, the first step is to improve your management capabilities. It means developing the skills necessary to lead and manage a team effectively. Managers should make efforts to become better themselves. Some ways of doing that include taking feedback from the team, drawing up the action plan for change, and effectively communicating that plan with the team. Managers should also openly share the progress of that action plan with the team. They should remember that their team must know that their manager strives to manage them better. Managers must hold themselves accountable to the team to become better managers. Doing that will build trust with employees and will get these managers tremendous respect and support from their team members. Are you prepared to manage ambitious teams? Test now with
Risely's free Leadership Skills self-assessments
for managers.
Be caring and empathetic
Managers need to be caring and empathetic to build trust in teams. A manager who is not caring or compassionate will struggle to establish a good working relationship with their team. Managers who are caring and empathetic understand their team members' individual needs and concerns. They believe in
actively listening
to their employees and can provide support and encouragement when needed. It creates a
positive work environment
where team members feel that the manager values them, cares for their wellness, and appreciates their contributions. It gives rise to mutual respect and ultimately pushes employees to trust their manager.
Be honest
To build trust in teams, managers must be honest and open with their team and have transparency about their goals and intentions. They should consider openly sharing their beliefs, ideas, and thoughts over something with their employees. It builds trust when team members know that their manager is always looking out for their best interests. Additionally, being open and honest also allows team members to provide feedback and suggestions, which can help improve the team's overall performance. Leaders who are fair, transparent, and accountable will be more likely to be successful in building high levels of trust and encouraging team collaboration. If you feel that some actions have broken down the level of trust in your team, worry not! Find insights here:
How to Rebuild Trust in the Workplace? 6 Effective Tips
5 Ways Employees can Help in Building Trust in the Workplace
Be consistent in your efforts and put your best effort forward
Building trust in the workplace starts with being consistent in your efforts. You must put your all into your work and show that you are committed to doing the best you can. It means completing your tasks on time, meeting deadlines, and delivering high-quality work. Additionally, be sure to communicate effectively with your managers so that they can understand your progress and give you feedback that will help you improve. Employees should never forget to respect their manager's efforts and time and keep any disagreements or disputes at bay. Employees can also achieve professional development by consistently putting their best work forward.
Stick to your words and deliver what you promise
Employees should always stick to their words and deliver what they promise to build trust with their managers. Employees who do not keep their promises may not remain trustworthy in the eyes of their managers, and it can be detrimental to the work environment and employee morale. When employees break promises, it can cause tension and confusion. Additionally, employees who do not perform their tasks on time begin to lose their managers' trust.
Improve your competence and skills
One of the most important ways employees can help in building trust in the workplace is by continuously improving the competence required for their job. It means that you should learn new things and demonstrate a mastery of the skills necessary for your position. That strengthens the relationship between employee and manager, as it shows that both parties are committed to ensuring that everyone in the organization is performing at their best. It also helps create a
culture of continuous learning
, which is essential for success in any organization.
Be familiar with company values and procedures and comply with them
Employees should be familiar with the company values and procedures and should be able to comply with them. By doing so, employees will be able to convey that they respect the company's culture and are committed to following its guidelines. It will help build confidence between managers and employees, necessary for a smooth and productive workplace. Read more:
How Company Culture Shapes Employee Motivation? A Manager's Guide
Be honest
When building trust in the workplace, employees must be candid with others. It will help establish a strong foundation of trust between the two parties and will ultimately help improve communication and teamwork. By being transparent and open with your managers and having honest conversations with them, you will be able to work together more efficiently and build stronger relationships in the long run. The level of trust this will make will last longer and will continue to foster the culture needed for a successful collaboration between manager and employee. If people management challenges keep hampering your work, Risely is here to help you out! Risely is your buddy in solving people management challenges like challenges in building trust in the workplace for managers who are heading towards success. It lets you take the reins on your development journey with uniquely designed learning plans supplemented with expert curated resources.
Sign up to Risely
to start achieving your true potential today.
Conclusion
Trust is essential to any workplace and is crucial for managers and employees to maintain. By understanding how managers can help build trust in the workplace, managers can create a work environment conducive to productivity and team cohesion. Similarly, employees can build trust with their managers, allowing them to unlock constant backing and support from the manager. That will give them the liberty to perform to the fullest and make the best out of their role. So, what are you waiting for? Start building trust in your teams with our helpful tips!
Practice giving autonomy to your team members with our free effective delegation toolkit
Learn how to delegate tasks effectively for the best results with your team
---
FAQs
What causes lack of trust in relationship at workplace?
Lack of trust happens in an organization when the team members do not feel that they are in a transparent environment and have unresolved concerns lying in the background. Lack of trust in workplace relationships can typically happen due to:
– Absence of effective communication mechanisms
– Not addressing conflicts directly
– Office politics and gossip
– Lack of accountability
– Lack of transparency in work related matters
What is the importance of trust at work?
Trust is important in workplace relationships because it helps team members work together in a collaborative approach. Trust allows a sense of psychological safety in the workplace, due to which team members feel comfortable. Trust in workplace relationships also helps teams collaborate as the members can rely on each other and hold each other accountable.
How do effective leaders build trust with employees?
The key to building trust with employees lies in being honest and up-front in your communication. Effective leaders share thoughts and ideas with their teams. They ensure that team members feel safe, their voices are heard, and their efforts are recognized. Setting examples for accountability is essential to building trust in the workplace as a leader.
What build trust in a team?
The key elements for building trust in a team are:
– Creating open communication routines
– Enabling transparency at work
– Demonstrating good behavior as a manager
– Establishing personal and team accountability
– Recognizing efforts made by team members
---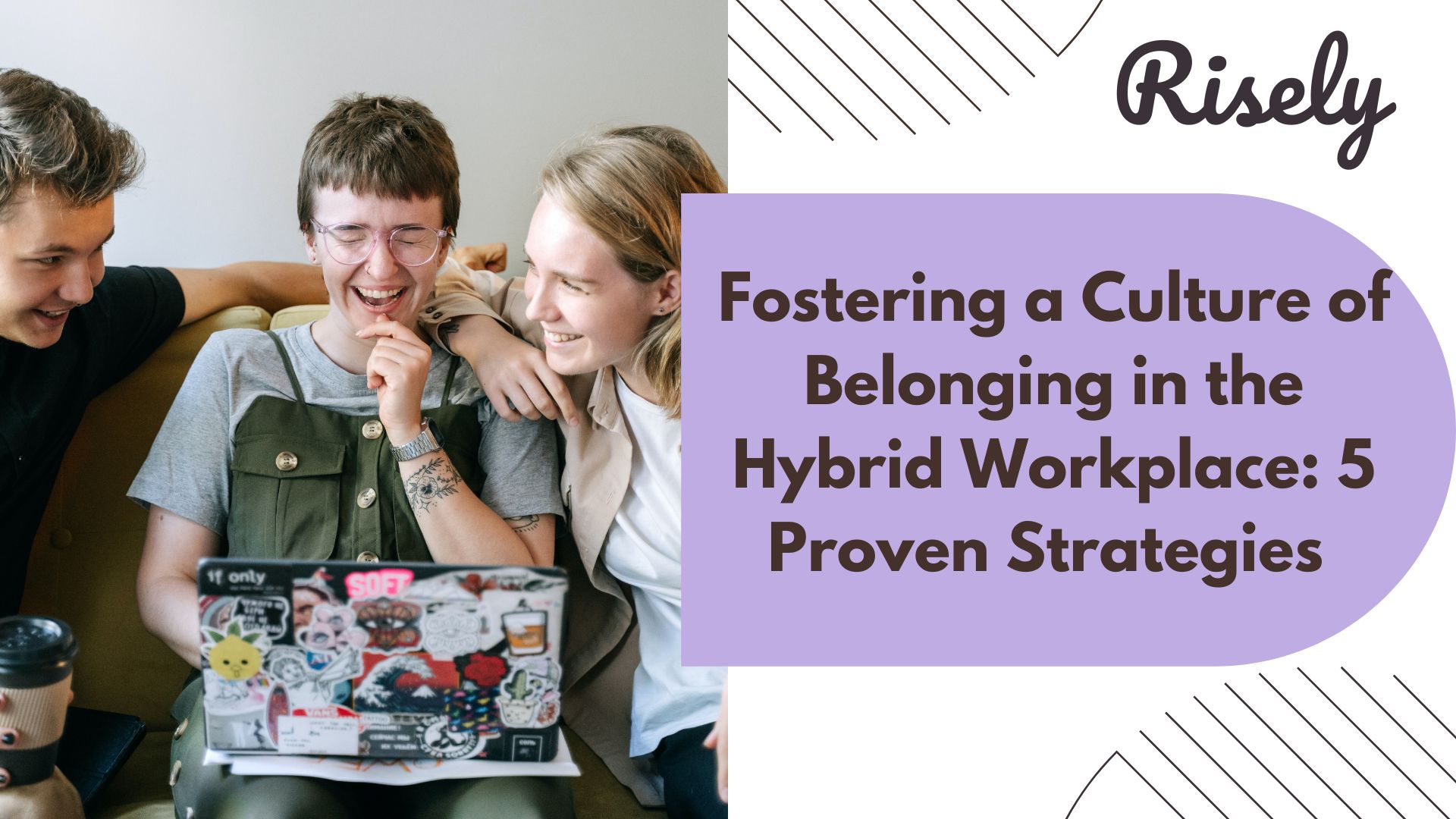 Fostering a Culture of Belonging in the Hybrid Workplace: 5 Proven Strategies Have you ever wondered how to create a sense of belonging and inclusivity in a hybrid workplace? As…
Top 5 One On One Meeting Templates For Engaged And Productive Teams As a manager, one-on-one meetings are essential to ensure your team is engaged and productive. These meetings allow…