9 Tips to Create Accessible Training Opportunities at Work
In today's diverse workplace, it's crucial to create training opportunities that are accessible to all employees. Whether they have visual impairments, hearing difficulties, or learning disabilities, everyone should have an equal chance to learn and grow. So, what does accessible training look like? In this blog, we will explore the critical features of accessible training and discuss the challenges diverse learners face. But that's not all – we'll also provide you with ten practical tips to boost accessibility in learning at work. From optimizing contrast and color schemes to supporting asynchronous communication, these strategies will help you create an inclusive learning environment that empowers every employee to succeed. Get ready to revolutionize your training programs!
What does accessible training look like? Key features
Accessible training refers to a training program or content that is designed and delivered in a way that is accessible to all individuals, including those with disabilities. It means considering the needs of individuals with visual, hearing, cognitive, or physical impairments and ensuring they can fully participate in and benefit from the training. It is essential to
creating a great employee experience
. Accessible training may involve providing alternative formats for materials, such as Braille or large print documents, closed captioning or sign language interpretation for videos, or using accessible technology or tools to deliver the training. The goal of accessible training is to create an inclusive learning environment where everyone has equal access to information and opportunities for growth and development. Accessible training involves:
Providing materials in alternative formats.
Using clear language without jargon.
Ensuring equal opportunities for all participants.
Training challenges faced by Diverse Learners
Creating inclusive training programs involves addressing several challenges that learners with diverse needs may encounter. One of the critical challenges is providing materials in multiple formats to accommodate different learning styles, such as accessible PDFs and closed captions for videos. Ensuring accessibility for individuals with disabilities is another challenge, which can be addressed through screen reader compatibility and providing transcripts. Additionally, flexible training options like
self-paced modules
and online courses can help cater to different schedules and learning preferences. It is also essential to consider the language needs of learners and provide translations or interpreters when necessary. Incorporating interactive elements and fostering a supportive learning environment further promote inclusivity.
9 ways to boost accessibility in learning at work
Getting the contrast right
Ensuring proper contrast between text and background colors is vital for individuals with visual impairments. Implement high-contrast color combinations like black text on a white background or vice versa. You can accommodate various visual needs by providing alternative formats, such as audio recordings or braille versions, and offering options to adjust font size and style. Test your training materials with screen readers and other assistive technologies to guarantee compatibility and accessibility. Remember, not relying solely on color to convey information is crucial to include individuals who are colorblind. Read more:
How to Create Training Materials: A 5 Step-by-Step Guide
Looking over the rainbow
When it comes to promoting inclusivity and accessibility in the workplace, it is essential to consider how training programs cater to the needs of all learners. Looking over the rainbow of accessible training, several key factors contribute to a more inclusive learning environment. One crucial aspect is ensuring all training materials and resources are accessible to individuals with disabilities. By offering alternative formats, such as Braille or audio recordings, and utilizing assistive technologies like screen readers, we can ensure everyone can access the information equally. Another important aspect is creating a welcoming and inclusive environment. Promoting diversity and inclusion in our training programs fosters a sense of belonging for all learners. Managers can achieve this by incorporating inclusive language, providing reasonable accommodations like sign language interpreters or captioning for videos, and training managers and supervisors on disability awareness. Lastly, employing universal design principles when developing training materials and activities ensures they are accessible to everyone, regardless of their abilities. By considering aspects such as web accessibility, visual impairments, and different learning preferences, we can create training programs that cater to the diverse needs of our workforce. Read more about different learning styles at work here:
All about 5 Learning Styles and Accommodating them in the Workplace
Mixing things up
By incorporating various learning formats, such as videos, written materials, and interactive activities, organizations can ensure accessible training opportunities for all employees. Accommodating different learning styles is essential to meet diverse learner needs. It is crucial to make all training materials accessible, including providing captions for videos and using larger font sizes for written materials.
Flexible scheduling options
should be offered to accommodate employees' diverse work schedules and time constraints. Integrating assistive technology and tools, such as screen readers and magnifiers, can further enhance accessibility for individuals with disabilities. To foster an inclusive learning environment, organizations should promote communication about accessibility needs and educate managers and supervisors on supporting employees with disabilities.
Taking time out
When creating accessible training opportunities at work, it is crucial to consider the aspect of taking time out. It means providing employees with flexible training schedules and options to accommodate their diverse needs. This can include allowing them to attend training sessions during work hours or offering self-paced online courses that can be accessed at their own pace. Moreover, ensuring that training venues are accessible to individuals with disabilities by providing ramps or elevators for wheelchair access and accessible restrooms is a best practice in promoting accessibility. In addition, providing assistive technology devices and software, such as screen readers or captioning services, during training sessions can further support employees with visual or hearing impairments.  By incorporating universal design principles into training materials and activities, instructional designers can ensure that they are usable by all individuals, regardless of their abilities. Furthermore, providing accommodations and support for individuals with learning disabilities or cognitive impairments, such as offering additional time for completing assignments or providing alternative methods of instruction, can contribute to an inclusive and accessible training environment.
Being clear and consistent
Creating an inclusive and accessible training experience involves
effective and transparent communication
. When developing training materials, use clear and plain language to enhance understanding for all learners. Avoid technical terms or jargon that may confuse participants. Additionally, incorporate visual aids such as diagrams and charts to accommodate different learning styles.  Provide training materials in various formats, including printed handouts, electronic documents, or online platforms, to cater to diverse accessibility needs. Make sure to include captions or transcripts for videos and audio recordings to support individuals with hearing impairments. Encouraging questions and promoting open communication during training sessions contribute to an inclusive learning environment.
Getting descriptive
To ensure accessible training opportunities at work, providing clear and comprehensive descriptions for all training materials is crucial. It includes videos, presentations, and written documents. Using alt text for images and graphics helps individuals with visual impairments understand the content. Captions and transcripts must be included for audio and video content to assist those with hearing impairments. It is important to offer training materials in multiple formats like PDF, Word, and HTML to accommodate various accessibility needs. Using accessible fonts and colors is essential for individuals with visual impairments. Consider assistive technologies like screen readers and magnifiers to make training materials accessible.
Amplifying audiovisual content
To ensure the amplification of audiovisual content and promote accessibility, it is crucial to follow best practices. Providing captions or transcripts for all audio and video content is essential for individuals with hearing impairments. Additionally, using clear and concise language in training materials improves understandability for individuals with cognitive disabilities. Accommodate individuals with visual impairments by offering adjustable font sizes and incorporating color contrast options in digital training materials.
Supporting asynchronous communication
In today's fast-paced work environment,
supporting asynchronous communication
is essential for creating accessible training opportunities. By allowing employees to access training materials at their own pace and schedule, organizations can cater to the diverse needs of their workforce. Recorded webinars and online training modules offer self-paced learning options, benefitting individuals with hearing impairments by including captions and transcriptions.  Additionally, ensuring the compatibility of learning management systems with assistive technologies promotes accessible design. Offering alternative formats, such as written transcripts and braille versions, further enhances accessibility for those with visual impairments. Designing visually appealing presentations and documents using clear fonts and colors is a best practice in digital accessibility.
Mimicking the mouse
Mimicking the mouse is a valuable technique inaccessible training that allows individuals with limited mobility to navigate and interact with digital learning materials. Individuals with mobility impairments can actively participate in online training programs by using alternative input devices like trackballs or joysticks. These alternative input devices emulate the movements of a traditional computer mouse, allowing users to navigate training modules and complete interactive activities smoothly. Ensuring that the alternative input devices are compatible with the software and platforms used for training is essential. Additionally, instructional designers should create training materials with accessibility in mind, incorporating features such as keyboard shortcuts and intuitive navigation options.
Conclusion
Creating accessible training opportunities at work is not only the right thing to do but also benefits both employees and the organization. By implementing key features such as proper contrast, color accessibility, consistent formatting, clear communication, descriptive content, and support for different learning styles, you can ensure that all employees have equal access to training materials. Boosting accessibility in learning at work allows for a more inclusive and diverse workforce, fosters a positive work environment, and ultimately leads to improved productivity and performance. 
Are your guiding your team's learning effectively?
Take the free constructive feedback self-assessment now to discover hidden mistakes and make your feedback 10x effective.
---
What is accessibility in online learning?
Accessibility in online learning refers to the design and implementation of educational materials and platforms that are usable and inclusive for all learners, regardless of their physical or cognitive abilities. It ensures that individuals with disabilities or limitations can access, navigate, and engage with online learning content on equal terms.
Why is accessibility important in learning?
Accessibility is important in learning because it promotes equity and inclusivity. It ensures that individuals with disabilities have equal opportunities to participate in and benefit from educational experiences. By removing barriers and providing accommodations, accessibility allows learners to access information, interact with content, and demonstrate their knowledge effectively, fostering an inclusive learning environment.
What are the 4 main principles of accessibility?
The four main principles of accessibility, often referred to as the Web Content Accessibility Guidelines (WCAG), are perceivable, operable, understandable, and robust. Perceivable means that information and content should be presented in a way that can be perceived by all users, including those with sensory impairments. Operable means that users should be able to navigate and interact with the content using various input devices. Understandable emphasizes clear and comprehensible content, and robust refers to compatibility with a wide range of user agents and assistive technologies.
What is the aim of accessibility?
The aim of accessibility is to ensure equal access and participation for all individuals, regardless of their abilities. It aims to remove barriers and create inclusive environments where individuals can fully engage, learn, and succeed. By implementing accessible design principles, educational materials and platforms can be made more usable and inclusive, providing equal opportunities for learners with disabilities to acquire knowledge, develop skills, and reach their full potential.
---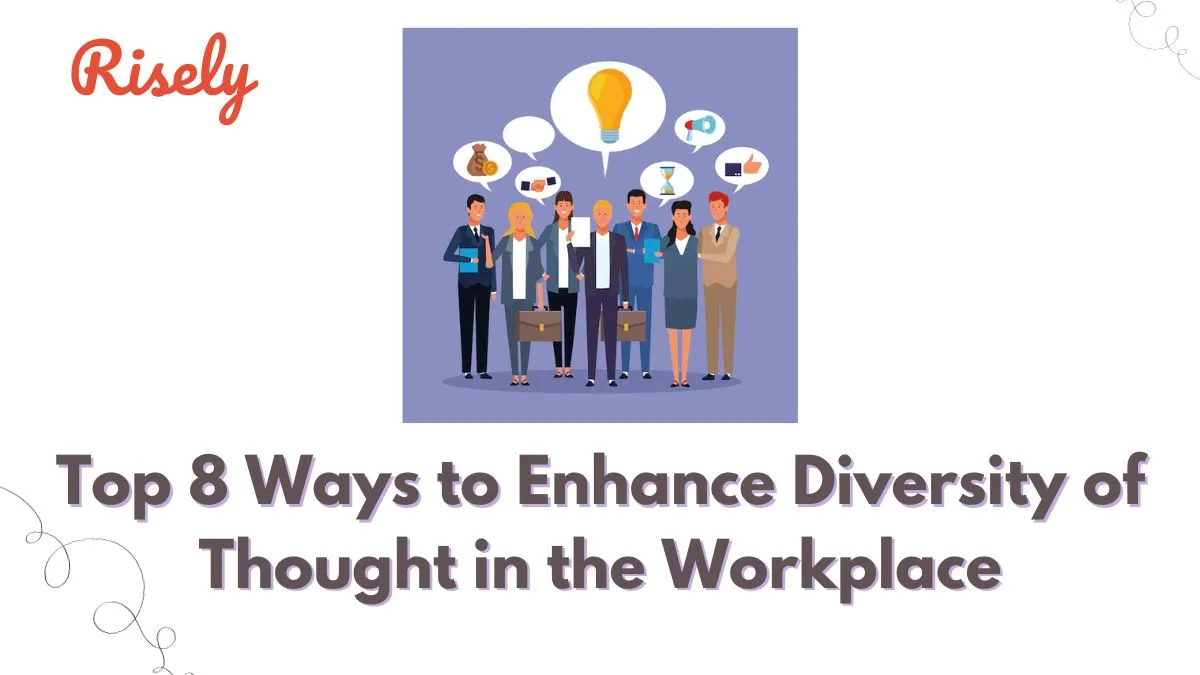 Top 8 Ways to Enhance Diversity of Thought in the Workplace As businesses become more global and diverse, it is essential to recognize that diversity goes beyond just race and…
Why is Diversity Important in the Workplace? 7 Reasons to Note Conventionally, teams at work are made up of similar people. They are usually from the same place and reached…