Developing Training Modules: Steps to Solid In-house Training
Are you tired of ineffective employee training programs that leave your team unmotivated and unproductive? It's time to level up your in-house training with well-developed training modules. This blog will guide you through creating effective training modules that will engage your employees and enhance their skills and knowledge. We'll cover everything from understanding what a training module is and why it is crucial for employee development to exploring modules such as e-courses, video lessons, micro-lessons, FAQs, aids, role-plays, interactive assessments, and quizzes. Get ready to transform your training program and empower your employees with the tools they need to succeed. Let's dive in!
What is a Training Module?
A training module is a standalone unit of instructional material that targets a specific topic or skill. Its purpose is to assist learners in gaining new knowledge or enhancing existing skills. These modules usually consist of learning objectives, content, activities, assessments, and resources. They can be delivered through different formats like presentations, videos, e-learning modules, or interactive workshops.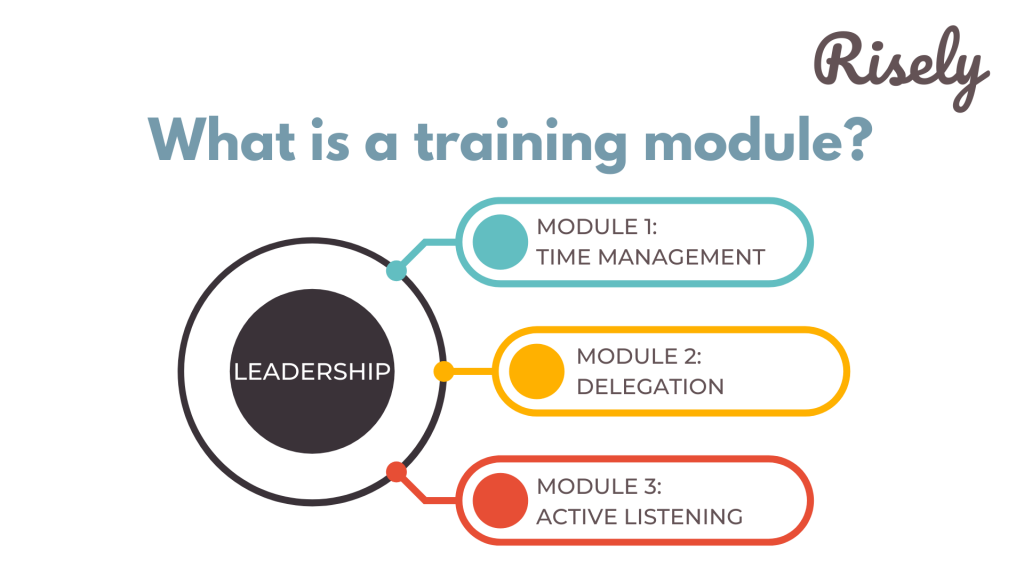 Read more:
How to Create Training Materials: A 5 Step-by-Step Guide
Why Are Training Modules Important for Employees?
Training modules are needed for a variety of reasons. Firstly, they provide a structured and organized way to deliver information and knowledge to learners. By breaking down complex topics into manageable modules, learners can absorb the content more effectively and at their own pace. Training modules also help ensure consistency in information delivery across different learners or groups. They provide a standardized format and content that can be used repeatedly, reducing the risk of important information being missed or misunderstood. Furthermore, training modules allow for easy updates and revisions. As new information or best practices emerge, modules can be modified or replaced to keep the training content current and relevant.
Types of Training Modules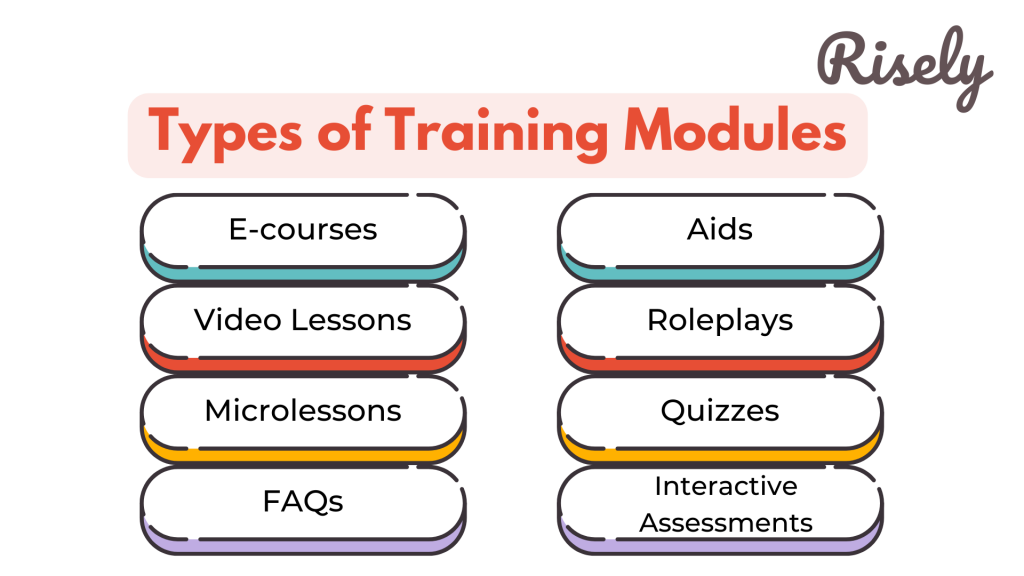 Training modules come in various types, each serving a specific purpose in
employee development within an organization
. The different types of training modules include:
E-courses: Online Mediums for Great Learning
E-courses are a great way for learners to engage in online training modules. They offer flexibility and convenience, allowing learners to access the modules anytime and from anywhere with an internet connection.
E-learning courses
incorporate interactive elements such as quizzes, discussions, and multimedia elements like videos, audio recordings, and simulations. These features create a dynamic and engaging learning experience for the trainee. Moreover, e-courses can be cost-effective compared to traditional in-person training methods, eliminating the need for travel and accommodation costs. Implementing e-courses in employee training programs is a best practice that ensures effective and accessible learning.
Video Lessons: Engaging Learning Tools
Video lessons are an essential component of an engaging learning experience. These interactive training modules offer a dynamic and effective way to deliver information to learners. Incorporating demonstrations, simulations, and interviews with subject matter experts, video lessons provide an engaging and interactive approach to employee training. Whether accessed through a learning management system (LMS) or uploaded to a website or intranet, video lessons ensure learners can access relevant content anytime, anywhere. With their ability to combine various content formats, such as graphics and text, video lessons are a powerful tool for creating impactful training modules.
Micro-lessons: Bite-sized Learning for Easy Retention
Microlessons
are a great way to provide bite-sized learning opportunities for employees in your training module. Designed to deliver information in small, easily digestible chunks, micro-lessons ensure that learners can retain and apply knowledge effectively. By breaking down complex topics into focused modules, employees can fit training into their busy schedules and acquire new skills efficiently. Whether it's through interactive quizzes, video lectures, or written materials, micro-lessons offer flexibility and engaging learning experiences. Including micro-lessons in your training program enhances knowledge retention, boosts work performance, and ensures an impactful learning experience.
FAQs: Addressing Common Questions and Concerns
FAQ modules are a vital component of a comprehensive training program. They are a reliable employee resource, offering quick and accessible information to address common questions and concerns. These modules consist of a collection of frequently asked questions accompanied by detailed and informative answers. Designed to save employees time and effort, FAQs modules can be accessed in various formats, such as written documents, videos, or interactive presentations. Regular updates are essential to ensure the relevance and accuracy of the information provided.
Aids: Supporting Materials for Effective Learning
Aids, such as handouts, worksheets, visual aids, and multimedia presentations, enhance the learning experience within training modules. These supporting materials reinforce key concepts, provide additional information, and actively engage participants. By creating clear, concise, visually appealing aids, trainers can effectively deliver training and maximize its impact. When developing training modules, it is essential to consider the appropriate aids that best support the content and learning objectives. Choosing the right aids ensures maximum effectiveness and understanding for learners.
Role-plays: Simulated Scenarios for Practical Training
Simulated scenarios for practical training, commonly known as role-plays, provide trainees with an engaging and interactive learning experience. Employees can enhance their communication and problem-solving skills in a controlled environment by participating in simulated situations. These scenarios allow participants to assume roles and practice real-life situations like customer service, conflict resolution, and sales techniques. Role-plays are an effective way to prepare employees for real-world challenges they may encounter in their work, ensuring that they are equipped with the necessary skills for success. Read more:
Role Play Training at Work: 7 Effective Tips + Sample Situations
Quizzes: Assessing Knowledge and Progress
Quizzes are an effective way to assess knowledge and progress in a training module. They can be designed in various formats, such as multiple choice, true or false, or fill-in-the-blanks, ensuring interactive assessment for learners. By incorporating quizzes throughout the training program, you can provide regular feedback to learners, reinforce their understanding of the material, and help them effectively retain information. Quizzes are an impactful tool in an employee training program, allowing you to gauge the effectiveness of your training and identify areas for improvement. Online platforms and learning management systems (LMS) often have built-in quiz features, making creating and administering quizzes convenient. Incorporating quizzes in your training modules is a great way to assess learning progress and ensure an engaging learning experience for your trainees.
Interactive Assessments for Learning Engagement
Interactive assessments are a tool that allows for active participation and engagement from the user. Unlike traditional assessments that are more passive, interactive assessments require the learner to respond to questions or tasks in real-time actively. These assessments often involve multiple-choice questions, drag-and-drop activities, simulations, or interactive media. The benefit of using interactive assessments is that they can provide a more engaging and immersive learning experience, allowing team members to apply their knowledge and skills practically and interactively.
How to Create Training Modules for Employees: 7 Easy Steps
Creating training modules is an essential aspect of employee development. To design practical training modules, follow these seven easy steps: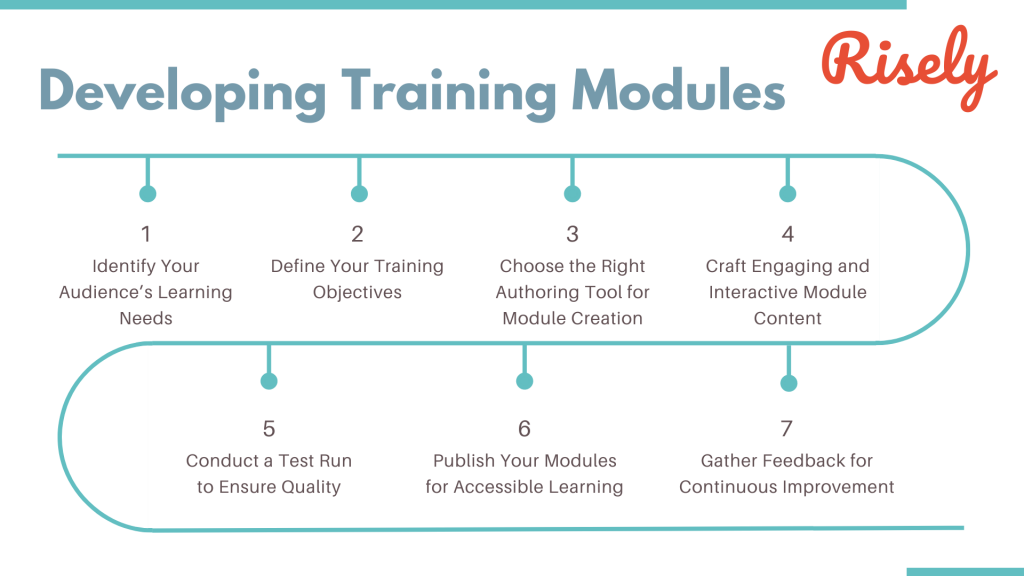 Step 1: Identify Your Audience's Learning Needs
Identifying the specific requirements of your learners
is the crucial first step in developing practical training modules. Rather than relying solely on pre-packaged content, take the time to tailor the module to their needs. Surveys, interviews, and observation methods can be used to identify the learner's existing knowledge and skill gaps. Once these needs are identified, prioritize them based on their relevance and importance to the organization's goals. L&D managers can ensure maximum engagement and effectiveness in the training module by catering to different learning styles and preferences.
Step 2: Define Your Training Objectives
Effective training modules begin with clearly defined objectives for employee learning and achievement. Training becomes targeted and impactful by identifying and addressing specific knowledge or skill gaps. Measurable and specific objectives allow for progress tracking and evaluation to ensure desired outcomes. When
aligning training objectives with organizational goals and strategies
, buy-in from critical stakeholders ensures relevance and alignment. Clear and concise communication of training objectives to employees creates understanding and motivation. Developing training modules with well-defined goals is the first step toward delivering effective and impactful learning experiences.
Step 3: Choose the Right Authoring Tool for Module Creation
When creating effective training modules, choosing the right authoring tool is crucial in the module creation process. By selecting the appropriate tool, you can ensure efficiency and seamlessness. Various options are available in the market, so evaluating their features and functionality is essential. Look for authoring tools with a user-friendly interface, drag-and-drop functionality, and the ability to incorporate multimedia elements. Consider compatibility with different devices and operating systems for accessibility too.
Step 4: Craft Engaging and Interactive Module Content
Crafting engaging and interactive module content is a vital aspect of developing effective training modules. Designing content in an engaging and interactive manner is a crucial step toward capturing the learner's attention and ensuring effective knowledge retention. Incorporating various content formats, such as videos, images, and interactive quizzes, within the training module can create an immersive learning experience for the employees. Additionally, including real-life examples, case studies, and practical scenarios helps the employees apply their acquired knowledge in real-world situations, enhancing the relevance and effectiveness of the training. Simplifying complex concepts into easily digestible chunks of information, and utilizing transparent and concise language, fosters better understanding and aids in information retention. Furthermore, integrating hands-on practice opportunities and role-playing exercises encourages active participation and reinforces learning by challenging the trainees to apply their knowledge in simulated scenarios.
Step 5: Conduct a Test Run to Ensure Quality
To guarantee the quality and effectiveness of your training module, it is essential to conduct a test run to gather feedback and make necessary improvements before launching it for all employees. This step will help you identify any areas needing adjustment or clarification. Select a small group of participants, preferably representative of your target audience, and provide them with all the necessary materials and instructions. Observe their engagement, comprehension, and overall experience during the test run. Encourage participants to share their feedback, which will be invaluable for refining and ensuring a high-quality training module. Read more:
The Ultimate Guide to Implementing a Learner Centred Approach
Step 6: Publish Your Modules for Accessible Learning
To ensure maximum accessibility and ease of learning for your employees, publishing your training modules using the best practices available is crucial. By leveraging a learning management system (LMS) as a platform for hosting and distributing your modules, you can streamline organization, tracking, and accessibility. Consider testing the
accessibility and functionality of your modules
before publishing to ensure a seamless learning experience. Furthermore, providing clear instructions on how employees can access the modules, whether through online browsers or downloadable content formats like PDF files, is essential.
Step 7: Gather Feedback for Continuous Improvement
Feedback from trainees, trainers, and supervisors is vital in creating impactful training modules. By collecting feedback through surveys, interviews, or focus groups, you can gain valuable insights that help identify areas for improvement. This feedback-driven approach ensures that the training modules are continuously refined to meet the needs of learners. Creating a safe and open environment for feedback encourages honest and constructive responses, fostering a culture of growth and improvement. Through careful analysis of feedback, you can make necessary adjustments to the training modules, ensuring their effectiveness and relevance. By adopting a feedback-driven approach, you can create training modules that deliver the best results and enhance the overall learning experience. Learn more:
The Complete Guide to Training Evaluation Survey (With 20+ Questions)
Conclusion
In conclusion, training modules are crucial for providing effective in-house training to your employees. They allow structured and organized learning experiences catering to different learning styles and preferences. By utilizing various types of training modules such as e-courses, video lessons, micro-lessons, FAQs, aids, role-plays, and quizzes, you can ensure that your employees receive comprehensive and engaging training. Following the seven easy steps outlined in this blog is essential to create successful training modules. By identifying your audience's learning needs, defining your training objectives, choosing the right authoring tool, crafting engaging content, conducting test runs, publishing the modules, and gathering feedback for continuous improvement, you can develop high-quality training materials that effectively enhance employee skills and knowledge.
Can you guide your team's learning through great feedback?
Take the free constructive feedback assessment to understand the ins-and-outs of feedback and let go off common mistakes.
---
Training Modules FAQs
What are the components of a training module?
Components of a training module typically include:
– Learning objectives: Clearly stated goals that define what participants should be able to do or know after completing the training.
– Content: The information, concepts, or skills that need to be taught to achieve the learning objectives.
– Activities: Interactive exercises, simulations, or tasks that engage participants and reinforce learning.
– Assessments: Methods to evaluate participants' understanding and mastery of the training content.
– Resources: Supplementary materials, job aids, or references that support learning.
– Delivery methods: The mode of delivering the training, such as in-person sessions, online modules, or a combination of both.
– Duration: The length of time required to complete the training module.
How to build a training module? How do I create an employee training module?
To create an employee training module, tailor the content to the specific needs of the employees and their roles. Identify the skills, knowledge, or processes they need to learn or improve. Follow the steps mentioned above to build the module, considering the organization's training resources, delivery methods, and available technology. Incorporate real-life examples and practical applications to make the training relevant and engaging for employees.
What is a module at work?
A module at work refers to a specific component or unit of a larger training program or curriculum. It typically focuses on a particular topic, skill, or area of knowledge. A module is designed to be self-contained and can be delivered independently or as part of a series. It allows for targeted learning and enables employees to develop expertise in specific areas while contributing to their overall professional development.
---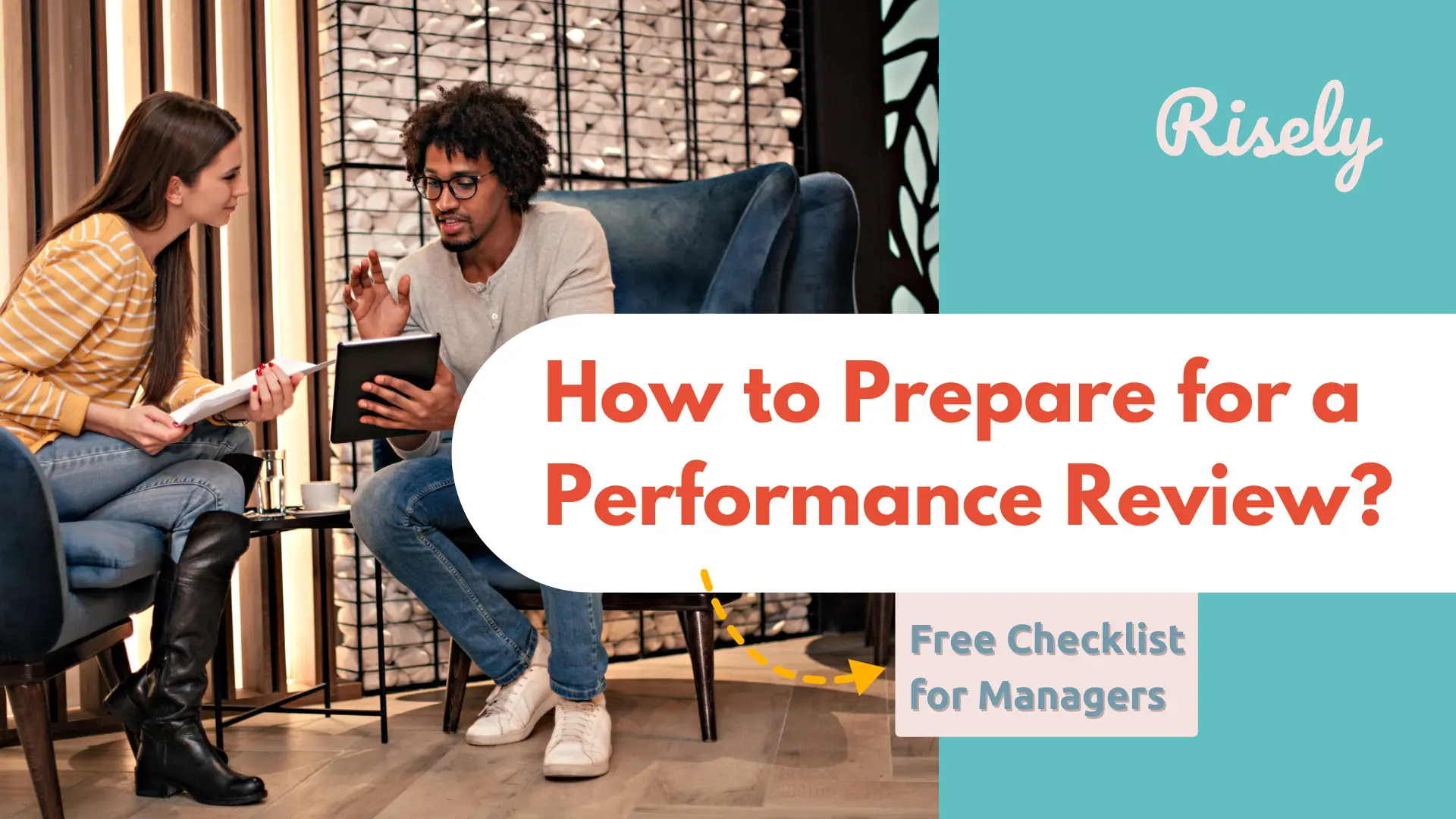 How to Prepare for a Performance Review? Free Checklist for Managers Performance reviews can be a daunting task for managers. It's not just about reviewing employee performance but also about…
A Manager's Guide to 360-Degree Performance Reviews (with Examples) As a manager, providing comprehensive feedback to employees can be challenging. Traditional performance reviews have limitations and may not always reflect…