15 Examples of Accountability in the Workplace to Improve Ownership in Teams
You must have worked with or heard of someone who often blames other team members for their inability to deliver work on time. You must be frustrated and tired of colleagues who blame others for their mistakes and lack accountability for their work. Accountability is critical for a successful running of a team and an organization.
This blog will help you deal better with these types of colleagues. We will explore various examples of accountability in the workplace and how they can contribute to a positive and successful work environment. From meeting deadlines to taking ownership of mistakes, we will examine the different ways that accountability can manifest in the workplace and the benefits that it can bring.
What is accountability in the workplace?
Accountability in the workplace
means taking responsibility for your actions and decisions. It involves being transparent about mistakes, owning them, and learning from them. Accountable individuals prioritize
problem-solving
and finding solutions to challenges instead of blaming others. Leaders must model accountability to create a culture of ownership in the workplace. Accountability fosters trust,
collaboration
, and a sense of shared responsibility among team members. It encourages individuals to work together towards common goals and take pride in their work. When everyone on a team is accountable, it increases productivity and success. In today's fast-paced business environment, accountability is essential for creating a culture that values honesty, integrity, and excellence.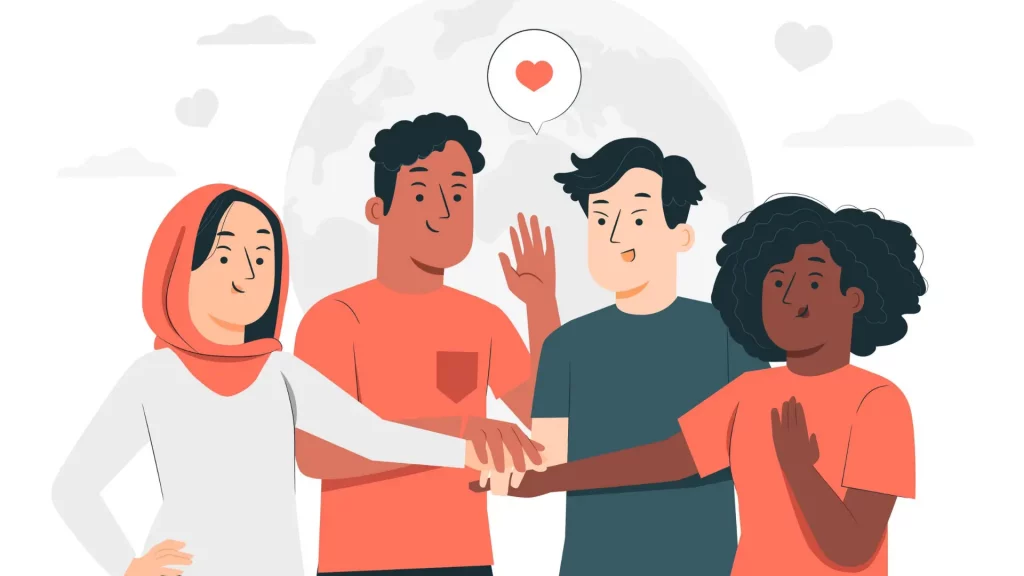 15 Examples of Accountability in the Workplace
Accountability in the workplace is vital to the success of any organization. Several examples of accountability in the workplace include taking responsibility for mistakes and learning from them. Being proactive and taking the initiative to solve problems is another example that inspires others to do their best work.
Meeting deadlines: You should be accountable for completing your task on time and meeting the set deadlines by the manager.  For example, As a project manager, consistently delivering project milestones on time ensures the team can maintain project schedules and client expectations.
Taking ownership: You should take responsibility for your actions and decisions and be accountable for your work's outcomes. If you don't get the desired result, take ownership of your actions and ensure how you will tackle the situation further. This will build trust within your team. For example, If a marketing campaign doesn't yield the expected results, a marketing manager should take ownership by analyzing what went wrong and devising a new strategy for improvement.
Communicating effectively: Communication skills are highly valued everywhere. Communicate your ideas and instructions so that others can understand you. You should express your concerns if you are stuck or need clarification. For example, A software developer communicates technical concepts to non-technical stakeholders, ensuring everyone understands the project's progress and potential roadblocks.
Admitting mistakes: You should take responsibility for your mistakes and work to correct them instead of blaming others or making excuses and creating a toxic environment around you. For example, If a salesperson inadvertently provides incorrect product information to a client, they should promptly admit the mistake and work to rectify it, maintaining trust with the client.
Following policies and procedures: Understand the workplace policies thoroughly and follow them. You are accountable to work as per the set procedures; this shows you value and respect the management creating a healthy workplace environment. For example, An HR manager adheres to company policies and ensures recruitment processes comply with all relevant regulations.
Being reliable: Show up to work on time and ready, and consistently perform your duty to the best of your ability. Stand firm in challenging situations with your team; become a valuable and reliable asset to the company. For example,  A manager consistently arrives on time for shifts, assisting and maintaining the team's trust.
Delivering results: You are accountable for achieving the goals set by the organization and delivering results that meet or exceed expectations. For example, A sales manager consistently meets or exceeds monthly sales targets, contributing to revenue growth.
Providing feedback: You are accountable for providing constructive feedback to your colleagues and managers to help improve performance and work culture to achieve goals. For example, A team lead offers constructive feedback to a colleague about their presentation, helping them enhance their public speaking skills.
Seeking help when needed: When you are stuck or need clarification, take accountability for asking for help from your peers or the management. Listen to their advice, and don't shy away from the chance to expand your knowledge and learn new things. For example, An IT specialist seeks guidance from the IT department when faced with a complex technical issue to ensure quick problem resolution.
Maintaining a positive attitude: You are accountable for your attitude and behavior in the workplace. Therefore, you should strive to maintain a positive and respectful environment for yourself and your colleagues.
Accepting responsibility for mistakes: When someone makes an error, they promptly acknowledge it, take ownership of the situation, and work to rectify the mistake. For example, An office manager sets a positive tone in the workplace, fostering a collaborative and pleasant work environment.
Seeking feedback and acting on it: Employees actively seek feedback to improve their performance and take ownership of implementing the suggested changes. For example,  An employee actively seeks feedback from their manager and colleagues after a presentation. They take ownership of the feedback, make necessary improvements to their presentation style, and deliver a more impactful presentation the next time.
Taking initiative: Employees proactively identify opportunities for improvement and take ownership of proposing and implementing solutions. For example, A team member identifies a bottleneck in the project workflow and proactively proposes a more efficient process. They take ownership of implementing the new process, resulting in time and resource savings for the team.
Transparent decision-making: Leaders make decisions transparently and take ownership of explaining the rationale behind their choices. For example,  manager shares the decision-making process behind a significant project pivot with the team. They take ownership of explaining why the change was necessary and how it aligns with the company's goals, fostering transparency and understanding among team members.
Learning from failures: When faced with setbacks, employees take ownership of learning from the experience, so they can improve and avoid repeating the same mistakes. For example, A software development team encounters a critical bug in their latest release, causing delays and customer dissatisfaction. The team takes ownership of analyzing the root causes of the issue, learning from their mistakes, and implementing stricter testing procedures to prevent similar failures in the future.
These are just a few examples of accountability in the workplace. Employees can contribute to a more productive, positive, and thriving workplace by owning their work and actions.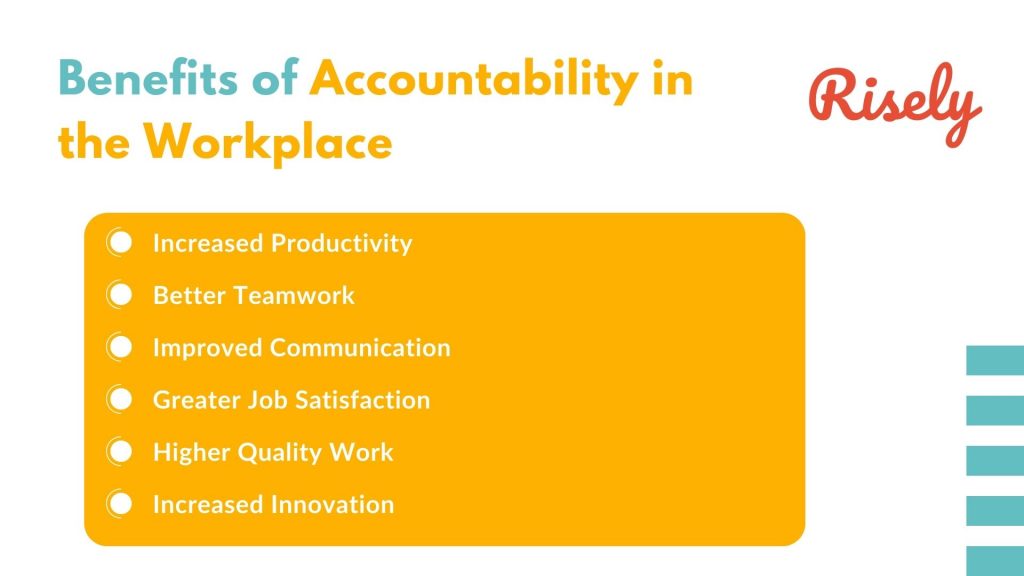 Benefits of Accountability in the Workplace
Accountability in the workplace is a crucial ingredient for success. It creates a culture of trust and transparency among employees, which leads to better collaboration and communication. Employees who take ownership of their work feel more motivated to achieve their goals and perform at their best. They also become more invested in the team's success and feel responsible for achieving company objectives. Some key benefits of accountability in the workplace include the following:
Increased productivity: When you take accountability for your work, you are likelier to complete tasks on time with greater efficiency, resulting in increased productivity for the organization.
Better teamwork: Accountability fosters a sense of ownership and responsibility among employees, which can lead to better collaboration and teamwork. When team members know they can rely on each other to follow through on commitments, it creates a more positive and productive work environment.
Improved communication: To be accountable, you must communicate clearly and provide feedback; this would help you improve your communication skills and foster better working relationships with your colleagues.
Greater job satisfaction: When you are accountable for your work, you have a sense of pride in your accomplishments and have job satisfaction. Also, organizations practicing accountability have better employee retention rates and a stable workforce.
Higher quality work: When held accountable, employees are more likely to take greater care and attention to detail, resulting in higher quality work.
Increased innovation: When you are accountable for your work, you are more likely to take risks and try new approaches, leading to improved organizational innovation and creativity.
Overall, accountability in the workplace can lead to a more productive, collaborative, and satisfying work environment, benefiting both employees and the organization.
How to foster a culture of accountability in the workplace?
Fostering a culture of accountability in the workplace is essential for creating a productive and positive work environment.
Setting clear expectations
and goals for employees helps to establish a baseline for success. In addition, encouraging open communication and transparency among team members creates an atmosphere of trust where everyone feels comfortable sharing their thoughts and ideas. Empowering employees to make decisions fosters a sense of personal responsibility, giving them the confidence to take ownership of their work. In addition, providing regular performance feedback and recognizing successes reinforces good behavior and helps employees understand where to improve. Holding employees accountable for their actions is critical in maintaining a culture of accountability. This means following through on consequences for poor performance or behavior, which conveys that everyone is responsible for their actions. Creating such an environment will improve employee morale, teamwork, and higher productivity. Read more:
5 Tips for Managers to Deal with Lack of Accountability in the Workplace
6 Ways to Increase Accountability in the Workplace
Clear Expectations and Goals: Set clear expectations and well-defined goals for each employee or team. Ensure they understand their expectations and how their work aligns with the organization's objectives.
Regular Communication: Maintain open and regular communication with your team members. Check-in on their progress, offer feedback, and address any concerns. Effective communication helps prevent misunderstandings and keeps everyone on the same page.
Performance Metrics: Implement key performance indicators (KPIs) and performance metrics to measure progress and results. Having quantifiable data allows employees to see how their work contributes to the organization's success.
Empowerment: Give your team the autonomy and responsibility to make decisions within their roles. When employees feel empowered, they are more likely to take ownership of their work and be accountable for their actions.
Recognition and Rewards: Recognize and reward employees for their achievements and accountability. Positive reinforcement, such as praise or incentives, encourages responsible behavior and motivates employees to meet their commitments.
Accountability Culture: Foster a culture of accountability by leading by example. When managers and leaders demonstrate accountability in their actions and decisions, it sets the tone for the entire organization. Encourage team members to hold each other accountable as well.
Conclusion
Accountability in the workplace is crucial for success. It leads to improved work relationships, better teamwork, enhanced performance, increased profitability, and improved productivity. You can foster a culture of accountability by acknowledging mistakes, bringing solutions to problems, following policies and procedures, and being receptive to learning and feedback. Celebrating and rewarding accountability will boost job satisfaction and encourage individuals to exceed goals. To learn more about creating a healthy workplace,
sign up for Risely now.
Practice effective communication to address issues with your team.
Take the free effective communication skill assessment to understand the mistakes now.
---
Examples of Accountability at Work FAQs
What are some examples of accountability in the workplace?
Providing regular progress updates, taking ownership of mistakes, following through on commitments, seeking feedback, and holding oneself and others responsible for meeting goals and standards.
What is a good example of accountable?
An excellent example of accountable behavior would be admitting to a mistake, taking responsibility for fixing it, and implementing measures to prevent similar mistakes in the future.
How is accountability shown in a workplace?
You can show accountability in a workplace through clear communication, transparent decision-making, timely completion of tasks, adherence to policies and procedures, and willingness to accept and learn from feedback.
---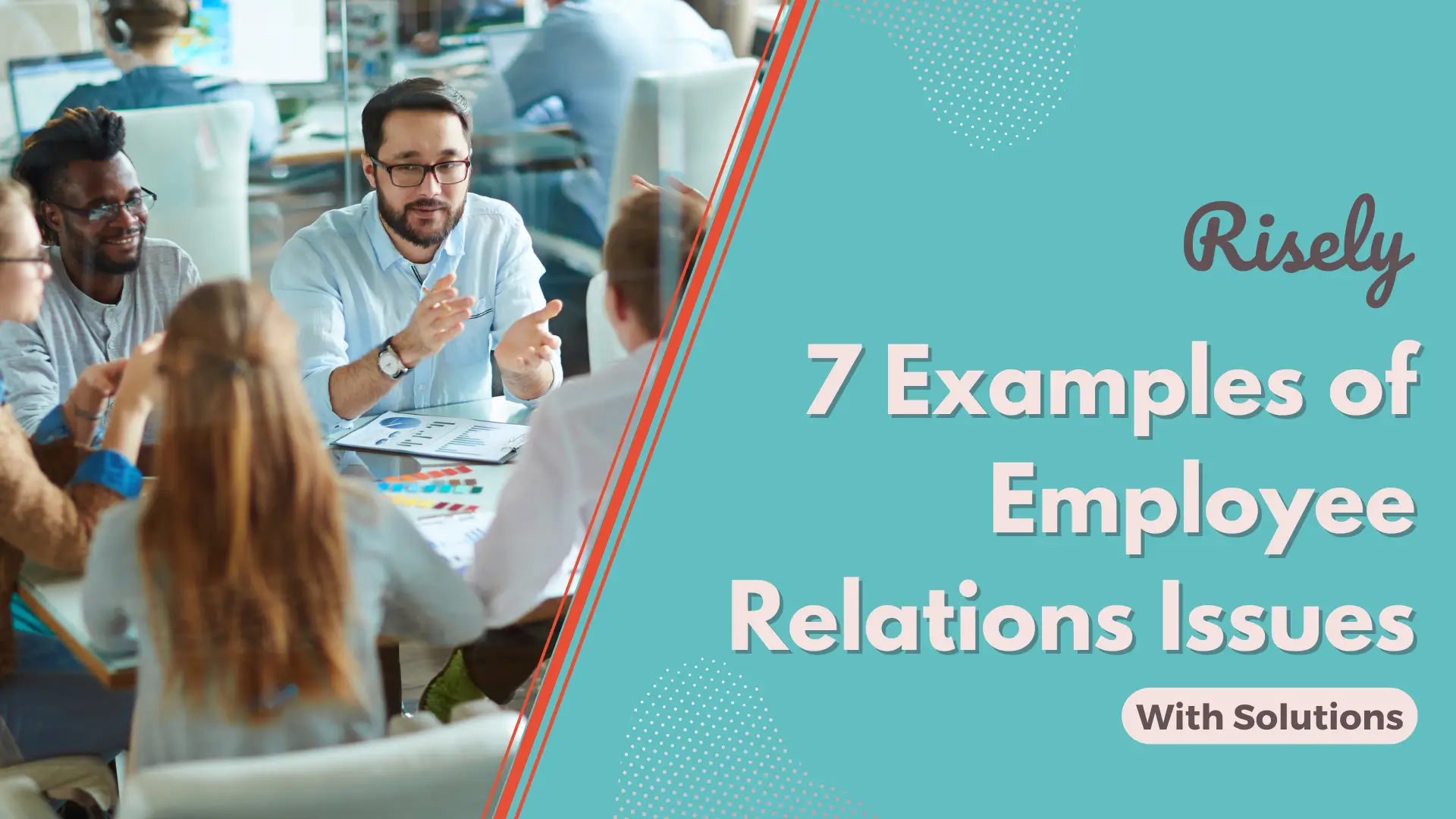 7 Examples of Employee Relations Issues and How to Handle Them Good employee relations are essential for a healthy and productive work environment. However, even the best-managed organizations can face…
Managing Employee Benefits for Small Business: A Complete Guide As a small business owner, you understand the importance of caring for your employees. One way to do that is by…