5 Proven Ways Managers can Build Collaboration in a Team
In today's fast-paced world, team collaboration is the key to success. But, not all workplaces are conducive to collaborative teams. In fact, some can be downright hostile. Facilitating collaboration in a team can be difficult, as different people have different work styles and preferences. With the rise of hybrid work, it's more important than ever for managers to build collaborative teams. If you're a manager, it's essential to know how to facilitate collaboration in a team in a comfortable way for everyone involved. It is the best way to get the most out of your team. This post will discuss five ways managers can build collaboration in a team at work. By following these tips, managers can help their employees to work together more effectively and achieve their goals more quickly. So, let's start by understanding what exactly collaboration is.
What does Collaboration mean?
There is no one-size-fits-all answer to this question, as the definition of collaboration will vary depending on the context in which it is used. There are a lot of different meanings for the word collaboration, and
Merriam-Webster
defines it as "the act of working with someone to produce or create something."
Oxford Dictionary
defines it as "a joint effort by two or more people to achieve a common goal." However, you can generally describe workplace collaboration as working together to achieve a common goal.
What do collaborative teams look like?
Collaboration in a team can be as simple as two people working together on a project or as complex as a large team working on a product. It can involve sharing ideas, resources, and expertise to develop a solution or reach a goal that would be difficult to achieve individually. Companies cannot survive without their employees collaborating. With the many demands placed on a workplace, it is evident that employees must collaborate wherever possible. Collaborative teams show some key characteristics, a few of which are:
Robust communication channels
Shared resources and decision-making
A clear sense of purpose
Well-defined roles; with agility to overcome challenges
While employees' inability to collaborate can bring many problems for businesses, effective collaboration in teams has many benefits. We cover those benefits in our next section.
Why should managers build collaboration in a team?
Collaboration in team is essential to success, whether big or small. It helps employees share knowledge and resources, strengthens relationships, and boosts efficiency. In fact,
research
shows that a collaborative team is more productive as solo work. So
why is collaboration so important?
Here are six benefits that can help your team achieve success.
Increased creativity and innovative thinking
Collaborative efforts lead to a more creative and innovative mindset. When people work together to solve a problem or come up with an idea, they build on each other's knowledge and insights to create something unique. A collaborative team is more likely to pass uncharted territory in brainstorming and come up with multiple
innovative ideas
that give it an edge over the rest. It is why effective collaboration leads to better ideas and better products.
Increased efficiency
Collaboration is one of the most effective ways to achieve increased efficiency. When teams work together seamlessly, they can complete tasks and projects faster and fewer errors. It leads to improved quality and decreased costs, so collaboration is a critical success factor for teams of all sizes. It is because with improved efficiency comes higher growth for teams.
More effective problem solving
Effective collaboration allows us to work together more efficiently and develop better solutions to problems. When we can share our ideas, thoughts, and doubts with our colleagues, we can
create a more fluid and cohesive team
. It helps us to overcome conflicts more effectively, as well as optimize our workflows. Additionally, effective collaboration in a team enhances our working knowledge and skills, which are essential for problem-solving. Solving problems together will also be an effective team-building activity.
Greater customer satisfaction
Effective collaboration leads to better customer service and results in increased customer satisfaction. By working together as a team, you can create and deliver a product or service that perfectly meets your customers' needs. It is essential in today's competitive environment, where customers are quick to jump ship if they don't feel like they're getting their money's worth. Studies have shown that "when teams share knowledge and skills across organizational boundaries, they can create innovative solutions faster than any one person could on their own." As such, collaborations between employees and departments can result in better customer experience and increased customer satisfaction ratings – making the company more successful. Further, when you collaborate effectively, you can ensure that your customers stay with you for the long haul.
Improved communication
Since employees are constantly communicating with each other when collaborating, they are better prepared and able to relay information accurately and effectively. It improves
team communication
within and between teams, facilitating better teamwork outcomes overall. Collaboration can
improve communication
in many other ways. For example, it can help employees better understand each other's workflows and optimize their processes. It can lead to better decision-making, faster turnaround times, and improved quality of work. It also facilitates better cooperation between teams, leading to a more integrated organization that is more agile and flexible. All this together takes organizational communication to significant levels.
Increased work satisfaction
Many people prefer working in a collaborative team environment because it allows them to share their ideas and experiences with their colleagues freely. It results in satisfaction, as employees feel like they contribute something valuable to the team. Moreover, it is often noted that Employees who are satisfied with their job tend to be more productive and motivated.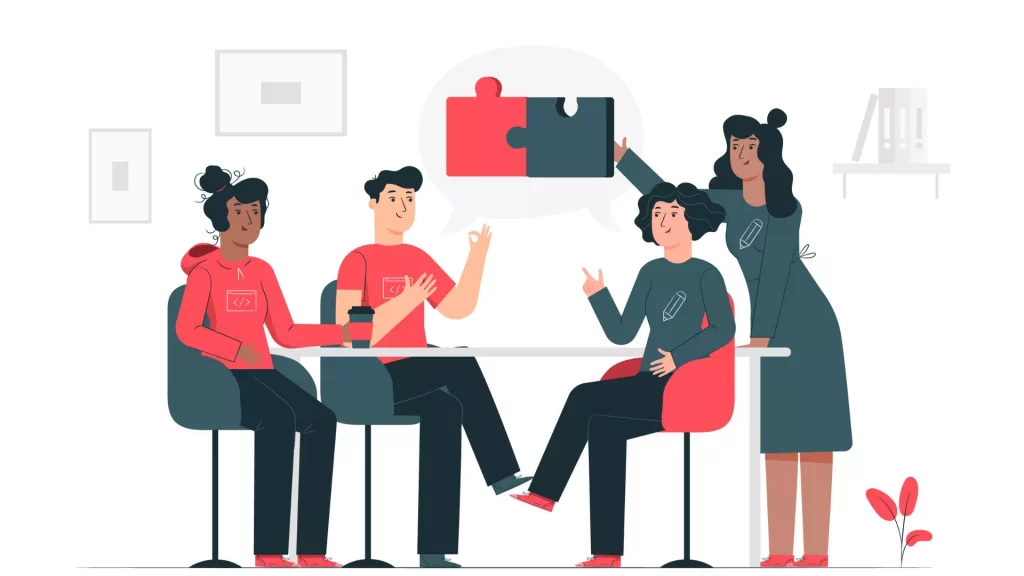 How to increase collaboration between teams? 5 ways
As a manager, you know collaboration in your team is essential. But you are always looking for ways in which you can increase collaboration. You have tried all communication and collaboration tools that exist in the market. But actual change is behavioral change in you and your team. So this is what you need to change to boost collaboration in your team.
Creating dependency on each other rather than creating a reliance on the manager
A manager's first step to facilitating collaboration in a team is to create dependency within the workforce. It refers to making individual team members believe that they can depend or rely on each other instead of just depending on the manager. When employees feel like they can openly depend on each other to get their work done, it can be effortless for them to collaborate. It will not just push towards a collaborative team effort but also take down some burden from the manager. It will also create more opportunities for
brainstorming and sharing ideas.
A manager can do this by
effective delegation
, ensuring effective communication, and specifying employee roles and responsibilities where each employee is given a specific area to cover. So, whenever an employee needs help in a particular area, they can collaborate with the particular person designated to that area. For example, a manager can assign a specific person or a group for the work of content writing. So, whenever an employee or a department requires assistance in terms of content, they can directly collaborate with the person assigned for it.
Create cross-functional project teams
Collaboration is essential to successful project management, but bringing people from different backgrounds together can be incredibly challenging work on a single project. By
creating cross-functional project teams
, you can overcome this obstacle and bring together people from other disciplines or functions to solve specific client or business problems. This approach facilitates a collaborative culture. It ensures that all employees know various other colleagues' skills, competencies, strengths, and weaknesses. Start by setting up shared
collaboration goals
. They can then put this information into good use in future collaborative interventions. All this together will make future collaboration in a team much more effortless and swift, which will work as an encouragement to collaborate. In addition, it eliminates the need for duplicative efforts, which saves time and resources. E.g., the manager can put together one person each from the engineering, web development, marketing, and product management teams to launch a new product. While working on this project, these employees will know what all the other person is capable of. They can then use this knowledge to collaborate when their original teams require help in the other team's field.
Encouraging the team members to find solutions to problems themselves by speaking with others when they run into problems
Managing a team is not easy, but it is easier when everyone works together. It is especially true when it comes to addressing problems and resolving them. By encouraging team members to find solutions to problems themselves, you help them develop initiative and problem-solving skills. It leads to better efficiency and productivity and improved communication within the team. It also helps to build trust and cooperation among team members. Further, by encouraging team members to reach out to one another when they hit roadblocks, you can speed up the process of resolving issues and put everyone on an even keel. For instance, let's say a new sales executive has a problem figuring out how to close a sales deal effectively. A manager can encourage the executive to collaborate with senior sales executives who have completed multiple deals in the past. All this together will effectively facilitate collaboration in the team and propel a collaborative environment all around.
Encourage knowledge sharing and idea exchanges
It is essential to
encourage knowledge sharing
and idea exchanges among your team members to facilitate collaboration as a manager. By promoting these exchanges and
peer to peer learning initiatives
, you can foster a culture of innovation and creativity, which will help your team work together and produce better products and solutions. You can organize regular team meetings, where team members can share their thoughts and new ideas. This way, you can tap into the collective wisdom of your employees and derive innovative solutions to common problems. You can also encourage team members to participate in online discussions and forums to discuss various topics or give constructive feedback to their team leader or other team members. Further, you can also use multiple collaboration tools like common email groups, Trello, Google stream,
Metaverse
, google group chat, and communication platforms like Slack to make it easier for your team members to share ideas and knowledge. This will help build a strong foundation for team collaboration, collective creativity, and knowledge sharing. Schedule a weekly knowledge sharing or brainstorming session even if the current business or work doesn't demand it. Bringing this into your
team's culture
will enable deep collaboration when required.
Building a culture of support
Collaboration can be challenging to build in a team. But doing that can be made a lot easier by building a supportive company culture in your workplace. When team members need help or extra resources, they should be able to reach out to their colleagues for support. It promotes transparency and collaboration and helps everyone work together as a cohesive unit. By building a culture of approval, you will help to foster openness within your team. It will encourage them to put in the extra effort. It leads to a culture of belonging among employees, which facilitates the entire domain of collaboration. By doing this, you can also ensure that your team can meet the challenges of the current situation and move forward with confidence. It can further put you in a position to lead and develop it into a high-performing team. For example, if an employee needs access to a specific online tool, a supportive culture will allow them to collaborate with another employee or department that already has it. Another example: Let's say an employee is going on a vacation. A supportive environment will allow them to request another team member to take care of a weekly reporting process that must be carried out when they are away. Read more to learn how you can do this:
Managing from the bottom up: 7 strategies for managers driving innovation and collaboration
Conclusion
It's no secret that the workplace is becoming increasingly competitive, and collaboration is a crucial skill for success. Collaboration is essential for any workplace that wants to be efficient and effective. When people collaboratively work towards a common goal, they're more likely to be motivated and productive. While it might not be easy to get everyone on the same page, managers can help their team members collaborate effectively. It will help them reach their goals faster by implementing the five listed ways to facilitate it. So, by reading this blog, you now have a better understanding of what collaboration is and its benefits.
Encourage collaborations in your team through our free problem-solving toolkit
Master the art of problem-solving – a key skill for creating a collaborative approach in your team
---
FAQs
How would collaboration in a team affect the work?
Collaboration in teams can boost performance as it creates synergies among the team members. It makes interactions smoother, with inputs from all the people, productivity can go higher.
What are the important skills required for collaboration?
The important skills required to facilitate collaboration are communication, empathy, and conflict resolution.
---