20+ Goal Setting Questions For Managers To Break The Ice In Teams
Over the years, goal setting has proven to drive growth and employee motivation. It is one of the most effective ways to achieve goals. A well-defined goal gives you direction and motivation to work towards it. Managers are constantly looking for new ways to
motivate
their team members and encourage them to set daily goals. In this blog, we will tell you how to use goal setting as a management tool by answering twenty questions to help you break the ice with your team members.
Goal setting at work – The Manager's Role
Goal setting at work is vital to creating objectives for any team. The role of a manager is to create a vision for each team member and to keep the team focused on its goals. In creating goals, it's essential to clearly understand what you want to achieve as a team and articulate that clearly to other team members. It's also vital to ensure an
alignment between individual goals and the team's overall goal.
With this in mind, you need to discuss your goals with the rest of the team and outline how you want them to be involved in reaching those goals. It will help everyone know where they stand and what to do. Communicating your goals will help everyone stay motivated and committed to the same purpose. After all, nothing can be achieved without joint effort. You also need to define your specific objectives for the team and ensure everyone has a copy of those objectives to work towards them collectively. When setting goals, it's vital to clearly understand where you want to go as a team and not make short-term targets overly tricky or too easy. Read more:
Goal Setting 101 For Effective Team Managers
Best goal setting questions for teams to tackle together
What are your career goals for the next year?
What specific skills or knowledge do you want to develop?
What are the most important areas for improvement in your work?
What kind of feedback do you need to achieve your goals?
How can your current role help you achieve your long-term career goals?
What are your priorities in terms of professional development?
What kind of training or resources do you need to achieve your goals?
What metrics will you use to track your progress?
What support do you need from your manager to achieve your goals?
How will achieving these goals benefit the team and the organization as a whole?
What challenges do you anticipate, and how do you plan to overcome them?
Are your goals realistic?
How will you prioritize competing demands on your time and energy?
How can you incorporate your goals into your daily work routines?
What is your timeline for achieving your goals?
Is there any specific goal-setting framework that you follow?
How will you celebrate and acknowledge progress and achievements along the way?
What resources or support can the team provide to help you achieve your goals?
How can you break down your goals into smaller, manageable tasks?
How will you measure the impact or success of achieving your goals?
How will achieving your goals contribute to your personal growth and development?
How do you feel about progress on your current goals?
How often do you want to review progress along your goals?
Goal setting icebreaker activities that you need to try
Goal setting is a critical component of any manager's job, and icebreaker activities can help managers learn how to set goals and track progress. In addition, icebreaker activities help managers get to know each other better, develop shared understanding and trust, and build a foundation for practical goal setting. Activities used as goal setting icebreakers include brainstorming, problem-solving, teambuilding exercises, and brain teasers. By engaging in these activities, managers can learn how to set and achieve goals effectively and build a strong foundation for future collaboration.
Backward goal setting
Backward goal setting is a technique that helps you set more challenging goals than you thought possible. By setting goals beyond your current abilities, you will be more likely to achieve them. This method can be beneficial if you feel blocked or discouraged when accomplishing your goals. Backward goal setting starts with figuring out the ultimate objective that you want to achieve. Then, you follow back to the present, breaking down all the stages you need to surpass. From the start, keeping an eye on the goal can motivate people like nothing else!
The ideal day
The ideal day for goal setting is a great activity for working people, team managers, or members. The ideal day formula asks you to explain what an ideal day at work looks like to you. For instance, it can include a stress-free morning, a couple of crisp meetings and presentations, and a
one-on-one catch-up with a team member
to wind up the day. As you design your ideal day, you have to note the steps needed and areas you need to work on to make it a reality. In addition, it is a great way to identify where goals lie when confused.
One year ahead
The one-year-ahead activity takes the previous activity to the next step. In this, you plan where you want to be professionally in one year. Whether that leads to higher website hits for a content marketer or a more productive team for an HR manager, it sows the seeds of growth. When setting goals for the year ahead, it's important to consider your personal and professional desires. Creating a solid plan of action for tasks to be worked on in the team is vital. Setting direction and building motivation to carry on with goals is another essential task to complete. A yearly review to reflect on progress made and goals achieved is a great way to stay focused on your goals for a year.
Review your yesterday
Reviewing your goals and progress from the previous day is essential in goal setting. Reflecting on your progress can help you stay motivated and on track with your goals by asking yourself questions to understand better what you want to achieve, why, and how. It can help you
identify areas for improvement
and create a vision of where you want to be. Additionally, it's important to take stock of what tasks you have completed and which remain to be done; what made you falter, and what led to an overwhelming feeling – answering all of these questions can help teams identify how they want to reposition their goals moving forward.
Legacy building
This goal setting icebreaker is especially for the managers and leaders who stand apart from the crowd. This activity asks what sort of legacy you want to leave behind. It makes you think about where you want your team to be years ahead and your role in that journey. Thinking of the ultimate goal often leads to a roadmap that begins in the present. With this, you can figure out which leadership skills you want to develop, what
leadership challenges
you will face at different stages and identify the need for leadership coaching to keep the impeccable journey moving.
Conclusion
Goal setting is a great technique to help teams work together and to stay motivated. However, it takes time to adapt. So, starting with a few goal setting activities for your team to understand better would be best. Then, you can use the above goal setting questions as ideas to set goals with your team and see how they help you achieve your goals.
Take your goal-setting prep to the next level with a quick assessment
Test your goal-setting skills with Risely's free assessment for managers that unlocks meaningful insights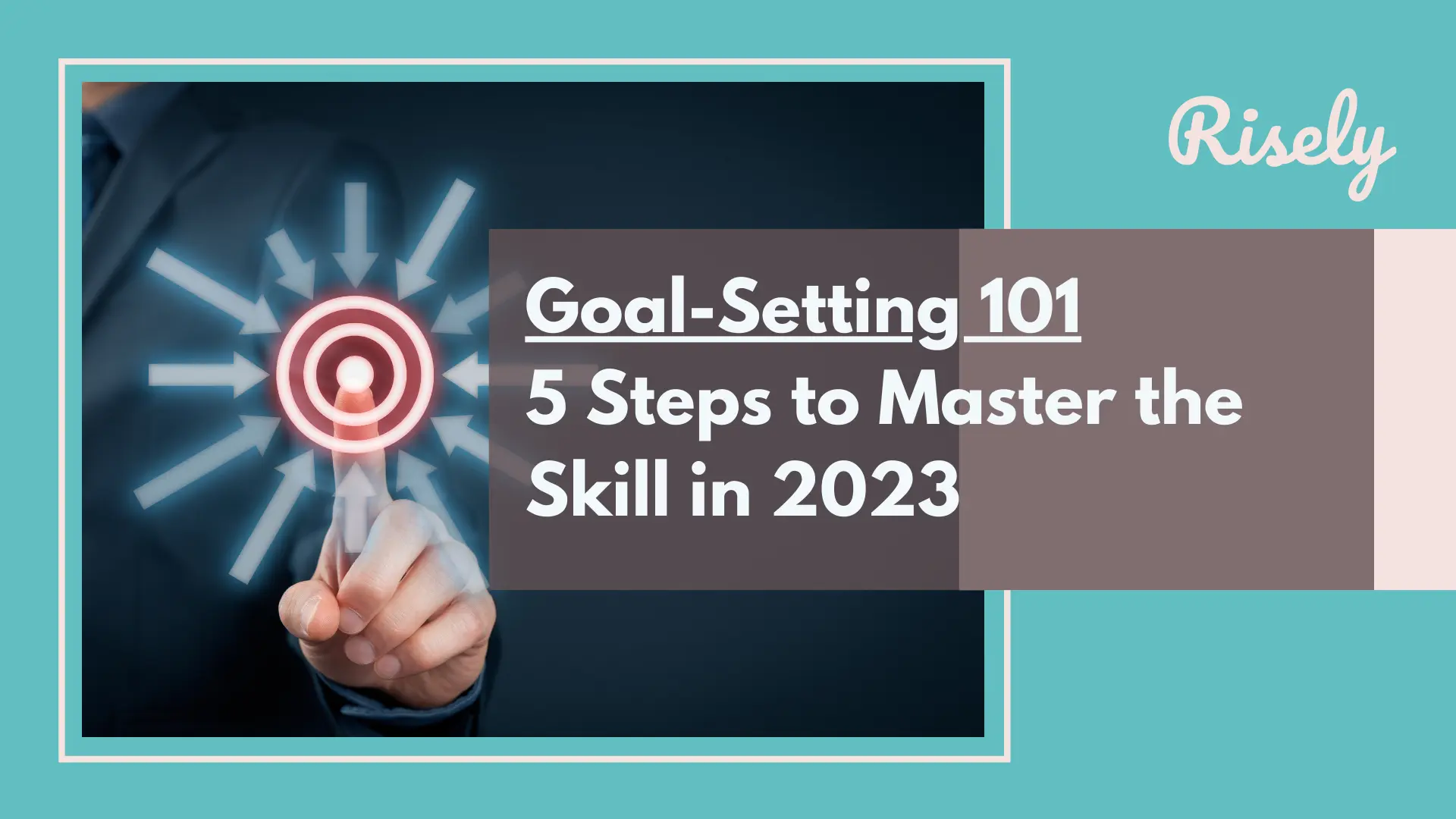 Goal Setting 101: 5 Steps to Master the Skill in 2023 Goal setting is a meaningful way to set your team on the path toward success. It allows you to…
Master Collaborative Goal-Setting for Effective Team Management (with examples) Collaborative goal-setting is an essential process that enables teams to work together towards a common objective. It involves creating shared goals…