Supervisor vs Manager: Understand the Differences And Which Best Suits You
Supervisor vs Manager: Which role suits you best? Are you ready to take charge and lead a team? Or do you prefer a more hands-on approach, guiding and supporting a specific group of employees? When navigating the realm of organizational hierarchy, understanding the differences between supervisors and managers is critical. While these roles often overlap, they also bring distinct responsibilities and areas of focus. In this blog post, we'll delve into the fascinating world of supervision and management, exploring their unique dynamics and shedding light on the qualities that set them apart. So, whether you're an aspiring leader or seeking clarity on your career path, let's dive in and unravel the supervisor vs manager conundrum!
Supervisors vs Managers – What's the Difference?
Leadership roles are crucial to a team's success, and it's essential to understand the differences between supervisors and managers. Supervisors focus on day-to-day operations and ensuring tasks are completed efficiently. On the other hand, managers prioritize long-term planning and strategy, with an external focus on the bigger picture. They also delegate more responsibilities and focus on coaching team members toward set goals. Additionally, managers make decisions that impact the company's overall direction and have broader decision-making power than supervisors.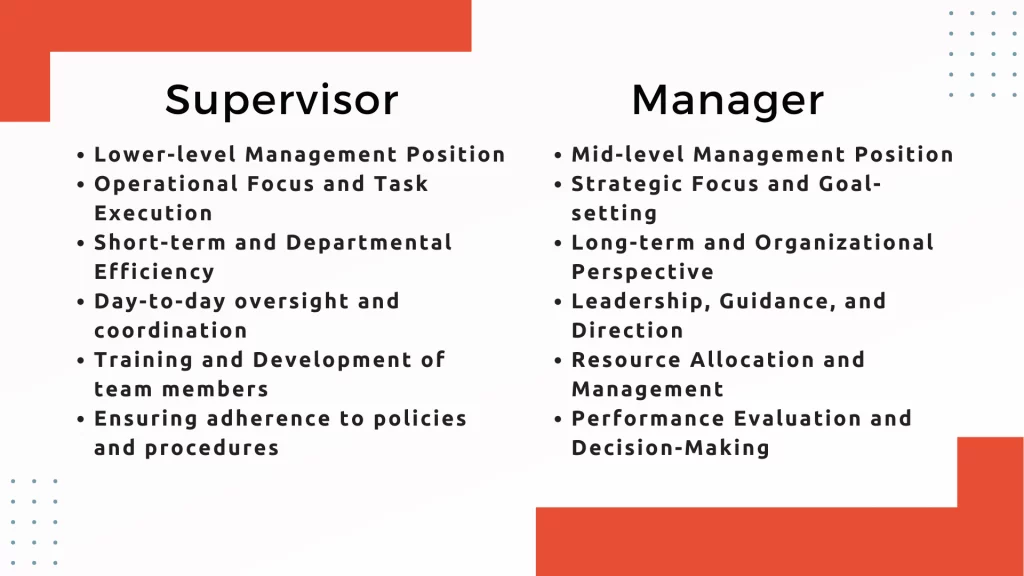 What is the Role of a Supervisor?
A supervisor plays a crucial role in their team's success by overseeing day-to-day operations, coaching members on essential skills, providing performance reviews, and resolving conflicts. They are often the first point of contact for new employees and must ensure compliance with company policies. Successful supervisors possess strong interpersonal skills, leadership qualities,
delegation abilities
, communication skills, and inclusivity. Differences between supervisors and managers include decision-making authority, scope of influence, and leadership roles. A supervisor's average annual salary is lower than a manager's but higher than that of subordinates.
What is the Role of a Manager?
The managerial role plays a critical role in the success of any team. With higher levels of authority than supervisors, managers must focus on internal and external aspects of their roles while considering the bigger picture. They oversee day-to-day tasks while also being involved in decision-making processes.
Communication skills
are essential for managers to provide coaching and inclusion within their teams to achieve set goals effectively. The company policies are set to guide their workflow as they delegate responsibilities to subordinates with distinct differences. The average annual salary for managers is higher than supervisors', with managerial roles varying across different kinds of managers in senior management positions.
What are the key differences in a supervisor vs manager?
There are critical differences between the roles of a supervisor vs manager. While supervisors concentrate on tasks and timeliness, managers consider the bigger picture with long-term goals. Additionally, they tend to manage multiple teams or departments with higher decision-making authority. However, both positions require superior leadership qualities such as coaching, delegation, conflict resolution, and communication skills. Supervisors tend to guide their subordinates toward success while providing necessary feedback through performance reviews. In contrast, managers' involvement is largely external, emphasizing workflow management and delegation to foster growth within the company's internal environment.
Authority: Supervisor vs Manager
In the workplace, the terms "supervisor" and "manager" often refer to different levels of authority. A supervisor typically oversees a specific team or group of employees, providing direct guidance, assigning tasks, and monitoring performance. They focus on day-to-day operations and ensuring work is completed efficiently. On the other hand, a manager has a broader scope of responsibility, overseeing multiple teams or departments. They focus on
strategic planning
, decision-making, and resource allocation. Managers are responsible for setting goals, managing budgets, and ensuring the overall success of their area of responsibility.
Responsibility: Supervisor vs Manger
Supervisors oversee daily operations, while managers plan long-term strategies. Supervisors are directly responsible for their team's productivity, while managers have broader organizational duties and decision-making power. Both roles require strong leadership skills, but the level of responsibility varies depending on job duties and company structure. Managers are accountable for a department or organization's overall success and direction, while supervisors primarily handle operational and team management tasks.
Focuses: Supervisor vs Manger
While both supervisors and managers hold leadership roles, their focuses differ. Supervisors oversee day-to-day operations, ensuring tasks are completed and employees meet expectations. They provide guidance, address immediate issues, and maintain
productivity
. On the other hand, managers have a broader focus, encompassing strategic planning, goal-setting, and decision-making. They are responsible for long-term success,
resource allocation
, team development, and driving organizational objectives. While supervisors focus on the immediate team, managers take a more holistic view, considering the larger organizational context and aligning efforts to achieve overall success.
Objectives: Supervisor vs Manager
In a leadership role, a supervisor's main objective is ensuring their team's success by overseeing their day-to-day tasks and addressing related personnel issues. Effective delegation, conflict resolution, coaching, and communication skills are necessary for success in this position. The manager's responsibilities extend beyond day-to-day operations, including setting goals, developing strategies, managing budgets, and allocating resources. They must possess strong leadership qualities like decision-making authority, higher level of authority, or decision-making power. Their role includes an external focus on company policies & board of directors while handling middle/senior management.
Task Delegation: Supervisor vs Manager
Task delegation differs between supervisors and managers. Supervisors oversee employees' work, ensuring tasks are completed accurately, whereas managers delegate responsibilities and hold employees accountable for achieving goals. Managers create policies to guide long-term direction, while supervisors manage daily operations. Both roles are critical in effective team leadership.
Salary and Benefits: Supervisor vs Manager
Salary and benefits comparison between supervisors and managers reveals differences in pay scales and benefits packages. While supervisors oversee day-to-day tasks to ensure smooth workflow, managers take on senior management roles with a bigger picture focus on setting goals, making tough decisions like hiring new employees, and leading performance reviews. Higher salaries accompany a higher level of authority with decision-making responsibility while being the first point of contact for subordinates. Effective coaching,
conflict resolution skills
, and interpersonal communication skills, including inclusion, are necessary skills in both roles to lead team members to success.
Discipline Differences: Supervisor vs Manager
While supervising day-to-day operations and handling conflict resolution falls under a supervisor's jurisdiction, managers focus on setting objectives and delegating responsibilities among subordinates. They play an essential role in achieving a team's success by taking an external focus and contributing actively to senior management decisions. Although both roles require strong leadership skills, managerial positions demand higher salaries due to their higher level of authority. However, successful coaches in both roles possess the qualifications and interpersonal skills to maintain inclusion within the team environment.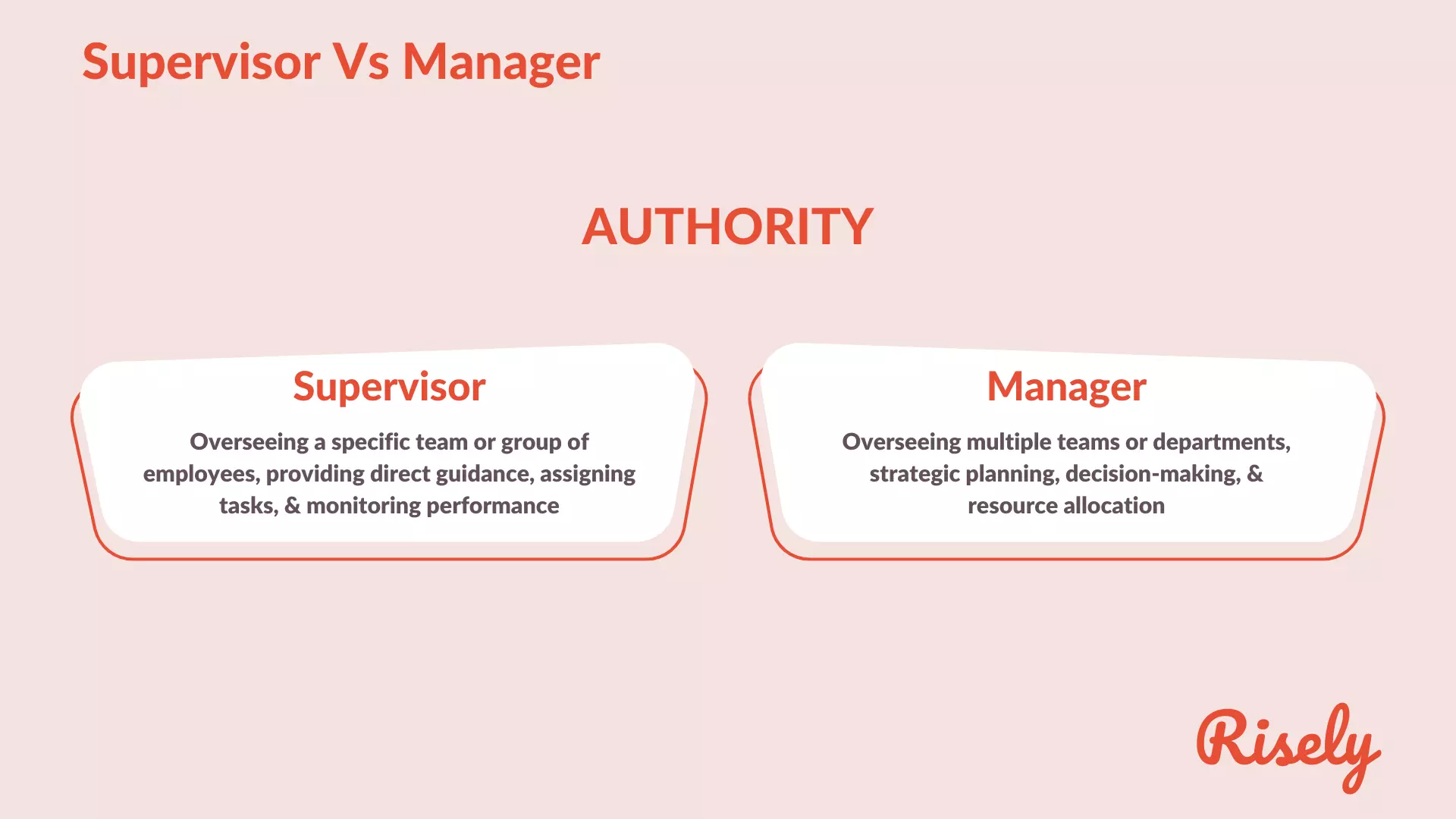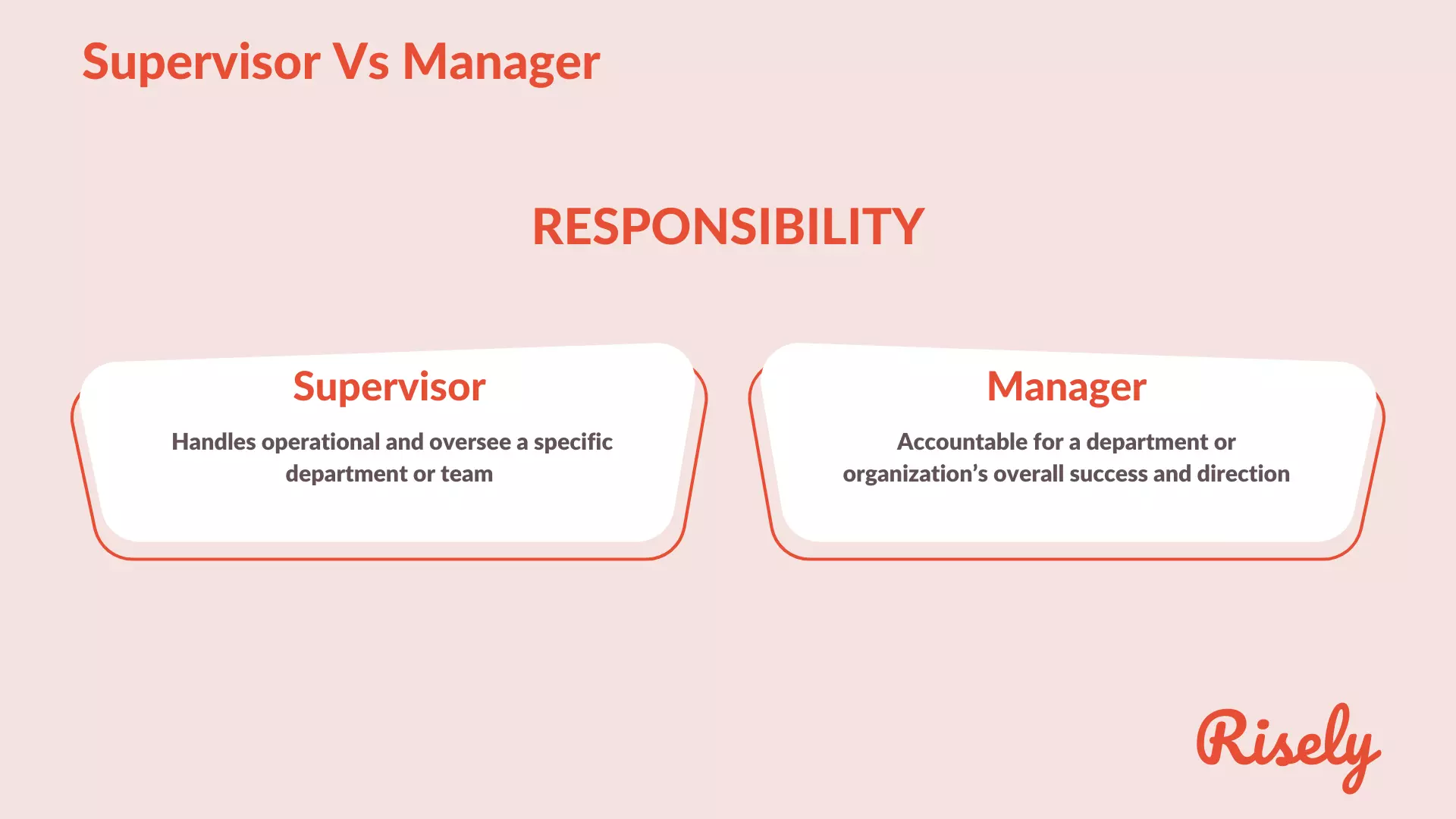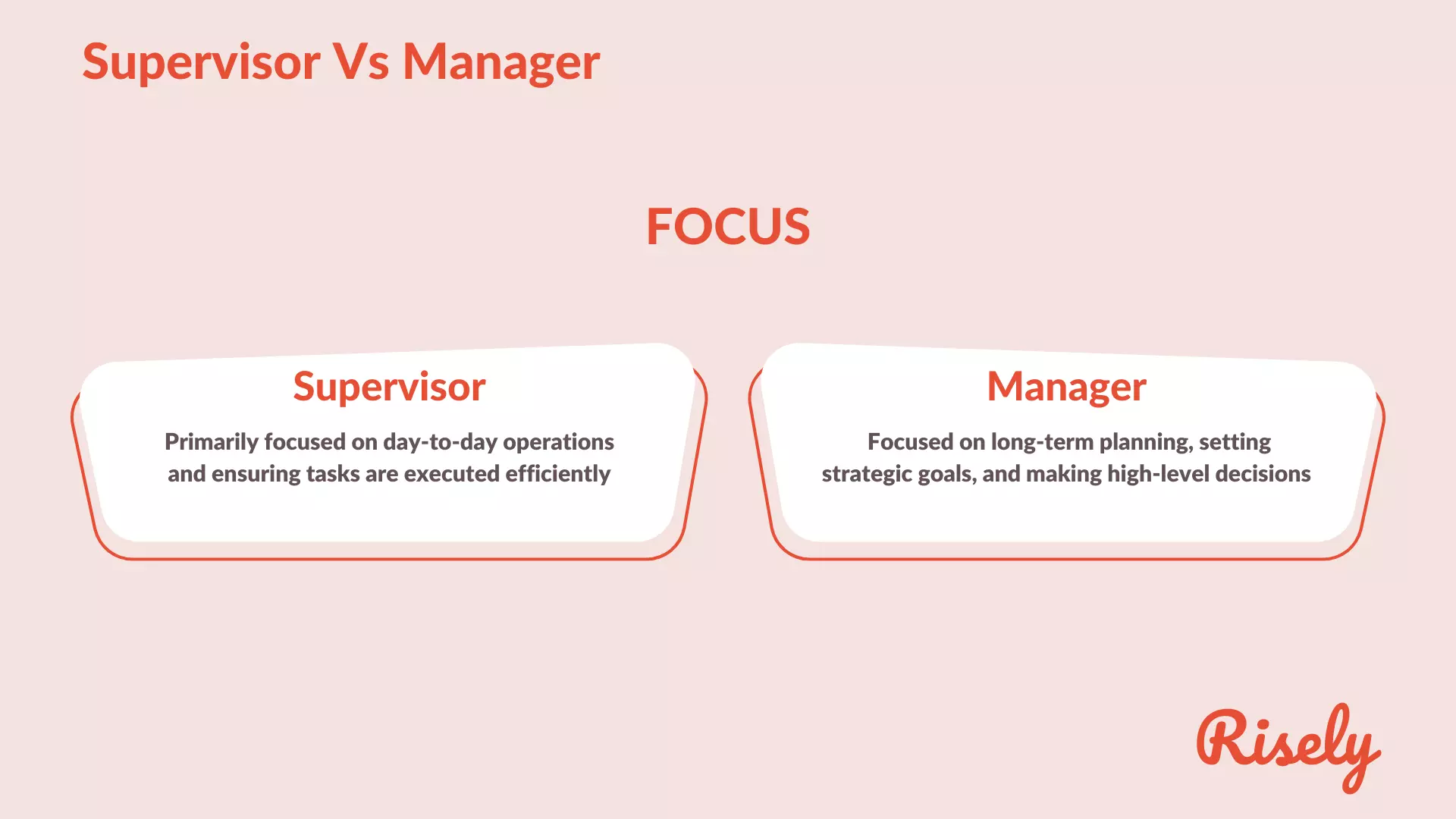 Supervisor vs Manager: Which is the proper position for you?
Determining the right position for you, whether a manager or a supervisor, depends on your skills, experience, and career aspirations. Here are some factors to consider:
Leadership Style: Managers typically have a broader leadership role, focusing on strategic planning, decision-making, and long-term goals. A managerial role may be suitable if you enjoy big-picture thinking, strategic decision-making, and leading teams toward achieving organizational objectives.
Scope of Responsibility: Managers often have responsibility for multiple teams, departments, or projects. If you thrive in a multi-faceted role, overseeing diverse areas of operations and managing complex initiatives, a managerial position may be a better fit.
People Management: Supervisors are more involved in day-to-day operations and hands-on supervision of a specific team. If you enjoy mentoring, providing guidance, and working closely with a specific group of employees, a supervisory role may be a good choice.
Experience and Expertise: Consider your knowledge and expertise in your field. Managerial positions often require more experience and expertise in a specific domain, while supervisory roles may be more accessible for those starting their management journey.
Career Goals: Reflect on your long-term career goals. A managerial position may align better with your aspirations if you aspire to take on higher-level leadership roles, influence strategic decision-making, and shape organizational direction.
Ultimately, the right position for you depends on your unique skills, preferences, and career goals. Therefore, it's essential to assess your strengths, consider your desired level of responsibility, and evaluate the opportunities for growth and development in each role to make an informed decision.
Conclusion
There are significant differences between supervisors and managers. Both positions require different skill sets, responsibilities, and objectives. While a supervisor is responsible for overseeing day-to-day tasks, a manager is responsible for organizing and implementing long-term strategies. Understanding these differences is essential to make the right decision when choosing a leadership role or looking for one. To become an effective supervisor, manager, or leader, you need to have the skill to manage people, task delegation, give and receive feedback, effective communication, active listening, and several more; and learn these skills, you can take assistance from Risley by simply signing up from
here
, you can take your first step to be an effective manager.
The key to success lies in finding the right goals. Can you do it for your team?
Test your goal-setting skills with a free assessment now to align your path with success.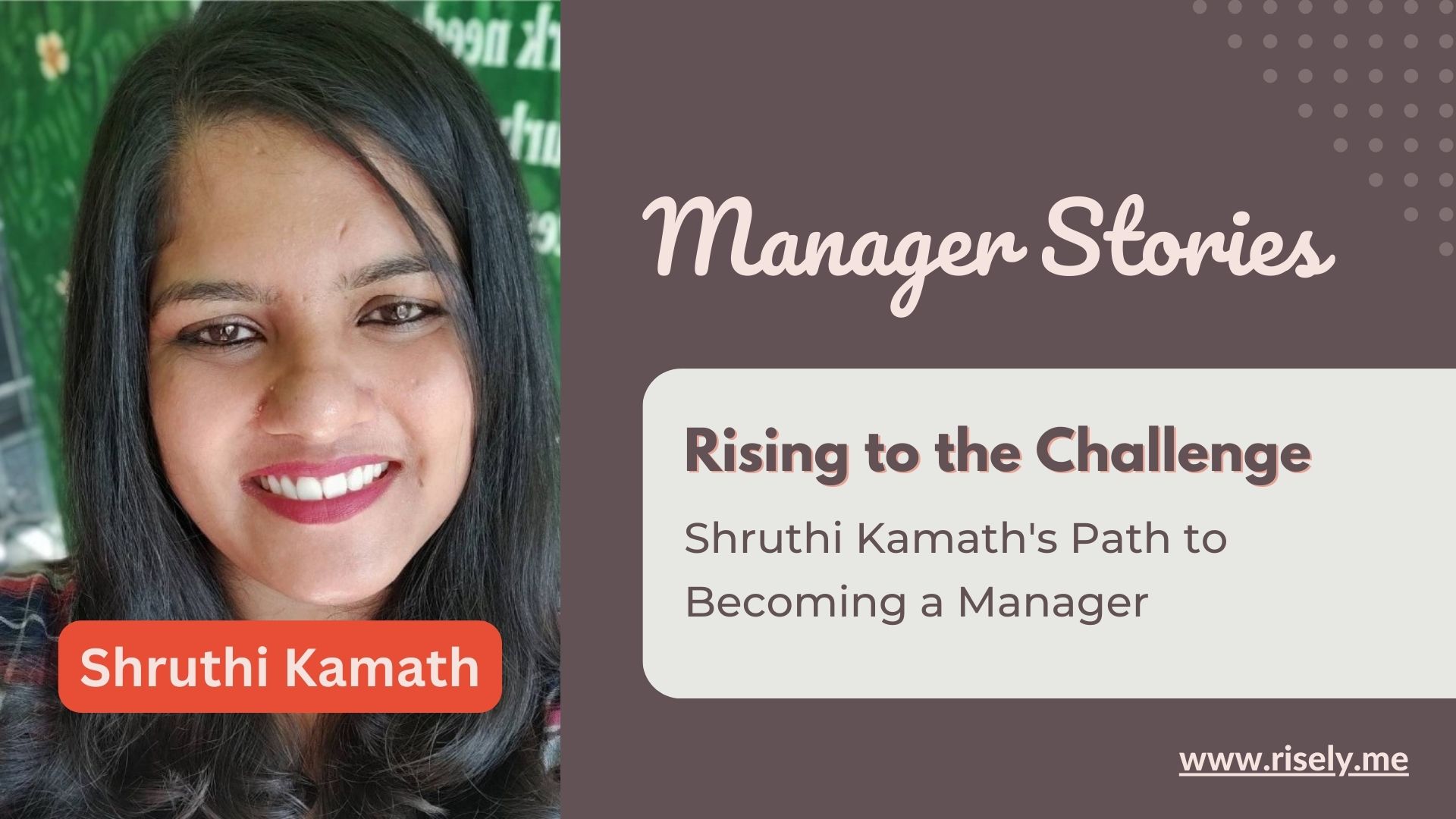 Rising to the Challenge: Shruthi Kamath's Path to Becoming a Manager "Can I really do this?" It's a question that echoes in the minds of countless professionals contemplating a leap…
Understanding Modern Leadership: Ananya Narang's Perspective on Team Management Founders and managers, the unsung heroes of the business world, often find themselves juggling various challenges. From instilling accountability to motivating…