10+ tips on how to use employee personas for better management
Employees are the backbone of any organization. Understanding your employees and their needs is crucial to building a successful business. This is where employee personas come into play. Employee personas are fictional representations of your employees that help you understand their behavior, preferences, and work styles. This blog will dive deep into employee personas and why managers need to understand them. We will explore common employee personas and share tips on how to successfully implement employee personas in your workplace to improve your overall business performance.
What are Employee Personas?
Employee personas, also known as workforce personas or employee profiles, are fictional representations or archetypes of different types of employees within an organization. Like customer personas in marketing, employee personas help human resources, management, and other stakeholders better understand the diverse workforce and tailor strategies, policies, and communication to meet the needs of various employee segments better. Key characteristics of employee personas may include:
Demographics: Information such as age, gender, education, and years of experience.
Job Roles: Details about job titles, departments, and specific organizational roles.
Goals and Motivations: What drives these employees? What are their career aspirations and personal objectives within the organization?
Challenges and Pain Points: Common obstacles and difficulties employees face in their roles or within the organization.
Communication Preferences: How do these employees prefer to receive information and communicate with colleagues and management?
Work Environment Preferences: Do they thrive in a collaborative setting or prefer more autonomy? What kind of workspaces or tools do they find most effective?
Learning Styles: How do they prefer to acquire new skills and knowledge? Are they more inclined towards formal training, mentorship, or self-directed learning?
Values and Beliefs: Insights into their values, attitudes, and beliefs that may influence their work behaviors and decisions.
Feedback and Recognition: What types of feedback and recognition are most meaningful to them?
Retention Factors: What factors make these employees want to stay with the organization, and what might lead them to consider leaving?
Leadership Styles: What type of leadership or management style resonates with them and helps them perform at their best?
Here is the
ultimate guide for managers to learn about the 4 learning styles at work
. Follow the link to know more!
How Employee Personas Help Managers?
Employee personas give managers valuable insights into their team members, making them more effective leaders, communicators, and problem solvers. By recognizing and accommodating their employees' diverse needs and preferences, managers can create a more engaged and productive workforce. Employee personas can be valuable tools for managers in the following ways:
Customized Management Approach: By understanding the unique characteristics, needs, and motivations of different employee personas, managers can tailor their approach to better align with each employee's preferences. This can lead to more effective communication, support, and leadership.
Improved Employee Engagement: Managers can use employee personas to design strategies that resonate with each persona group enhancing employee engagement and brining positive impact on the whole team. For example, they can identify the type of recognition or feedback most meaningful to specific employees, enhancing motivation and job satisfaction.
Conflict Resolution: Understanding different employee personas' values, beliefs, and communication preferences can help managers navigate and resolve conflicts more effectively. They can adapt their conflict resolution strategies based on their personalities and preferences.
Skill Development and Training: Employee personas can inform decisions about skill development and training programs. Managers can identify which learning experiences are most effective for different personas, improving employee growth and performance.
Career Development: Managers can use personas for more meaningful career development conversations with their team members. This includes aligning individual career goals with the organization's needs and identifying the development opportunities that best suit each employee's aspirations.
Performance Management: Employee personas can help managers set performance expectations that are realistic and aligned with an employee's skills and motivations. This can lead to more constructive performance discussions and goal-setting.
Retention Strategies: Recognizing the factors that drive different personas to stay with or leave the organization, managers can proactively implement retention strategies tailored to specific employee segments. This can help reduce turnover and the associated costs.
Team Dynamics: Understanding the diversity of employee personas can help managers build more cohesive and collaborative teams. They can leverage the strengths of different personas to create a balanced and high-performing group. Good team dynamics builds a healthy work environment for all.
Effective Communication: Managers can adapt their communication styles to match the preferences of different personas, ensuring that important information is conveyed in a way that resonates with each employee.
Adaptation to Change: When implementing changes or new initiatives, managers can anticipate how different employee personas might react and tailor their change management strategies accordingly. This can reduce resistance and increase acceptance of changes.
Common Employee Personas
There are numerous ways to categorize employee personas based on factors such as job roles, behaviors, and attitudes. Here are four common employee personas often encountered in organizations:
The High Achiever
Characteristics: The high achiever is ambitious, self-motivated, and consistently produces high-quality work. They set and achieve challenging goals and often seek opportunities for growth and advancement.
Motivations: Recognition, career advancement, and personal development are solid motivators for high achievers.
Challenges: They may experience burnout if their workload becomes overwhelming, and they may expect high recognition and rewards.
The Team Player
Characteristics: Team players prioritize collaboration, cooperation, and maintaining positive working relationships. They are known for their strong communication and interpersonal skills.
Motivations: Building a supportive team environment and contributing to the group's success are central motivations for team players.
Challenges: They may struggle with conflict or assertiveness and prioritize group harmony at the expense of personal goals.
The Innovator
Characteristics: Innovators are creative thinkers who excel at generating new ideas and solutions. They enjoy tackling complex problems and are often early adopters of new technologies or processes.
Motivations: Opportunities for creative expression, autonomy, and the ability to make a meaningful impact drive innovators.
Challenges: They may become frustrated in overly bureaucratic or rigid work environments and struggle with routine, repetitive tasks.
The Loyalist
Characteristics: Loyalists are committed and dedicated employees with a strong allegiance to the organization. They prioritize stability and are known for their reliability and long-term commitment.
Motivations: Job security, loyalty to colleagues and the company, and a sense of belonging are key motivators for loyalists.
Challenges: They may resist change or be hesitant to embrace new opportunities outside their comfort zones.
These are just a few examples of employee personas; in reality, employees often exhibit a mix of traits from multiple personas. Employee personas can serve as a starting point for understanding and effectively managing a diverse workforce, but managers need to recognize the complexity and individuality of each employee. Tailoring management strategies and communication to meet the specific needs of different personas can contribute to a more engaged and harmonious workplace.
How to Successfully Implement Employee Personas in Your Workplace?
Managers can use employee personas for better management in the following ways:
Tailoring Communication: Recognize that different employee personas have varying communication preferences. Adapt your communication style to align with each persona's priorities to ensure that your messages resonate effectively.
Customizing Recognition and Rewards: Understand what types of recognition and rewards are most meaningful to each persona. Some may value public recognition, while others prefer private acknowledgment or tangible rewards.
Personalized Development Plans: Create individualized development plans that align with the goals and aspirations of each employee persona. Offer learning opportunities that cater to their unique skill development needs.
Team Building: When forming teams, consider the diversity of employee personas within the group. Leverage the strengths of each persona to build well-rounded and high-performing teams.
Performance Management: When setting performance expectations and conducting evaluations, consider each persona's characteristics and motivations to provide constructive feedback and set realistic goals.
Conflict Resolution: Recognize that different personas may approach conflicts differently. Tailor your conflict resolution strategies to suit those involved's communication styles and preferences.
Retention Strategies: Develop retention strategies that address the unique factors influencing each person's decision to stay with the organization. This may include offering career advancement opportunities for high achievers or stability and job security for loyalists.
Change Management: Anticipate how different employee personas might react to organizational changes and adapt your change management strategies accordingly. Provide additional support or information to address the concerns of specific personas.
Feedback and Coaching: Provide feedback and coaching that aligns with each persona's needs. Some may appreciate frequent check-ins, while others prefer periodic, structured feedback sessions.
Leadership Styles: Tailor your leadership style to match the leadership preferences of each persona. Some may respond well to a coaching leadership style, while others prefer a more directive approach.
Work-Life Balance: Consider the work-life balance preferences of different personas when offering flexible work arrangements or time-off policies. Ensure that employees have options that suit their needs.
Career Development: Support the career development goals of each persona by offering opportunities for growth, mentorship, and advancement that align with their aspirations.
By leveraging employee personas, managers can create a more inclusive and supportive workplace that meets their team members' diverse needs and motivations. This approach can enhance employee engagement, job satisfaction, and overall performance, contributing to the success of both individual employees and the organization. Know more about
7 simple strategies to ensure that your employees professional developmen
t is consistent!
Conclusion
Understanding employee personas can greatly benefit managers and organizations. By creating effective employee personas, managers can gain insights into their employees' needs, motivations, and preferences. This understanding can help managers tailor their communication, training, and development strategies to meet the unique needs of each employee persona. To successfully implement employee personas in your workplace, follow these steps: define your purpose, gather employee data, segment your audience, identify key characteristics, and validate your personas. By following this process, you can ensure that your employee personas accurately represent your workforce and provide valuable insights for decision-making. By leveraging employee personas, managers can foster a more engaged and productive workforce, leading to improved performance and organizational success. So, take the time to develop and implement employee personas in your workplace to reap the benefits they can bring.
Gain the skills to resolve conflicts like a pro as a first-time manager!
Take the free conflict management assessment to navigate challenging situations as a first-time manager.
---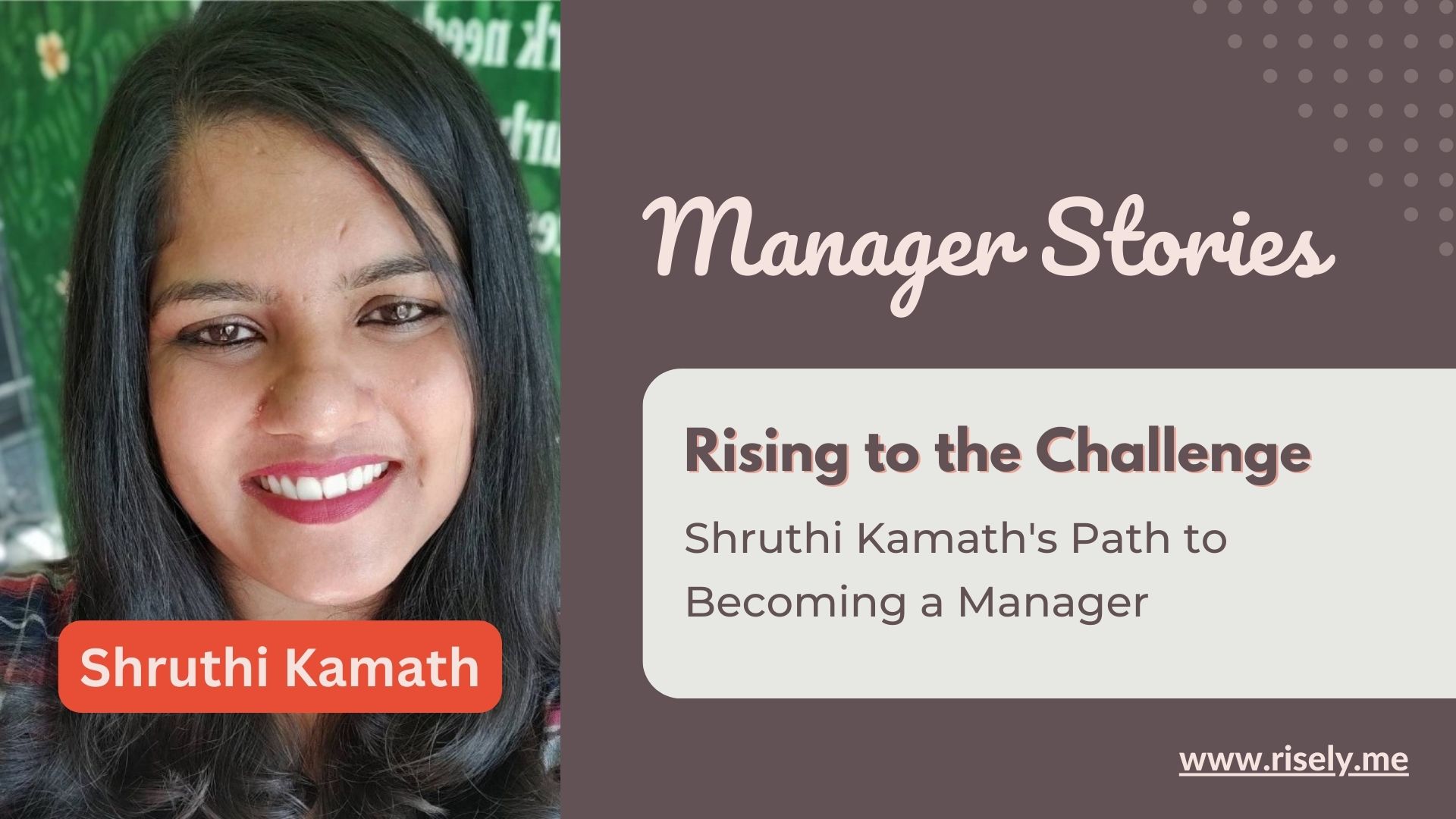 Rising to the Challenge: Shruthi Kamath's Path to Becoming a Manager "Can I really do this?" It's a question that echoes in the minds of countless professionals contemplating a leap…
Understanding Modern Leadership: Ananya Narang's Perspective on Team Management Founders and managers, the unsung heroes of the business world, often find themselves juggling various challenges. From instilling accountability to motivating…