Emotional Competence: The second key pillar for Manager Effectiveness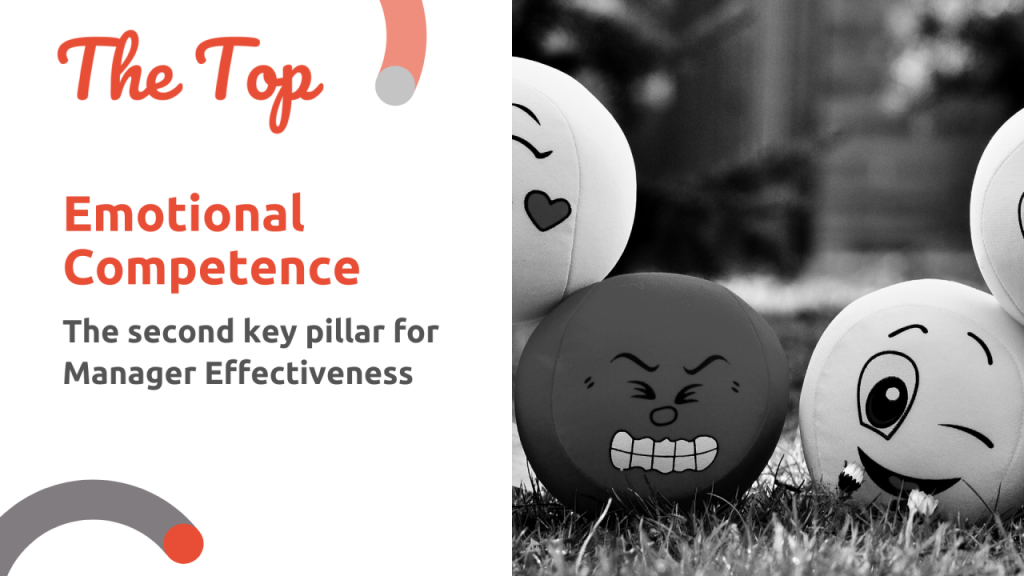 Emotional competence in the context of managers is the ability to be self-aware of their own emotions and have a social awareness of the emotions of their employees. They should also use that information to manage employee interactions and create a productive and positive work environment. It is an essential skill for managers because it allows them to effectively deal with their employees' emotions. Emotional competence is also a critical factor in decision-making. To be an effective manager, you must have a good understanding of how emotions work. You need to be able to read the emotions of your employees and respond accordingly to maintain a healthy workplace environment. Additionally, you must empathize with your employees and understand their feelings to establish trust. Finally, you need the ability to set limits without resorting to too much emotional blackmail or coercion.
Essentially, there are 9 reasons why emotional competence is critical for managers. Read more.
There are four significant constituents of emotional competence for managers.
Overall emotional management
Handling team tensions
Empathy
Managing conflicts
Some of them might look similar but have nuances that make them different. Let's dissect each one of them.
To begin with, one must have a basic understanding of the basics of emotional management. Following that, one must understand the difference between feelings and emotions. To become influential leaders
,
managers must be able to understand and regulate their own emotions, and they must also be able to help their team members do the same. It is imperative when making rational decisions can be difficult in times of stress. Managing emotions in the workplace can be difficult. It can be tough to stay positive and motivated when things go wrong. However, managers must maintain a positive attitude even when the situation is challenging. Otherwise, negativity can quickly spread throughout the team, causing a hostile atmosphere that affects people's productivity at work. Emotional management from managers' perspectives is a two-way process. The first is about managers managing their own emotions, and the second is about managing their employees' feelings. Both of them are significantly important for any manager. To build a deeper understanding of this topic, 
read this detailed guide on emotional management.
 This guide provides answers to the fundamental questions behind this complex topic.
When emotions are not managed, team tensions flare-up. These tensions come up as widespread problems that managers face worldwide and can be the root cause of workplace conflicts. Therefore, managers should treat these as the early signs of conflict and should work to handle them effectively. Tensions can arise due to several factors. As a manager, it is crucial to understand these possible causes and prevent them from happening. If not handled, situations can spiral into more significant problems affecting the team's productivity and stability.
Read here to learn more about the possible causes and cures of team tensions.
There would be situations where you will find yourself in the middle of a conflict. Either as a direct party or an indirect party. Conflict is a disagreement or hostility among individuals or groups about something. It can be physical, verbal, emotional, social, and even workplace. Anything from a dispute about a project at work to a disagreement about resource allocation can spark a conflict. Conflict can be healthy or harmful, constructive or destructive, depending on how you handle it. In general, we see conflict as unfavorable because it can lead to division, anger, and even violence. A conflict can also become extremely dangerous if left unchecked. There can be various causes of conflict in the workplace, including different goals, personalities, opinions, beliefs, standards, work styles, etc. 
There are six basic strategies that can help you manage conflicts better.
Finally, it is Empathy. It is a different topic altogether but extremely important for managers to have a well-rounded capability when it comes to Emotional Competence. Empathy allows us better understand the other person's situation and help them cope with problems that seem to be beyond their control. On the other hand, a lack of Empathy in an organization can negatively affect the effectiveness of its employees and will reduce the chances of a productive work environment. Managers who lack Empathy might also have difficulty maintaining personal relationships with co-workers, superiors, or subordinates as they don't internalize appropriate emotions for the situations in which another person is involved. In the end, it is not only the manager who needs to build Empathy. They actually need to inculcate Empathy in the entire team.
And there are five essential things managers can do to start building Empathy in their teams.
Emotional competence is essential for managers. It helps them in their professional life, and it also makes the working environment better. To be a manager, you must have a high level of emotional intelligence. You need to be able to handle your own emotions and know how to work with other people's emotions. The four building blocks for emotional competence can get you started in your journey to handling this complex topic with ease.