6 Common Problem Solving Barriers and How Can Managers Beat them?
Humans, for centuries, have been hard-wired to solve problems; that's how we survived and evolved over generations. We have a solid sense of solving problems but sometimes get stuck. This blog will answer your questions regarding problem-solving barriers and how they impact our productivity. So that you can understand these better, we will review a few examples of these barriers and discuss six significant challenges to problem-solving. Before concluding the blog, we will share a few tips with you to overcome these barriers and become effective problem-solvers in your team.
What is the meaning of Barriers to Problem Solving?
Have you ever felt like cruising down the problem-solving highway and suddenly hit a roadblock? Well, those pesky roadblocks are what we call barriers to problem-solving.
Imagine this: You're in a team aiming to meet a tight deadline. Fear of missing the deadline creeps in that your internal barrier, Doubts, poor self-talk – you name it. Or maybe you realize you don't have crucial data, and the resources are stretched thin – an external barrier.
But here's the deal – recognizing, confronting, and dealing with these barriers is the secret sauce to effective problem-solving. It's like having a GPS that reroutes you when you hit a traffic jam. The only way to deal with barriers to problem-solving is to recognize the fear, think bout possible solutions, confront the challenge, and voila – problem solved!
What are the 6 Barriers to Problem Solving?
Now that you have understood what is barriers to problem solving, let's dive into the barriers. Overcoming obstacles in problem solving can be difficult, but identifying the barriers is an important step. Here are six common barriers to problem solving. By recognizing these common obstacles, you can develop strategies to overcome them and enhance our ability to solve problems effectively. Read more about problem solving here:
Problem Solving 101 for Managers: 5 Essential Skills and Tips
Lack of motivation
Several barriers can impede problem solving, and lack of motivation is one of them. Feeling unmotivated can make it challenging to start or complete a task, which can be caused by stress, boredom, or fatigue. If you struggle to start a problem-solving task due to a lack of motivation, try focusing on the end goal instead of the steps involved. Creative thinking can also help overcome motivation barriers. By thinking outside the box and approaching the problem from a different perspective, you may be able to find new and more efficient ways to solve the problem. It's important to recognize when a lack of motivation is hindering your problem solving abilities so that you can take steps to address it and improve your
productivity
. Read more:
Lost Mojo: How to deal with unmotivated employees in the workplace?
Lack of knowledge
A lack of knowledge is one of the most common barriers to effective problem solving. People can struggle to identify and solve problems because they don't have the necessary information, experience, or skills. For example, someone may not know how to approach a complex issue or struggle to determine the most critical factors. Fortunately, skills such as
critical thinking
, problem solving, and
analytical thinking
can be improved through practice and education. By developing these skills, individuals can enhance their ability to identify and overcome barriers to problem solving, including a lack of knowledge. Ultimately, this can lead to more effective decision-making and better outcomes in various areas of life. Also, don't hesitate to ask for help from more skilled and experienced people around you. Read more:
Is a Lack of Critical Thinking Skills Stagnating Your Career as a Manager?
Lack of resources
Another common problem solving barriers is the lack of resources. This can take many forms, from insufficient information or tools to solve a problem to be uncomfortable asking for help. You may fear failure and avoid attempting to solve a problem altogether. When faced with a lack of resources, it's essential to identify what you need and find ways to obtain it. This could mean seeking additional information or expertise, collaborating with others with different skill sets, or simply taking a step back and reassessing the problem from a new angle. By addressing the barrier of lack of resources head-on, you can improve your problem solving skills and increase your chances of finding a successful solution.
Emotional barriers
There is six common problem solving barriers, and emotional obstacles are one of them. These barriers can include feelings of anxiety, stress, and frustration, which can prevent you from taking action on available solutions. To overcome emotional barriers, it's essential to focus on your goals and address the underlying causes of the problem. You can also use problem solving techniques such as
brainstorming
and
goal setting
to help you develop potential solutions. Also, take time to acknowledge the emotions making it difficult for you to solve the issue. Once you identify and recognize those emotions, you'll be better able to manage them and work on improving your ability to solve problems effectively and efficiently.
Cultural and societal barriers
Several barriers, including cultural and societal barriers, can prevent people from effectively solving problems. These barriers can take many forms, such as prejudice, social norms, and cognitive biases. Cultural barriers may be related to how a society values or accepts different knowledge or information. For example, certain cultures may value traditional beliefs or practices more than scientific evidence. Social barriers can also play a role in problem solving, preventing individuals from interacting or collaborating with others with different perspectives or solutions. Cognitive barriers are related to how people think about and process information. This can include biases in decision making, such as confirmation bias or anchoring bias. Addressing these barriers is crucial for effective problem solving and decision making. Read more:
How To Overcome The 10 Most Common Manager Biases At Work?
Fear of failure
One of the most common barriers to problem solving is
fear of failure
. Fear can prevent us from taking risks and trying new things, preventing us from achieving our goals. Overcoming this fear is vital to success. Several ways to reduce or eliminate fear include practice, visualization, and positive self-talk. Practicing your problem solving skills regularly can build confidence and reduce anxiety about potential failure. Visualizing yourself successfully solving problems can also help to boost your confidence and reduce negative thoughts. Reaching out for help when needed is another effective way to overcome barriers to problem solving. Whether seeking advice from colleagues or working with a mentor or coach, getting support from others can help you gain perspective and develop new strategies for overcoming obstacles. By identifying and addressing your fears head-on, you can break down barriers to problem solving and achieve tremendous success in your personal and professional life.
Examples of Barriers to Problem Solving
Now that we have learned about different problem solving barriers, how do we check if we face some of these barriers? First, let's take you through some examples of these barriers in our everyday work lives.
Lack of motivation: A person who lacks motivation may struggle to complete tasks on time or produce quality work. For example, an employee who is disengaged from their job may procrastinate on essential tasks or show up late to work.
Lack of knowledge: Employees who lack knowledge or training may be unable to perform their duties effectively. For example, a new employee unfamiliar with the company's software systems may struggle to complete tasks on their computer.
Lack of resources: Employees may be unable to complete their work due to a lack of resources, such as equipment or technology. For example, a graphic designer who doesn't have access to the latest design software may struggle to produce high-quality designs.
Emotional barriers: Emotional barriers can affect an employee's ability to perform their job effectively. For example, an employee dealing with a personal issue, such as a divorce, may have trouble focusing on their work and meeting deadlines.
Cultural and societal barriers: Cultural and societal barriers can affect an employee's ability to work effectively. For example, an employee from a different culture may struggle to communicate effectively with colleagues or may feel uncomfortable in a work environment that is not inclusive.
Fear of failure: Employees who fear failure may avoid taking on new challenges or may not take risks that could benefit the company. For example, an employee afraid of making mistakes may not take on a leadership role or hesitate to make decisions that could impact the company's bottom line.
How to Overcome Problem Solving Barriers at Work? Tips for Managers
Overcoming problem solving barriers requires recognition and identification, setting realistic goals, analyzing the situation, and developing an effective action plan. Logical thinking and effective techniques should be utilized to solve problems. Persistence is also vital – never give up! Here are six ways to overcome problem solving barriers:
Identify and Define the Problem: Define the problem and understand its root cause. This will help you identify the obstacles that are preventing effective problem solving.
Collaborate and Communicate: Work with others to gather information, generate new ideas, and share perspectives. Effective communication can help overcome misunderstandings and promote creative problem solving.
Use Creative Problem Solving Techniques: Consider using creative problem solving techniques such as brainstorming, mind mapping, or SWOT analysis to explore new ideas and generate innovative solutions.
Embrace Flexibility: Be open to new ideas and approaches. Embracing flexibility can help you overcome fixed mindsets and encourage creativity in problem solving.
Invest in Resources: Ensure that you have access to the necessary resources, such as time, money, or personnel, to effectively solve complex problems.
Emphasize Continuous Learning: Encourage continuous learning and improvement by seeking feedback, evaluating outcomes, and reflecting on the problem solving process. This can help you identify improvement areas and promote a continuous improvement culture.
Conclusion
Problem-solving sometimes feels like an adventurous trip with no idea what will come next. Doesn't it? We all have been in situations where simple tasks seem too big because of the roadblocks. But now, you don't have to worry about the barriers because you have some excellent strategies to deal with these problem-solving barriers.
How good are you in jumping over problem-solving barriers?
Find out now with the free problem-solving assessment for managers and leaders.
---
Problem Solving Barriers FAQs
What are the factors affecting problem solving?
Several factors can affect problem solving, including cognitive biases, limited information or resources, emotional states, and external pressures or constraints. Other factors may include time constraints, conflicting goals or priorities, communication barriers, and the complexity or ambiguity of the problem itself. Identifying and managing these factors can help individuals and teams solve problems more effectively and make better decisions.
What are the five key obstacles to problem solving?
The five key obstacles to problem solving are as follows:
– Lack of information or data
– Cognitive biases and assumptions
– Emotional and psychological barriers
– Limited resources or constraints
– Resistance to change or implementation
Can habits be a barrier to problem solving?
Yes, habits can be one of the problem solving barriers, mainly if they prevent individuals from considering new perspectives or approaches to a problem. In addition, habits can create cognitive biases and assumptions that limit creativity and critical thinking, leading to predictable or ineffective solutions. Overcoming these habits may require intentionally breaking routines and exploring new ways of approaching problems, which can be challenging but ultimately lead to more innovative and effective solutions.
How do you overcome barriers in problem solving?
To overcome barriers in problem solving, it is crucial to first identify and understand the specific obstacle(s) hindering progress. Then, individuals or teams can use various techniques, such as brainstorming, critical thinking, and creativity, to generate new solutions and perspectives. Collaboration and communication can also help to overcome barriers by leveraging the expertise and insights of others. Finally, a willingness to take calculated risks and learn from mistakes can help individuals to overcome obstacles and arrive at optimal solutions.
---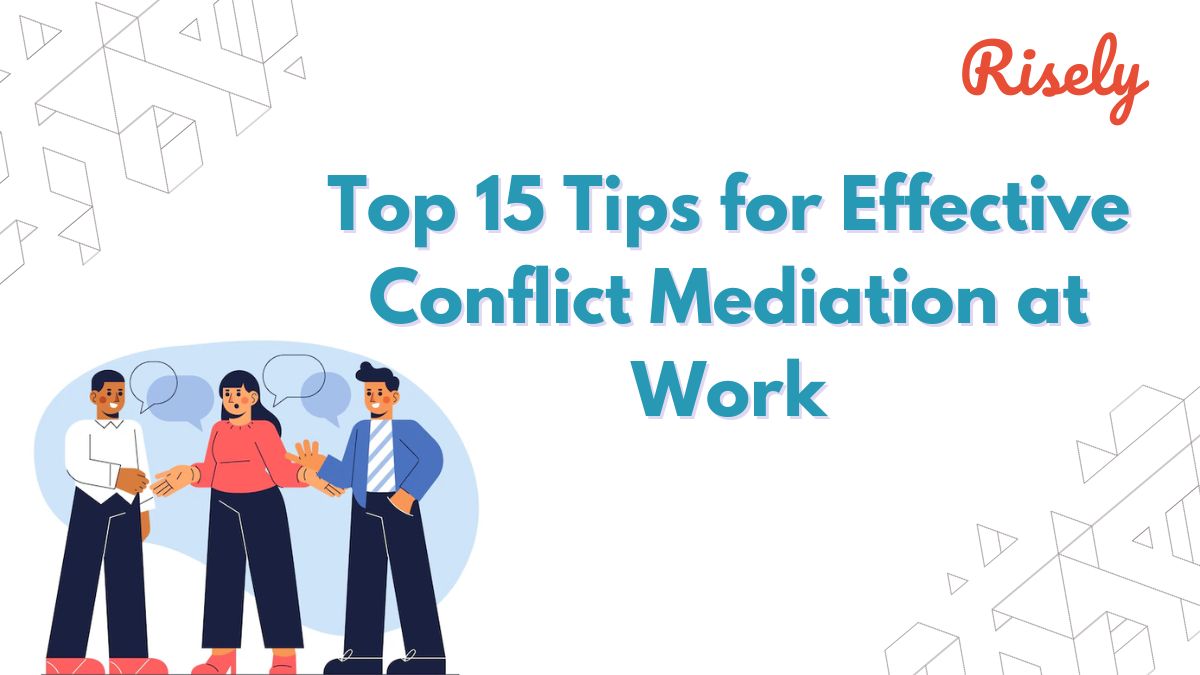 Top 15 Tips for Effective Conflict Mediation at Work As a manager or leader, you might be familiar with the conflicts that arise in the workplace. It's not always easy…
Top 10 Games for Negotiation Skills to Make You a Better Leader Negotiation skills are essential in today's workplace and can be honed through various methods. One fun and effective…