7 Ways to Develop Critical Thinking Skills as a Manager
Critical thinking is the ability to think logically and analytically and make sound decisions. It is the ability to think about problems through an objective lens and develop practical solutions. Further, it allows you to look at matters from an intellectual standpoint and consider other aspects of situations without being hindered by emotion. Critical thinking is a skill that grows on you, just like any other skill, as it can't be taught in a day or two. It requires time, development, and practice to master. These skills are at an all-time high, especially for business professionals, as they can mean the difference between success and failure. Critical thinking is essential for managers because it allows them to make informed decisions and solve challenging problems. To think critically, you need to identify the assumptions you are making and question them. You also need to come up with alternative solutions and understand the consequences of your decisions. By learning how to think critically, you will be better prepared to face any challenges you may face as a manager. Critical thinking is also essential for professionals in other fields, such as scientists, researchers, and engineers, who need to be able to think critically to develop new ideas and solve problems.
Who are Critical Thinkers?
Assess Information: Critical thinkers can critically assess and analyze information from various sources. They evaluate the credibility, relevance, and accuracy of data and arguments.
Identify Assumptions: They have the ability to recognize underlying assumptions, biases, and preconceptions in information or arguments. This skill allows them to see beyond surface-level statements.
Recognize Patterns: Critical thinkers can identify patterns, trends, and relationships within data or complex situations. They connect pieces of information to form a coherent understanding.
Analyze Arguments: They can dissect and evaluate the strength and weaknesses of arguments. This involves assessing the use of evidence, logic, and reasoning in support of a claim.
Synthesize Information: Critical thinkers can synthesize disparate information and ideas to form a comprehensive view. They combine information to draw insightful conclusions.
Understand more with the help of examples:
5 Critical Thinking Examples In The Workplace To Become A Better Manager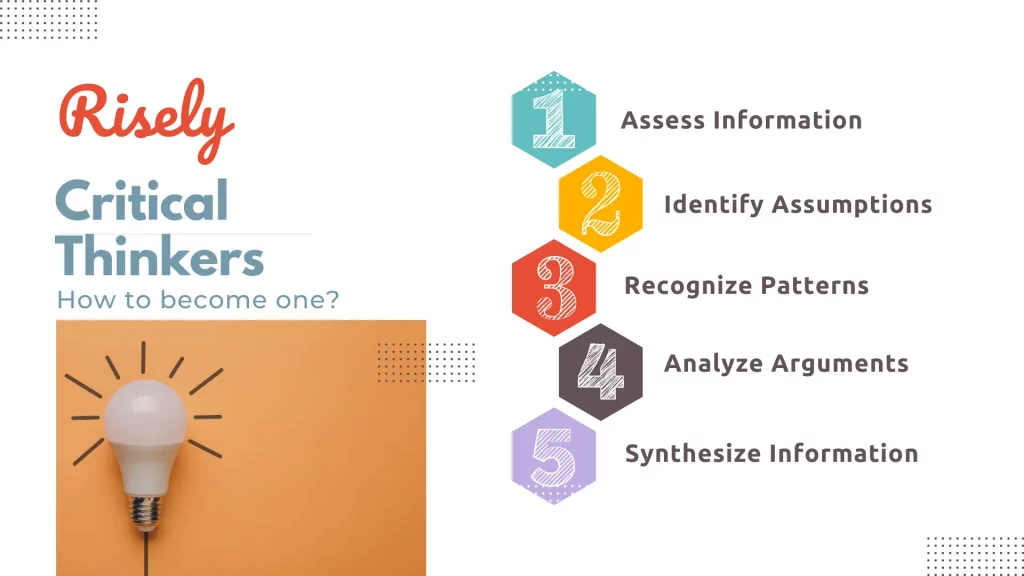 The basics of critical thinking: what does it involve?
Recognizing when you need to think critically
Critical thinking is a process of analyzing and interpreting information in order to come to a reasoned conclusion. Its first requirement is to recognize when you're in a situation where you need to think critically. This means staying aware of your surroundings, paying attention to the facts, and thinking through your options. It's important to be able to think critically not only when you're faced with challenges but in many other aspects of a managerial position. By recognizing when you need to think critically, and applying the skills when required, you can make better decisions that will lead to the success you desire.
Questioning your assumptions
Critical thinking goes beyond simply accepting what you're told or what you think without questioning it. It's about being able to interrogate your thoughts and assumptions to identify and evaluate the evidence. It is a way of thinking that requires you to be open-minded and to question everything that you think you know. It involves suspending your judgment and investigating the evidence. When you're engaging in critical thinking, you're looking at things from all angles and considering all the possible implications of an issue.
Looking for alternatives
To be a well-rounded critical thinker, you need to be able to look at a problem from multiple angles and explore all the possible solutions. It helps us think outside the box and develop new, innovative ideas. It involves looking for alternatives, considering all the angles, and coming to a reasoned conclusion. By considering options, you can figure out the best course of action in any situation and make sound decisions that will benefit you and your business.
Evaluating the strengths and weaknesses of arguments
Critical thinking also involves evaluating the strengths and weaknesses of arguments and finding the best solution or path that considers all the relevant factors. You must do this to make a well-informed decision or refute an argument. It involves assessing all the relevant information and determining which points are valid and not. You need to be able to reason logically and critically to come to a sound conclusion. Read more:
Critical Thinking vs Analytical Thinking: What's the Difference?
Why is critical thinking important for managers?
Objective decision making
Critical thinking is an essential skill for managers as it leads to objective decision-making. It helps managers remain objective when considering different perspectives on a situation, which is vital when making informed decisions. You can evaluate information and conclude based on facts and not personal biases with critical thinking. It allows you to make objective decisions that will be sound and help your organization grow and succeed.  Read more:
Critical thinking strategies for better decision making in the workplace
More efficient and effective problem solving
Critical thinking is essential for managers to be effective problem solvers
. When you can think critically, you can recognize and address potential problems early on, which leads to more efficient and effective problem-solving. It is essential to tackle complex or difficult challenges, as it will help you avoid costly mistakes and stay ahead of the curve. By adopting a cognitive process known as "critical thinking," managers can identify and analyze problems, come up with solutions, and put those solutions into action. 
Improved judgment
Critical thinking is a process of identifying, assessing, and resolving problems. It is one of the essential skills managers need to have, leading to improved judgment. Critical thinking skills can improve your judgment by providing an objective perspective on tough decisions, enabling you to make more intelligent and responsible choices. When it comes to making independent judgments about a problem or decision, critical thinking can help improve performance in logical reasoning, articulation, communication skills, and emotional self-control.
Greater creativity and innovation
A critical thinking approach is an essential ingredient of creativity and innovation. Critical thinking is the ability to think clearly and rationally, and it's essential for creativity and innovation. To be creative, you need to be able to come up with new ideas and to be innovative, you need to be able to put those ideas into action. Critical thinking allows you to do both of those things. When you're critical thinking, you're analyzing information and looking for ways to improve it. You're questioning assumptions and evaluating evidence. You're looking for solutions to problems. And all of that leads to creativity and innovation.
Enhanced understanding of oneself and others
Critical thinking turns observations and experiences into thoughtful insights that allow you to make better decisions. As a manager, you must develop a strong foundation for thinking skills to better understand yourself and your team. This understanding can help you identify potential problems earlier and devise strategies to overcome them. Additionally, critical thinking skills help you see the world from a different perspective, which can help you connect with others more meaningfully. This understanding is essential because
managers can make or break a company's growth
. Nonetheless, there can be some critical thinking barriers on your path which can weaken your game. Read more here about the common critical thinking barriers so that you can avoid these typical challenges of managers:
6 Steps to Beat Common Critical Thinking Barriers at Work
How to develop critical thinking skills as a manager?
Evaluate your decision-making process and understand how you make decisions
To develop your critical thinking skills as a manager, you need to evaluate your decision-making process and understand how you make decisions. By doing this, you will become better equipped to make sound and informed choices in any situation. It will better prepare you to recognize biases and understand why people may have different opinions. Understanding how you make decisions will help you learn to catch yourself when feelings and self-doubt influence your choices. Letting emotions take control of decision-making undermines critical thinking skills and can lead to poor personal or professional outcomes.
Ask questions and challenge your assumptions
Critical thinking is all about questioning your assumptions and creating alternate solutions. To develop your necessary thinking skills, ask questions and challenge your assumptions. For example, imagine that you're the manager of a sales team. You assume that your top performer is a high-energy person, so you give her more challenging assignments. However, if you question your assumption and talk to your top performer, you might find out that even though she performed well earlier, the excess workload is leading her to burnout, something you would like to avoid at all costs. By asking questions and challenging your assumptions, you can more accurately make your decisions. These decisions will then be comparatively low risk and have better potential. Furthermore, by asking questions, you are more likely to find the answers that will enable you to analyze each problem on an objective level. This process promotes critical thinking skills because it develops a search for new information or different perspectives that ultimately leads us in one direction: the right path. Find free ideas to get started here:
10+ Critical Thinking Questions Every Manager Needs to Probe
Being aware of how your thoughts can bias your judgments
If your emotions bias your thoughts, it can impair your critical thinking. To develop your necessary thinking skills as a manager, you need to know how your thoughts can prejudice your judgments. It means being aware of the factors that can influence your thinking and the impact that your thoughts have on your behavior. By becoming more aware of how you think, you can better manage your emotions and improve the quality of your judgments.
Find ways to verify the information before taking action or forming opinions
To hone your critical thinking skills, look for ways to verify the information before taking action or forming opinions. It means doing your due diligence and investigating all the available sources of information before making any decisions. It involves asking the right questions, looking for evidence, and thinking about different perspectives. As a result, you will be able to make more informed decisions in your everyday life and protect yourself from making mistakes that could have long-term consequences. More importantly, you will be able to think and make decisions more quickly.
Take and incorporate multiple perspectives
Different people have different ways of approaching things, and they can come up with varying answers to the same question or suggest additional options to tackle something. To develop your critical thinking skills, you need to take and incorporate these multiple perspectives. When you do this, you will be able to break down complex topics into more manageable pieces and identify any flaws or loopholes in arguments. Additionally, by taking different perspectives on issues, you will be able to widen your range of knowledge and gain a better understanding of the issue at hand. Hence, you will make informed decisions that reflect your values and beliefs.
Evaluate evidence critically to reach a decision
To effectively develop your critical thinking skills as a manager, you also need to evaluate the evidence critically to arrive at a decision. When assessing the evidence, consider the source, how credible the source is, how well the information is presented, and how relevant the information is to your decision. By evaluating the evidence critically, you can improve your decision-making skills and make better choices in life. Doing this will also allow you to defend your decisions in the future.
Be transparent about your thinking process so that others can critique it constructively
The final step towards developing your critical thinking skills as a manager is transparency about how you think. Doing this will allow your team members to critique your thinking constructively. Moreover, it will enable you to identify and correct any flaws in your thinking and ensure that you construct a valid argument. They can help you refine your review and develop even better ideas. Being open and transparent with your team is the best will build trust and respect and foster a culture of collaboration and teamwork. Further, you can
improve your decision-making skills
and build a strong foundation for practical problem-solving by regularly reflecting on your thinking process. It will ultimately ensure that you are on the right path to developing the proper critical thinking skills.
Practicing Critical Thinking as a Manager
The steps mentioned above will be enough for managers to develop sound critical thinking skills. But when to practice this critical thinking? There are certain times when practicing critical thinking is essential, and there are also certain times when thinking critically can have some negative repercussions. Below are some tips on when to practice critical thinking and when not to:
When should you use it?
When making a difficult or complex decision
When you have conflicting information
At the time of uncertainty
When you are dealing with stakeholders
When you need to evaluate the impact of your decisions
At times, when you are trying to understand complex systems
When you have to defend your ideas
Whenever you need to be impartial
Whenever you are confronted with new ideas
At times when you need to think beyond the traditional thinking patterns
Jump here to understand your learning journey toward strong critical thinking skills:
Pave Your Path To Success With Critical Thinking Training In 5 Easy Steps
Conclusion
As managers, we must learn to think critically and solve problems effectively. We can then take charge of our destinies and create a brighter future for ourselves and our teams. This blog outlined the basics of critical thinking and its importance for managers. We also shared seven practical steps to help you develop your critical thinking skills. Finally, we provided a handy guide on when to practice critical thinking in your managerial role. We believe that this blog has provided you with all the insights and information that you need to develop critical thinking skills. Now it's up to you to give it a try.
Grab the active listening toolkit today to sharpen your critical thinking sills
A guide to understand the practice and parlance of active listening for managerial effectiveness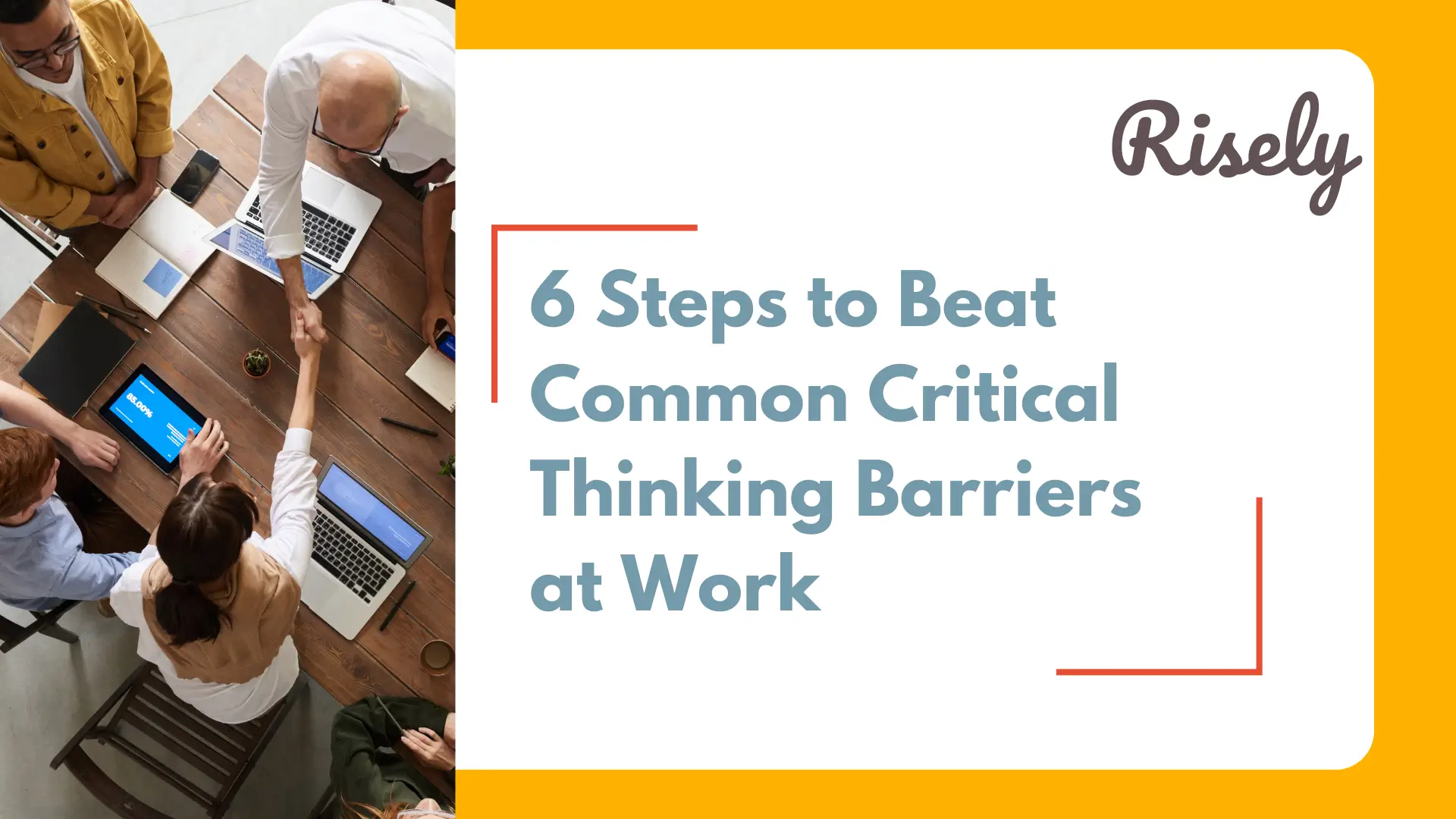 6 Steps to Beat Common Critical Thinking Barriers at Work Critical thinking is a valuable life skill that allows us to analyze and evaluate information before making decisions. However, it…
How to develop the 8 Conceptual Skills every Manager needs? It's no secret that success in any professional field hinges on thinking critically, strategically, and creatively. That's where conceptual skills…