12 Decision Making Types Smart Managers Use
Decision making is a crucial aspect of management, as it determines the direction and success of a team. Effective decision making requires the consideration of multiple factors, including data analysis, diverse perspectives, and risk assessment. In addition, managers should strive to overcome biases, such as central tendency bias, recency bias, proximity bias, and halo and horn effect, to make objective and informed decisions. To do so, they can use clear criteria, provide training, encourage self-reflection, use multiple raters, and regularly assess and adjust their decision-making processes. Good decision making requires discipline, creativity, and a willingness to learn and adapt. By mastering the art of decision making, managers can lead their organizations to success. These
managers
are strategic thinkers who can make decisions ensuring organizational goals are met while also satisfying individual needs and preferences. In this blog, we provide you with 12 decision-making styles that managers can use to make decisions effectively.
What are the common decision making types of managers?
Data-driven decision making
Data-driven decision making is a type of decision making that relies on data analysis to make informed decisions. It is often used in businesses to make decisions that are based on facts and evidence. Managers who use data-driven decision making often clearly understand the situation they are facing, making their decisions more effective and efficient.
Intuitive decision making
Intuitive decision making is a style of decision making that is based on quick, emotional reactions. It is often associated with creative thinkers and risk-takers who are often willing to take risks and make decisions without much thought. Intuitive managers make decisions quickly and without much thought, relying on their gut instinct to guide them. This type of decision-making style can lead to quick and successful decision making in certain situations. However, intuitive decision making can also result in poor decisions if the manager makes decisions without carefully considering all the options. Managers who use intuitive decision making typically have a high level of confidence in their decision-making abilities. They are usually decisive and confident in their ability to make sound decisions quickly and without much analysis. However, intuitive decision making can be time-consuming and result in poor choices if not thoroughly analyzed and considered. Overall, intuitive decision making is a valuable decision-making style that can help managers make quick and effective decisions under some circumstances. Still, it must be used with care to be effective.
Strategic decision making
The strategic decision making style is a decision-making approach that emphasizes considering all relevant factors to make the best possible decisions. It is based on the premise that every decision has multiple potential outcomes and that weighing all possible consequences of any action before taking it is essential. The strategic decision making style is typically used when faced with complex or uncertain situations in which it is difficult to determine which option will result in the best outcome. By considering all available options and their associated risks and benefits, teams can maximize their chances of reaching their desired goal.
Evidence-based decision making
Evidence-based decision making is a systematic approach that incorporates the best available evidence combined with individual and organizational values and circumstances. It helps to ensure that decisions are informed by the best available evidence and are not based solely on intuition, personal experience, or preconceived beliefs. The evidence-based decision making style is a decision-making approach that relies on empirical evidence and systematic reviews to make decisions. It is based on the principle that decision makers should use data and information to make informed decisions and that good decision making requires a combination of judgment and science.
Analytical decision making
Analytical decision making is a method focused on data analysis and objective consideration of options. This style of decision making is often used by managers looking to make rational decisions based on objective information. Analytic decision making can be used in a variety of different situations, such as business planning, product development, and marketing strategy. Analytical decision making involves using critical thinking and analysis to make informed decisions. Managers often use it to make decisions related to strategic or financial issues to achieve optimal outcomes. This style of decision making can be effective when multiple options and uncertainties are involved in a decision-making process.
Informed decision making
Informed decision making is the most effective style of managers to have accurate and up-to-date information about a situation or issue. This style involves gathering relevant information, analyzing it, and deciding based on that analysis. Conversely, uninformed decision making relies on gut instinct or hunch instead of reliable information. As a result, it can lead to poor decisions that can damage the organization.
Values-based decision making
A decision making process that managers use to arrive at decisions based on the organization's values and objectives. In a values-based decision making process, decisions are made with the purpose of supporting the organization's mission, goals, and values. This decision making style helps ensure that decisions are made in a consistent and principled way. It is essential for decision-making processes to be consistent and conscientious about ensuring that decisions are made concerning organizational goals. Values-based decision making helps managers make decisions that have a significant impact on the organization's mission, goals, and values.
Directive decision making
Directive decision making is when managers make decisions that are planned and controlled. This decision making style is typically employed when there is a clear goal or objective to be achieved. In other words, directive decision making typically involves a clear plan of action with defined steps and criteria. By contrast, reactive decision making is when managers respond to events rather than shaping them. Reactive managers are often indecisive and lack control over their destinies. Procedural decision making is when managers use rules and procedures to make decisions. Procedural decision making tends to work well within established guidelines and can be effective in situations where there are clear parameters for decision-making. However, procedural decisions may not always be the best option in complex or uncertain cases.
Conceptual decision making
Conceptual decision making style refers to a managerial approach to decision making that emphasizes a big-picture, holistic perspective. Conceptual managers are characterized by their ability to think creatively and see the bigger picture and their tendency to consider the long-term implications of their decisions. This style is beneficial for solving complex problems and making strategic decisions that broadly impact the organization.
Rational decision making
Rational decision making is a method of thinking used to make decisions that are in the best interest of an organization or individual. Rational decision making involves using data and logic to choose the best course of action. It can be used in various situations, such as planning, marketing, and product development. The rational decision making style is often associated with formal, data-driven decision making processes, such as cost-benefit analysis or decision tree analysis. It is well-suited for decisions involving quantifiable data and requiring a structured approach. By using a rational decision making style, managers can increase the transparency and accountability of their decisions and minimize the impact of biases and personal preferences.
Consensus decision making
Consensus decision making is a type of decision making that requires a unanimous decision from all participants. Consensus decision making is often used when there is disagreement about the best course of action to take, and the goal of the process is to find a solution that everyone can support. The decision-making process in consensus decision making typically involves brainstorming ideas and identifying common goals among the group. Consensus decision making can be faster than other decision-making processes, but it may not be the best option for all situations. For example, if there are strong arguments against a specific solution, it may be better to use another decision-making process, such as brainstorming or voting.
Decentralized decision making
Decentralized decision making is a type of decision making in which decisions are made at the lowest possible level. This approach is often used when multiple individuals or groups, such as within a team or organization, need to decide. Decentralized decision making can be helpful when there is uncertainty, or more than one option exists. It can also be effective when time is limited, as decisions must be made quickly and with little information. Overall, decentralization of decision making can help increase organizational efficiency and decision-making effectiveness.
Collaborative decision making
Collaborative decision making is a type of decision making in which teams work together to reach a common goal. The process typically involves sharing information,
brainstorming ideas
, and voting on proposals. When there are options that are complex or uncertain about the outcome, collaborative decision making can be useful. It allows teams to develop creative solutions and find a balance between individual preferences and the best possible outcome for the group. This decision-making style is often used when the options available are complex, or there is uncertainty about the outcome of a decision. In such cases, it helps groups reach a decision quickly with the desired results. However, collaborative decision making requires careful consideration and requires everyone involved in the process to share their viewpoints and work toward consensus.
Conclusion
Effective decision-making requires a range of decision-making skills, including the ability to prioritize options, process information, and arrive at an informed and ethical decision. By using decision-making types such as analytical, intuitive, strategic, and so on, you can better understand how individuals approach decisions and improve decision-making processes. You can further use decision-making types such as data-driven, values-based, and so on to help individuals make decisions that align with their personal beliefs.
How well is your decision-making type working for your team?
Test the effectiveness of your decisions now with the free decision-making assessment for managers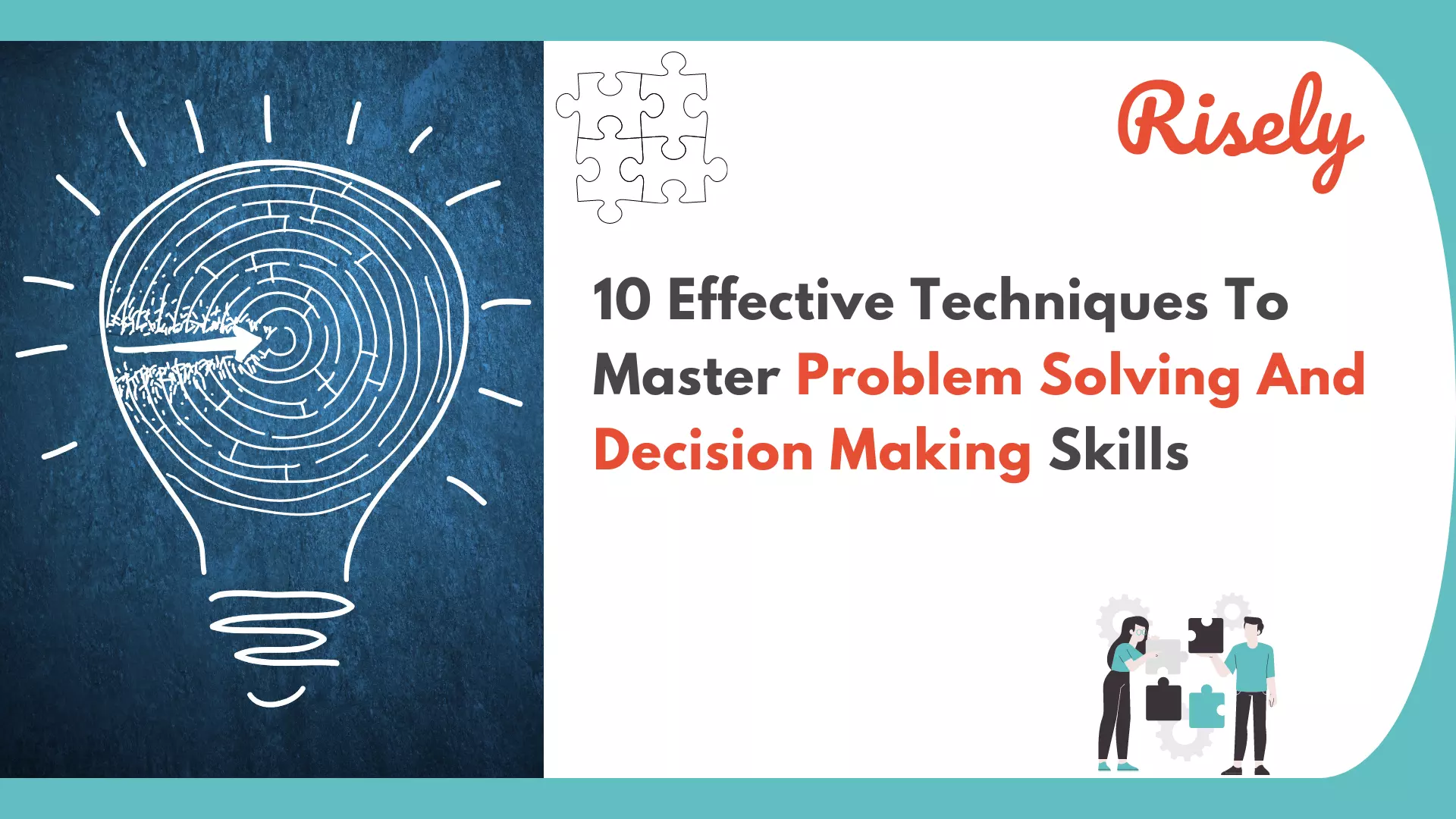 10 Effective Techniques To Master Problem Solving And Decision Making Skills In life, we face various problems that require us to make decisions. Some are small and quickly resolved, while…
3 Consensus Decision Making Examples In The Workplace: With Benefits How do decision-making processes at work differ from those in the family? In the office, everyone wants a say in…