6 Steps To An Effective Employee Engagement Action Plan With Tips & Benefits
Have you ever noticed how some workplaces buzz with energy and enthusiasm while others feel like they're running on autopilot? It all comes down to one crucial factor: employee engagement. Employees who are fully engaged in their work become the driving force behind a company's success. However, achieving high levels of employee engagement doesn't happen by chance; it requires a well-crafted action plan. In this blog, we'll explore the power of
employee engagement
and dive into the steps you can take to create an effective action plan that will ignite passion, boost productivity, and create a thriving work environment. So, if you're ready to transform your workplace into a vibrant hub of engagement and unleash the full potential of your team, read on. It's time to take action and unlock the true power of your workforce! Let's get started!
Understanding Employee Engagement Action Plan
Effective employee engagement is a crucial component of any successful organization. However, achieving it requires more than just offering perks and incentives. Understanding what employee engagement means for your organization is the first step in building an effective action plan. This involves identifying key drivers of engagement and conducting surveys or assessments to gather feedback from employees on their level of engagement. Using this data, you can create an action plan that addresses areas where engagement may be lacking and involves employees to ensure success. In addition, by prioritizing employee engagement, organizations can foster a positive work environment that benefits employees and the company.
Importance of Employee Engagement Action Plan
Improving employee engagement is becoming increasingly important for businesses. An effective employee engagement action plan improves employee retention,
productivity
, and job satisfaction. Additionally, creating a positive work environment through such a plan can foster better communication and collaboration among employees and even boost revenue by ensuring excellent customer service. Investing in employee engagement initiatives can help businesses reap numerous benefits. By identifying areas of improvement and implementing solutions through an action plan, organizations can create a more engaged workforce that is invested in the company's success.
Benefits of Employee Engagement Action Plan
Employee engagement action plans provide multiple benefits to organizations, such as;
Enhances Employee Satisfaction
Involving employees in workplace decisions and making them feel valued makes them more likely to be satisfied with their jobs. This increased job satisfaction results in a happier and more productive workforce, as employees tend to be more engaged and motivated when they feel their contributions matter. In addition, a well-designed employee engagement action plan fosters better communication between management and staff, leading to a more positive work environment. With an engaged workforce comes the potential for higher productivity, retention rates, and customer satisfaction – all critical factors for any successful business.
Creates a Positive Work Environment
Engaged employees feel valued and are more likely to be satisfied with their jobs and contribute to the company's overall success. The employee engagement action plan encourages teamwork by providing opportunities to collaborate on projects or engage in team-building exercises. Additionally, an engaged workforce is more likely to go above and beyond in their roles, leading to increased revenue and profits for the company. Finally, by prioritizing employee engagement, companies can
attract and retain top talent
and improve their overall reputation in the industry.
Fosters Employee Development
An effective employee engagement action plan promotes employee development by providing training, learning, and growth opportunities. In addition, this plan involves identifying areas of development for each employee and providing them with resources and support to help build a strong, skilled workforce. Employees who feel like they are growing and developing professionally are more likely to be engaged and motivated in their work. This increased motivation can lead to higher productivity levels, higher job satisfaction, and lower turnover rates. A forward-thinking approach that prioritizes employee development can lead to a more knowledgeable workforce that is ready to take on new challenges as the company grows.
6 Steps to Building an Effective Employee Engagement Action Plan
Creating an employee engagement action plan can seem daunting, but breaking it down into manageable steps can make the process much more manageable.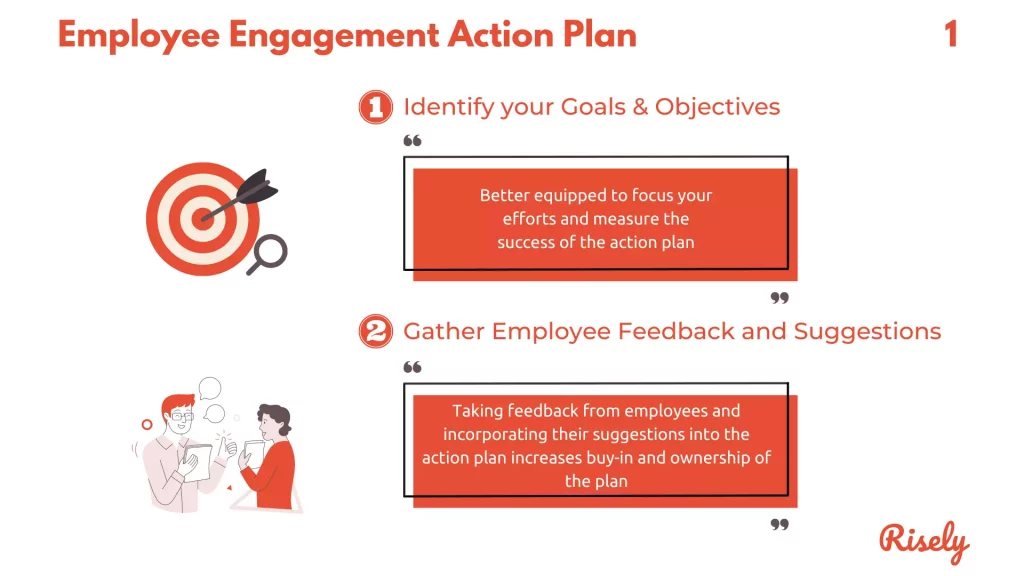 Step 1: Identify Your Goals and Objectives
To create an effective employee engagement action plan, it's essential to start by
identifying the development needs of your team
and then
setting clear goals
and objectives. By doing so, you'll be better equipped to focus your efforts and measure the success of your plan. This process involves improving organizational communication, increasing employee satisfaction, or reducing turnover rates. To ensure that your goals are tailored to your organization's unique needs and culture, it's crucial to involve employees in this process. Soliciting their input can help you identify areas for improvement and opportunities for growth.  With a clear set of objectives in mind and buy-in from employees, you'll be on your way to building a successful employee engagement action plan.
Step 2: Gather Employee Feedback and Suggestions
When it comes to building an effective action plan, gathering feedback from employees is crucial. Without their input, it's challenging to know what's working and what isn't.  Feedback can be collected through various methods, such as
employee engagement surveys
, focus groups, or one-on-one employee meetings. Creating a safe space where employees feel comfortable sharing their thoughts and ideas is vital to the process. Incorporating their suggestions into the action plan increases buy-in and ownership of the plan.  Regularly reviewing and updating the action plan based on feedback ensures that it stays relevant and effective for your organization's unique needs and culture.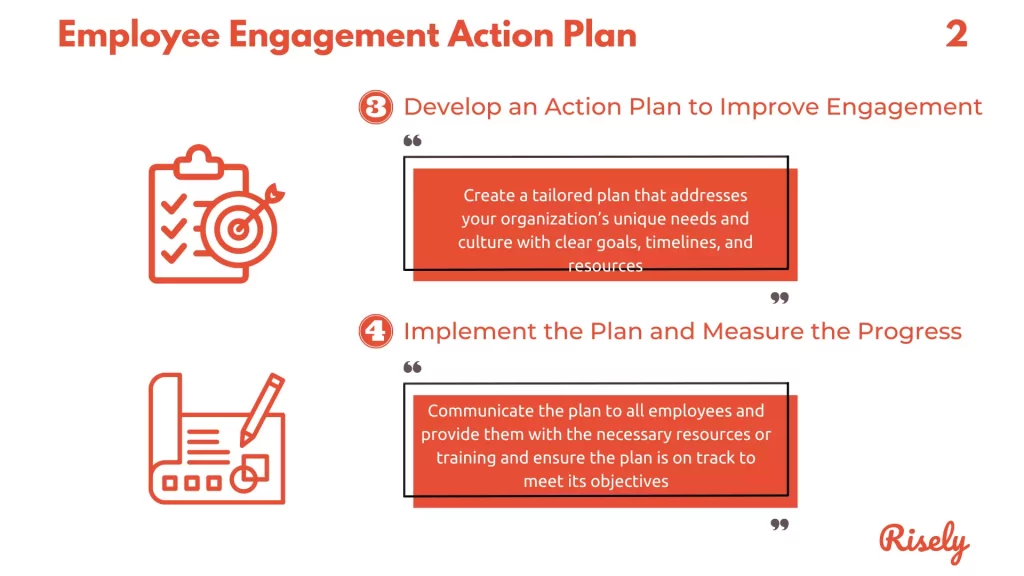 Step 3: Develop an Action Plan to Improve Engagement
With a thoughtful and comprehensive approach, identify specific strategies to improve engagement and outline clear goals, timelines, and resources needed for implementation. It's important to involve employees in developing the action plan to ensure their buy-in and support. By doing so, you can create a tailored plan that addresses your organization's unique needs and culture. Reviewing and adjusting the plan regularly based on feedback and results ensures its effectiveness, improving productivity, job satisfaction, and retention rates. Ultimately, a well-designed action plan can foster a positive work environment where employees feel valued and motivated. You can also include
individual development plans
that are created in parallel with team-wide plans.
Step 4: Implement the Action Plan and Measure the Progress
After developing an action plan to improve employee engagement, it's crucial to implement and continuously monitor progress. At this stage, communicating the plan to all employees and providing them with the necessary resources or training is essential. In addition, regular check-ins help track progress and ensure the plan is on track to meet its objectives. Employee feedback is also important in determining whether the action plan effectively improves engagement levels. Measuring the action plan's success can identify areas for improvement and guide future engagement efforts, ultimately leading to a more productive, satisfied, and committed workforce.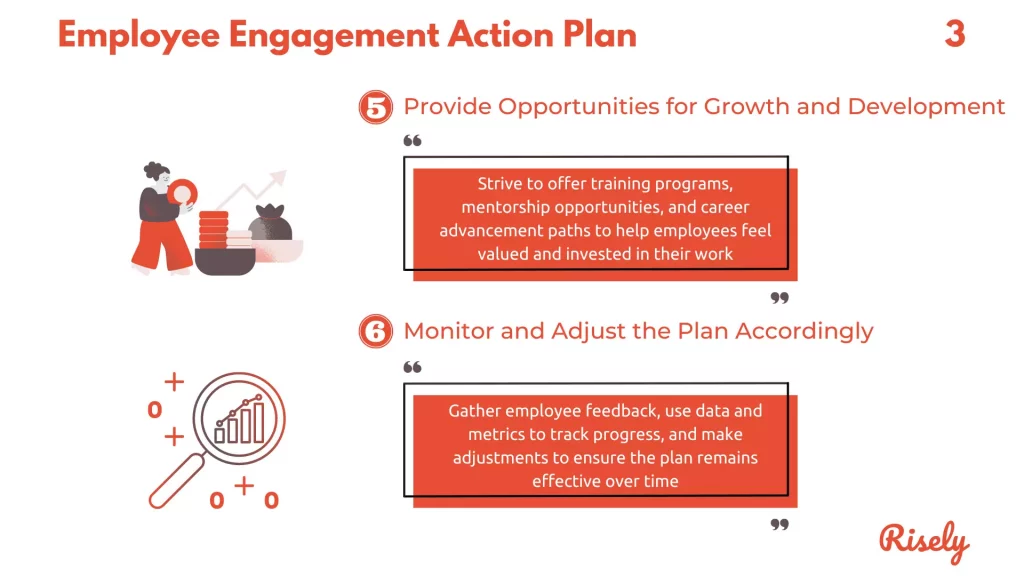 Step 5: Provide Opportunities for Growth and Development
Providing opportunities for
growth and development is essential
in creating an effective employee engagement action plan. Employees who feel invested in their jobs, have a sense of purpose and see a clear path forward are more likely to be engaged and motivated. Therefore, organizations should strive to offer training programs, mentorship opportunities, and career advancement paths to help employees feel valued and invested in their work. Creating a
culture of continuous learning
can also benefit the team as a whole by fostering innovation and creativity within the workforce. Assessing employee development regularly needs tailoring opportunities to individual goals and interests is crucial.
Step 6: Continuously Monitor and Adjust the Plan Accordingly
As with any plan, it's vital to continuously monitor and adjust your employee engagement action plan as necessary. By gathering
employee feedback
, using data and metrics to track progress, and making adjustments based on this information, you can ensure your plan remains effective over time. Don't be afraid to make changes if something isn't working as intended – flexibility is key. Continuously communicating with employees about the plan's progress can also help maintain their engagement and invest them in creating a positive work environment. Remember, a successful employee engagement action plan evolves with your organization's and its employees' needs.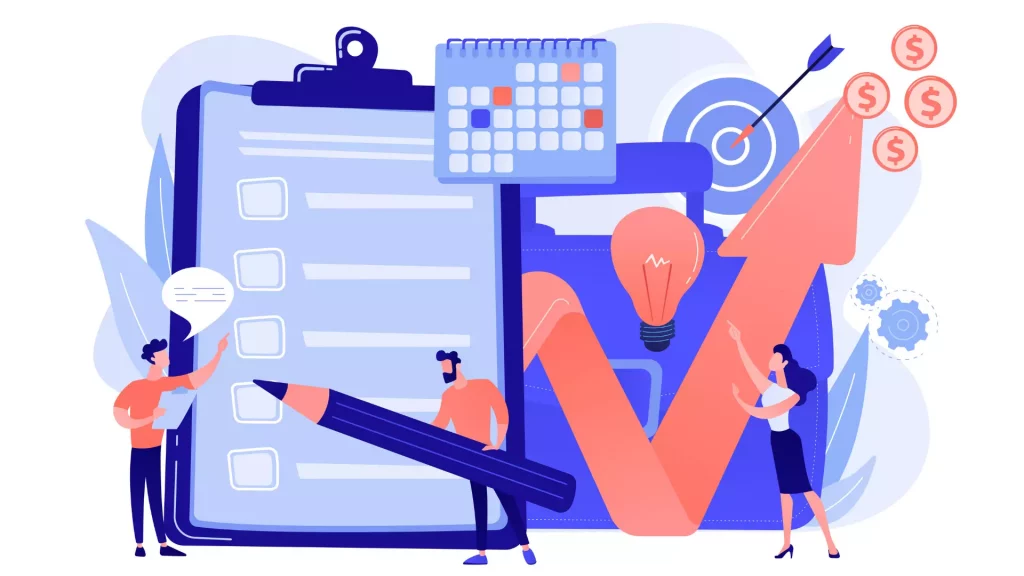 Tips for Creating a Successful Employee Engagement Action Plan
Foster open and transparent communication channels to encourage employee feedback and active participation.
Recognize and celebrate achievements to motivate and engage employees.
Provide opportunities for professional growth and development to empower employees.
Create a positive work culture that values inclusivity, teamwork, and work-life balance.
Regularly assess employee satisfaction and engagement levels to identify areas for improvement and adjust the action plan accordingly.
Conclusion
Employee engagement is a critical factor in the success of any business. A well-planned and executed employee engagement action plan enhances employee satisfaction, creates a positive work environment, and fosters employee development. By following the six steps we've outlined and incorporating our tips for creating a successful plan, you can develop an effective employee engagement action plan to benefit your employees and your business. Remember to continuously monitor and adjust the plan as your business grows and evolves. To learn more about keeping employees engaged and becoming a better manager,
sign up for Risely
-Manager's Buddy.
Build your constructive feedback skills to take your team to new heights.
Get started with a free constructive feedback assessment today onto a journey of growth and learning.
---
FAQs
How do you deal with punctuality issues at work?
Address punctuality issues by setting clear expectations, enforcing consequences for lateness, and promoting a culture of accountability and respect for everyone's time.
How do you make your team punctual?
Encourage punctuality by setting a positive example, communicating the importance of timeliness, providing reminders, and recognizing and rewarding individuals who consistently demonstrate punctuality.
What happens if you are not punctual at work?
Being consistently unpunctual at work can lead to negative consequences such as losing the trust of colleagues and supervisors, missed opportunities, strained relationships, and potential disciplinary actions.
Why is punctuality important in a team?
Punctuality is important in a team because it demonstrates respect for others' time, fosters trust and reliability, ensures smooth coordination, enhances productivity and promotes a positive work culture.
---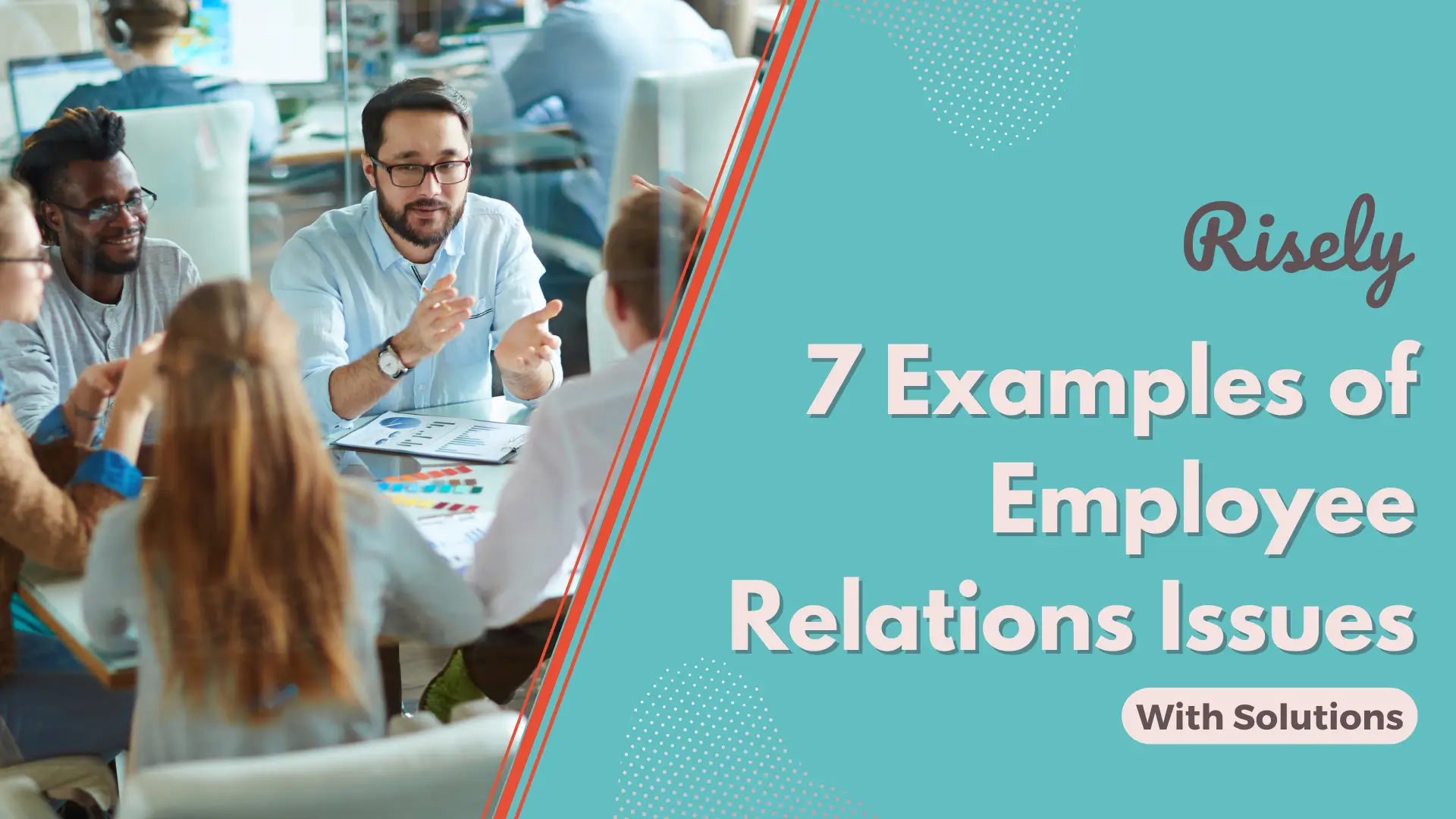 7 Examples of Employee Relations Issues and How to Handle Them Good employee relations are essential for a healthy and productive work environment. However, even the best-managed organizations can face…
Managing Employee Benefits for Small Business: A Complete Guide As a small business owner, you understand the importance of caring for your employees. One way to do that is by…