How To Develop Managerial Skills Using Self-Help Methods?
Every manager wants to excel at their job. However, at times you might feel ill-equipped to deal with certain situations. But worry not, you can take the help of many ways to develop your managerial skills easily. Self-help is among these methods. If you're a manager who wants to use self-help methods to develop your managerial skills, you're in the right place! First, we'll explore the benefits of using self-help methods for management development. Next, we'll unravel a list of self-help methods and what they can do for you. Finally, we'll help you identify the proper method for your growth. Ready to start your journey to becoming a better manager? Let's get started!
What Are Self-Help Methods?
Self-help, as the name suggests, is an improvement that is self-guided. In this approach, the person has to take charge of their learning journey. This includes everything from finding resources and creating pathways to tracking progress. While using self-help methods, people make use of publicly available resources, such as those available on the internet. They also collaborate with other people facing similar challenges. Managing people is a complex task that requires a lot of skills. That's where self-help methods come in handy. They are a great way to develop managerial skills, and many options are available. Self-help methods are gaining much popularity these days due to their ease and flexibility. Moreover, many self-help movements focus on specific areas and techniques. A few different types of self-help methods can be helpful in the development of a manager. You can pick and choose according to your needs and comfort.
The Benefits of Self-Help Methods for Management Development
There are many self-help methods out there that can help you develop the skills you need. Whether you're looking to
improve your communication skills
, learn
how to delegate effectively
, or develop a better work-life balance, self-help methods are definitely the way to go. Not only do they allow you to work on specific skills at your own pace, but you can also use different techniques depending on what type of manager you want to become. So, if you're stuck or don't know where to start, give self-help methods a try! There are bound to be many benefits in store for you. A few benefits of self-help are:
Tailored to the individual: As mentioned above, self-help methods use techniques that work best for you. You can go through various strategies and pick the best ones for your needs. So, self-help is perfect for you if you want to focus on specific areas or strategies.
Adaptable by user: Self-help methods are flexible and can be adapted according to your needs and comfort level. So, even if you're new to a particular method or strategy, it's likely that there are variations that will suit your needs better than others. Moreover, you can make changes as you like. If something is not working for you, you can try other versions.
Encourage reflection: When using self-help methods, it's important to remember that reflection and feedback are essential parts of the process. If you can give and receive feedback well, it will help you improve your skills quickly. You will need to focus on self-awareness to evaluate yourself constantly.
Promote growth: As with any exercise or task, self-help methods require effort and commitment on your part. But if you approach them with a positive attitude and a growth mindset, the benefits can be extremely rewarding.
Empower and boost confidence: You are the leader of change in self-help methods. Self-help empowers people as they get to take charge of their improvement. Great results boost your confidence to achieve more.
Affordable and widely available: The best thing about self-help methods is that they are inexpensive. You need minimal resources and little monetary investment to get started. As a manager, you might even try to adopt these habits in the workplace and test them in different scenarios, all at no cost.
Give you clarity: When you begin your self-help journey, you will need to draw a clear picture of where you stand. This helps you identify the areas that need help. You will have to evaluate your progress and circumstances constantly. Resultantly, you will develop clarity about yourself and others around you.
What are some of the best self-help methods for developing managerial skills?
The following are some of the best self-help methods for developing managerial skills:
Personal development plans (PDPs)
PDPs are a great way to track your progress and stay on track. They are action plans formulated from your key goals, values, and context. They can also be used as a tool to motivate yourself. It is pretty much like a SWOT analysis – but for a person instead of an organization. Through this method, you can identify your goals and areas of strengths & weakness. Further, you can list actions needed to achieve those goals within a set time period. This method can be immensely helpful for managers who usually manage multiple goals within their teams. Goal setting helps you create specific, achievable goals to help you move forward in your journey. Ensuring each goal is specific, manageable, and time-bound will increase your chances of success. Continue reading here to learn
how to set smart goals as a manager
and
Secrets to Effective Goal Setting
.
Books
You can find plenty of information that helps you develop managerial skills in self-help books too. Several books have been written around the topic that offer remarkable insights. Good books combine experience and expertise with quality presentation. Reading books written by successful leaders, managers, and entrepreneurs can give you the know-how they gained only after years of trying. Their journey can become your source of inspiration too! Reading self-help books can give you the clarity and insights you need to get through a situation. These books are often equipped with examples and instances that are relatable to those of their audience. Managers can take lessons from these. Further, some books offer lessons for team managers in particular. Jump here to read
Top 5 Management Lessons from the book "Time, Talent, and Energy."
Videos
You can also find videos that offer helpful tips for developing managerial skills. Videos are often easier to digest than books, providing more immediate feedback. In a video, you're likely to see demonstrations or case studies. This way of learning is powerful because it engages your brain in a new way- ensuring that what you learn sticks! When done well, videos can help managers become better leaders by offering insights into how others have conquered similar challenges before them. Similar to books, videos also bring valuable insights to viewers in a capsule form. You can find many valuable lessons in free videos on platforms such as YouTube. The interactive digital format makes the content more engaging too. Additionally, animations can make the message simple and easy to understand for the audience. Managers can turn to videos to get quick recaps of essential ideas. They can also look for regular content that provides
tips for generating efficiency as a manager
.
Blogs & Articles
Blogs are another great way to develop managerial skills. They offer a direct and intimate connection with their audience. This allows bloggers to share valuable insights in an easily digestible form. Additionally, blogs often feature user-generated content that can be helpful for managers interested in understanding the challenges faced by their employees on a day-to-day basis. Furthermore, blogs allow readers to engage with the writer directly through comments or questions. Managers and leaders can use them to understand concepts and new trends in the industry. Blogs are a long-form written medium through which you can gain in-depth information about a wide variety of topics. Subscription to blogs and newsletters gives you regular content relevant to your field. Moreover, the content can be read in a short time and used immediately in real-life scenarios.
Online courses
Online courses are a form of learning that is growing in popularity. The vast majority of online courses have an interactive component that makes them more engaging for students and more beneficial to managers as well. Online courses provide insights into new topics, equip you with research-backed material, and allow you to interact with other learners from around the globe. Additionally, online courses often come complete with course materials such as case studies and homework assignments. Managers can use these resources during their workdays or at home when they have free time. By taking courses or workshops that focus on specific areas of management development, you'll increase your chances of finding the skills and methods that work best for you. This will ensure that the self-improvement process is tailored specifically to your needs. Moreover, the courses are often affordable, self-paced, and offer certificates. Online courses are a great tool as they can be adjusted amidst busy schedules. They combine lessons from numerous sources and serve them in a condensed form for the audience. In-built assessments help in tracking progress too.
Limitations of Using Self-help Methods to Develop Managerial Skills
Self-help methods can be beneficial in developing managerial skills. However, they can also have limitations. In theory, self-help methods work by helping you to identify your strengths and use them to develop effective management practices. However, research has shown that this doesn't always happen in practice.
Theoretical
Many self-help methods are purely theoretical without much practical application. In contrast, effective managerial skills must be practicable and relevant to the workplace. This means that the methods must be useful in helping you achieve your goals and objectives on the job. Finding a tool that can help you improve both strategically and tactically is essential. Furthermore, the issue arises when we see that sources of self-help offer numerous lists and theoretical methods which may not be as easy to apply as they are to write. When these methods are developed, multiple contingencies are not considered. Instead, an issue is seen in isolation. However, the scenario changes in real life and the methods are not simple to apply in chaotic situations. Moreover, the daily commitment of time required by these may be too much for managers with multiple responsibilities.
Low on Interaction
The main limitation of self-help methods is that they often lack interaction. As such, managers who use these methods may find themselves alone in the journey. Self-help, as per the name itself, is about helping yourself. However, at times you may need external interventions or support. Any mechanism of providing support is lacking in these methods. Eventually, problems may also arise due lack of a
human element and empathy
in the process. In some cases, using self-help methods can jeopardize the person's progress instead of supplementing it. This could happen when they feel that they are not making any progress. Feelings of worthlessness can seep in the absence of any acknowledgment or validation.
Lack of Feedback
A limitation of self-help methods is their lack of feedback. This means that managers do not have any way to gauge the impact and results of their practices. As such, it isn't easy to know if what they are doing is working or not. A feedback loop can be essential for maintaining motivation and ensuring that an individual's learning does not stagnate or regress. The absence of a feedback mechanism makes it difficult for managers to track their progress and fine-tune their strategies accordingly. Without this information, they may end up making the same mistakes again and again. This can lead to burnout or a lack of enthusiasm for their work. Lastly, without regular evaluation, it is difficult to know if what they are doing is achieving the intended outcome or not. In order to gauge accurate results through self-help methods, one needs to be self-aware and constantly evaluate themselves against themselves, which is again a straining task.
Needs Intrinsic Motivation
Another critical limitation of self-help methods is that they depend entirely on the motivation of the person practicing them. The manager must ensure that their motivation and enthusiasm towards improvements remain unaffected throughout – whether they are facing ups or downs. This can be challenging, especially if negative feelings are simmering beneath the surface. When motivation is not intrinsic to the practice, it can become difficult for managers to keep their focus and stick with it through thick and thin. If self-help methods were solely based on one's intuition or willpower, then they would be tough to sustain over time. Unfortunately, this is often not the case – many of us need some form of external incentive for our efforts to bear fruit. Motivation may quickly dwindle without any semblance of external validation or reinforcement, and progress could grind to a halt. After all, we have all seen new year's resolutions that don't outlast the holidays.
Lack of Expertise in Development
One of the main criticisms of self-help methods is that they are typically based on personal expertise rather than peer-reviewed research. This means those using them may not always have access to the latest and best techniques or information. This is problematic because there are a finite number of people who have the necessary skills and knowledge to help managers achieve their goals. If self-help methods are not based on an extensive body of evidence, then they may simply not be as effective as they could be. Further, problems are increasing as self-help is increasing becoming a fad. Plenty of unqualified people are offering tips on self-help based on half-baked knowledge. Writing about self-help has become a part of the marketing industry. Consequently, a number of untested theories continue to float around due to the hype. This is harmful to anyone who is looking for self-help tips.
No Proof of Completion
Another drawback of self-help methods is that they do not prove that the person has completed their goals. Reading books or watching videos leaves no record. In the best case, the result is self-evident. But you cannot wait for results to show up every time. Certificates and badges are easier to present as stamps of competency. However, these are usually lacking in self-help methods.
The Journey of Self-Improvement as a Manager
Managing people and tasks can be daunting, but it's essential for any business. To effectively manage employees, develop managerial skills, and achieve success, it's crucial to have a clear goal. Along with that, a few tips will help you tread along:
Use positive reinforcement to keep yourself on track – this will make the process easier and more enjoyable.
Be patient. The journey of self-improvement is long but rewarding!
Start by writing down your goals and breaking them down into manageable steps. Once you have a good idea of where you're heading, it's time to get started on the journey by using self-help methods.
Many different approaches and methods are available, so find the one that best suits your needs and personality.
The most important thing is to stick with it – self-improvement is a journey, not a destination.
What is a Better Alternative to Self-Help Methods?
As we have noted, self-help methods suffer from several problems even though they offer quite a few benefits. Hence, we need to look for alternatives that do not bring the same limitations. Before beginning our search, we should define what we are looking for – an ideal method to develop managerial capabilities.
Provides Motivation
This is arguably an essential requirement of any method. Without motivation, taking the first steps and carrying on with the task at hand is difficult. A practical tool to develop managerial capabilities must encourage the users constantly. Management is a challenging task, and hurdles can be daunting at times. Failures are part of the journey, along with the wins. In such a fast-paced professional life, moving constantly would be hard. You need a method that motivates you so that you can go ahead even after a loss. This can be through
positive affirmations
,
recognition
, etc.
Research-Backed Material Based on Expertise
Any technique that claims to develop managerial capabilities must be backed by research. The inclusion of expertise and experience makes the content valuable for the audience. Due to it, the content will be relevant and relatable. Further, it will be presented in an easy-to-understand manner too. Industry experts can understand the possible concerns and provide reliable solutions accordingly. The same is not always true for self-taught experts who do not have practical experience working in the field. A well-executed method needs contextualization too. Management concepts can seem dry if they are not presented in an interesting and engaging way. This helps to keep the user engaged and motivated.
Customizable
The intervention aimed at developing managerial skills needs to be particular to the need of the manager. We mostly have guides catering to a "manager," a very wide persona that covers everyone and no one. Instead, we need tools that help specific people to improve their capabilities. These people may be at different stages in their learning and career journeys and require different types of help. A one size fits all approach will leave a lot to be covered. Therefore, we need a method that the managers can adapt according to their needs. Developing managerial skills should not be limited to one type of material or
style of learning
. Different methods offer different advantages, so it is essential to use several approaches to achieve a goal. The variety will help us avoid getting bored or overwhelmed with any one approach.
Feedback and Progress Monitoring
Progress does not happen in the absence of feedback. Therefore, a mechanism to monitor and evaluate the progress is essential for any method to develop managerial capabilities. If we want our managers to benefit from the learning process, we must give them the time and help they require. This might mean setting aside a dedicated period of training for each manager or arranging regular consultations with mentors or other experienced professionals to notate their progress on a chart or some other visible form. Moreover, the medium must provide certificates or badges when the participant reaches new milestones. In addition to being a sign of their level of competency, it will motivate them to continue making progress.
Interactivity
A significant factor that keeps us hooked on any activity is interactivity. Simply stated, an interactive medium will keep the audience better engaged in their task. Instead of feeling alone, the participants will look forward to being part of a conversation. This helps by creating a sense of comfort and understanding in the relationship, making it easier for the participant to accept their problems and work on them. Overall, we can picture what an ideal medium to develop managerial capabilities will look like. You can grab all of these benefits – from motivation to interactivity – and much more on Risely! Risely is an AI-based learning platform for managers and leaders that helps them grow their people management skills.
Conclusion
Managing yourself is one of the most critical skills, as it allows you to take control of your life and navigate difficult situations. However, this skill can be challenging to develop, especially if you don't have any experience in self-help methods. In this blog, we have outlined the benefits of self-help methods and shared tips on choosing the proper method for your skill development. Make sure to take the time to read through this blog and start developing your managerial skills today!
Improve your time management skills with the free time management toolkit for managers.
A comprehensive guide that lets managers take charge of their time back!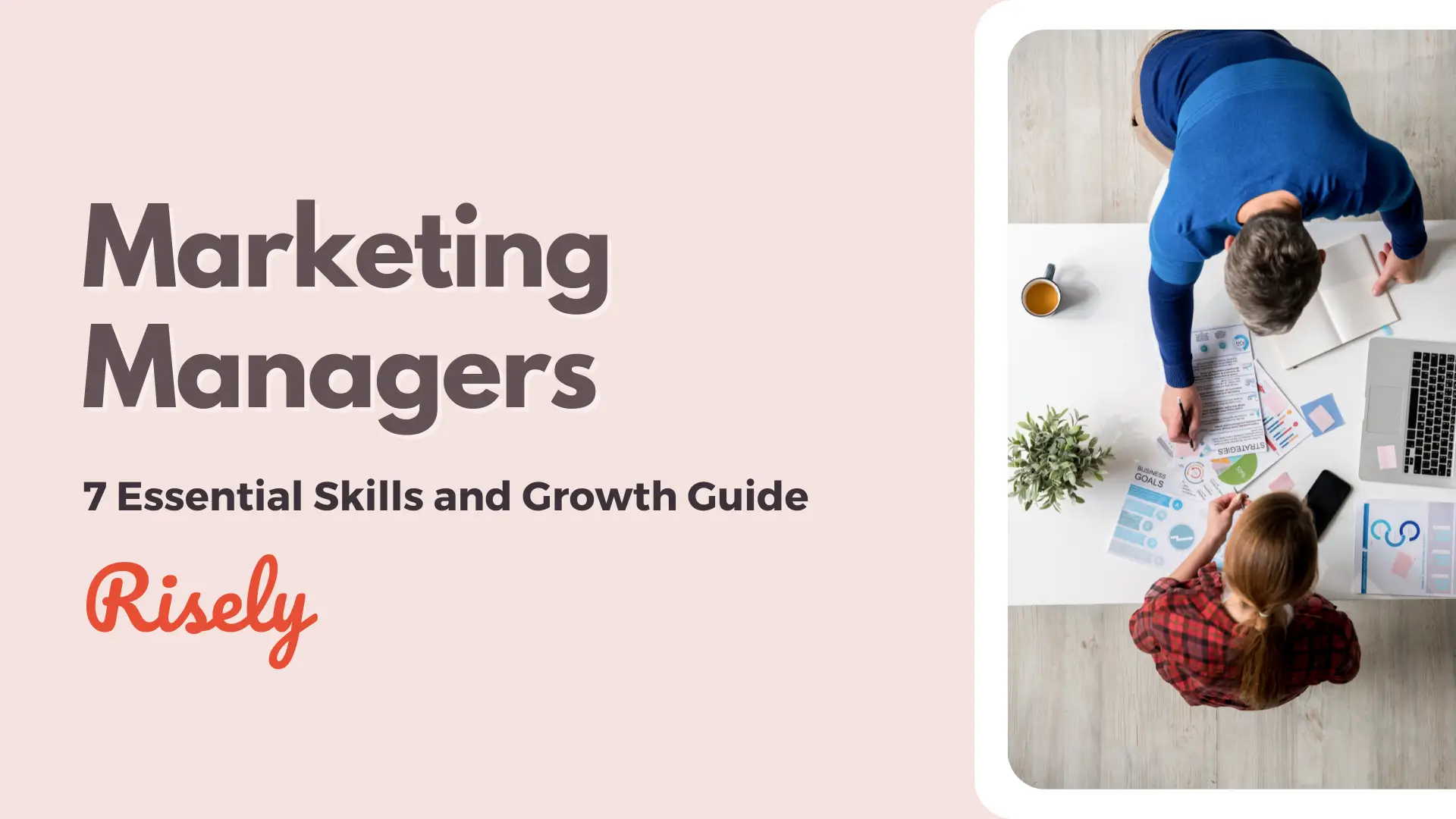 Marketing Managers: 7 Essential Skills and Growth Guide What does a marketing manager do? Is it social media management, tracking huge data, or building a brand voice through unique initiatives?…
Getting the Best Results with Leadership Mentors: A Complete Guide As a manager, you know that leadership and managerial skills are essential for success. But developing these skills can be…