Assertive Communication Skill: The 3 Cs Of Assertiveness For Managers
Assertiveness is an essential part of communication skills for managers. They enable you to express your needs and opinions assertively without becoming aggressive or passive-aggressive. Good communication skills can help improve your assertiveness and overall self-esteem, enabling you to voice your opinions and needs without fear of disapproval or rejection. And, of course, as with any skill, the more you practice them, the better you get at using them. This blog discusses assertive communication skills essential for
managers
to support their employees and colleagues in building a supportive work environment. We will also help you identify areas where you can work to make your communication more assertive in the workplace. So let's get started.
What are assertive communication skills?
Assertive communication is a secure and direct way of expressing thoughts, feelings, and needs in a way that is respectful to oneself and others. It involves straightforwardly expressing oneself without being aggressive or passive. Assertive communication skills are valuable for managers in many ways:
communication skill
and improve their effectiveness as leaders. It is important to note that assertiveness is not the same as being aggressive, as it involves expressing oneself in a direct and honest manner while also considering the needs and feelings of others. Check out "
Assertive vs. aggressive: Know the difference!
"
What are the three Cs of assertive communication skills?
The three Cs of assertive communication skills are control, clarity, and confidence.
Control
Control refers to maintaining control over a situation and one's emotions. In assertive communication skills, this means staying calm, level-headed, and in control of the conversation, even in difficult or emotional situations. It allows one to
communicate effectively
and resolve conflicts in a constructive manner.
How to develop control in communication?
15 most important words in a manager's vocabulary
Clarity
Clarity refers to the ability to express oneself clearly and directly. In assertive communication skills, this means stating one's thoughts, feelings, and needs in a straightforward manner, without ambiguity or passive-aggressiveness. Clarity helps to ensure that one's message is understood and that the conversation remains productive.
How to develop clarity in communication?
Confidence
Confidence refers to the belief in oneself and the ability to communicate effectively. Among assertive communication skills, this means standing up for oneself, speaking one's truth, and being comfortable expressing opinions and needs. Confidence helps to establish credibility and influence and fosters respect and trust in relationships.
How to develop confidence in communication?
assertiveness
can help one to get their point across, build stronger relationships, and achieve desired outcomes. It is important to note that assertiveness is not the same as being aggressive or overbearing, as it involves respecting the needs and feelings of others while also expressing oneself clearly and confidently. Assertive communication skills require practice and
self-awareness
, but with time and effort, one can develop these skills and improve communication in all areas of life. Learn more about developing assertive communication skills at work with our detailed guide on
assertive communication training for managers.
Is your communication assertive?
Assertiveness communication skills are the hallmark of an effective leader. When you are assertive, you communicate powerfully. In terms of communication, it is among the best styles that a manager can adopt to sail through many challenging situations that call for single-minded focus. Test your assertive communication skills for free with Risely now! The
free assertive communication skill self-assessment
for managers by Risely helps you identify exactly what you need to do take your assertive communication skills to the top level. With the help of a thorough analysis, Risely helps you discover a unique learning journey designed to help you overtake the people management challenges that hold back your team.
Get started for free
today without further ado!
Conclusion
Knowing how to assert yourself effectively is a skill that can make you a more competent communicator. Assertive communication skill doesn't just help you be a better communicator but allows others to view you as more intelligent and respected. Unfortunately, communicating assertively doesn't come naturally to everyone. You need to learn the basics of assertiveness through practice. If you want to learn more about assertiveness, check out our blog here.
Grab a free copy of the assertive communication toolkit for managers!
The assertive communication toolkit for managers outlines frameworks and gives samples to make your learning super easy. Check it out now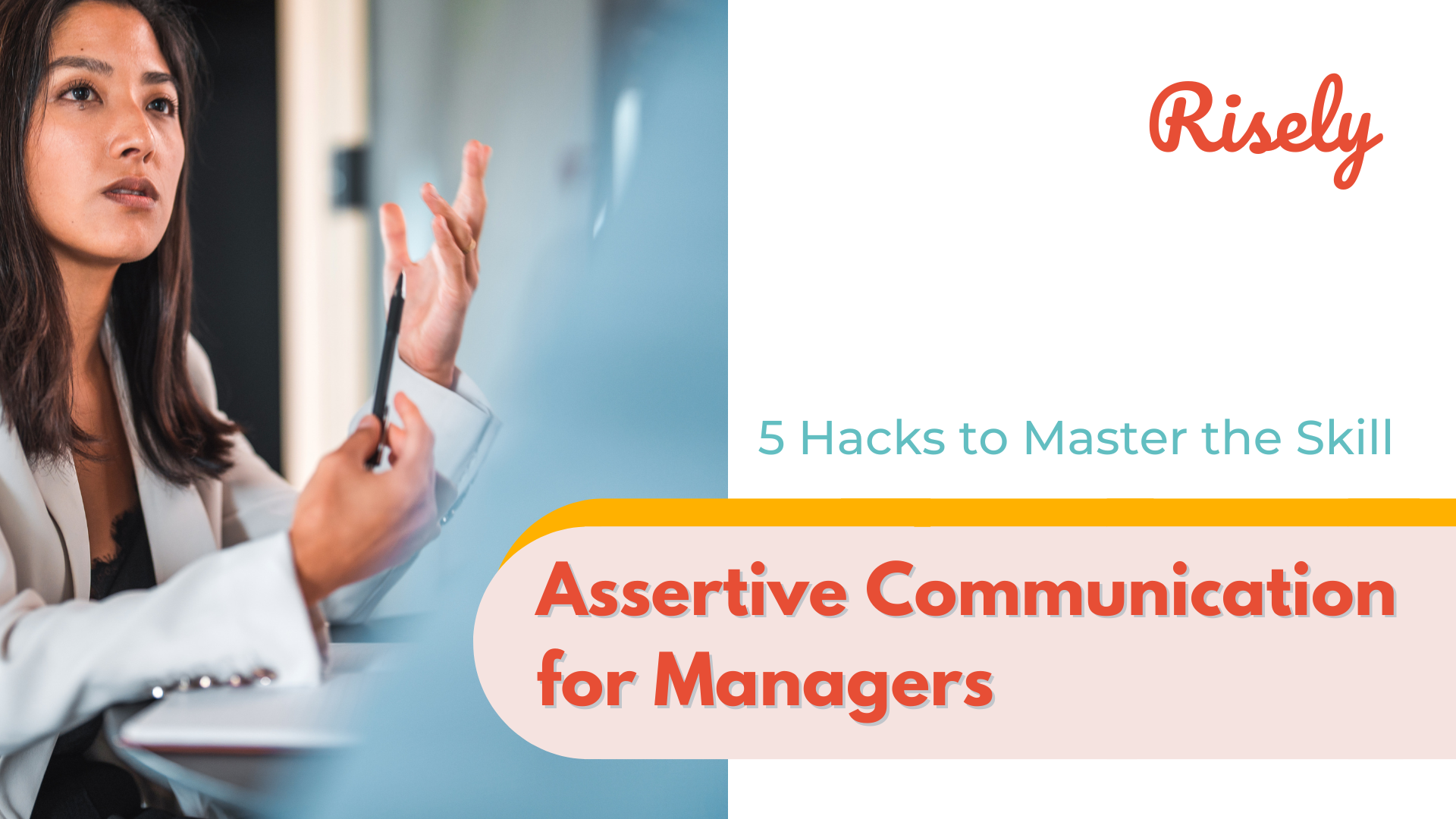 Assertive Communication for Managers: 5 Hacks to Master the Skill A manager's communication skills can make or break the success of an organization. From leading others and making crucial decisions…
Using Body Language in Training for Effectiveness: 5 Hacks In today's fast-paced world, effective communication is more important than ever. And one often overlooked aspect of communication is body language.…