6 Ways To Help Overwhelmed Employees On Your Team Jump Back
Any team's productivity is built upon its team members' efforts. With the valuable assistance of their managers and leaders, employees do their best to set new standards of efficiency in the organization. However, employees getting overwhelmed with the constant flow of work is also common. The continuous addition of new tasks pushes out the productive spirits of employees. Overwhelmed workers cannot contribute effectively, losing focus and willingness to work. As a result, the team's performance suffers massively. This poses a significant challenge to managers. This blog will uncover the solution to helping overwhelmed employees in your team. In addition, we will begin by understanding why an employee could feel overwhelmed at work. After this, you cannot build growth hacks for your teams that shoot up productivity manifold. So, let's get started!
The overwhelmed employee
There isn't any uniform picture of the overwhelmed employee. But you can generally identify them with the tired look on their face and a task list that runs longer than their work hours. Typically, overwhelmed workers appear stressed. They might lose the ability to focus and instead adopt a haphazard working style. As a consequence of this mess, struggling employees are often unable to achieve thier true potential. In order to help these employees and your team, you need to begin by identifying the overwhelmed employees.
How can you tell that an employee is overwhelmed?
Here are a few signs that your employees might be feeling overwhelmed at work:
Visible changes in mood and relationships
The first sign of identifying an overwhelmed employee will be their interaction with the team. Typically, employees who are overwhelmed will end up being inconsiderate toward their team members. You might witness increased conflicts, where one colleague snapped at the rest over a seemingly simple matter. Overwhelmed workers will find it hard to navigate delicate relationships in the workplace as their energy is spent on other tasks, leaving none for socialization and interaction. Managers can see if an employee has slowly
started to reduce engagement
– they show up less for meetings and even less for informal arrangements – it is a strong sign that work might overwhelm them. Burnout and feeling overwhelmed are closely related.
Fall in productivity
The productivity of overwhelmed workers usually falls. It happens because they are constantly stressed about the pending matter at hand. The urge to multitask and get done with things rapidly throws efficiency out of the equation. Overwhelmed employees might often miss deadlines or turn in half-baked assignments as they do not get sufficient time and energy to complete the jobs efficiently. Overwhelmed employees usually have a hard time focusing on the tasks at hand. They might find it challenging to stay on one task for an extended period, or they might not be able to get work done efficiently because they are constantly distracted by the workload. The other impacts, such as stress and breaking relationships, negatively impact productivity too.
On a constant search for escapes
Overwhelmed employees usually find it hard to focus on tasks. They might be constantly distracted by the workload and search for getaways, such as watching TV, browsing the internet, or talking with friends. It distracts them from their work and reduces their productivity. Overwhelmed employees also tend to make more mistakes because they are not paying attention to details. You might find that absenteeism is higher among the employees who are struggling in your team. Overloading tasks can make employees feel unwell and unwilling to show p at work. Moreover, they might end up getting physical health issues too.
Impact on health
The physical health of overwhelmed employees usually suffers. They might experience headaches, poor concentration, and lack of energy. Work-related stress can use many health issues spanning employees' mental and physical well-being, including lifestyle diseases such as high blood pressure, eating disorders, and mental illnesses like anxiety, among many others. Overwhelmed employees are also more likely to get sick because they are not getting enough rest and nutrition. It can have a big impact on their productivity, which in turn can lead to job losses or reductions in pay grade.
Demotivated and disengaged at work
If the workload is too heavy, employees become demotivated. They might feel stressed out and tired all the time, making it difficult for them to work productively. In addition, they may lose interest in their work and start feeling negative about their job, affecting team morale and performance. As a result, you might see some employees getting isolated and limiting themselves to their work solely. Their absence from brainstorming sessions would be conspicuous. Moreover, you will notice that they no longer raise questions or present innovative ideas for the team. If you notice any of these signs, there is a good probability that your team might be feeling overwhelmed. The feeling of being overloaded at work brings many detrimental impacts on the team. Therefore, managers and leaders must take steps when these signs are observed. Next, let us understand why employees feel overwhelmed at work.
Common reasons why employees feel overwhelmed at work
There are many reasons why employees might feel overwhelmed at work. Some of the most common causes include:
Adapting to a change is difficult
When employees start a new job, they usually
face a lot of change
. It can be difficult for them because they might be unfamiliar with the new work schedule or how their team works. As a result, it is common for them to feel overwhelmed at first. Similarly, if an employee has taken up a new task that is typically not a part of their job, they might feel lost and unable to overcome the challenge.
Culture is unsupportive
Some companies have unsupportive cultures, which make it difficult for employees to be successful. For example, it can happen if the company values team achievement more than individual achievement. In such a case, employees might feel overwhelmed because they do not know how to work in a team setting, and their achievements are not recognized or appreciated. Alternatively, an organization that is constantly changing can be very challenging for employees because they may not understand why certain decisions were made or what the future holds for them. Lack of clarity and support from supervisors can make employees overwhelmed. Although autonomy and delegation are encouraging for employees, they need to be balanced and situational. Some employees might need coaching before they can function independently.
Tight deadlines and resource crunch
In today's fast-paced world, many companies have tight deadlines, and employees are expected to do a lot of work with few resources. It can make employees feel overwhelmed because they may not be able to cope with the workload or find it challenging to get results in a short period. Additionally, employees might find it overwhelming to use these tools if an organization does not provide adequate training and support for its new technology or software.
Bad planning and prioritizing
Some companies have lousy goals that are not based on any long-term vision. This can lead to employees feeling overwhelmed because they do not know the company's overall goal or how they contribute to it. Additionally, if an organization does not provide clear and concise documentation on their work tasks, employees might feel lost and confused as to what they need to do next. On the other hand, the employees might not be adept at prioritizing and planning and end up in a circle of huge tasks.
Effective goal setting
is essential for handling several charges at once, which many employees need to master.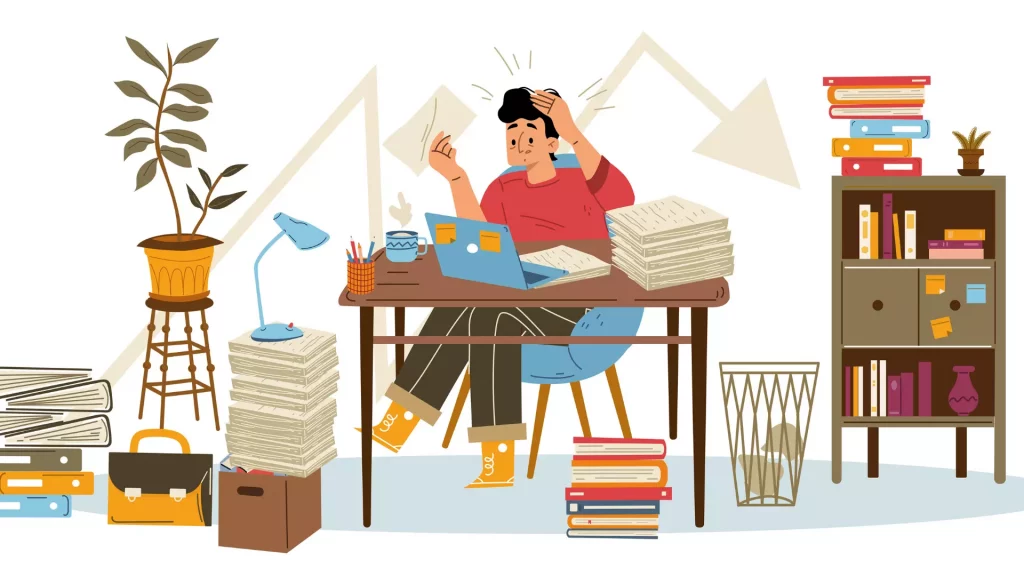 How can managers motivate overwhelmed employees?
Overloaded employees are a common phenomenon in today's fast-paced world. With so many demands on their time, it's hard for them to cope. However, there are ways to help them. A few of them include the following –
Recognize their achievements
Recognizing an employee's achievements
is an excellent way to motivate them. Managers can do it in several ways, including verbally thanking the worker for their hard work or awarding them bonuses or other rewards. It also helps to build morale and encourages employees to keep working hard. Giving the employees their due recognition and supportive words f affirmation will help them become more resilient in facing challenges. It will also show that their efforts are noticed and valued by seniors.
Balance autonomy and delegation with guidance
Delegation is key to keeping an overloaded employee motivated. While they should be given enough autonomy to do their job, the tasks they are assigned must be within the scope of their skill set and remain manageable. If employees feel overwhelmed or like they're being pushed too hard, this will only set them back. It's also important not to over-delegate tasks unnecessarily, as this can create even more work for the individual. Hence, managers ensure that they delegate and
share autonomy reasonably
to facilitate employee development and empowerment instead of leading them astray.
Practice efficient time management
The key to
time management
for overloaded employees is to be organized and have a plan. It means setting realistic deadlines for tasks, tracking progress regularly, and giving feedback when required. It's also important not to overload the employee with too many tasks at once – break them down into smaller chunks to cope with them better. Also, ensure enough time is allocated in the day for rest and relaxation, as well as working on personal projects. This will help reduce stress levels and enable employees to focus on their work more effectively. Creating a balance and setting smart goals is the key to overcoming challenges.
Help with stress management
When employees are overloaded, they are likely to experience increased stress levels. To help them cope with this stress and stay focused on their work, it's essential to provide them with tools and resources for relief. It could include meditation techniques, counseling services, or even regular breaks. Additionally, supervisors should make time for team-building activities or fun outings each day to help break the routine and reduce boredom. Transforming the distress into
positive stress (eustress)
is the key for managers. Managers can help their employees overcome challenges while remaining productive by taking these steps.
Provide coaching and training as needed
Overloaded employees can benefit from coaching and training to help them manage their time, stress, and workload more effectively. It might include sessions on time management or organizational skills. Additionally, staff may need assistance developing specific skill sets required for their jobs. By providing support throughout the learning process, managers can enable their employees to develop the necessary knowledge and skills for success in today's competitive environment. Moreover, developing a coaching leadership style also offers several benefits to managers.
Understand their concerns through one-on-one sessions
Often, an overloaded employee will not voice their concerns out loud. Instead, they will tend to keep these feelings bottled up inside. It can lead to frustration and workplace tension that can be hard to overcome. In order to help employees open up and share their thoughts and frustrations with a supervisor, it's important to schedule regular
one-on-one sessions
. By listening carefully and addressing each issue head-on, supervisors can provide the necessary support for employees in overcoming challenges. You need to focus on feedback and ask relevant questions during reviews to get to the issue's root. High performance cultures cannot sustain in the absence of the right habits. Therefore, managers and leaders need to ensure that they
develop the right habits in their teams
as they grow to avoid falling in the trap of burnout and loss.
Conclusion
Employees who are feeling overwhelmed at work are often struggling with a lot of different things. By understanding the signs and symptoms of an overwhelmed employee, you can help them to get the support they need. In addition to this, we have noted some helpful tips on how to motivate an overloaded employee. By following these tips, you can help them regain their balance and return to work feeling refreshed and ready to take on the challenges ahead!
Are your one-on-one meetings not bringing you closer to your team? Check why.
Risely's free one-on-one Meeting self-assessment for managers helps you build trust-based relationships with teams.
---
FAQs
How do you know if an employee is overwhelmed?
Signs that an employee is overwhelmed include decreased productivity, increased mistakes or errors, missed deadlines, a negative attitude, decreased engagement or motivation, physical symptoms such as exhaustion or headaches, and requests for help or support.
Why do people become overwhelmed?
People become overwhelmed when they feel that their demands exceed their ability to cope due to factors such as high workload, time pressure, lack of control or support, unclear expectations, or personal or emotional stressors.
What do you say to someone who is overwhelmed?
When speaking to someone who is overwhelmed, it's essential to offer empathy and support, listen actively to their concerns, help them prioritize their tasks, and suggest strategies for self-care, such as taking breaks, delegating responsibilities, and seeking help when needed.
Is overwhelm the same as burnout?
Overwhelm, and burnout are related concepts but not the same. Overwhelming is a temporary state of feeling unable to cope with demands, while burnout is a chronic state of physical, emotional, and mental exhaustion resulting from chronic stress.
---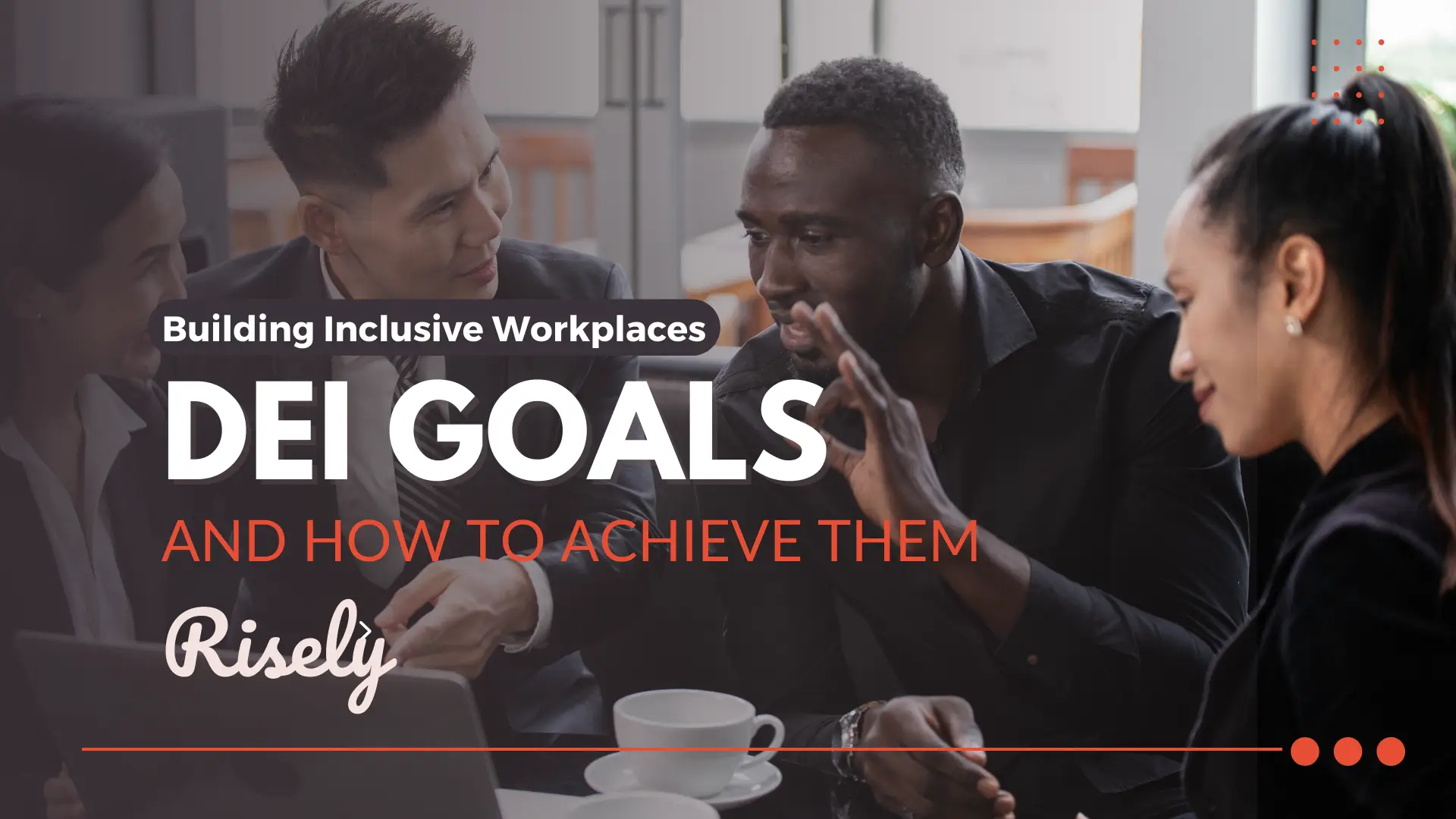 Building Inclusive Workplaces: DEI Goals and How to Achieve Them According to a LinkedIn study, 76% of job seekers mentioned diversity as a critical factor in evaluating potential workplaces. Yet, we…
How to overcome the top 10 manager biases at work? In our day-to-day interactions, unconscious intuitions play a significant role that goes unnoticed. Nobel laureate Daniel Kahneman has been a…