Why Do Managers Need Guidance Ability To Become Effective Leaders?
Guidance is something that all humans need. We need guidance when we are lost. We need it when we are trying to figure out what our life goals are. Also when we are trying to find a partner, or even when we want to choose the best ice cream flavor. Guidance is an important part of life and it helps us get on track and stay on track with our personal and professional lives. Similarly, getting the right guidance is very important for any individual to grow and succeed. At the workplace, this responsibility of guidance goes into the hands of managers. Therefore, it is important for managers to have a strong guidance ability. This blog post will take managers on the right path of effectively developing the ability to guide. But before that, it is important to understand what does guidance ability means. So, let's cover that first.
What does it mean by guidance ability?
The guidance refers to advise or information provided by a person of experience to solve a problem or improve something. It also refers to the process of assisting individuals in discovering and developing their potential. To put it in other words, it is a process of personal assistance given by someone to assist a person in determining where he want to go, what he wants to do, and how he can best achieve his mission. It assists him in solving problems that arise in his life. Guidance ability is the ability to guide a person or a group in a certain direction which may lead them towards their goals. It is a part of leadership skills refers to the ability of a person to guide his or her group towards achieving their goals whether this involves motivating the individuals in your organization or steering the entire team into reaching its desired results. This is done by providing the right direction, motivation, and support. At the workplace, it refers to the way managers guide their employees, team members, or subordinates by providing and counseling them in the right direction. This ability is in the form of a set of behaviors that allow managers to give guidance instead of simply expecting their employees to act in a certain intended direction.
Why is Guidance Ability important for a manager at the workplace?
There are 6 reasons why Guidance ability is important for managers.
1. Better performing employees
The ability to guide helps to ensure that employees are performing their tasks at an acceptable level, meeting deadlines, and maintaining quality standards. This will help managers with a higher chance of getting their expectations fulfilled. If any individual is not performing up to the mark, then managers can guide them to bring their performance to the expected levels. In a nutshell, you end up keeping your
team's performance
high.
2. Makes it easy to address problems
Guidance ability allows managers to identify and address any problems or issues that may be arising in the workplace. They can then prevent them from becoming more serious or chronic over time. This will help managers with a higher chance of
building efficient work relationships
in their organization and effectively avoiding uncertainties. They can also minimize problems to a good extent.
3. Develops the right working habits in employees
By providing clear instructions and/or guidance, managers can help employees develop working habits that are conducive to effective and efficient performance. Managers with guidance ability can guide their employees on how to organize tasks, prioritize, and plan ahead on what needs to be done next. This will help them stay focused on the task at hand and not get distracted by other things that might come up during the day. This can bring more profitability and more productivity to the team.
4. Keeps employees up-to-date
Guidance ability can ensure that employees are up-to-date with changes in company policy or procedures. Managers can help to ensure that they comply with relevant regulations and maintain good standards of workplace hygiene. This will be a good step towards employees complying with all relevant workplace rules. Also, this will help managers with a higher chance of getting their employees to perform more professionally for the company's betterment and success.
5. Builds trust and confidence
Being able to guide employees effectively also helps to build trust and confidence between them and their manager. That may lead to improved morale and better teamwork overall. Further, it will help managers with a higher chance of having well-informed and motivated employees who can contribute to the company effectively.
6. Helps in goal setting
Guidance Ability can also help in
goal setting
by providing employees with direction and guidance. Managers can help their employees set goals that align with the company's targets to faithfully achieve them. Also, this will be a good step in ensuring better performance from your workforce and thus, more profitability for the organization. All these reasons show how guidance ability is important for managers to become effective in their job.
The 4 core ingredients of Guidance Ability for managers
The 4 key areas of guidance ability do include:
Role Model
Being a role model for the team is an essential part of guiding a team as a manager. To effectively guide the team into certain behaviors and practices, managers will have to be role models themselves while showcasing the same behaviors and practices. This means showing and demonstrating what your desired employee conducts are at the workplace. A manager who is a role model effectively directs employees on what is expected of them at the workplace. They set the right examples of company values. They are looked upon by the team as an expert who can help them when they are stuck. Being a role model means that managers "demand" the right behaviors, skills, and performance by demonstrating it themselves. In nutshell, show and not tell.
Being a role model as a manager
Being revered as an example to be looked at
Leading and guiding in times of uncertainty and urgency
Being An expert in the area of work
Being a trusted figure in the organization
Facilitate Collaboration
A manager's ability to effectively collaborate with employees and make them collaborate within themselves at the workplace is an essential aspect of developing a sound guidance ability. This enables them in sharing their ideas, experiences, and knowledge effectively. Hence, it is likely to lead managers to further the growth of the organization. How does it help? It simply makes the team more self-reliant. It prevents the manager from becoming the decision-making and execution bottleneck.
Facilitating collaboration as a manager
covers:
Connecting with different team members to be collaborative
Helping team members to identify and acknowledge each other's strengths and weaknesses
Creating situations for team members to help each other
Developing inter self-reliance in team members
Providing opportunities for team members to share their ideas and thoughts
Creating a culture of sharing among team members
Nurturance
Formulating a strong, nurturing work environment is regarded as an essential aspect of developing and improving the guidance ability of managers. Nurturance helps managers to guide employees by forming relationships with them along with providing support in their development. Furthermore, it also helps them in
keeping employees motivated
in times of challenges at the workplace. As a result, the team knows that there is someone supporting them at each step and that builds trust. Some
nurturance
acts suitable for managers include:
Helping understand roles and responsibilities better
Help identify development areas
Develop job competence
Provide coaching for newcomers
Encourage change
Helping team members recognize and acknowledge each other's strengths/weaknesses
Feedback
After meeting the above-mentioned essential aspects of developing and improving a manager's guidance ability, they need to
understand how to offer constructive feedback
. For managers, feedback is the key to guiding their employees and helping them grow. Moreover, it helps them in encouraging improvement and development among their employees as well as identifying areas for growth more effectively. Giving feedback is the opportunity to recognize the good things that the team member is doing. It is also an opportunity to work with them to identify improvement areas. Giving constructive feedback includes:
Giving corrective feed-forward
Focusing on task and behavior rather than a person
Having genuine care
Not making comparisons
Being credible
What can a manager do to develop Guidance ability? 5 simple steps
There are 5 simple steps that a manager can take to develop Guidance ability:
1.
Understand what is guidance –
Understand the different aspects of guidance and how they play into an individual's ability to be an effective manager. This understanding will provide you with clarity over what path you need to take. Also, this will help you to assess the gaps in what you are doing and what is still missing.
2. Address the gaps
– Address any gaps in your understanding by attending relevant training or workshops. These workshops or training can be extremely valuable as they provide you with insights on the different aspects that make a manager an effective guide. Alternatively, you can work with a human or an
AI coach to help you become better in areas that you must develop.
3. Encourage thoughts –
Encourage employees to share their thoughts and ideas with you, as this will help improve communication within the team. The improved communication will make the guidance more efficient. Moreover, by encouraging their thoughts, you will establish a sense of belonging in the employees and they'll end up being more motivated and devoted towards their jobs.
4. Show that you care –
Show genuine care for your employees and be a guide who helps them reach their full potential. This will allow you to gain their respect and trust. Further, this trust and respect will help you to improve your guidance ability in the long term.
5. Be consistent –
Being a guide means being consistently
approachable
and fair to your employees. Make them believe you genuinely care for them as well as want them to reach their full potential. In return, they will be more receptive to any ideas you have with regards to improving their performance or finding solutions when problems should arise over time. Thus you'll be able to guide them easily. When you do this day in day out, it becomes a natural habit for you. Consistency in your efforts will make or break it.
How to avoid the fine line between Guiding someone and Micromanaging them?
Keep in mind, there is a fine line between guiding someone and micromanaging them. Micromanaging is when someone tells you what to do, how to do it, and when to do it. It is not a good way of getting things done because it makes the person feel like they are not in control of their own life. Guiding someone means that you tell them what needs to be done but let them figure out how to do it themselves. As a result, they are more likely to be invested in the task at hand and work harder at completing it. Moreover, the key to avoiding the fine line between guiding someone and micromanaging them is to create a clear set of objectives. This way, you can provide guidance and help while still letting them do their job. It is important to know what they are good at and what they need help with. Once that is clear, one can provide the necessary guidance in a way that will not be seen as micromanaging. It is also important that you don't give too much advice or instructions without making sure that they understand what their goals are. Take the
free micromanagement assessment by Risely
to ensure that you are not mixing up the two! Get started now to save your team from the travails of a micromanager.
Conclusion
Managing people is one of the most important tasks any manager has to take on. So, to be successful, they need to have a clear understanding of their employees and be able to provide them with guidance and direction to reach the goals they have set for themselves. It's essential that managers have a strong guidance ability, so they can effectively communicate with their team and help them reach their full potential. In this blog post, we thoroughly explained guidance ability and its core ingredients. We also provided steps on how you can develop these essential skills for managers. We believe that if managers are willing to follow these steps, they can very effectively develop the ability to guide.
Focus on regular constructive feedback to guide your team effectively.
Download the free constructive feedback toolkit today and get access to helpful templates and tips.
---
How do managers provide support and guidance?
Managers can provide support and guidance to their teams through multiple avenues. The key listening and understanding the training needs of your team. Moreover, the same type of support may not work for all. While a manager can turn into a mentor for some employees, a few might need professional training through expert-guided seminars or AI-based coaching too.
What is the importance of guidance in leadership?
Becoming a guide helps leaders cultivate a healthy relationship with their team members. In addition to mutual understanding, the role of a mentor or a guide also solidifies the position of a manager as an influential person. In addition, it helps leaders develop the right set of skills and knowledge needed by their team.
How do you provide guidance to employees?
The key to providing guidance to employees lies in being an approachable manager who the team members can go to whenever they face any challenges at work. In addition, managers also need to develop a nurturing attitude toward the team to ensure that they are contributing to their growth.
---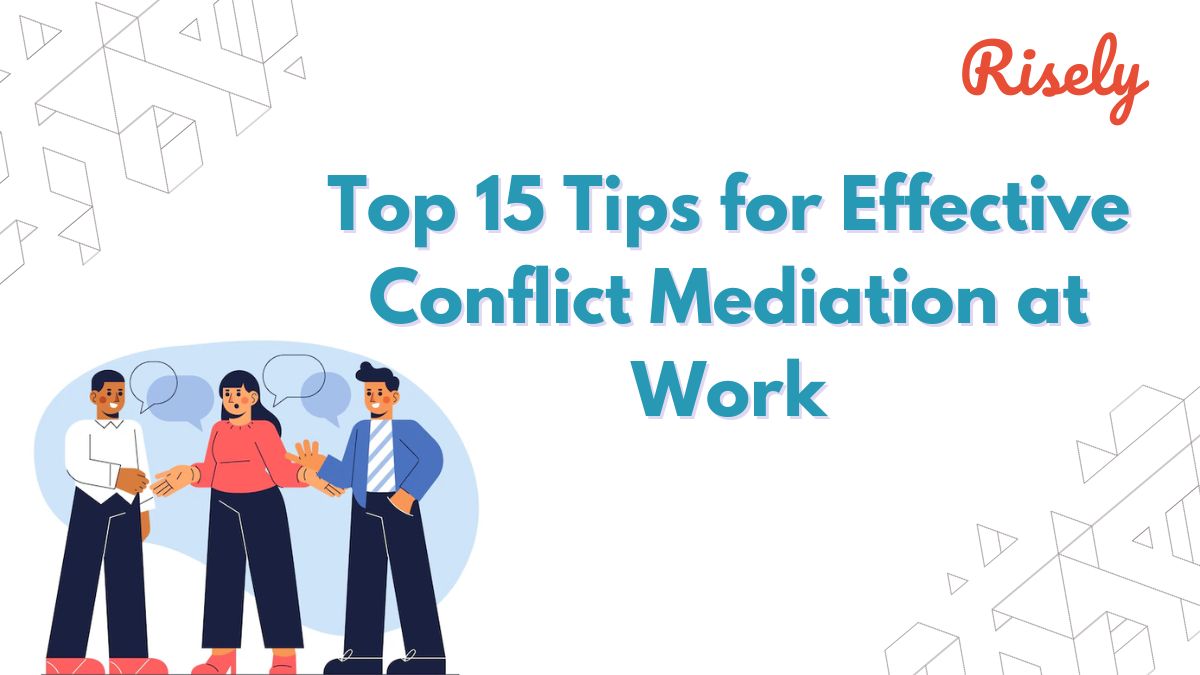 Top 15 Tips for Effective Conflict Mediation at Work As a manager or leader, you might be familiar with the conflicts that arise in the workplace. It's not always easy…
Employee Retention Metrics made easy with valuable insights and example One of the biggest challenges for HR professionals is to retain employees. Retention isn't just about salaries, bonuses, or promotions.…