How To Identify And Overcome Your Blind Spots As A Manager?
Managers are key players in any organization- they have a crucial role in setting the vision, creating the strategy, and ensuring that the team executes the plan. However, without a good understanding of the shortfalls or ineffectiveness in managing their teams, a manager can often fall victim to blind spots, which can negatively affect the entire organization. This blog post will explore the concept of managerial blind spots and outline how managers can identify and overcome them. By doing so, managers can maximize their potential and lead their teams to success.
What are managerial blind spots?
Managers are essential for the success of any business. However, they can often suffer from blind spots that hinder their ability to effectively manage a team or business. These blind spots can range from insufficient understanding of employees' roles and responsibilities to unfamiliarity with how their working styles impact their teams. If left unchecked, these blind spots can lead to ineffective
decision-making
, poor team morale, and even loss of business. To avoid these problems, a manager must identify and address their blind spots as soon as possible. Doing so can improve their overall management skills and help their team reach its full potential. But how do we identify and overcome these blind spots as managers? We'll be giving some effective tips for that in our other sections.
How can a manager identify their blind spots?
Explicitly assess your strengths and weaknesses as a manager
One of the best ways for a manager to identify their blind spots is to assess their strengths and weaknesses. This assessment will allow managers to build self-awareness and identify areas in which they lack a strong foundation or expertise. Afterward, they can concentrate their efforts on these areas which can otherwise create blind spots. For example, a manager identifying a lack of firmness and effective communication skills will give them an idea of why they could not handle difficult conversations.
An effective way of doing this is using efficient team management and executive coaching tools like Risely. These platforms can give you access to various assessments or tests, which can be helpful for you in assessing your strengths and weaknesses.
Reflect on past experiences
Managers should also reflect on past experiences to identify any instances in which they failed to manage effectively. By reviewing these situations, managers can better understand why they made certain decisions and how their approach could have been different. They will be able to figure out what worked well and what didn't, which can be significantly helpful in identifying their blind spots. To do that, managers should have a good record of past interventions and the respective turn of events.
Ask others
To identify their blind spots and develop an action plan to address them, a manager needs to solicit input from their team. The best way to do this is by holding a feedback session where everyone present can share their thoughts and insights. It will help managers better understand where they need to focus their efforts and enable them to take corrective measures promptly. Feedback sessions also allow managers to get a sense of the entire team's thinking, which is vital for ensuring everyone is on the same page. These inputs will help to identify each particular blind spot there is. It will also help in deciding what blind spot to consider at first. They can do it by figuring out what the most number of individuals pointed out as a blind spot. However, getting honest feedback about your blind sites or shortfalls can be difficult to extract from the team.
It is where team management and executive coaching tools like Risely come in handy. These platforms allow team members to give honest and constructive feedback to their managers confidently.
Ask yourself tough questions
Managers often don't know what they don't know. To identify and address gaps in their knowledge, they must ask themselves tough questions. Questions such as "What am I not seeing that could be costing me money?" or "What are the potential risks associated with a certain decision?" can help managers spot potential problems and make informed decisions. Suppose managers face doubt about what questions they may ask themselves. In that case, they can again use the same tools or platforms that can provide them with a list of questions that can test the effectiveness of managers from every managerial angle.
How can a manager overcome their blind spots?
There are five steps a manager can take to overcome their blind spots and manage effectively.
Increase your knowledge and understanding of the topic
To overcome their blind spots, as the first step, a manager should take the time to increase their knowledge about the topic. It can be done by reading books, attending workshops, or speaking with experts. The team management and executive coaching platforms we earlier talked about can also be helpful in this case by providing regular email updates and resources to build a wide knowledge of the topic. Once they have a better understanding of the topic, they'll better equip themselves to make decisions that are in their team's best interests.
Create an action plan
After you have built up your knowledge, you can create a plan to overcome your blind spots. This plan should involve setting goals and taking action steps to improve your understanding of the topics you are missing. There are a few steps they can follow to create that plan, including: – Educate yourself and your team on the topic of the blind spot. You can develop a plan to address the issue by collectively understanding it. – Talk to others who have dealt with a similar issue. They can offer advice and support on how to overcome the blind spot. – Create a plan of action that includes measurable goals. It will help you track your progress and see if your efforts are working. – Be patient and persistent. It may take time to overcome a blind spot, but don't give up. Our platform
Risely
can be significantly helpful here as we help managers will a complete action plan to overcome every possible blind spot that a manager can face.
Make a public commitment
As a manager, it is essential to commit to overcoming your Blind spots. Doing so sends a strong message to your team that you are committed to continuous learning and improvement. This commitment will also inspire your team to do the same. Further, it will increase your chances of overcoming your blind spots. That's because committing publicly will hold you accountable and help you garner support from others.
Take action
After making a public commitment to overcome your blind spots, you must start taking action. You should set aside time every day to work on your blind spots. It is time to put your plan into action and gradually overcome the blind spot you have effectively and once in for all.
Keep a close check on the turn of events and make changes if needed
By monitoring the turn of events, managers can identify any potential hiccups or obstacles that may have arisen during the implementation phase. If needed, they can make changes to address potential issues. By following these steps, a manager can ensure that their actions are effective and have the intended outcomes of overcoming the blind spots.
Conclusion
Managers can often be blind to certain things around them. It can be anything from ineffectiveness in their management style to a lack of cohesiveness within their team. They must identify these blind spots as early as possible before they result in a significant loss. By placing their blind spots, a manager can overcome these challenges and become more effective and possibly the best leaders out there. By following the advice provided in this blog, every manager can overcome their blind spot and become a great leader.
Overcome blind spots as a manager by learning active listening with our free toolkit
Uncover the secrets of active listening to become a pro communicator in your team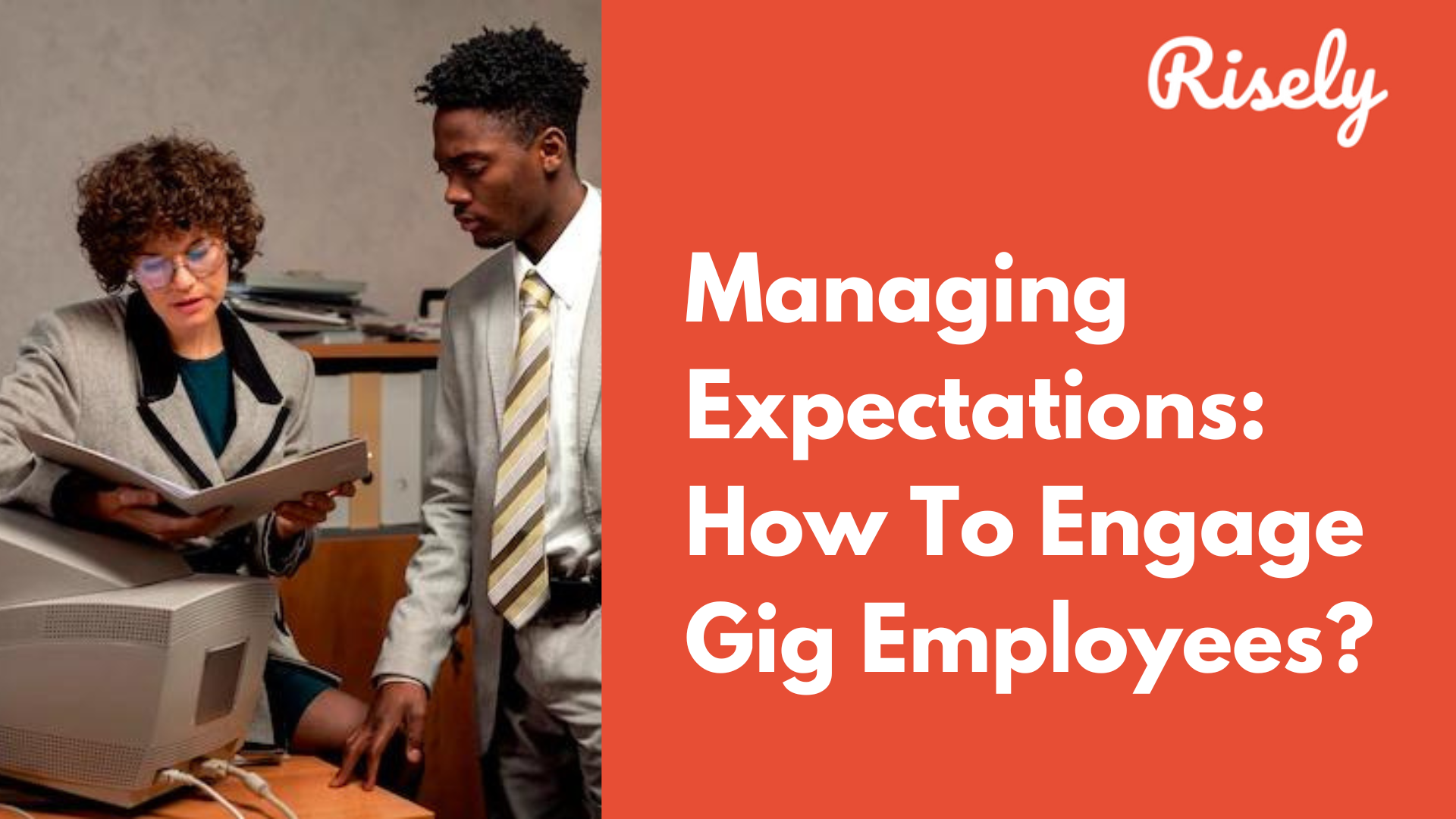 Managing Expectations: How To Engage Gig Employees? In the gig economy, employees have multiple expectations of their employment – ranging from minimum wage to overtime pay to benefits. In the…
How To Tackle Unpredictability At Work? Sometimes, no matter how prepared or well-prepared a team might be, unpredictable events at work can cause disruptions and tension. This is where managers…