How Open Communication Boosts Productivity Understand With 3 Examples
You're sitting in a meeting with your team, and everyone nods and agrees with what's being said. But, as soon as the meeting ends, everyone goes their separate ways, and nothing seems to get done. Sound familiar?
We've all been there, so it is important to understand open communication in the workplace. It's not just about nodding and pretending to agree with your colleagues. Instead, it's about fostering an environment where everyone feels comfortable sharing their thoughts and ideas, even if they don't align with the rest of the team.
In this blog post, we'll dive into why open communication is crucial for workplace success and provide practical tips on improving communication among your team.
Let's get started!
What is open communication?
In today's fast-paced business world, open communication has emerged as a critical tool for promoting transparency, honesty, trust, and collaboration within organizations. It refers to a work environment where employees feel comfortable sharing their thoughts, ideas, and opinions freely with their colleagues and superiors. This two-way process involves active listening and honest feedback, allowing individuals to solve problems more efficiently and make better decisions by considering diverse perspectives. By fostering a culture of trust and openness, open communication can help businesses achieve greater success and drive innovation.
Why is open communication important at work?
Open communication, in particular, plays a significant role in fostering trust, collaboration, and innovation among employees and leaders. When all employees are heard and considered, better decisions can be made, leading to higher efficiency and productivity. In addition, organizations with open communication tend to have better employee engagement and retention rates due to a
positive work environment
that values transparency, honesty, and respect. Therefore, leaders must prioritize this as a core value within their organization.
Benefits of open communication in the Workplace
When employees feel free to share their thoughts, ideas, and feedback without fear of judgment or criticism, it fosters trust and transparency. This creates a positive work culture and benefits the team in several aspects, such as;
Improved employee engagement
Employees who feel valued and heard are more likely to be motivated and productive. Open communication encourages collaboration among colleagues, leading to innovation and problem-solving. Encouraging feedback, sharing ideas, and addressing concerns promptly promotes growth and helps organizations retain talent while fostering a sense of community and belonging among employees. Learn how to get this right:
Improving Employee Engagement As A Manager: 7 Simple Hacks
Enhanced creativity and innovation
Organizations must constantly innovate to remain competitive in today's fast-paced and ever-changing business environment. Open communication in the workplace promotes a culture of creativity and innovation. When employees feel comfortable sharing their ideas and suggestions, it allows for diverse perspectives and leads to more effective problem-solving. In addition, this approach encourages collaboration and empowers employees to take ownership of their work, resulting in increased creativity and innovation within the organization.
Increased productivity and efficiency
Promoting open communication channels encourages employees to share their ideas and opinions, leading to more
effective problem-solving and decision-making
. Building stronger relationships between team members and managers can also lead to a more positive work environment, reducing the risk of mistakes or delays. Ultimately, communicating openly can help organizations achieve greater success by improving collaboration, innovation, and productivity.
Barriers to open communication and their impact
It is essential to foster a healthy work environment, but there are some barriers an organization could face and have adverse impacts, such as;
Fear of speaking up
In many workplaces, employees may hesitate to speak up due to a fear of negative consequences. This can lead to missed opportunities for innovation and problem-solving. Furthermore, when employees are afraid to share their ideas or feedback, it creates a negative work environment that hinders collaboration and productivity. To combat this barrier, organizations can encourage open communication by creating a culture of psychological safety where employees feel comfortable sharing their thoughts and ideas without fear of judgment or retribution. In addition, leaders should actively seek out diverse perspectives and value different opinions to foster an inclusive workplace where team members feel heard and respected.
Lack of trust
Lack of trust in the workplace
can hinder open communication and lead to misunderstandings and conflicts, eroding communication. Employees may feel that their contributions are not valued or hesitate to share their ideas. Honesty, transparency, and consistency from leaders and managers are essential to overcome this barrier. Organizations can establish trust and promote open communication by creating a safe environment where all voices are heard and acknowledged.
Poor leadership
Poor leadership creates a culture of fear and mistrust, discouraging employees from speaking up and sharing their ideas freely. When leaders fail to prioritize communication and transparency, they risk missing valuable insights and solutions to improve team performance. By modeling open communication, actively seeking feedback, and valuing diverse perspectives, leaders can create a culture of psychological safety that encourages employees to share their thoughts without fear of negative consequences. Effective leadership is key to unlocking
the power of effective communication
in successful organizations.
How to promote open communication in the workplace
Creating a culture of communicating openly in the workplace requires active effort from all levels of the organization. Here are some strategies to promote it in the workplace;
Encouraging feedback and suggestions
Creating a safe space for constructive criticism and feedback is crucial to promoting open communication in the workplace. Leaders should
actively listen to employee feedback
and take action on it whenever possible. Regular check-ins with employees provide opportunities for open dialogue and problem-solving while also fostering a culture of transparency. Encouraging employee feedback and suggestions creates a sense of ownership and engagement, which can lead to better decision-making and improved efficiency. Training on effective communication can also equip employees with the necessary skills to communicate openly and effectively.
Establishing regular communication channels
Managers should create a safe space for employees to express their opinions without fear of retaliation or judgment, allowing them to feel heard and valued. By prioritizing openly communication within their organizations, leaders are likely to see increased employee engagement, morale, and productivity.
Providing a safe environment for sharing ideas
When employees feel comfortable expressing their opinions without fear of judgment or retaliation, they are more likely to share their thoughts and ideas freely. Creating clear guidelines and expectations for communication helps establish a culture of openness while recognizing and rewarding employees' contributions can further encourage them to share their insights. Additionally, providing opportunities for
constructive feedback
and criticism can help build trust and improve communication among team members. Communication goals can be a great way of setting these targets, read more about them here:
Why clear communication goals are key to employee engagement and productivity?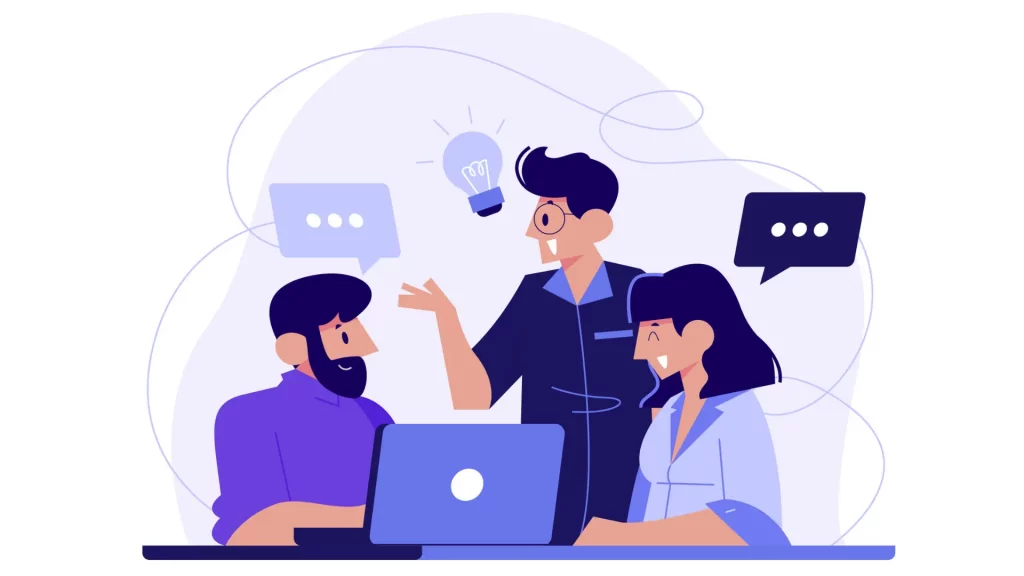 3 Real-life Examples of Open Communication
Open communication is crucial for building trust, promoting transparency, and fostering a positive workplace culture. When employees feel heard and valued, they're more likely to be engaged and productive, leading to better business outcomes. Here are some examples of organizations that have successfully implemented it:
Google: Known for its open and transparent culture, Google encourages employees to communicate openly with each other and with management. The company hosts regular all-hands meetings where employees can ask questions and share feedback and also has internal forums and social networks where employees can share ideas and collaborate on projects.
Buffer: Buffer is a social media management company that has a culture of open communication and transparency. The company shares financial information and company metrics with all employees and has regular "Ask Me Anything" sessions where employees can ask questions and share feedback with the leadership team.
Southwest Airlines: Southwest Airlines is known for its fun and friendly culture, which is rooted in open communication. The company encourages employees to have fun and be themselves, which in turn creates a positive work environment. The company also has a culture of open feedback, with regular check-ins and coaching sessions to help employees grow and develop.
Conclusion
Open communication is the cornerstone of successful organizations. It fosters a culture of trust, honesty, collaboration, and innovation, leading to increased productivity and efficiency. However, it's not always easy to implement open communication in the workplace. Fear of speaking up, lack of trust, and poor leadership can all hinder
effective communication
. To promote this, you must create an environment that encourages feedback and suggestions, establishes regular communication channels, and provides a safe space for sharing ideas. To learn more about creating a healthy work environment and communication practices at the workplace,
sign up for Risely
and stay updated!
Test your communication skills now to set good examples for your team.
The free communication skill assessment enables managers to overcome the mistakes holding them back.
---
FAQs
What are the open communication types?
Open communication includes assertive communication, active listening, nonviolent communication, and constructive feedback, all of which promote honest, respectful, and effective communication between individuals and groups.
What is open communication and why is it important?
Open communication is a style of interaction in which individuals express their thoughts and feelings freely and honestly. It fosters trust, collaboration, and innovation, improving relationships and outcomes.
What is open communication example?
An example of open communication is when team members are encouraged to share their thoughts, ideas, and concerns freely and respectfully without fear of judgment or negative consequences.
---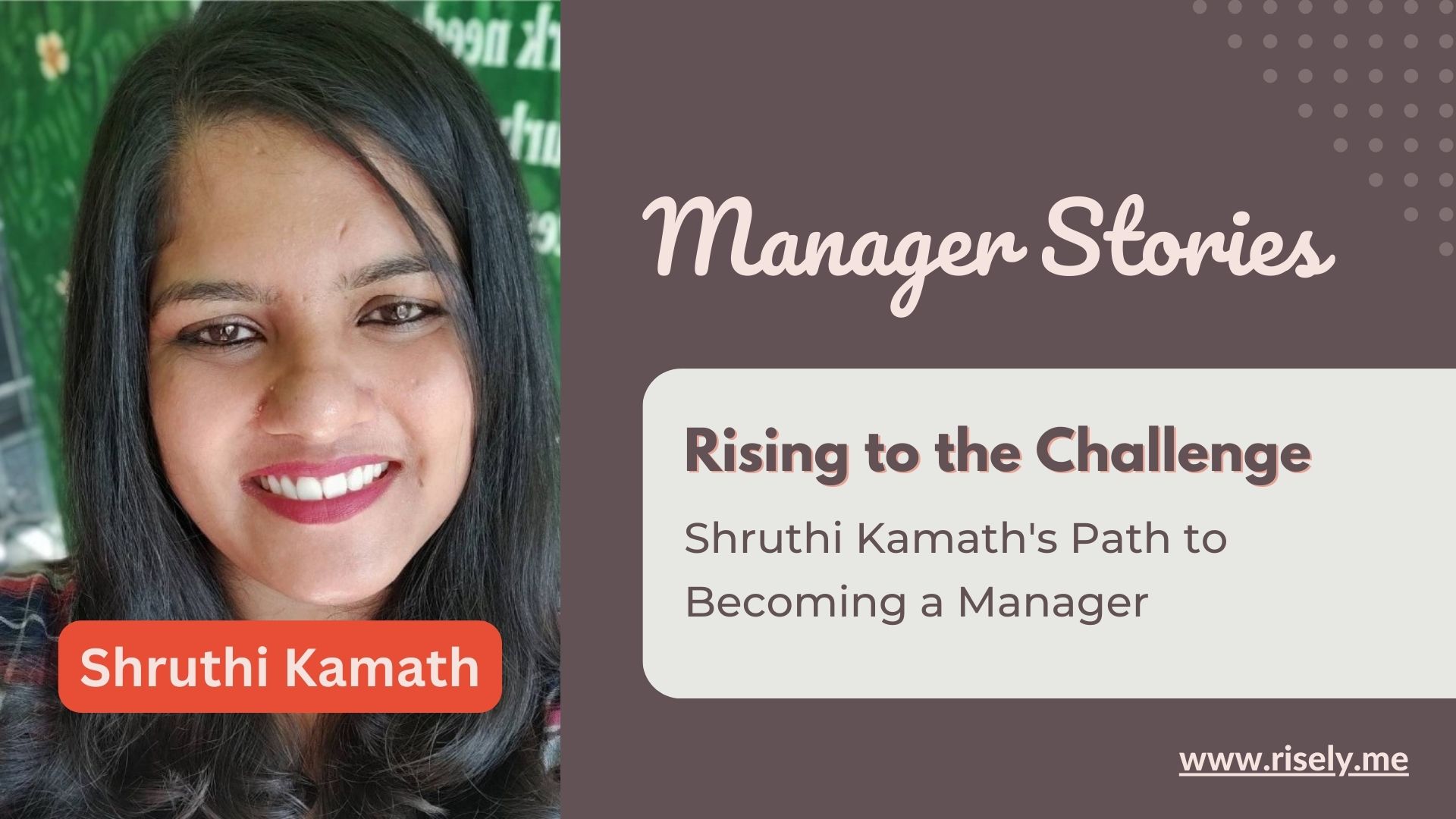 Rising to the Challenge: Shruthi Kamath's Path to Becoming a Manager "Can I really do this?" It's a question that echoes in the minds of countless professionals contemplating a leap…
Understanding Modern Leadership: Ananya Narang's Perspective on Team Management Founders and managers, the unsung heroes of the business world, often find themselves juggling various challenges. From instilling accountability to motivating…