How Persuasive Management Style Helps You Succeed: 5 Examples And Benefits
The way leaders manage their teams can have a significant impact on the success of their team. One management style that has gained popularity in recent years is the persuasive management style. Persuasive management is a leadership approach that focuses on building relationships, influencing others, and inspiring people to achieve their full potential. It involves using communication and
interpersonal skills
to persuade and motivate others toward a common goal. In this blog, we will explore what a persuasive management style is. We will discuss when is persuasive management style effective, the benefits and limitations of a persuasive management style, the characteristics of persuasive leaders and examples of persuasive leadership style, and we will also provide practical methods to improve persuasive management skills.
What is a Persuasive Management Style?
A persuasive
management style
is a leadership approach where a manager or a leader uses persuasive communication to influence and motivate employees toward achieving a specific goal or objective. This management style involves persuading team members to take a particular action or follow a specific direction while also maintaining a positive relationship with them. The leader typically relies on their
communication skills
, including active listening, clear messaging, and addressing employees' concerns to persuade them to follow their lead. Persuasive managers may also use rewards and incentives to encourage employees to take action or achieve specific targets. The persuasive management style can be effective in situations where a manager needs to inspire and motivate their team to achieve a particular goal. However, it can also be challenging if the manager overuses their persuasive skills, leading to a lack of trust and resentment among team members. Therefore, a persuasive manager must balance influencing their team and respecting their autonomy and individual opinions.
When is the persuasive management style effective?
The persuasive management style can be effective in certain situations, such as:
communication style
and to adapt it to fit the needs of the situation and the individual employees they are working with.
5 Benefits of Persuasive Management Style
The persuasive management style can provide a range of benefits for both managers and employees, including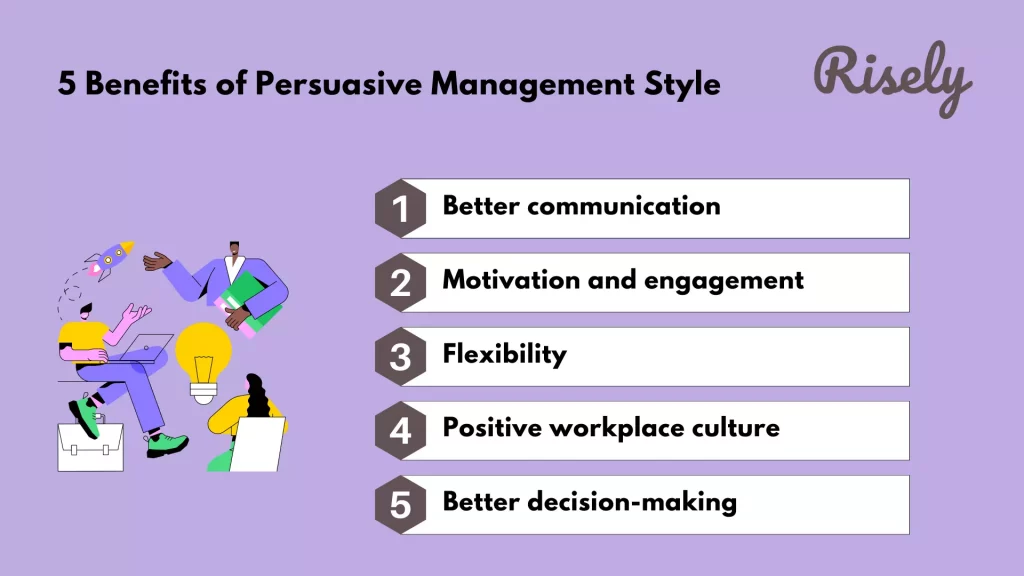 Better communication: Managers who use a persuasive management style are often skilled communicators who effectively convey their ideas and objectives to employees. This can lead to a better understanding and clarity of expectations, resulting in higher productivity and engagement.
Motivation and engagement: A persuasive management style can motivate and engage employees by providing direction and purpose. By persuading employees to buy into a particular vision or objective, managers can help to foster a sense of ownership and pride in their work.
Flexibility: The persuasive management style can be adapted to fit the needs of different situations and employees. It allows managers to tailor their approach to each individual's needs, which can result in better relationships and higher levels of job satisfaction.
Positive workplace culture: By using persuasive communication and focusing on collaboration and teamwork, a persuasive management style can help to create a positive workplace culture. Employees who feel heard and valued are more likely to be productive and committed to their work.
Better decision-making: A persuasive management style can facilitate better decision-making by encouraging employees to share their ideas and opinions. This can lead to more innovative solutions and better outcomes.
Limitations of persuasive management style
While the persuasive management style can be effective in certain situations, it also has its drawbacks, which include the following
Characteristics of Persuasive Leaders
There are several characteristics that persuasive leaders typically possess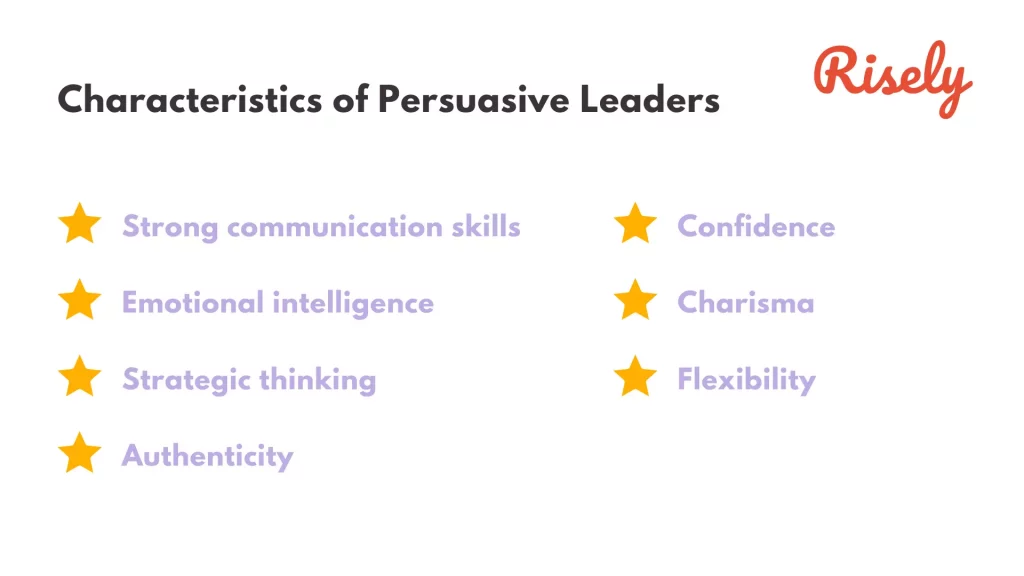 5 Persuasive Management Style Examples
Sales Team Supercharge
Imagine you're leading your sales team to launch an exciting new product. Picture yourself standing in front of your team, vividly showing how this product will transform customers' lives. Use your charismatic communication skills to fuel their excitement, and watch their energy skyrocket as they envision the impact they'll make and the rewards that await their hard work.
Change Management
You'll lead your team through a significant change. As you gather them together, share your passion for the new direction. Address their concerns empathetically, and weave a compelling narrative about the positive outcomes awaiting the company and each individual. With your persuasion prowess, guide them through the transition, helping them see the bright future. Check out "
Change Management: How to Execute It Effectively As A Manager
"
Project Kickoff
Imagine launching a game-changing project. As you bring your team into the project kickoff, ignite their passion by highlighting how their roles are pivotal to the project's success. Let your persuasive charm shine as you connect their contributions to the company's mission. By the end of your talk, they won't just see tasks; they'll see their chance to be heroes.
Turning Setbacks into Comebacks
You're facing an underperformance challenge within your team. Take the time to sit down with the struggling individuals. Listen actively to their concerns, showing that you genuinely care. Now, put your persuasive powers into action. Paint a picture of their potential growth, emphasizing how their success story is integral to the team's journey. Watch as they regain their
motivation
and determination.
Collaboration Catalyst
You're leading a cross-functional effort. Step into the shoes of each team and imagine their perspectives. Weave a story of how their combined expertise will create something extraordinary as you bring them together. Your persuasive prowess will break down silos and ignite a spirit of collaboration as they unite for a common cause. Remember, a persuasive management style isn't about manipulation; it's about inspiring, leading, and rallying your team around a shared vision. Put yourself in their shoes, understand their hopes and concerns, and use your charisma and communication skills to guide them toward success.
Simple methods for improving persuasive management skills as a manager
Conclusion
In conclusion, persuasive management is a powerful leadership style that can help managers achieve their goals by inspiring and motivating teams. By using effective communication, emotional intelligence, strategic thinking, and authenticity, persuasive leaders can build trust, influence, and rapport with their employees. This approach is particularly effective in today's fast-paced and constantly changing business environment, where adaptability and flexibility are key. By adopting a persuasive management style, leaders can create a positive work culture,
improve employee engagement,
and drive better business outcomes. If you are a leader looking to enhance your management approach, consider incorporating some critical characteristics of persuasive management into your
leadership style
. With dedication and practice, you can become a more effective and persuasive leader, inspiring your team to reach new heights of success.
How persuasive are you as a manager?
Find out now with the free persuasion skill assessment by Risely in just a few minutes.
---
FAQs
What is an example of persuasive management?
A manager may use persuasive techniques to convince team members to adopt a new process or strategy. They may present compelling arguments, provide evidence and examples to support their point of view and engage their team members in discussions to address any concerns or objections.
Why persuasive is a management style good?
The persuasive management style is beneficial because it allows managers to influence and motivate their team members toward achieving common goals. Using persuasive techniques, a manager can create a shared vision and a sense of ownership among their team members, increasing productivity and job satisfaction.
How to become a persuasive manager?
To become a persuasive manager, one should develop strong communication skills, including the ability to articulate their ideas clearly, listen actively to others, and adapt their communication style to the needs of their audience.
What is the role of persuasion?
The role of persuasion is to influence the attitudes, beliefs, and behaviors of others toward a specific goal or outcome. In management, persuasion is essential for motivating and aligning team members toward shared objectives, making persuasive communication a critical skill for effective leadership.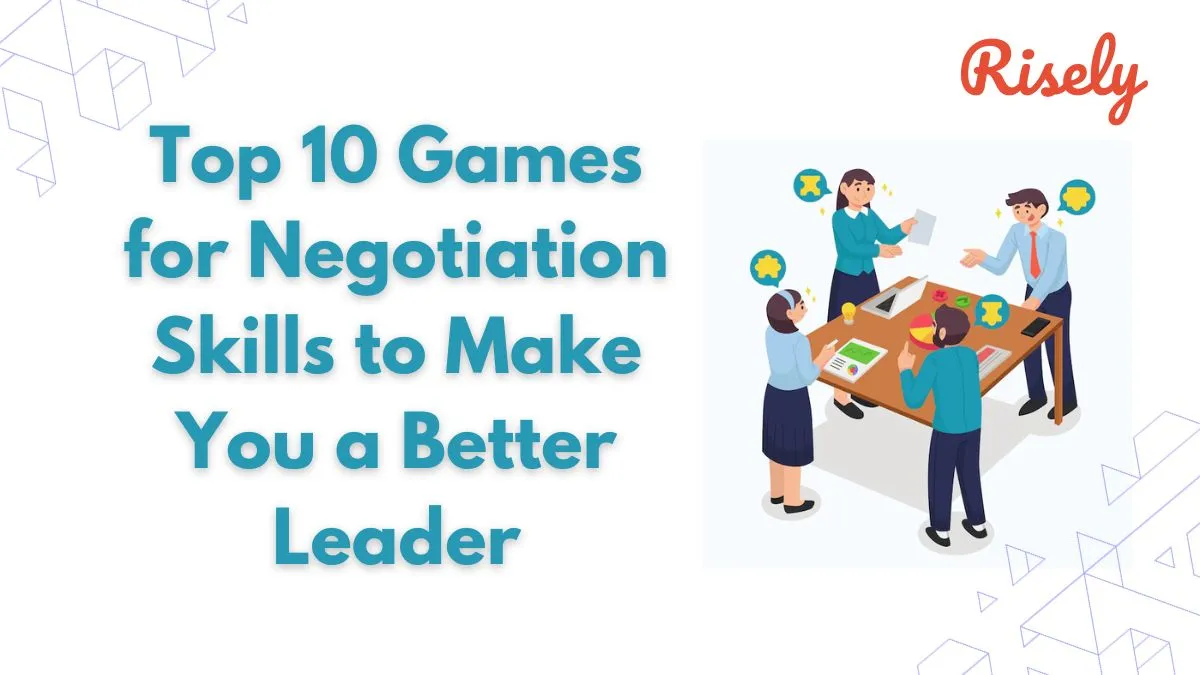 Top 10 Games for Negotiation Skills to Make You a Better Leader Negotiation skills are essential in today's workplace and can be honed through various methods. One fun and effective…
Top 15 ways of Improving influence and negotiation skills As a manager, influence and negotiation skills are crucial to your success. It's not just about getting the best deal or…