How to develop the 8 Conceptual Skills every Manager needs?
It's no secret that success in any professional field hinges on thinking critically, strategically, and creatively. That's where conceptual skills come in. They are essential for managers because they help them process information to pursue their roles and manage their teams effectively. This blog post will discuss nine conceptual skills that managers need to be proficient in. Make sure to check it out to learn more about why they're so important and how you can develop them. But before that, let's understand what conceptual skills are and why they are essential.
What are Conceptual Skills for Managers?
Conceptual skills in management are one of the most critical skills. They are the ability to think abstractly and apply concepts to new situations. They are the ability to think about and understand ideas. These conceptual skills are the management skills that let you see the big picture and work through problems. They allow us to understand and learn from experience and develop creative solutions to problems. Read more about manager effectiveness here:
The Complete Guide to Manager Effectiveness with Essential Skills
What is the importance of conceptual skills for managers?
Conceptual skills in management are most essential for learning, thinking critically, and coming up with new ideas. They are necessary for any professional, especially for managers, as they help them understand complex issues, identify solutions, and make decisions. Managers with strong conceptual ability are better equipped to handle complex tasks, meet deadlines, and lead teams. They are also better equipped to identify and capitalize on opportunities. With the right conceptual skills, managers can be sure that they will navigate their way through any challenging situation with relative ease. They are also crucial for effective strategic planning and long-term business growth. The greater their level of conceptual skills, the more powerful and effective they become as managers. All that together is enough to prove the importance of conceptual skills. But what conceptual skills do managers need to develop? Let's dig into that in our next section.
8 Conceptual Skills In Management You Need
The top nine examples of conceptual skills that managers need to be effective in their managerial position and lead their entire organization towards growth are as follows:
Problem-solving
Problem-solving
is one of the most critical conceptual skills in management for a successful team. As a manager, you must identify and solve problems quickly to efficiently carry out your assigned tasks. By solving problems effectively, you save time and ensure that your team is working in the most efficient way possible. Furthermore, problem-solving skills equip you to think outside the box and come up with innovative solutions to thorny problems.
How to develop problem-solving skills?
Practice Root Cause Analysis: Dig deep and identify the underlying causes of problems rather than just addressing symptoms.
Diverse Perspectives: Encourage teams to brainstorm solutions from various angles, incorporating different viewpoints to foster innovative problem-solving.
With this essential skill set under your belt, you are well to become a successful manager. Another excellent way to develop these problem-solving skills is by engaging in simulations. It involves using hypothetical scenarios to train yourself and your team members for real-world challenges. By doing this, you can help your team be better prepared for any curveballs that may come their way. Master the skill with some interesting problem-solving scenarios here:
7 Examples of Problem-Solving Scenarios in the Workplace (With Solutions)
Decision making
As a manager, it is crucial to
make sound decisions quickly and effectively
. By knowing the different decision-making models and how to use them, you can make the most informed choices possible. There are three main decision-making models: fact-based, intuition-based, and values-based. Each has its strengths and weaknesses, so it is essential to know which one is best suited for the particular situation.
How to develop decision-making skills as a manager?
Collect Data: Emphasize the importance of data-driven decisions. Encourage teams to gather relevant information before making choices.
Consider Consequences: Think about the potential outcomes and impacts of each decision on various stakeholders before taking action.
By understanding these models named above and how to use them, you can become a better manager overall. To develop this skill, you need to think critically and assess the situation at hand together with all the data objectively. You may also need to have good analytical skills, as decision-making requires data analysis. With practice and good judgment, any manager can develop these
decision-making skills.
The decision-making skills of a manager always need to be top-notch to tackle challenges head-on. Are you prepared for that? Take
Risely's free decision-making self-assessment
for managers to find out now.
Time management
Managing time is essential
if you want to be successful as a manager. By learning how to optimize your time and use it effectively, you can ensure that your tasks are completed efficiently and on schedule. You can use several techniques to help you manage your time effectively, including goal setting, organizing your work, effective delegation, and breaking down large projects into manageable pieces.
How to develop time management skills?
Prioritize Tasks: Identify high-priority tasks and delegate or eliminate low-priority ones.
Time Blocking: Teach managers to allocate specific blocks of time for different tasks, minimizing multitasking and improving focus.
You can also prioritize tasks and use the right tools (such as calendars, To-Do lists, and task managers) to help you stay on track. By applying these techniques systematically, you can ensure that you are getting the most out of your day. By practicing this, you'll stay productive and efficient no matter how busy your life as a manager gets.
Teamwork and communication skills
Teamwork is essential for any successful undertaking, and
effective communication skills
are vital for effective management. As a manager, it is crucial to work well with a team. This is not only necessary for completing tasks successfully but also for building a solid relationship with your team. Good communication skills are essential for building trust and establishing clear lines of authority. By communicating with your team effectively, you can help them understand your goals and mission and work together to achieve them. Further, with good teamwork skills, you can create an environment conducive to innovation and growth. Developing these requires interpersonal skills and soft skills like active listening, empathy, respect, etc.
How to develop communication skills?
Active Listening: Listen actively to team members, showing empathy and understanding their perspectives.
Clear Communication: Emphasize clear and concise communication to avoid misunderstandings and foster a transparent work environment.
Communication is not just about getting your point across. Effective communication takes a holistic approach by focusing on actively listening to what the other person is saying. Test your active listening skills today with
Risely's free self-assessment
for managers and leaders. Understand the areas that you can work on to ensure success for your teams.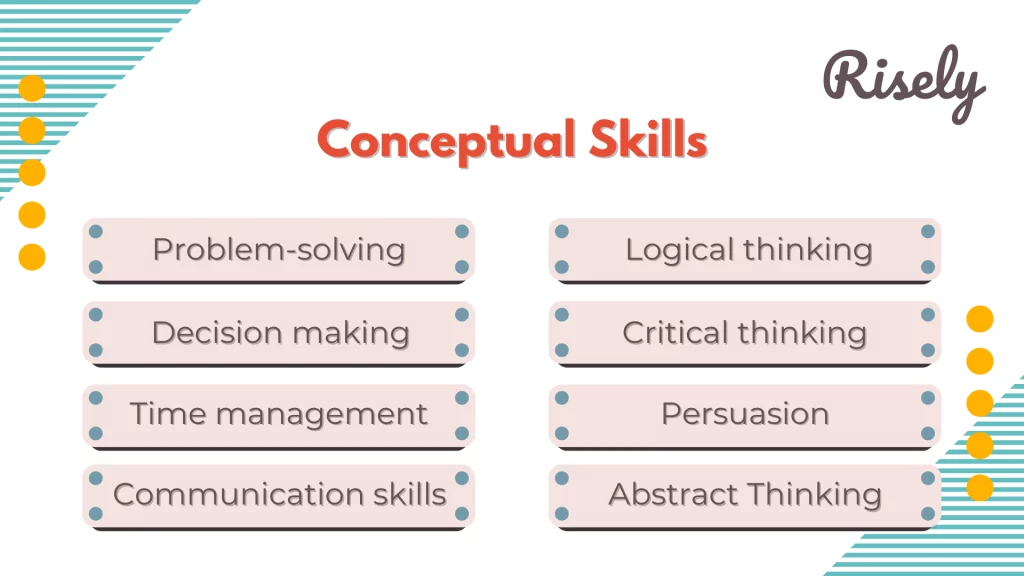 Logical thinking
Logical thinking is an essential conceptual skill for managers because it allows them to see the big picture and make decisions that will benefit their company. Logistical thinkers can think ahead and plan for potential problems while also remaining flexible to adapt to changing situations. They can also consider a variety of factors when making decisions and can weigh the pros and cons of different options. In order to be a successful manager, it is crucial to be able to think logically and strategically.
How to develop logical thinking skills?
Analyze Patterns: Focus on patterns and trends in data or situations, enabling them to make informed decisions.
Use Socratic Questioning: Ask probing questions that lead to logical and well-reasoned conclusions.
Logistical thinking skills can be learned and developed, but they are not always easy. There are several exercises you can do to improve your logical thinking skills. One is to practice identifying fallacies in arguments. Another is to try to solve puzzles or problems that require logical thinking. You can also practice logical thinking by participating in problem-solving sessions or
brainstorming topics with your team
.
Critical thinking
One of the most important conceptual skills in management is thinking critically. Critical thinking skills allow managers to analyze problems, identify potential solutions, and make sound decisions. In order to be an effective manager, you need to be able to think on your feet and come up with creative solutions. Critical thinking skills are also crucial for managing employees. When managers can think critically, they can better assess employee performance and identify areas where employees need improvement. Additionally, critical thinking skills help managers make better decisions regarding employee retention and termination.
How to improve critical thinking skills?
Challenge Assumptions: Encourage team members to question assumptions and explore alternative viewpoints before arriving at conclusions.
Evaluate Evidence: Develop the ability to critically assess the validity and reliability of information and data through repeated questioning.
To improve your critical thinking skills, start by regularly engaging in thoughtful discussions with your colleagues and peers and by challenging yourself to come up with novel solutions to complex problems. Learn more about developing the
critical thinking skills that every manager needs here.
Persuasion
Persuasion
is one of the top conceptual skills in management. Managers need to be persuasive to get their employees to buy into their vision and work towards common business goals. To be successful, managers need to influence people's thoughts and behaviors. This involves understanding the principles of persuasion and using them effectively.
How to develop persuasion skills?
Understand Audiences: Tailor your messages to the preferences and needs of your audience when trying to persuade.
Highlight Benefits: Articulate the benefits and positive outcomes of your proposals or ideas.
There are several techniques that top managers use to persuade others. Some of these techniques include using logical arguments, making a strong case, appealing to people's emotions, and
building relationships of trust
. Moreover, managers who are good at persuasion can get their employees to work harder and be more productive.
Abstract Thinking
One of the critical skills that a successful manager must have is abstract thinking. This refers to the ability to think beyond the concrete details and connect the dots when all information is unavailable. It helps you make decisions that are not biased by personal emotions or preconceived notions. As a manager, it is essential to step back and assess the situation objectively and then come up with a plan of action using abstract concepts and abstract ideas that will best suit the team's needs. By developing your abstract thinking skills, you will manage your team more effectively and achieve your goals faster.
How to develop abstract thinking skills?
How to develop Conceptual Skills as a Manager?
Managers can develop conceptual skills needed in the workplace by engaging in critical thinking and problem-solving activities. This can include participating in case studies, analyzing data and trends, and seeking opportunities to learn from experts in their field through mentorship. Managers can also seek training and development programs focusing on conceptual skills, such as strategic planning and decision-making. It can also be helpful for managers to actively seek out diverse perspectives and engage in dialogue with team members to broaden their understanding and perspective. Additionally, staying up to date with industry trends and advancements can help managers stay sharp and develop their conceptual skills. Moreover, managers can help leadership development programs tackle any challenges they face in effectively developing conceptual skills. Risely, an AI-based leadership coaching platform, can help managers identify their weak areas and design unique guided learning journeys to overcome those troubles.
Check out Risely today
to start your move toward success.
Conclusion
It's no secret that becoming a successful manager requires more than good technical skills. You need to be able to think strategically, logically, and critically. You will also be able to solve problems effectively and lead and communicate effectively. This blog post has discussed nine examples of essential conceptual skills that managers need to be successful. By understanding and employing these conceptual skills in management, you'll be well on your way to becoming an influential leader.
Problem solving has become a problem?
Download our problem solving toolkit to hone your skills!
Undersand the concept and practice of problem solving – a critical skill for any manager's success – quick and easy.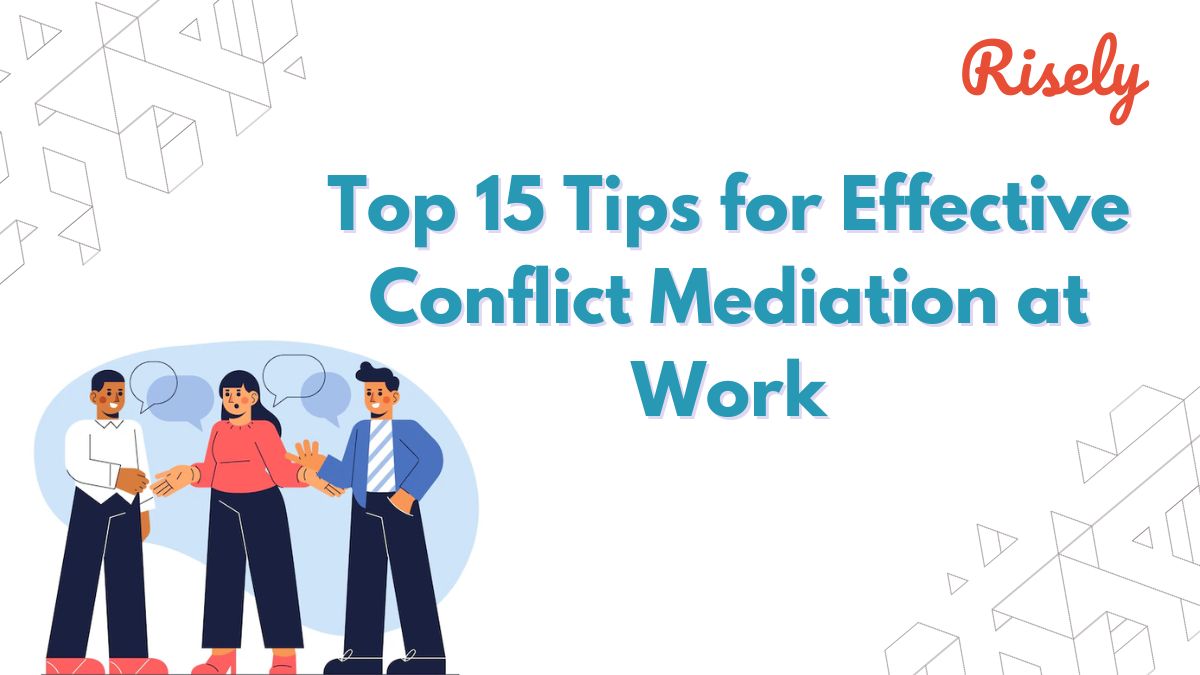 Top 15 Tips for Effective Conflict Mediation at Work As a manager or leader, you might be familiar with the conflicts that arise in the workplace. It's not always easy…
Top 10 Games for Negotiation Skills to Make You a Better Leader Negotiation skills are essential in today's workplace and can be honed through various methods. One fun and effective…