The Top 10 Team Management Tasks You Should Start Doing Today
As a manager, you know that team management is crucial for success. Without it, your team will struggle to meet deadlines, deliver quality work, and achieve objectives. Many managers use task management software or app to manage their team's tasks and performance. But, those are not enough. Why? Because in addition to the tools, you also need the right behaviors in the team. This blog post will cover the ten most crucial team management tasks that focus on behaviors. From creating an effective communication system to ensuring team cohesiveness, this post will help you successfully manage your team. So read on and start
managing your team effectively
.
The 10 most crucial team management tasks and why are they important?
Team management is critical for any business. Ensuring team harmony and productivity is daunting, but managers can do it with the right strategies. Here are the ten most crucial team management tasks that you should start doing today:
Creating an effective communication system
When it comes to team management, the first and foremost task that a manager needs to do is to create an
effective communication system
. Managers can use this communication system to keep the team members updated with their share of the workload, tasks, expectations, and the due dates of the same. An effective communication system not only helps to connect team members and keep them updated on the workflow's progress but also ensures transparency within the team and that all grievances and disagreements are addressed and resolved. It also reduces or eliminates the chances of miscommunication or misunderstandings. Further, it helps to keep team members on track and focused on the task at hand. This system will facilitate collaboration and enhance each team member's communication skills.
Providing feedback in a constructive way
Giving feedback is one of the most critical tasks and is essential for effective team management and development. Feedback helps to build relationships and trust. Positive and
constructive feedback
helps to improve the performance of team members. It can also help improve the team's understanding of their errors and deficiencies. By constructively providing feedback, you can help to improve the team's productivity and build a durable foundation for success. Managers should deliver this feedback promptly to develop solutions that will benefit everyone involved.
Setting boundaries and enforcing them
Effective team management requires establishing clear and concise boundaries and then enforcing them. Enforcing boundaries can be complex but necessary to keep the team functioning smoothly. It ensures that everyone on the team knows what is acceptable and what's not. It also helps prevent team members from crossing into each other's territory, which can lead to conflict except for task dependencies. The best way to enforce boundaries is to be clear and consistent with your expectations. Be sure to communicate your expectations to the team and follow through with consequences if boundaries are crossed. You should also be open to feedback and willing to adjust the boundaries if needed for better teamwork.
Managing conflict effectively
There is no denying that conflict is unavoidable when working together as a team. It can be frustrating, time-consuming, and even damaging. That is why
managing conflicts
within the team is one of the most critical team management tasks. Different factors can cause conflict, but managers can also resolve it by effectively managing it. Understanding the different types of conflict and knowing how to fix them can help your team work together more harmoniously. Some of the most critical tasks in managing conflict include identifying the conflict, understanding the goals and objectives of each person involved, and setting ground rules for communication. By following these steps, you can help your team reach a resolution that is best suited for everyone involved.
Offering praise and recognition when it's deserved
One of the most critical team management tasks a manager can carry out is offering praise and recognition when deserved. When your team knows that you appreciate their efforts, it will lead to a better work environment. They will be more likely to contribute and stay loyal to the team. Furthermore, praising your team can motivate them to do even better in the future. It increases morale, strengthens teamwork, and builds trust. Additionally, it helps to motivate team members and keep them focused on their goals. Praise and recognition can be spontaneous or planned, depending on the situation. Either way, it is an essential part of team management.
Building teams that are balanced and complementary
A good team is built on the foundation of trust, respect, and shared goals. But for a team to be effective, it must be balanced and have complementary skills. A balanced team is one where each member contributes to the required skill set of the team. In some cases, skills can be supplementary to each other, and in other cases, they can be complementary. Meanwhile, a complementary team is one where each member's skills and knowledge complement each other. In totality, the team must have the skill balance it requires to function properly. This balance is crucial because it means that the team can collectively handle any task or challenge that comes their way. A team that is not balanced will often find itself struggling to complete tasks or solve problems.
Establishing a positive team culture
Positive team culture
is essential for any team's success. The team's environment, values, and beliefs guide their behavior and decision-making. Creating and maintaining a positive team culture can be challenging, but it's worth it. A positive team culture leads to increased productivity, creativity, and engagement. It also decreases turnover and attracts top talent. A positive team culture can lead to increased employee satisfaction and loyalty, which are vital factors in retention and recruitment. In addition, positive team culture can promote a sense of camaraderie and teamwork which can be valuable assets when dealing with challenging situations.
Holding team members accountable for their commitments
When team members make commitments, the manager needs to
hold them accountable.
It keeps the team on track and builds trust and respect among team members. There are a few different ways to hold team members responsible. One is to ask them about their progress regularly. Managers can do it in team meetings or one-on-one. Another way is to set up a system where team members have to report periodically or send notifications of their progress on a specific task or goals to the rest of the team. Managers can facilitate this in team meetings or through regular email updates. It keeps everyone in the loop and makes team members more likely to complete their commitments. Finally, you need to set deadlines for the commitments. It will help ensure that it gets done promptly. Another effective way to do it is to use kanban boards for the team's task management and hold team members accountable to cross each level of the board from to-do-list to completion, effectively and promptly.
Setting clear goals and expectations
There's no doubt tha
t setting clear goals
and expectations is an essential part of team management. Not only does it help everyone on your team understand their role and responsibilities, but it can also help ensure that everyone is pulling together in pursuit of a common goal. By establishing clear goals, you can also assess your team's real-time progress and determine where they can make improvements. Ultimately, this helps ensure that your team works as efficiently as possible and that everyone is reaching their fullest potential. Lastly, when everyone knows what is expected of them, it also reduces the stress that comes with work.
Ensuring team cohesiveness
Team cohesiveness
is one of the most critical aspects of managing a team. A cohesive team can work towards a common goal and achieve collective success. A coherent team can overcome challenges and obstacles together and perform at their optimum level. There are several things that team managers can do to ensure team cohesiveness. One of the most important is ensuring team members have a shared goal. It gives them something to work towards together and makes them feel like they are part of something larger. Another essential thing that team managers can do is create opportunities for team members to socialize and get to know each other better. Managers can do it through team-building exercises, social events, or simply by encouraging informal conversations during work hours. Finally, team managers should be on the lookout for signs of conflict and address them early to avoid the creation of any differences within the team.
Conclusion
Team management is one of the most critical aspects of business, and everyone on the team must be working together to achieve the company's objectives. This blog outlines the ten most crucial team management tasks that every manager should know. Read through the article and implement these critical tasks into your daily routine to help your team succeed!
Are your constructive feedback skills working for your team? Find out now.
Take the free constructive feedback self-assessment to check the effectiveness of your feedback sessions with the team.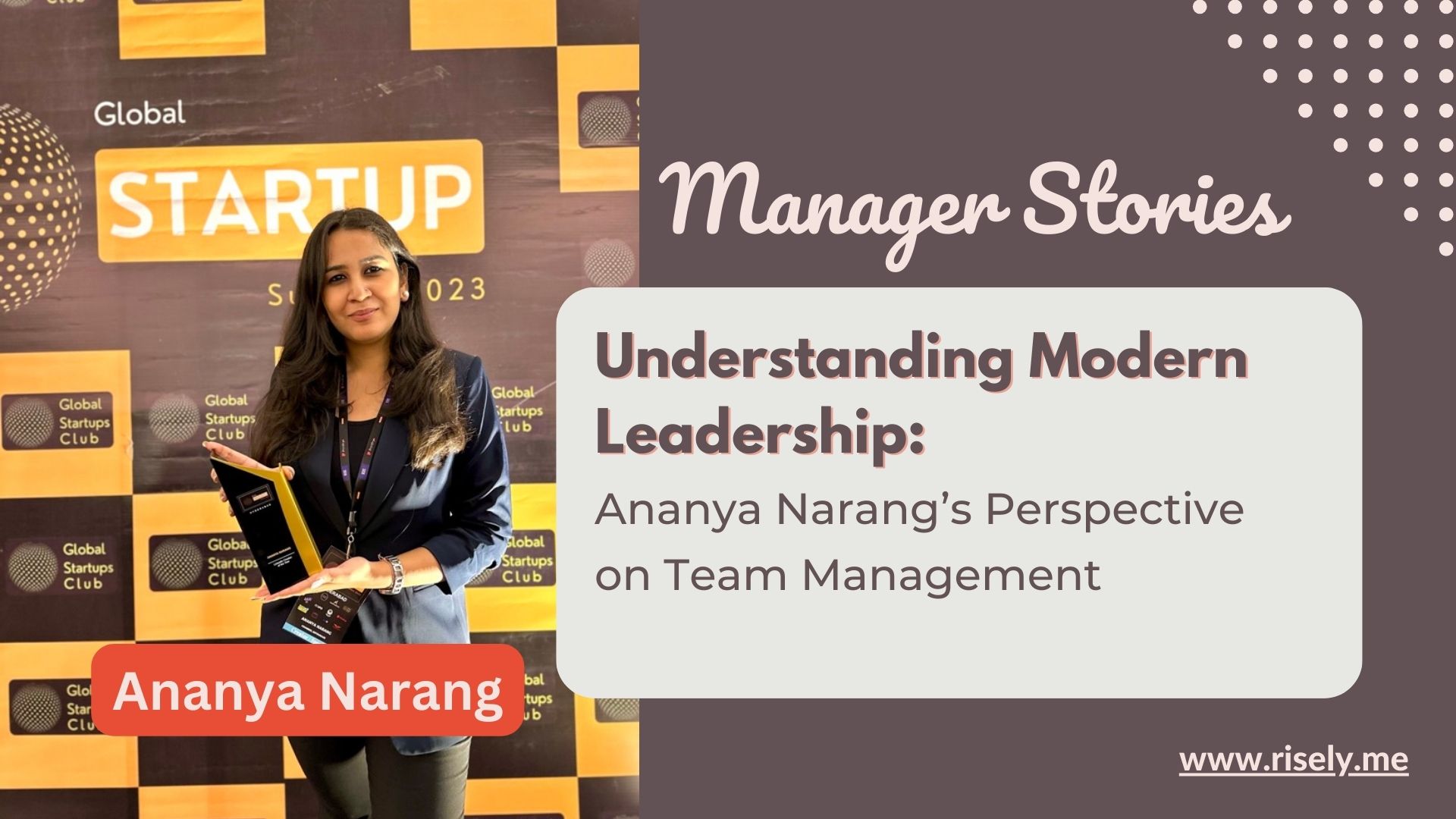 Understanding Modern Leadership: Ananya Narang's Perspective on Team Management Founders and managers, the unsung heroes of the business world, often find themselves juggling various challenges. From instilling accountability to motivating…
Manager Effectiveness: A Complete Guide for Managers in 2023 Manager effectiveness is everyone's favorite buzzword. But the road to achieving it is trickier than it looks like! While manager effectiveness…