Crafting Your Response: 10+ Examples to Answer 'Why Do You Want This Job'
Job interviews often make us jittery. I'll accept – mine did until a few coffees helped me out. The prospect is even worse for candidates just entering the job market. But good preparation and practice can help you sail through the worst. The key to solid interview readiness is preparing well, including learning about the most commonly asked questions and how to answer them best. Some templates promise to help you, but remember that success depends on your authenticity and how well you convey it beyond inspiration. So, let's get started and discover some tips and examples to answer a common interview question – "Why do you want this job." We will uncover some examples to answer the question in varied contexts and list tips to help you at the end.
Why do hiring managers ask "why do you want the job"?
Understanding why the interviewer asks a question is the key to getting the answers right. For instance, when an interviewer asks why you want this job, they are looking for:
your central motivating factors
a match with their team's motivation and values
your level of interest in the opportunity
Displaying high motivation and authentic interest in the role and the team can sail you through. On the other hand, if your answer follows cookie-cutter points and barely helps the interviewer understand the real you – it's a sign of trouble. Remember that the interview is an opportunity to learn more about the job and the company, so make the most of it. After you answer a question, listen carefully to how the interviewer reacts. It will give you valuable insights into whether or not they would recommend you for the position.
What makes an answer good?
Why you want this job happens to be one of the most common, straightforward, and yet complex questions to answer. Preparing in advance can help you tackle this one effectively. In addition to the job post, go through the company's profile, teams, and projects to place your answers better. To answer this question confidently:
Showcase your skills and experiences that make you the right fit for that job in particular. You can include references to the company's projects and explain how your skills can complement their needs. Moreover, you can add how you envision mutual growth for yourself and the team through upskilling and learning.
Highlight the company's values and how they align with your own. In this part, you can talk about your goals and how they contribute to the team's collective growth.
Make a case for why you are the best candidate for this position by showing genuine interest in that role. Remember that qualifications are not the end all; the candidate needs to see the vision and execute it impeccably. Showing how you can align your passion with the team's is critical to ensuring selection.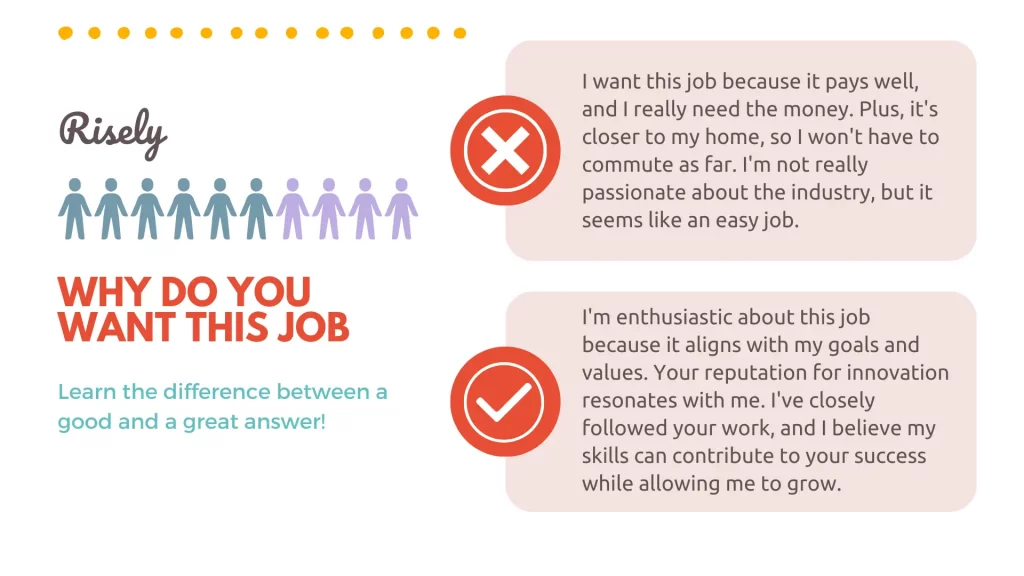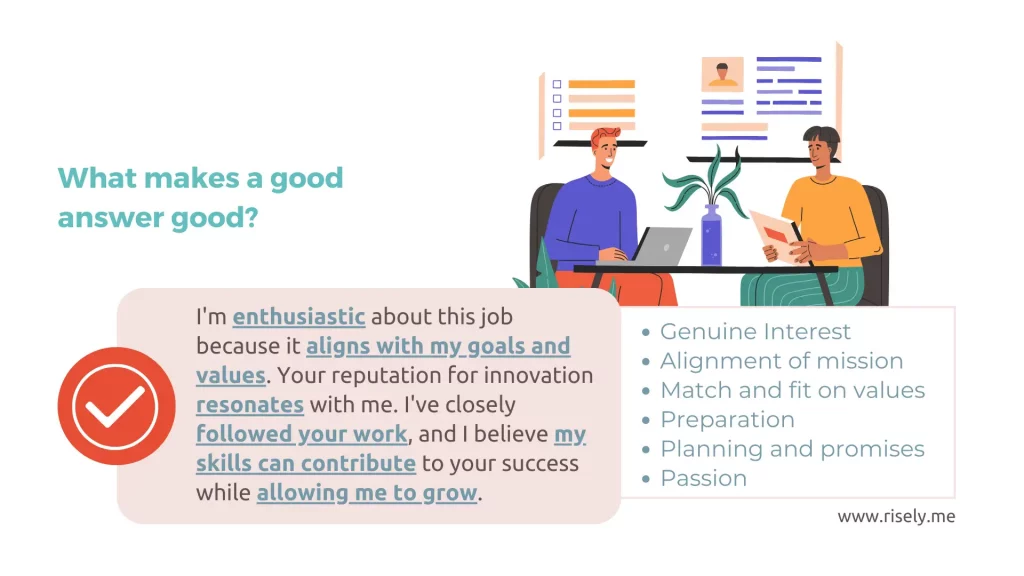 In the next section, we will see examples for answering the interview question of why you want this job smartly.
Sample Answers for "Why do you want this job?"
There are many ways to get the answer to common interview questions like "why do you want this job?" right. In the following section, we will look at some ways and areas that you can focus on while answering this question. Remember that your answer can incorporate ideas from not one but many of these sample answers!
Tell What You Love About the Job
A good way to start is to share your love for the role. Let's take some examples to understand this better.
"I want this job because it will give me a lot of opportunity to do [mention area of interest that aligns with the role]. After studying about [area of interest] during my post-graduation, I have been looking forward to working on [subject] for a long time. I tried my hands on skills during my internships too, and that has really given me confidence and boosted my interest in working on this. That is why I would love this opportunity, as it allows me to work on what I want to. It will also allow me to learn more about and add value to the role by upskilling myself."
Another way to deliver this answer can be –
"I want this job because it is a great opportunity, and I am motivated to work hard for it. [Company name] has a great work-life balance, good pay and benefits, opportunities for career development, and a supportive team culture. These are all things that are important to me as an individual and as part of my career path. The environment here is also very positive, which makes me want to give my best in every project I take on."
Let's unravel why this works: 
Specificity: The answer points to a subject or area of interest you want to explore on the job. It shows that you understand what the role involves and are enthusiastic about it! 
Establishing relevance: Another good feature of this answer is the connections it builds. The interviewee explains how this subject connects to their education, past work, and interest, demonstrating their ability and willingness to take the job. 
Honesty: Lastly, these answers work due to their honest tone. The phrases "I would love this opportunity," and "upskilling myself" show a proactive approach and openness to learning new things – both qualities that an employer would appreciate. 
Match Your Skills and Experience with The Role
Now, let's look at another way to make this answer amazing. Telling something that you love about the role is a great way to start. You can back it up by showing that your skills and competencies meet the requirements, too.
"I have noticed that the role requires strong communication skills and the ability to handle multiple tasks, and that makes me feel that I am a good fit for the job. I want to work here as it brings together my area of interest and allows me to use my skills simultaneously. This combination is the reason why I am actively looking forward to working in this role ."
If you are a senior professional who can bring in expertise in multiple areas, your answer can look like this –
"What sets me apart is my combination of technical expertise and my ability to collaborate effectively within a team. My proficiency in [mention a relevant skill] allows me to tackle complex challenges, while my strong interpersonal skills ensure I can communicate and collaborate seamlessly with colleagues and clients. I'm confident that I can bring a fresh perspective and innovative solutions to your team."
Additionally, your education is not the only area to cover. You can also talk about your relevant work experience in an answer as follows –
"You should hire me because my extensive experience in [relevant field] has equipped me with the skills and insights necessary to excel in this role. I've successfully [mention a significant achievement], which I believe directly translates into contributing to your team's success. My proven track record in [specific skills] makes me a valuable asset for [company name]."
In these answers, the key features lie in three areas: 
Identification and recognition of critical skills: The answers highlight what skills you consider essential for the role. Matching these with the employer's list adds credibility and shows a good fit.
Alignment of the part and skills: The answers show that your skills match what the employer seeks, e.g., communication and multitasking skills, demonstrating a good understanding of the job's demands.
Focusing on the unique areas: The second answer highlights experience to show unique advantages over other candidates clearly with "What sets me apart" It helps differentiate you from everyone else.
Common Values are a Great Place to Start
In this sample answer for "why do you want this job", we see a new angle you can highlight in an interview. At times, our skills may not be the exact match. But our values and shared ideas can help build bridges.
"I want this job because I admire the values of [company name]. You are committed to providing your employees with a great work-life balance, good pay and benefits, opportunities for career development, and a supportive team culture. These values align perfectly with my own, and I believe that working for this company will let me grow as an individual, both professionally and personally. I can see myself growing and improving my self-esteem a lot with the recognition this role can offer me."
Here's how it works: 
Alignment of values and passion: When you demonstrate your commitment to the team's ideas, you are likelier to be a great culture fit. Emphasizing shared values while being genuinely enthusiastic is, thus, a great hack to nail your interview answers.
Bring a long-term perspective: No one likes a hopper. Companies would love to invest in people who stick with them long-term and enable mutual growth. Hence, visualizing an initial roadmap for this and your professional development is a helpful step. 
Put the Spotlight on Your Enthusiasm and Motivation
A match is just the start. After getting the right skills and competencies, you need to display the attitude that fits the team's needs. Let's check out two ways to get this right.
"I want this job because it is a great opportunity to learn more about [subject]. From what I have read and heard, you value [e.g. innovation] immensely, and I want to be part of that. Not only will working here gives me a chance to learn new things, but the team culture here is positive and supportive, making me feel confident and assuring me that it will be a great experience."
Conversely, you can say –
"I'm genuinely excited about the prospect of joining [company name]. Beyond my qualifications, my passion for [mention an aspect of the job or industry] and my commitment to continuous learning make me an ideal candidate for long-term growth within your organization. I'm here not only to contribute to your immediate goals but also to invest in my professional development as part of the [company name] family."
A positive attitude can offer you a great start during an interview. In the above two answers, we see the positive attitude and motivation reflecting quite explicitly in two ways that you can adapt:
Using Positive Language: The terms "great opportunity," "chance to learn new things," and "positive and supportive team culture" convey an optimistic tone. This positive language reflects your enthusiasm for the potential experience.
Expressing Eagerness to Learn: The answer starts with genuinely interested in learning more about a specific subject. It demonstrates a proactive attitude and a desire for continuous learning.
Show How the Role Helps You Grow
Along with highlighting the alignment on culture and values, here's another thing you can do while answering the "why do you want this job" interview question: focus on what's in it for you.
"I want this job because it will allow me to work on [specific area]. After completing my degree in [relevant subject], I have a lot of skills and experience that I can put to good use here. In addition, your company values employee development and is constantly working to keep employees up-to-date with new trends and developments in their field so that they can develop their skill sets further. This is something that I really appreciate as it helps me grow as an individual."
Enable the interviewer to see things from your perspective and highlight the ideas that make you love that role. This includes: 
Demonstrating clarity of interest: Highlight what makes you stick, e.g., employee development opportunities. It will help the team ensure that they can create benefits that enable your performance and motivation.
Appreciating the opportunities you get: Show an appreciation for the options such as learning and development, flexible working hours, or good leave policies. It shows a positive attitude toward the company philosophy and aligns well with their expectations. 
Describe the Exciting Parts: Changes and Challenges
Sometimes, the good parts are not just opportunities; they can be challenges, too! If a role offers you an exciting challenge to beat troubles and conquer new skills, that is bound to be a great motivator that your employer would love. This answer can work in niche areas where talent is groomed in-house, and skills are not clearly defined across the industry.
"I want this job because it is a great opportunity to learn and grow. [Company name] is an established company with a strong track record, and I am looking for change and challenge. I have learned a lot at my present job, and I feel that I am ready to take charge of more things. This job offers me that as I will be working on projects that are new to me and require the use of my skills in novel ways. Combine this opportunity with the winning team culture here, and you have everything that I want in a job."
To make such answers effective, ensure:
High self-awareness: Knowing where you stand is a great starting point when tackling something new. Hence, ensure that you and your employer know the starting point and the path you wish to take. It shows that you have given thought to the role and its needs. Moreover, self-awareness is an excellent quality to showcase in an interview. 
High motivation and problem-solving ability: Changes and challenges are best dealt with by a problem-solving attitude and staying consistent despite setbacks. Therefore, showing motivation toward the role and what it entails is essential to make an impact with your answer. You can do this with phrases like "you have everything that I want in a job."
Adaptability: Lastly, challenges and changes often go astray. It makes adaptability a necessary quality to have and showcase during the demonstrate. You can do so by elaborating on your professional journey and highlighting specific instances. 

Sample Answers for Freshers "Why do you want this job?"
In addition to the sample answers provided above, freshers can change things up a bit more while answering, "why do you want this job?" Let's understand these areas with examples below:
Sample Answer #1: Describe your reasons well
The most essential step is to showcase the role as the best first step for your career. Focus on why you are choosing that role to start your professional journey with and your expectations. In addition, discuss what you are bringing to the table – making a good case of why a company should place their trust in you – through phrases such as "
contribute my fresh ideas and enthusiasm to a dynamic team
."
"I am excited about this job opportunity because it aligns perfectly with my educational background and passion for [industry/field]. The company's reputation for innovation and commitment to employee growth also drew me in. I am eager to contribute my fresh ideas and enthusiasm to a dynamic team and learn from experienced professionals in the industry."
Sample Answer #2: Showcase your preparation and aims
The second key area to focus on includes your preparation. Use your answer to demonstrate your practice and seriousness toward the role and how you want to create long-term impact. With the help of some research, you can craft a solution that bridges the gaps between you and your dream team, as shown below.
"This job represents an ideal starting point for my career. I believe it offers a challenging environment where I can apply and expand my skills while making a meaningful impact. The company's emphasis on employee development and its positive work culture make it an excellent place for a fresher like me to learn, grow, and contribute effectively."
Sample Answer #3: Display alignment with company culture and goals
Company culture is critical for freshers seeking roles that require significant on-the-job learning. Aligning well with the company's culture and values is essential. It helps them build a great starting point by showing a fit in cultural aspects.
"I want this job because I have admired this company's dedication to creating products/services that make a difference in people's lives. As a recent graduate with a strong desire to contribute, I am eager to work alongside talented professionals, learn from their expertise, and contribute my fresh perspectives to help the company achieve its goals."
Another way to deliver this answer can be –
"I am a strong believer in [company's core value, e.g., innovation or teamwork], and my previous experience at [previous company] demonstrated my commitment to these values. I am excited about the opportunity to contribute to [company name] and help uphold these principles while delivering results that align with your mission and vision."
Sample answer #4: When you want to start your career with them
Lastly, sharing a mutual long-term plan can help you answer the "why do you want this job" question well during interviews. Focusing on the growth and learning opportunities offered by the company, as shown in the answer below, demonstrates your commitment to their vision and establishes you as the missing piece of their plans.
"I want this job because I see it as the perfect opportunity to start my career with. You are a well-respected company, and your values align perfectly with mine. I am looking for an environment that will challenge me, give me opportunities to learn new things, and allow me to develop my skills. With this job, I believe that I can reach my goals both professionally and personally. The things I have heard about your supportive culture make me believe that this is the right start to my career."
How to answer "Why do you want this job" Effectively?
When interviewing for a job, the last thing you want to do is come across as uninterested or unprepared. Hence, the first step to success is preparation. A few things that you can do to nail this include:
Learn about the role and the company: Research the company and position you are applying for. Go through the job descriptions, prior projects, and the team's mission and vision statements to understand what they have done and plan to do next.
Think before you speak: Thinking right when the question is proposed won't be the best. Hence, do this before you head to the interview. Think of what made you apply and what you expect to be the role's most engaging and exciting parts. Also, consider the challenging aspects; what would you learn over the next few months if you get the role? Going through this exercise will help you build clarity.
Bring yourself closer to the company: Putting out monetary benefits as your primary motivation will not be a helpful move. Instead, think of the other ways this role can help you, which excite you. Think of the skills you can build, the growth opportunities you can unlock, and the projects you can contribute to – motivating factors that pull up your performance free from the idea of compensation.

How not to respond to interview questions?
On the other hand, there are several things that you absolutely must not do while answering such interview questions. These include:
Giving a vague answer that doesn't detail your reasons or make you stand out
Attacking the company, its mission, or values
Making any negative statements about previous employers
Focusing only on the incentives, primarily monetary
Showing that you are taking the role temporarily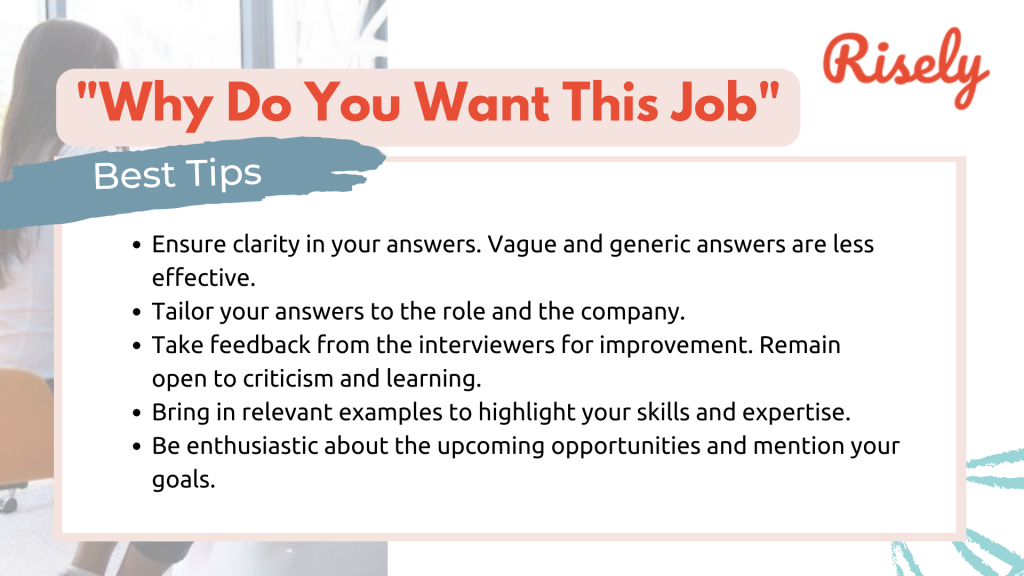 Learn how to answer more tricky interview questions here:
Wrapping up
Interviews are not the conversations we look forward to most. But they can be the game changers when tackled right! In this blog, we shared some guidelines to help you frame a great answer to the interview question, "why do you want this job?" Remember that as the question is directed toward your motivations, there can be as many unique ideas in the answer as there are people. While there are no perfect answers, we have shared a few sample answers to help you design your own. Keep revisiting Risely for more practical tips and tricks to ace management roles.
Ready to ace your next job interview? Take our free effective communication assessment
Start now and increase your chances of getting the job you desire when you know what common mistakes to avoid.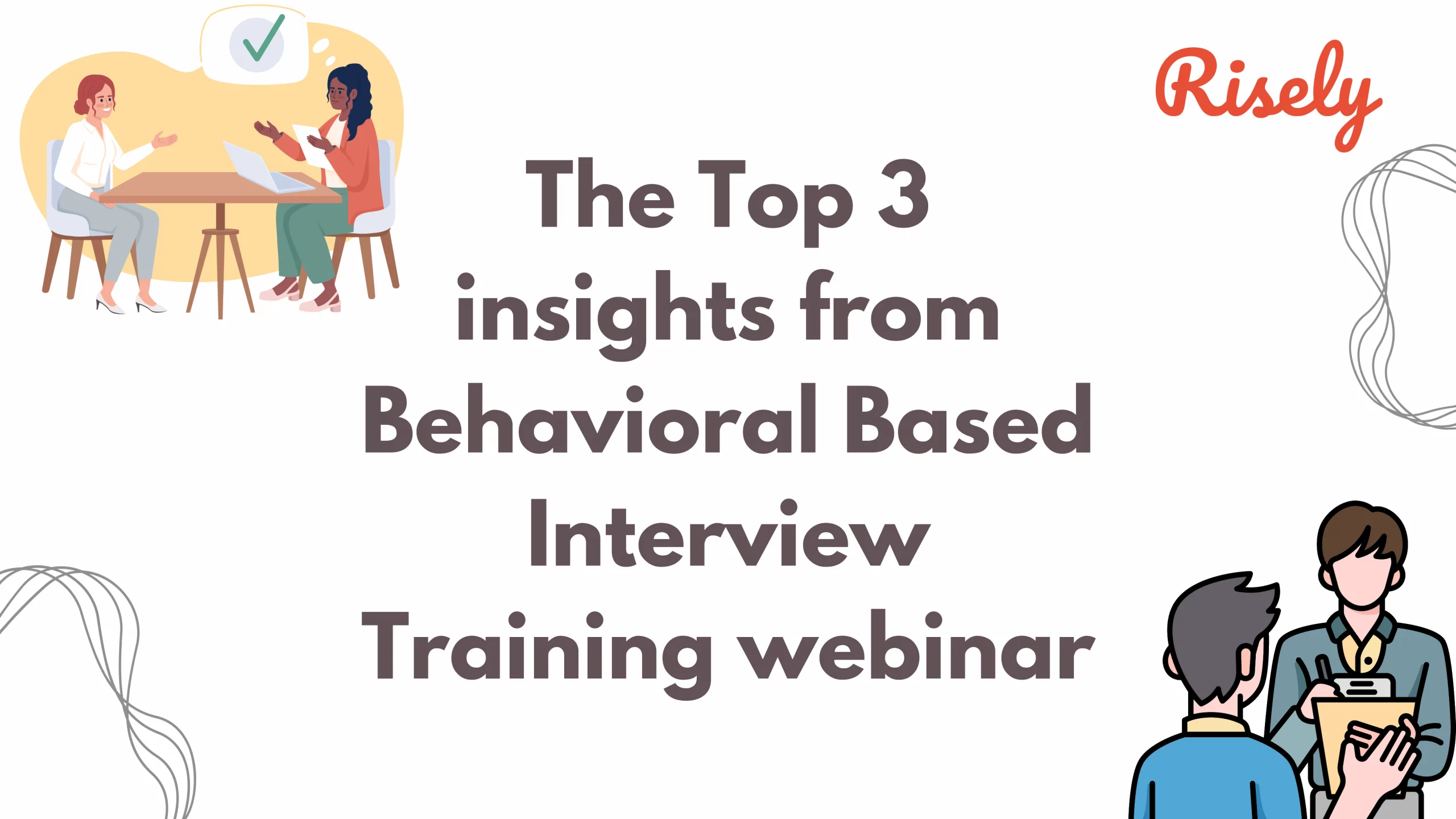 The Top 3 insights from the Behavioral Based Interview Training webinar Are you preparing for taking a job interview and feeling overwhelmed by the thought of using behavioral based questions…
10+ Examples Of Interview Feedback You Can Use In Your Next Interview Interviews are hard – and not only for the candidates! The managers who are taking the interviews often…