Competency-based Performance Reviews: How Can They Help Your Team?
Performance reviews are an essential part of managing a team. They help assess employees' strengths and weaknesses, identify areas for improvement, and align individual goals with organizational objectives. Competency-based performance reviews take this further by evaluating employees based on their skills, knowledge, and behaviors relevant to their job roles. In this blog, we will delve into competency-based performance reviews, how they benefit organizations and employees, and how to implement them in your organization. We will also discuss some tools and techniques that can assist you in conducting effective competency-based performance reviews. Additionally, we will cover common challenges associated with these types of reviews and ways to overcome them. Lastly, we will share some best practices for improving competency-based performance reviews based on real-life examples and case studies.
What are Competency-Based Performance Reviews?
Competency-based performance reviews focus on specific skills and abilities to accurately evaluate employee performance. Aligned with organizational goals, these reviews provide a comprehensive assessment beyond traditional evaluations. By identifying training and development opportunities, HR can foster
employee growth and improvement
.
Understanding Competency-Based Performance Reviews
Competency-based performance reviews involve evaluating employee performance based on predetermined competencies. Instead of traditional methods, these reviews focus on specific skills and behaviors required for success in a role. Managers can provide a more objective evaluation than subjective measures by assessing employees' ability to demonstrate these competencies. Competency-based performance reviews are essential to the
overall performance management process
and contribute to aligning employee goals with organizational objectives. By setting clear performance expectations and utilizing different competencies, these reviews help organizations effectively evaluate and improve employee performance.
Benefits of Competency-Based Performance Reviews for the Organization and Employees
Competency-based performance reviews offer several benefits for both organizations and employees. These reviews ensure that employees work towards achieving the company's objectives by aligning individual performance with organizational goals. Additionally, employees receive feedback on specific competencies, allowing them to identify areas where they can improve their skills. This feedback is crucial for
targeted training and development programs
, as it helps organizations tailor their initiatives to address specific competency gaps. Moreover, competency-based performance reviews enhance the coaching and mentoring process, providing employees with guidance and support for their professional growth. Finally, these reviews enable organizations to identify high-potential employees who can contribute significantly to the company's success.
How to Implement Competency-Based Performance Reviews in Your Organization?
Implementing competency-based performance reviews in your organization involves identifying relevant competencies for each job role, setting performance expectations based on these competencies, training managers and employees, integrating the reviews into the recruitment process, and aligning them with the talent management strategy.
Identifying Relevant Competencies for the Job Roles
A thorough analysis of job descriptions is crucial to identify relevant competencies for job roles. It helps to understand the core competencies required for each position. Involving key stakeholders in this process ensures alignment with company values and goals, fostering a more effective workforce. Using competency models or frameworks can serve as a guide, helping identify the types of competencies needed, such as technical skills, behavioral traits, and leadership qualities. It is essential to regularly review and update these identified competencies based on changing job requirements, ensuring employees' performance aligns with organizational goals. Read more:
8 Easy Steps to do a Skills Gap Analysis for your Team
Setting Performance Expectations Based on Competencies
Setting performance expectations
based on competencies is essential to communicate them to employees. Managers can do this by aligning the identified competencies with specific and measurable goals. Providing employees with examples and resources further aids in their understanding of these expectations. To promote a cohesive workforce, aligning individual and organizational goals is essential. Regularly reviewing and discussing performance expectations with employees ensures ongoing clarity and accountability. Organizations can foster a
culture of continuous improvement
and development by setting performance expectations based on competencies.
Conducting Effective Competency-Based Performance Reviews
To conduct effective competency-based performance reviews, it is crucial to provide training to managers on the best way to approach these reviews. Encouraging
one-on-one discussions
can promote open and honest feedback, allowing for a more productive review process. During these reviews, it is essential to use the entire process to identify strengths, improvement areas, and employee development opportunities. Aligning the review criteria with the identified competencies and performance expectations ensures a thorough evaluation. Lastly, fostering a supportive and constructive environment during performance discussions creates a space for meaningful dialogue and growth.
Tools and Techniques for Conducting Competency-Based Performance Reviews
Several tools and techniques can be utilized to conduct competency-based performance reviews effectively. One such tool is behavioral observation scales, which allow for the objective assessment of specific competencies. The critical incident technique is another valuable tool that gathers real-life examples of employee performance, providing concrete evidence for evaluation. In addition, incorporating competency assessments and self-assessments helps to garner multiple perspectives on an employee's performance. Leveraging technology and software platforms streamlines the review process, making it more efficient. Finally, it is crucial to train reviewers on
effective feedback techniques
and performance evaluation methods to ensure a fair and accurate review process.
Behavioral Observation Scales
Behavioral observation scales, an essential tool in competency-based performance reviews, provide a structured approach to assessing competencies. These scales utilize specific observable behaviors as indicators of competency levels, allowing reviewers to rate employees based on their demonstration of desired behaviors. By using behavioral observation scales, organizations can
eliminate bias and subjectivity in performance evaluations
, ensuring consistent and standardized evaluations across the board. This objective assessment method aligns with the goal-setting process and enables organizations to identify and develop competencies for employee performance. Incorporating behavioral observation scales in competency reviews is the best way to ensure fair and accurate assessments.
Critical Incident Technique
The critical incident technique is a valuable tool in competency-based performance reviews. It involves collecting specific examples of exceptional or problematic behavior from employees. Reviewers then identify crucial incidents that illustrate the employee's competency level, focusing on observable behaviors and actions rather than generalizations. This technique provides concrete examples to support performance evaluations and helps identify areas for improvement and development. Using the critical incident technique, organizations can gather valuable insights and provide targeted feedback to employees, enhancing their overall performance.
360-Degree Feedback
Collecting feedback from multiple sources provides a more holistic view of an employee's performance, fostering collaboration and communication among team members. This feedback can then identify strengths and areas for improvement, helping bridge skill gaps and promote continuous learning. Implementing
360-degree feedback
cultivates a culture of progress and development, enhancing the effectiveness of competency-based performance reviews. By incorporating different perspectives and types of competencies, organizations can comprehensively understand their employees' performance, setting them on the best way to achieving their goals.
Common Challenges with Competency-Based Performance Reviews and How to Overcome Them?
Implementing clear evaluation criteria can minimize subjectivity and bias in performance ratings. To improve the validity and reliability of reviews, regularly review and update the competency framework. Lack of clarity in the process can be addressed by providing training and clear guidelines. Ensure reviewers are trained in conducting competency-based reviews and incorporate calibration sessions for consistent evaluation.
Subjectivity and Bias in Performance Ratings
Establishing objective evaluation criteria is essential in reducing subjectivity and bias in performance ratings. Training reviewers on unconscious bias and providing guidelines for fair and unbiased assessments can further enhance the evaluation process. A standardized rating scale promotes consistency in evaluations, ensuring employees are evaluated on the same criteria. Encouraging reviewers to focus on specific competencies rather than overall performance helps provide a more accurate assessment. Regular monitoring and auditing of the review process can help identify and address potential biases. By addressing subjectivity and prejudice, organizations can ensure that employee's performance is evaluated objectively and fairly. Read more:
The Crucial Role of Fairness: Addressing Bias in Performance Reviews
Validity, Reliability, and Accuracy issues
Regularly updating and validating the competency framework ensures it aligns with the organization's goals. Conducting calibration sessions promotes consistent interpretation and application of competencies. Clear guidelines enhance the accuracy of assessments, while utilizing technology solutions minimizes data entry errors. Involving multiple reviewers increases reliability and reduces individual biases. Validity, reliability, and accuracy are critical factors in competency-based performance reviews. Organizations can ensure fair and accurate employee performance evaluations by addressing these issues through regular updates, calibration sessions, clear guidelines, and technology solutions. This improves the effectiveness of competency-based performance reviews, supports goal setting, and enhances overall employee performance.
Lack of Clarity in the Competency Framework or Process
One common challenge with competency-based performance reviews is the lack of clarity in the competency framework or process. To address this, organizations should clearly define and communicate the competencies required for each role. Providing detailed guidelines and examples can help employees understand the competency framework better.
Conducting training sessions or workshops
can also educate employees on the performance review process. Offering support and guidance throughout the review process ensures employees feel supported. Additionally, seeking employee feedback can help identify areas where the competency framework or process can be improved. By addressing this challenge, organizations can provide a more effective and transparent performance review process.
How to Integrate Competency-Based Performance Reviews with Employee Development and Career Pathing?
Integrating competency-based performance reviews with employee development and career pathing involves creating personalized development plans based on review results. Identifying training programs, offering mentoring/coaching, and aligning goals to ensure development efforts contribute to success. Regularly reviewing and revising plans is essential for adapting to changing needs and aspirations.
Creating Personalized Development Plans for Employees based on their Performance Review Results
When discussing an employee's performance review results, it is essential to identify areas for improvement. By collaborating with the employee, you can
set SMART goals
that align with their development needs. Providing resources and support to help them achieve these goals is crucial for their growth. Tracking progress and providing regular feedback ensures continuous improvement. Encouraging employees to take ownership of their development and explore new learning opportunities can also contribute to their personal and professional growth. By
creating personalized development plans
based on performance review results, you can effectively nurture employee development and enhance their skills and competencies.
Offering Relevant Training, Mentoring, and Coaching to Enhance Employee Skills and Competencies
Organizations should offer relevant training, mentoring, and
coaching to enhance employee skills and competencies
. It includes identifying training programs or courses that address skill gaps and providing access to mentors or subject matter experts who can guide employees in their development journey. Additionally, coaching sessions can help employees refine their competencies and overcome challenges.
Incorporating on-the-job training
and
job rotations
can also provide practical learning experiences. It is crucial to monitor the impact of these interventions on employees' performance and growth. Organizations can ensure continuous skill enhancement and overall employee development by offering such opportunities.
Examples of Successful Competency-Based Performance Reviews
Microsoft Corporation: Microsoft is known for its performance management system, which is built around a competency-based approach. They have a set of core competencies that they believe are critical for success across the organization, including qualities like adaptability, collaboration, and customer focus. Microsoft uses a "Model-Centered Performance Management" system, which emphasizes managers coaching employees to develop these competencies. Employees are evaluated not only on their results but also on how well they demonstrate these competencies in their roles. This approach has helped Microsoft foster a culture of continuous learning and development.
General Electric (GE): GE is renowned for its performance management system, which includes the "GE Work-Out" process and the "GE Beliefs" framework. The GE Beliefs framework consists of several competencies, such as customer focus, innovation, and inclusiveness. Employees are evaluated on their adherence to these beliefs and how well they exhibit these competencies in their day-to-day work. GE's performance management system has played a significant role in driving cultural change and aligning employees with the company's values and strategic goals.
Deloitte: Deloitte, one of the world's leading professional services firms, has transformed its performance management system to focus on ongoing feedback and development. They shifted from traditional annual reviews to a model known as "Performance Achievement," which emphasizes regular check-ins between employees and their managers. The check-ins focus on goal setting, feedback, and the demonstration of key competencies. Deloitte found that this approach increased employee engagement and provided more meaningful insights into individual and team performance.
Best Practices for Improving Competency-Based Performance Reviews
To enhance competency-based performance reviews:
Clearly defining the core competencies required for each role is essential. This helps set clear expectations and enables managers to provide regular feedback throughout the performance cycle.
Training managers and reviewers on effective competency-based performance review conduct ensures consistency and fairness.
Regularly reviewing and updating the competency framework keeps it relevant to the organization's changing needs.
Additionally, incorporating self-assessment and employee input promotes engagement and ownership in the review process. These best practices optimize the goal setting and assessment of employees' performance.
Incorporate performance review templates to make your job easier.
Conclusion
In conclusion, competency-based performance reviews provide a structured and objective approach to evaluating employee performance. By focusing on specific competencies required for job roles, these reviews help set clear performance expectations and identify areas for improvement. Implementing tools such as behavioral observation scales, critical incident techniques, and 360-degree feedback can enhance the effectiveness of these reviews. However, challenges such as subjectivity and bias, validity and reliability issues, and lack of clarity in the competency framework must be addressed. Integrating competency-based performance reviews with employee development and career pathing is crucial for fostering growth and enhancing skills. Organizations can create a culture of continuous improvement and development by involving managers and employees in the process and continuously improving the competency framework and review process.
Master performance management with strong feedback skills!
Take the free constructive feedback assessment for managers to address performance issues effectively.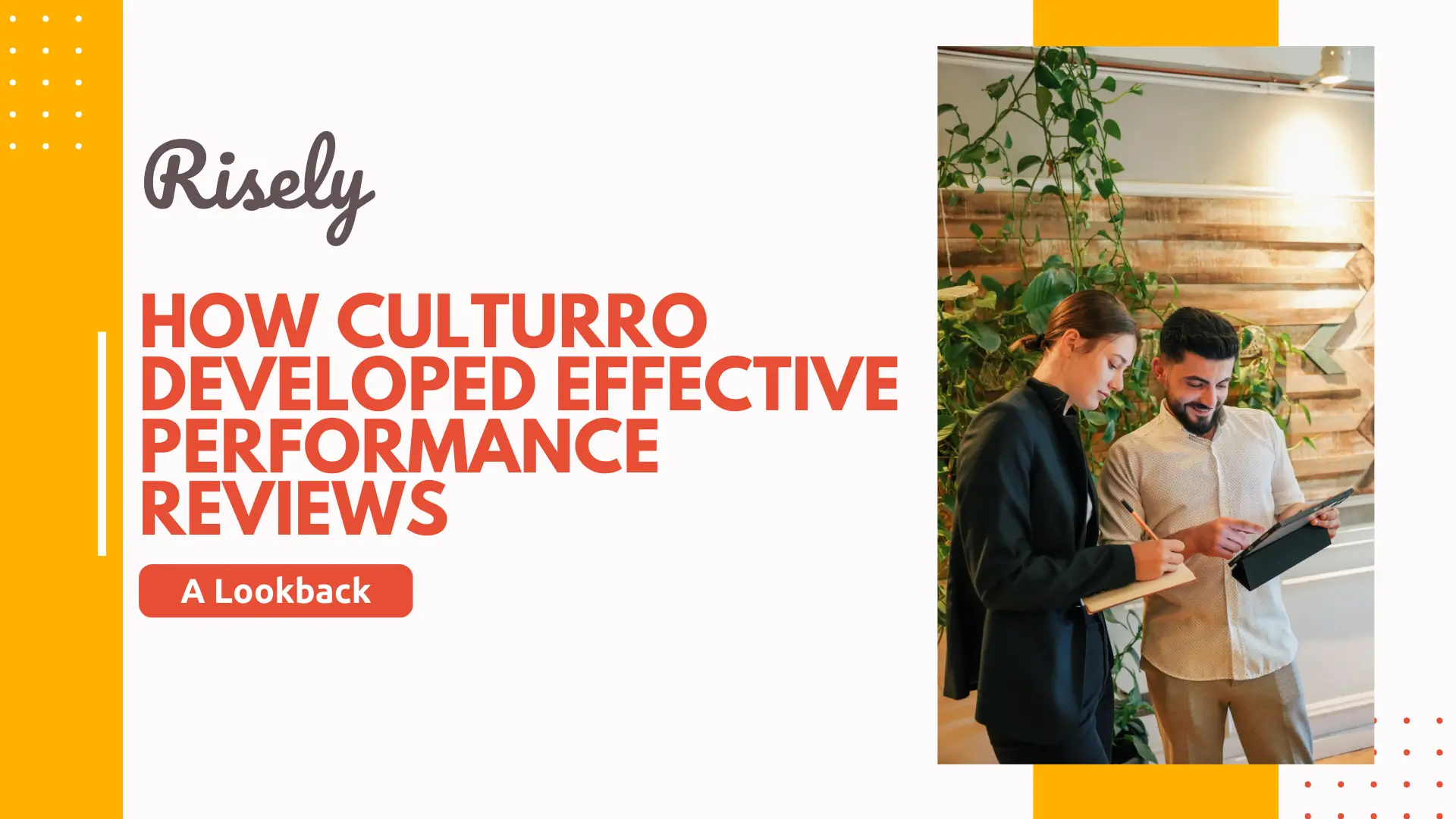 How Culturro Developed Effective Performance Reviews – A Lookback Performance management – is often a dreaded phrase, and not without valid reasons to back that fear. We often conflate performance…
Becoming an Effective Employee Relations Manager: 5 Skills You Need As an Employee Relations Manager, you are crucial in ensuring that employee needs are met and the organization operates smoothly.…