12 Ways to Build a Growth Mindset and Succeed in Your Career
A growth mindset is a mindset that believes you can achieve anything you put your mind to. And while it might seem like a lofty goal, having a growth mindset is crucial if you want to be successful in any aspect of your life. This blog post will help managers build a growth mindset within their team by providing tips on developing a growth mindset in themselves and others. Understanding the basics of a growth mindset will better equip you to help yourself and your team reach the goals and dreams you seek. Let's start by going deeper into understanding a growth mindset and the benefits managers can reap by having a growth mindset themselves and within their team.
What is a Growth Mindset?
A growth mindset is a mindset that believes that everyone can improve and learn – no matter their starting point. It is believed that one can develop intelligence, abilities, and natural talent for the better with effort. This mindset is essential for success, as it allows us to approach challenges with a positive perspective. The fundamental beliefs of people with a growth mindset are that they can improve and grow their abilities through effort and practice. They are constantly learning new things and improving their skills or even learning new skills. A
growth mindset is the opposite of a fixed mindset
in which people believe that their abilities are static and can't be changed. According to American psychologist Carol Dweck, people believe that they can even develop their most common abilities through dedication and hard work in a growth mindset. Developing their brains and talent is the starting point of this growth. Carol Dweck's research brought a growth mindset revolution. It further claimed that if people believe that they can do better, they start to understand that putting in the extra effort will make them stronger. So they begin to put in those extra efforts, which ultimately leads to higher achievement. You can achieve excellence by improving your skillset with the help of a growth mindset. Having a growth mindset helps us overcome setbacks and failures and stay motivated and focused on our goals. We are more likely to achieve our goals with it, no matter how big they may seem at first. A growth mindset lets you develop more in life and your career. It enables you to grow.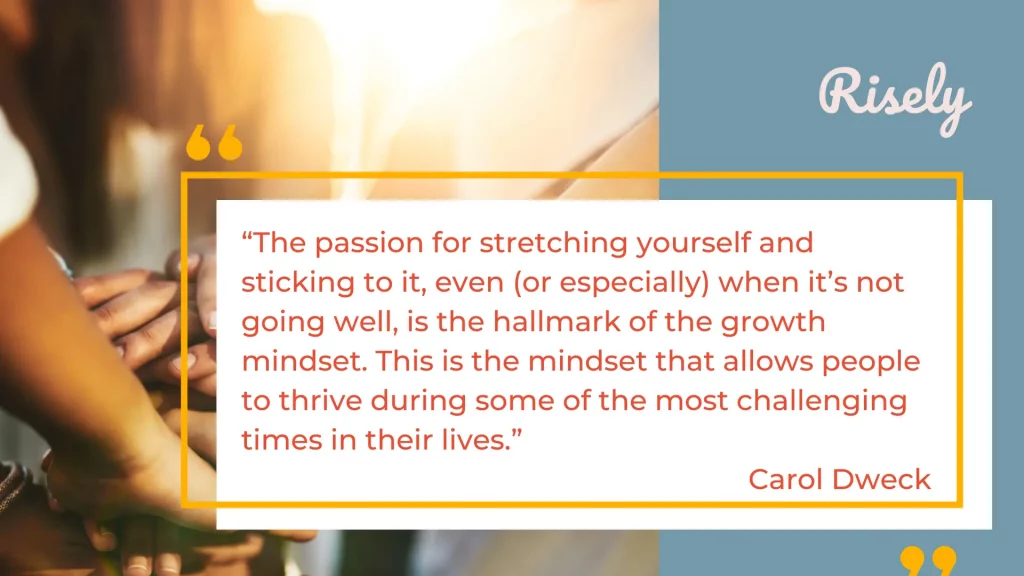 What are the elements of a growth mindset?
Belief in the Potential for Growth: People with a growth mindset believe that their abilities and intelligence can be developed through effort, learning, and perseverance. They see their potential as malleable, not fixed.
Embracing Challenges: Individuals with a growth mindset see challenges as opportunities for learning and improvement. They willingly take on new and difficult tasks, understanding that these experiences help them grow.
Persistence in the Face of Setbacks: People with a growth mindset don't shy away from failures or setbacks. Instead, they view them as temporary obstacles and maintain their efforts to overcome them. They see failure as a stepping stone to success.
Effort is the Path to Mastery: A key element of a growth mindset is the belief that effort is necessary for skill development and mastery. They understand that hard work and dedication are essential for improvement.
Learning from Criticism and Feedback: Those with a growth mindset actively seek out constructive criticism and feedback. They view feedback as an opportunity to learn and grow, rather than as a personal attack. They use feedback to make necessary adjustments and improvements.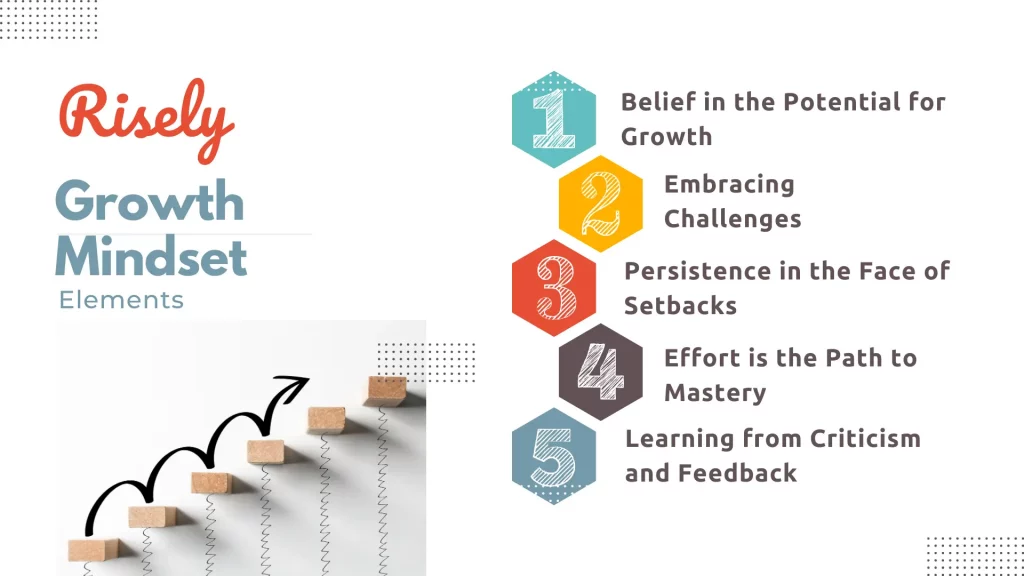 What does a growth mindset look like? Let's see some examples
Manager Encouraging Team Growth: A manager actively encourages their team to take on new responsibilities and learn new skills. They provide opportunities for team members to expand their roles and support their professional development, even if it means allowing them to make mistakes and learn from them.
Entrepreneur Learning from Failure: An entrepreneur faces a setback when their startup product fails to gain traction in the market. Instead of giving up, they analyze what went wrong, seek feedback from customers, and use the experience to pivot their business strategy and improve their product.
Manager Adapting to Change: A manager in a rapidly changing industry continuously seeks out industry trends, attends training programs, and encourages their team to stay updated. They lead by example, demonstrating that adapting to change and learning new skills is essential for staying competitive.
Benefits of managers and their team having a growth mindset
Having a growth mindset is one of the key ingredients to success. Some of the benefits which can be seen by both managers and their teams having it include:
It can unlock the tremendous potential within yourself and your team
A growth mindset is a mindset that focuses on opportunities for growth and learning rather than limitations. It is the belief that everyone has the potential to achieve great things and that with hard work, you can achieve anything you set your mind to. A growth mindset can unlock the tremendous potential within yourself and your team. A
study
conducted by Harvard Business Review stated that employees in a growth mindset-oriented company or work environment are 34% more like to feel a strong sense of commitment or ownership to the company. This ownership and commitment push them to give their best performance. When everyone on your team has this mindset, it creates a sense of unity and collective responsibility, which leads to better teamwork and productivity. In short, having a growth mindset is key to better performance and even greater success.
It can change the way you view failure
Managers and their teams with a growth mindset view failure as a learning experience that can help them improve and come back stronger the next time. They are less likely to give up on their goals and are more likely to find ways to overcome obstacles. They are more likely to take risks and persevere in the face of difficulty. As a result, the team is more likely to be motivated and perform better than those with a fixed mindset.
It can help you to be more resilient in the face of setbacks and challenges
When you have a growth mindset, you believe that success is achievable, no matter what. This mindset is fostered by focusing on your strengths and accepting your weaknesses. By doing that, you can foster resilience in the face of setbacks and challenges. This resilience is one of the primary qualities of a manager and has a significant impact on their effectiveness. When faced with difficult times, knowing that you have the strength and courage to face them head-on can give you the persistence you need to succeed.
It can allow you to think outside the box and come up with new ideas
A growth mindset, simply put, is the belief that success is possible if you work hard and that you can cultivate your abilities through effort. This mindset has proven to be a powerful tool in fostering creativity and innovation, as it allows managers and their teams to think outside the box and come up with new ideas. This is because they are encouraged to explore and question traditional ways of thinking, which helps them find new solutions. This way, you and your team can stay one step ahead of your competition.
It creates an environment of collaboration
When everyone in a team has a growth mindset, there is a natural
environment of collaboration
and sharing of ideas. With a growth mindset, individuals can understand why their fellow team members think or feel the way they do. They will then have the confidence and willingness needed to make decisions together with that person. This head-first approach is crucial in creating high-performance teams where all employees look out for each other's needs instead of advancing individually. This leads to more open communication and a better understanding of the team's goals, which facilitates the execution of these goals. In short, a growth mindset leads to better teamwork, better outcomes, and better team morale.
It helps to build harmonious relationships
Managers and team members with a growth mindset are more likely to build harmonious relationships. This is because they
trust
and accept the feelings of their teammates. They will always be open-minded to listen to feedback from other people on the team. They are also more likely to be optimistic and stress-resistant, making them suitable candidates for building harmonious relationships. Moreover, these teams see themselves as a family whose goals must come first above all else, where employees look out for each other and help one another rather than trying so hard individually.
How to develop a growth mindset in yourself as a manager?
This mindset believes that you can achieve anything if you work hard enough. Steps to build this mindset include:
Develop self-awareness
The first step for managers to develop a growth mindset involves
developing self-awareness
. It is vital so that you can identify your weaknesses and strengths. Identifying these will help you decide what you need to improve or change and what you need to continue or get stronger on. It will ultimately make you see yourself capable of improving, which is the whole crux of a growth mindset. You should also be attentive to how you think and feel and be honest about these things.
Build on your strengths
If you want to develop a growth mindset in yourself as a manager, you should focus on building on your strengths. It refers to looking at the things you already do well and developing those into even more potent versions. Doing so will push your mind and you towards looking at your doings as they could have been done better. Doing this will lead you directly towards being growth-oriented.
Instead of dwelling on your weaknesses, focus on working on fixing them
To develop a growth mindset, it is also necessary for managers to focus on fixing their weaknesses instead of dwelling on them. They should believe that they can improve their weakness rather than brooding over them. As long as you make an effort to work on dealing with your weaknesses, this will help develop a life-changing mindset and confidence within yourself to reach your ever-greater potential.
Focus on progress rather than perfectionism
Perfectionism is out of context for a growth-oriented mindset. Instead, it focuses on constant learning, improving, and taking risks instead of establishing a fixed pedestal and being satisfied with achieving it. Therefore, as a manager, you should not aim for perfectionism. Instead, you must strive for consistent progress, which can push you to unlock better versions of yourself as time passes.
Celebrate your successes, even if they don't come exactly as you planned
Celebrate your successes even if they don't come exactly as you planned. This is because your attitude towards your doings will be more encouraging, and you can get a greater sense of satisfaction if your efforts meet with success. When you take the time to reflect on your achievements, you'll begin to see that you are capable of more than you thought. This will motivate you to compete with yourself and keep getting better with time.
Take small steps towards achieving significant objectives
Take small steps toward achieving significant objectives. For example, if you want to increase the sales figures by 10%, start by aiming for a 5% increase. This will encourage you to take on even bigger goals, eventually increasing your performance output. Over time, as you achieve more successes along the way, your mindset will begin to shift, and you will be more confident in your abilities. In short, it will become growth-oriented.
Adapt some growth-oriented habits
The final and one of the most effective ways managers can develop a growth mindset for themselves includes adapting some fundamental habits. these habits may include:
Focusing on learning and growth using growth mindset statements to get clarity
Putting in the hard work
Believing in your ability
Determining your own goals using growth mindset questions
Learning from failure and success of others
Encouraging new ideas and suggestions
Going the extra mile to solve the problems from their roots
Reading and taking inspiration from growth stories
Persevere through tough times
Always having a clear vision for the future but being open to change if needed for growth
Developing such a mindset will not be enough for managers to take their team towards consistent performance. They would also require to develop this mindset within their team. But how can they do that? Let's find out in our next section.
How to develop a growth mindset in your team?
Build a culture of continuous learning
A growth mindset is one of the most important things you can cultivate in your team, and it starts with building a culture of continuous learning. By ensuring that everyone in your team is in a constant learning process, you set the tone for continuous improvement and progress, which are the keys to developing it. This will help your team become better at their jobs and take on new challenges with ease. Read more:
5 Tips on Creating a Growth Mindset Culture in Teams
Raise awareness of the growth mindset and its benefits
Managers can help develop a growth mindset in their team by raising awareness and its benefits. This is because when the team is aware of its benefits, there is a high probability that they will be motivated to develop it. Also, by raising awareness on this subject among your team members, you can help them understand how to use this helpful shift in thinking to make crucial decisions and take intelligent actions that contribute to greater success.
Growth mindset activities
and
sharing examples of success
can be a great way to get started.
Encourage individual growth
To develop a growth mindset in their team, managers also need to
encourage individual progress within their teams
. The best way to do that is by providing them with the right opportunities, setting clear expectations and realistic goals, and providing feedback that is both honest and helpful. It will also be vital for them to remove any roadblocks that may result in growth.
Reward effort and contributors for their success
Finally, to develop a growth mindset in your team, managers should reward effort and contributors for their success. This will help contributors see their hard work as a sign of pride and be more motivated to continue contributing their best in the future, which is the essence of this mindset. Further, it will create an environment where everyone feels encouraged to put in extra effort and contribute to the organization. That will ensure a growth-oriented attitude for your entire team.
Conclusion
A growth mindset is essential for success in any field of work. By understanding that mindset, you can work to develop an attitude of success for yourself and your team. If you would like to learn more about how to create a growth mindset in yourself and your team, please read our well-designed toolkit on this topic. This toolkit has everything from examples to action plans that will help you develop a growth mindset within yourself and your team.
Learn more about building a growth mindset with the free growth mindset toolkit for managers.
An extensive guide that elaborates on growth mindset and helps managers craft it in their teams.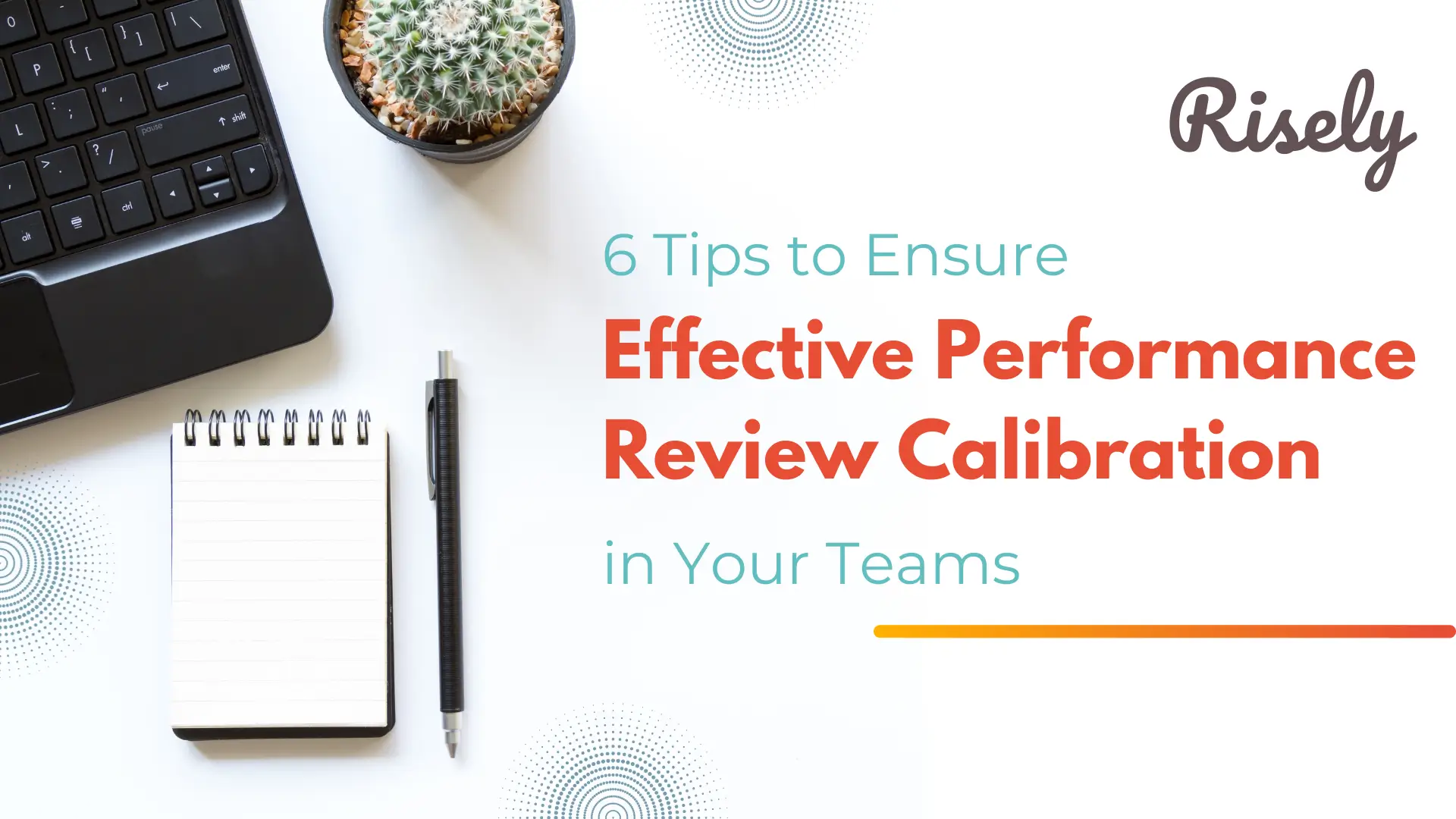 6 Tips to Ensure Effective Performance Review Calibration in Your Teams Performance reviews are vital to any organization's overall performance management process. They help companies identify critical strengths and areas…
10+ tips on how to use employee personas for better management Employees are the backbone of any organization. Understanding your employees and their needs is crucial to building a successful…