How To Set An Effective Communication Process In Your Team?
Teams are one of the most important aspects of any company. They are vital in boosting productivity and communication, two factors determining a team's success. However, teams can't do it alone when it comes to establishing an effective communication process. Ideally, it is the responsibility of managers to support their team members to ensure all communication is done strategically and effectively. This blog will discuss how to establish an effective communication process in your team, why we need one, and how you can do so. But before we dive into that, we'll give you some pointers to follow when setting up a process for your team.
What does an effective communication process look like?
Communication exists in every team. But the question is, is it effective? To ensure that your communication process is effective, you can look for a few features listed below:
Clarity: Effective communication is clear and concise, with a clear message that is easy to understand. The message should be free of ambiguity, jargon, and unnecessary complexity.
Listening: Effective communication involves active listening, where the receiver of the message pays attention to the speaker and tries to understand their point of view.
Feedback: Effective communication includes feedback, where the receiver of the message provides feedback to the speaker, indicating that they have understood the message.
Empathy: Effective communication involves empathy, where the speaker takes the receiver's perspective into account and tailors their message to their needs and interests.
Non-verbal cues: Effective communication includes non-verbal cues, such as body language, facial expressions, and tone of voice, which can convey emotions and add meaning to the message.
Respect: Effective communication is respectful, where the speaker is considerate of the receiver's feelings, values, and opinions and uses language that is appropriate and non-offensive.
Timeliness: Effective communication is timely, where the message is delivered in a timely manner and in a way that is appropriate to the context and the audience.
Overall, an effective communication process requires both the speaker and the receiver to actively participate in the communication process, with an emphasis on clarity, empathy, and respect.
Why do managers need to establish an effective communication process?
Effective communication is crucial for the success of a team. A well-developed communication process can help managers and employees build trust and cooperation. In a good communication process, messages must be clear and concise, responses should be timely, and everyone on the team must understand their roles and responsibilities. A communication process also involves mutual understanding, which means that all parties must understand one another's roles and expectations within the team. To ensure that everyone on the team is aware of what's happening and knows how to participate in its objectives, managers must establish clear communication channels with their teams. Moreover, an effective communication process is essential to keeping up productivity in teams. In the absence of effective communication processes, teams can fall into chaos and confusion. It can lead to communication breakdowns, missed deadlines, and lost projects for the team.
Best tips for setting an effective communication process with your team
Encourage teams in the workplace
Encouraging a team-based communication process can help improve productivity and team morale in the workplace. There are several best practices that managers can use to set up an effective communication process within a team. For example, one of the most important things to do is to distribute responsibilities evenly across the team. This ensures that everyone has a role to play in facilitating communication. Other areas where best practices can be applied include providing clear and concise communication channels and establishing deadlines for sending updates and information. Another helpful tool when it comes to communication on a team is collaboration. By encouraging collaboration among members of the team, all members can contribute their unique skills and viewpoints while improving communication overall.
Try communication activities for teams
Communication is one of the most important skills needed in any work environment. Your communication process with your team can impact their productivity and ability to deliver results. Communication activities such as brainstorming, role-playing, and problem-solving are some of the most popular communication activities for teams. These activities help to increase team understanding and cohesion. In addition, communication tools such as email, chat, and video conferencing can facilitate dialogue between team members. The effectiveness of your communication process will depend on the type of team you have and the goals you have for it.
Build a culture of feedback
Feedback is essential to a healthy team
culture
. Feedback enables teams to learn and improve continuously to foster a culture of feedback. Creating a culture of feedback involves setting clear expectations and transmitting feedback effectively. Getting feedback from your team can benefit all parties involved, as it allows them to understand their strengths and areas for improvement. It also helps build a sense of trust and communication between team members. Consistent with this, creating a culture of feedback can be challenging, but it's essential for creating a productive team environment. To maximize the benefit of getting
feedback
from your team, ensure that you are clear about the consequences of not receiving feedback and the process for providing feedback yourself. As with any communication process in your team, make sure that everyone understands the role of each person in the communication process and role-play different situations to ensure effective feedback transmission.
Become a facilitator of communication
Communication can be a challenging process in any work or team. To facilitate communication, you must take on the responsibility of facilitating communication and making it easy for everyone to participate. Managers can do this by creating an environment conducive to communication, such as creating a shared understanding of the goals and objectives of the team. Another important step in facilitating communication is creating a process that allows for feedback and input from all members of the team. By setting up an effective communication process, you will be able to achieve your team's goals more efficiently. Overall, communication can be a challenge in any work or team, but with the help of a facilitator, it can be made more effective and efficient.
Take regular check-in meetings
Communication is key to ensuring that everyone on your team is working towards the same goal and understands their role in the process. Regular check-out meetings can help with this. At these meetings, it's important for everyone to stay updated on progress, understand expectations of their role, and address any concerns or questions that may arise. If necessary, communication can be improved by addressing the issues in a constructive manner. It's also vital that communication be structured so that people know what is being discussed and why it's important. It helps ensure that all team members are engaged and focused on the communication at hand. If you regularly have communication meetings with your teams, you can ensure that communication flows smoothly and effectively across your organization.
Incorporate one-on-one meetings
One-on-one meetings are essential to setting up an effective communication process with your team. They allow you to connect with each member individually and address any issues head-on. These face-to-face conversations can help develop a strong working relationship, which is vital for creating a cohesive team. Regular communication between all members is crucial to creating a successful team, so it's essential to find ways to make communication efficient and effective. One-on-one meetings are one of the best ways to accomplish this goal. Regular communication between all members of the team is vital to creating a cohesive one. Besides one-on-one meetings, team meetings can be used to review goals and objectives and plan future actions. By incorporating one-on-one sessions into your communication process, you can effectively manage your team while building a solid working relationship throughout the project.
Take steps for remote teams
When setting up an effective communication process with your team, it's essential to consider their location and work schedule. One of the most effective ways for teams working remotely to stay in sync and ensure everyone is informed of progress and decisions is through regular check-ins. Managers can do this via chat applications, email, voice calls, or face-to-face meetings. It's also helpful to designate one person to communicate with the team members. Again, chat and messaging applications can help keep everyone in sync throughout the process. Additionally, creating a communication plan that includes specific times and dates for team meetings can help streamline the communication process.
Engage through stay interviews
When it comes to engaging employees in communication, stay interviews are an effective way to get employee feedback and information. These interviews allow you to ask them questions about their work, progress, and challenges without the pressure of a formal performance review. Stay interviews can be used to develop communication strategies and test new approaches. This process allows you to learn more about your employees' work culture and find ways to improve communication within the team. Regularly conducting stay interviews will help ensure that your team is functioning effectively.
Conclusion
A communication process is more than just a series of meetings. It's a way of working that helps your team work more effectively, efficiently, and productively together. When you establish an effective communication process, you're setting the foundation for a culture of communication in your team. It can help everyone feel comfortable speaking up about their thoughts and ideas, which can help your team make better decisions and solve problems faster. If you want to improve communication in your team, we've got some engaging communication activities you could try with your team.
Are you setting the right communication practices in your team?
Uncover your hits and misses in just a few minutes with Risely's communication skills assessment for managers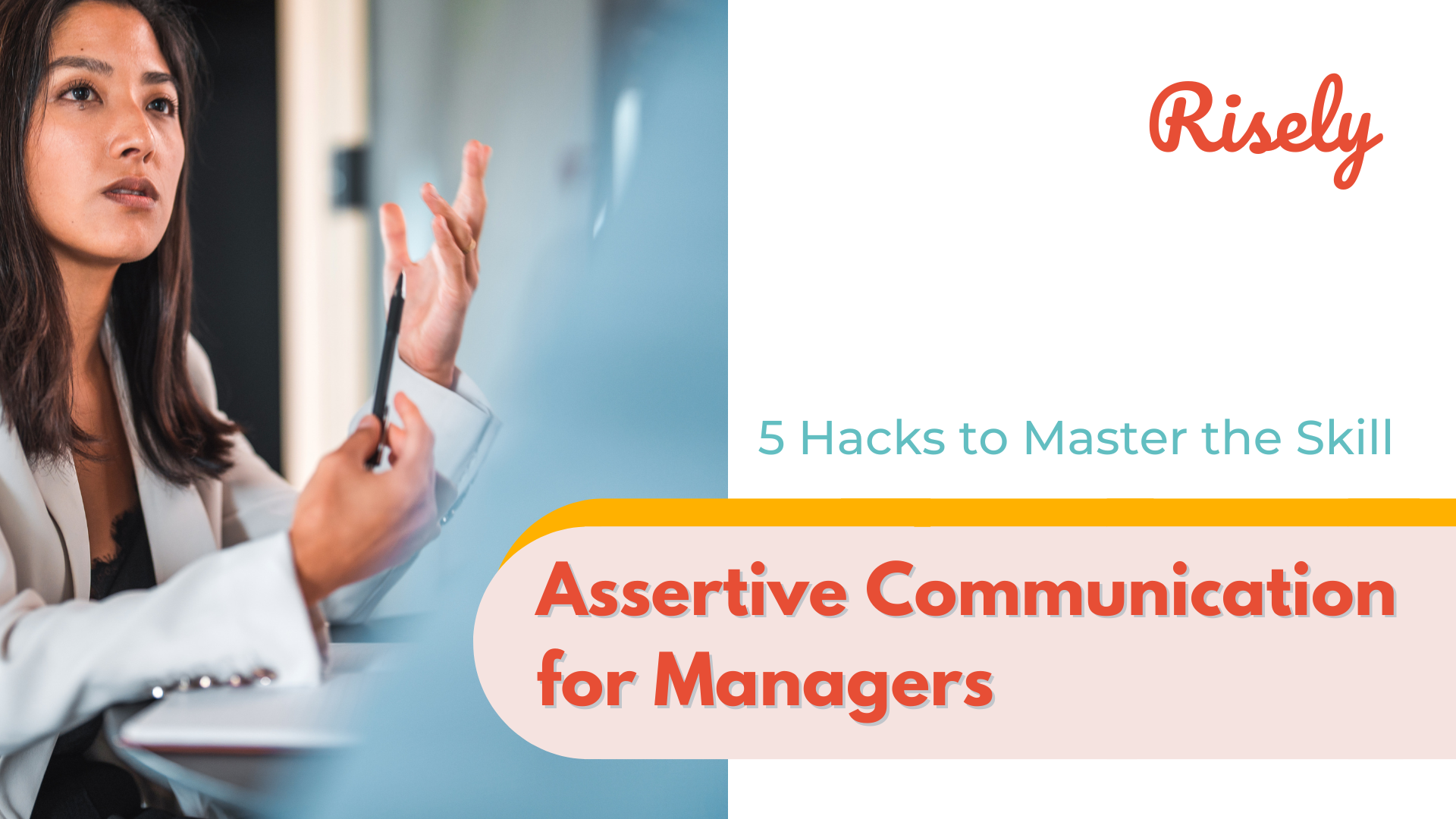 Assertive Communication for Managers: 5 Hacks to Master the Skill A manager's communication skills can make or break the success of an organization. From leading others and making crucial decisions…
Using Body Language in Training for Effectiveness: 5 Hacks In today's fast-paced world, effective communication is more important than ever. And one often overlooked aspect of communication is body language.…