How To Deal With Toxic People At Work? 7 Proven Tips For Managers
Whether you're a manager or not, everyone knows that working in a healthy and positive environment is essential for productivity. However, it's not always easy to stay away from toxicity. In this blog post, we'll discuss what toxicity is in the workplace, how a manager can spot these toxic people around them, and some steps you can take to deal with them effectively in the workplace.
What is toxicity in the workplace?
Toxicity in the workplace can take many forms. It can be anything from passive-aggressive behavior and backstabbing to out-and-out bullying and harassment. Whatever form it takes, toxicity in the workplace is a severe problem that can lead to a hostile work environment and a loss of morale among employees. Toxicity in the workplace can have several adverse effects, including decreased productivity, increased absenteeism, and a high turnover rate. It can also lead to a sense of anxiety and isolation among employees. If left unchecked, toxicity in the workplace can eventually destroy a team. Especially for managers, dealing with toxic people is something they encounter every day. As they are the center points of communication within an organization, they have to deal with various people daily. Any of those can turn out to be toxic and hinder the
manager's effectiveness
. So, it is important to spot them and avoid them or deal with them effectively. But how do managers identify these toxic people around them? Here are some toxic traits, or we can say warning signs, that can help managers spot them out:
These toxic people always need to be right
They are always offended
They are always accusing others of being wrong
These toxic people are constantly pushing their opinions on you
They are always trying to control the conversation
Toxic people always look for ways to get ahead or take advantage of you
They have a habit of blowing things out of proportion
Being a manipulator is also a sign of a toxic person
How to Protect Yourself from Toxic Coworkers? 7 Tips
Don't try to please them
As a manager, it can be a hard time dealing with toxic people, and it can be hard not to get pulled into their drama and compromise your values. However, it's important to remember that you don't have to try to please them. Trying to do that can significantly drain your energy and morale. Instead, you should stick to what you feel is correct, and you should only push yourself to please others to that point that your principles allow.
Speak up if you feel uncomfortable or unsafe around someone
As a manager, you must protect your team and yourself. If you feel uncomfortable or unsafe around someone, you must speak up. Doing so can help ensure that the group remains safe and healthy and that your concerns are considered. In some cases, speaking up may be the best way to protect yourself from harmful or damaging behavior. Above all, be confident in your decision to speak up, and remember that you are not alone in this process.
Don't get sucked into the toxicity
As a manager, it is essential to be aware of the signs that someone is behaving in a toxic way and avoid getting pulled into their toxicity. Toxic people have a way of sucking other people into their toxicity. Either by manipulation or by confrontation. They are often very good at hiding their negative emotions and behaviors, making it harder to see what is happening. Once you become aware of the signs and start to counteract them, you will be on your way to a safe distance from toxicity.
Set boundaries with Toxic People
Toxic people tend to spread negativity and
stress
everywhere they go. They can be tough to deal with, as they tend to push everyone around them away. If you find yourself surrounded by toxic people, it's essential that you take a step back and
set boundaries
. Ensure you keep your distance and set clear expectations with these people. Be firm but polite, and don't let them control your emotions. Doing this can protect you from being emotionally drained and stressed out and maintain your sanity in a difficult situation. These boundaries will also help you
maintain healthy relationships.
Keep hold of your emotions
When dealing with toxic people, keeping hold of your
emotions
is essential. Stay focused and determined, and don't get swayed by their words or actions. Toxic people usually have a hidden agenda, which aims to achieve their own selfish goals. Please don't fall for their tricks, and stay strong and confident no matter what. With some self-confidence and wisdom, you can successfully deal with toxic people and protect yourself from their negative energy. It will also be good for your mental health if you have been affected by the toxic behavior around you.
Keep a positive attitude, even when things are tough
When things are tough at work, it's tempting to give in to the negative vibes and pull all-nighters to make up for a lost time. But if you want to be a successful manager, you need to be able to keep a positive attitude even when things get tough. Toxic people can be pretty draining, and it can be hard to keep your head when all you want to do is crawl into a hole and hide. But remember: despite the challenges, there are still opportunities to overcome these challenges and thrive. With a positive attitude and a constructive approach, you can manage these toxic people effectively and avoid any damage they may be doing to your career. This positivity will also help you maintain healthy relationships and will help you come out as a good person.
Be aware of your own behavior and how it impacts others
A significant part of dealing with toxic or complicated people is avoiding developing their traits. Being too much around toxic people in the workplace can create some chances of developing
toxicity in managers
. It can ultimately take things to an opposing end and may make managers harmful. To avoid that, managers need to be aware of their own behavior and how it impacts others. They should avoid any toxic behaviors as they may create an unhealthy relationship between them and their team members. They should completely stay away from traits like arrogance, anger, cruelty, insult, etc., and should develop qualities like
empathy
and
compassion.
Conclusion
To conclude, if you as a manager consistently encounter toxicity in your workplace, it is high time you spot those toxic people and start avoiding them. You can use the traits mentioned above to spot those toxic people around you. Once done, you can start avoiding them or dealing with them effectively using the tips mentioned above. So, stay away from toxic people and keep managing your team and business effectively as managers.
Overcoming toxicity might be tricky, but assertive communication can help you succeed.
Test your assertive communication skills with the free self-assessment to make sure you are always ready to speak up.
---
FAQs
How to identify a toxic person at work?
A toxic person drains your energy at work. Typically, they would be seen as overconfident know-it-alls in the workplace who are always prepared to diminish and pull down others. They are uncooperative and engage in harmful practices like office politics which hurt the team.
How does others' toxic behavior impact your efficiency?
Toxic behavior, even when not explicitly targeted toward you, creates a harmful environment for the entire team. It creates an unhelpful atmosphere where employees are not motivated to show up and give their best daily. Interpersonal relationships break, and trust is minimal too.
How do you prove you have a toxic boss?
Note the signs of toxicity in your supervisor and collect evidence to demonstrate the same. Typically, the common signs of a toxic manager include micromanagement, lack of trust, setting unreasonable expectations, stealing the limelight and credit for work done by the team, etc.
---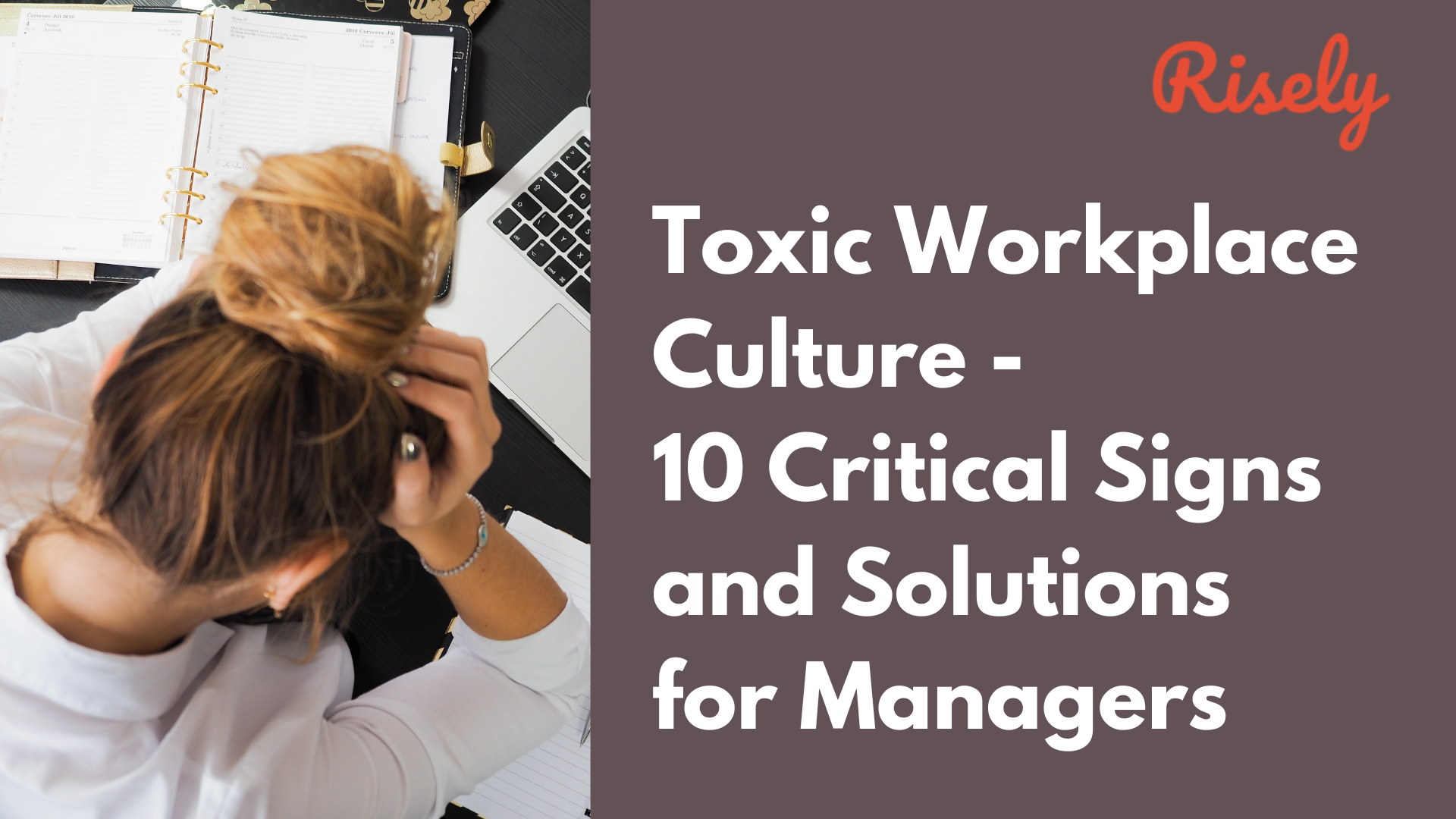 Toxic Workplace Culture – 10 Critical Signs and Solutions for Managers Do you feel undervalued, disrespected, or unappreciated at work? Are you tired of walking on eggshells and constantly feeling…
Toxic Positivity in the Workplace is Hurting Your Team's Productivity Are you tired of always hearing "just stay positive" or "look on the bright side"? While positivity can be a…