15+ Sales Manager Best Practices to Boost Your Team's Performance
As a
sales manager
, you are responsible for achieving your targets and driving your team's performance. It's easy to get caught up in the daily grind of managing a sales team, but taking a step back and focusing on sales best practices can help you significantly improve your team's performance. In this blog post, we will delve into the core areas of sales management and give you sales best practices that can help you boost your team's performance. We cover everything from sales pipeline management, sales operations, and sales training to sales territory management. We will also dive deeper into each area and discuss specific best practices that you can implement to maximize efficiency and drive results. So, let's get started!
The Importance of Sales Manager Best Practices
Sales best practices are crucial for the success and sustainability of a sales team and the organization. Here are five key reasons why they are essential:
Consistency and Predictability: Sales best practices provide a standardized approach to selling. When everyone on the sales team follows proven techniques and processes, it creates consistency in performance. Consistency leads to predictability, vital for setting and achieving sales targets and revenue goals.
Efficiency and Productivity: Sales best practices in sales help streamline the sales process, eliminating wasted time and effort. When sales reps have a clear roadmap, they can work more efficiently, handling more leads and opportunities in less time.
Higher Conversion Rates: Implementing sales best practices results in higher conversion rates. These practices are typically developed through a deep understanding of customer needs and preferences, making prospects more likely to respond positively to the sales approach.
Customer Satisfaction: Effective sales best practices prioritize the customer's needs and concerns. By understanding and addressing customer pain points, sales teams can build trust and foster positive, long-term relationships, leading to higher customer satisfaction and retention.
Continuous Improvement: Sales best practices are not static; they evolve with the market and customer preferences. Implementing these practices encourages a culture of continuous improvement within the sales team. Salespeople can learn from their experiences and the experiences of their peers, refining their techniques to stay competitive and adapt to changing conditions.
Follow the link to know about how
managers can make or break company growth.
Core Areas of Sales Management Best Practices
It is important to focus on core areas of sales management and apply sales manager best practices to ensure a more streamlined and effective sales function. Sales pipeline management plays a crucial role in tracking and optimizing the entire sales process, while sales operations ensure the smooth functioning of sales activities and processes. Sales training equips sales reps with the necessary skills and knowledge to excel in their roles, and sales territory management involves strategically dividing territories to maximize sales opportunities. Adopting sales best practices in these core areas can enhance your team's performance and drive better results. Keep reading to know more about them.
Sales Pipeline Management Best Practices
The sales pipeline visually represents the sales process, from lead generation to closing a deal. It's essential for tracking and optimizing the entire sales process. Sales managers use the pipeline to monitor the progress of leads and opportunities, identify bottlenecks, and allocate resources effectively. A well-managed sales pipeline helps predict future revenue, set realistic targets, and identify areas where additional support or training may be needed.
Clearly Defined Stages: Define and document the various stages of your sales pipeline, from lead generation to closing a deal. Ensure that all team members understand these stages and use consistent terminology.
Regular Pipeline Reviews: Hold regular meetings to review the sales pipeline with your team. Assess the progress of each opportunity, identify potential roadblocks, and strategize how to move deals forward.
Lead Scoring: Implement lead scoring to prioritize leads and opportunities based on their potential value. This helps sales reps focus their efforts on the most promising prospects.
Sales Forecasting: Use historical data and trends to create accurate sales forecasts. This helps set realistic targets, allocate resources effectively, and plan for growth.
Data Quality and CRM Usage: Ensure that your CRM system is up to date with accurate data. Train your team to use it consistently for tracking interactions, recording notes, and maintaining a clean database.
Sales Operations Best Practices
Sales operations are responsible for the smooth functioning of sales activities and processes. They focus on optimizing sales processes, tools, and technology to enhance the sales team's efficiency. Sales operations teams often handle tasks like territory alignment, compensation plans, sales analytics, and sales software and tools integration. Their role is crucial in ensuring the sales team has the resources and support needed to meet and exceed targets.
Process Documentation: Document all sales processes, workflows, and best practices. This ensures that everyone follows standardized procedures for efficiency and consistency.
Technology Integration: Integrate sales tools and software to streamline operations. This includes CRM systems, marketing automation, analytics, and communication platforms.
Sales Enablement: Develop sales enablement resources, such as sales collateral, playbooks, and training materials, to support your sales team's daily activities.
Sales Data Analytics: Use data analytics to track and measure the performance of your sales team and processes. This data-driven approach helps in making informed decisions.
Sales Compensation Plans: Design competitive and motivating compensation plans that align with the company's goals and incentivize sales reps to meet or exceed targets.
Sales Training Best Practices
Sales training equips sales representatives with the skills and knowledge they need to excel in their roles. It covers various aspects, including product knowledge, communication skills, objection handling, and negotiation techniques. Effective sales training leads to higher sales performance, increased customer satisfaction, and improved team morale. It's an ongoing process that adapts to changes in the market, product offerings, and customer needs.
Role-Specific Training: Tailor training programs address the specific roles and responsibilities of your sales team, whether it's inside sales, field sales, or account management.
Continuous Learning: Promote a culture of continuous learning by offering ongoing training and development opportunities, including workshops, webinars, and mentorship programs.
Product and Industry Knowledge: Ensure that your sales team deeply understands your products or services and the industry you operate in, allowing them to speak with authority and confidence.
Sales Skills Enhancement: Improve essential sales skills, such as objection handling, negotiation, active listening, and relationship building.
Role-Playing and Practice: Incorporate role-playing exercises and real-world scenarios into training sessions to help sales reps apply what they've learned in a practical context.
Sales Territory Management Best Practices
Sales territory management strategically divides geographic or market areas among sales reps to maximize sales opportunities and efficiency. This process considers the potential for sales, the existing customer base, and the resources available to each salesperson. Well-structured territory management ensures that each sales representative can focus on their allocated area, providing better service and potentially increasing sales.
Market Analysis: Conduct a thorough market analysis to understand the potential of different territories. Consider factors like demographics, competition, and economic trends.
Equitable Assignment: Assign territories fairly, considering factors like salesperson experience, skill set, and workload capacity. Avoid overloading or underutilizing your sales team members.
Regular Evaluation: Continuously assess the performance of each territory. Adjust assignments as needed to allocate resources where they can have the most impact.
Customer Segmentation: Divide territories further by customer segments to ensure each sales rep can tailor their approach to specific customer needs and preferences.
Communication and Collaboration: Encourage communication and build collaboration among sales team members, especially when multiple reps cover adjacent territories. This can help identify cross-selling opportunities and share sales best practices.
Conclusion
To be a successful sales manager, it is crucial to implement sales best practices in various areas of sales management. This includes effective sales pipeline management, streamlined sales operations, comprehensive training, and strategic sales territory management. Focusing on these core areas can enhance your team's performance and drive better results. Regarding sales pipeline management, leveraging CRM software can help streamline the process and provide valuable insights. Regularly measuring and analyzing sales pipeline reports allows you to identify areas for improvement and make data-driven decisions. Keeping the entire company informed through regular updates is essential for sales operations. Additionally, ensuring that efficient and concise sales processes can save time and improve productivity. Investing in comprehensive sales training is another crucial aspect of boosting your team's performance. Customizing training sessions to cater to different roles and regularly conducting follow-ups and refresher sessions can help your team stay updated and motivated. Lastly, implementing sales best practices in sales territory management, such as strategic territory allocation and continuous monitoring, can maximize efficiency and ensure optimal coverage. By adopting these sales best practices, you can elevate your sales team's performance and drive success in your organization.
Ace your leadership role with strong delegation skills.
Master the art of delagation by reviewing your skills with a free assessment now.
---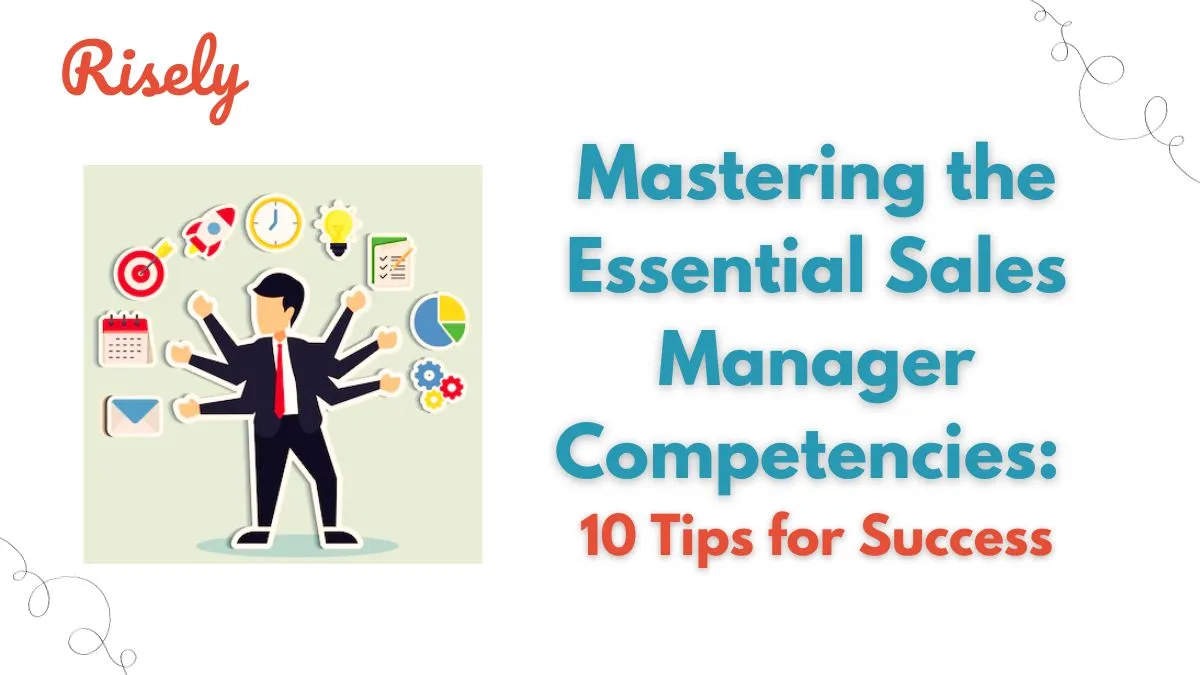 Mastering the Essential Sales Manager Competencies: 10 Tips for Success Sales management is a critical role in any company. It bridges the sales team and upper management, ensuring sales goals…
Understanding Virtual Learning Fatigue: Top 10 Symptoms & Solutions Learning is a continuous process, and it can be stressful at times. Learning fatigue, also known as cognitive overload, happens when…