How To Improve Written Communication Skills In the Workplace: 5 tips
Having written communication skills is a must for every manager. In today's fast-paced world, communication skills are vital to your success. Effective communication skills help you make sound decisions, manage people and create a positive team environment. Being good at written communication can improve your managerial skills and help you deliver better results. If you are looking to improve your written communication skills for managers, you've come to the right place. Here's a list of effective
communication skills
every manager should have in their repertoire, which will boost their confidence and that of their team members and organization.
What is Written Communication?
Written communication is the use of words to communicate information. It can take many forms, including emails, letters, memos, and reports. It is essential for transmitting messages and information between employees, partners, or customers and their respective supervisors or managers. It can also communicate important company policies or procedures to employees. However, it is primarily used for formal purposes. However, effective written communication requires a good understanding of grammar and vocabulary. It helps in developing messages that are clear, concise, and to the point. When it is done well, it can help avoid confusion and frustration among the parties involved.
Effective communication
in the written form requires time and effort to be put into it. The content must be thoughtfully crafted, and the message must be communicated to avoid ambiguity. It requires tailoring the message to the audience to ensure an optimal impact. Also, writing skills can help you develop your voice and creative ideas. Thus, writing skills are essential for managers to ace communication at work.
What are the types of written communication?
There are a variety of types of written communication, including:
Email
Text message
Policy documents
Blog post
Business letter
Resume
Contract
Job description
Memos and circular
Reports
Written communication examples for managers
Written communication can be defined as any communication that is done in a formal or informal setting. It can take many forms, from emails to memos to meeting minutes, from a business memo to an employee email. However, effective communication in written form for managers is more than just sending emails. Effective communication for managers involves knowing the different forms of written communication and using the correct format for the situation. Examples of written communication at work or managers can include things like policy documents which the entire team is required to abide by. It also includes notices, circulars and memos shared across the team for official purposes. The emails written for day-to-day operations of the team are a part of this too. Effective written communication for managers helps build trust and rapport with team members by ensuring that all information is shared clearly and accurately. And ultimately, it helps lead to
better strategic decisions
and increased productivity in the workplace.
Why is written communication important?
Written communication is an important part of any manager's job. Not only can written communication provides the necessary information to make informed decisions, but it can also help build trust and credibility between managers and employees by providing a record of interactions. Effective written communication can help managers quickly and efficiently resolve conflicts and problems, improving employee satisfaction and morale. Additionally, effective written communication can help create a
positive working environment
for everyone involved by helping to communicate ideas clearly and effectively. Overall, it helps to improve the efficiency and effectiveness of both managers and their employees.
Advantages of written communication for managers
Clarity and precision: Allows managers to clearly articulate their ideas and thoughts, reducing the likelihood of misinterpretation or misunderstanding. It ensures that everyone is on the same page and reduces the risk of confusion.
Record-keeping: Provides a permanent record that can be easily referenced later. It is useful for tracking progress and making decisions and can help to prevent disputes or confusion.
Reach: Can be sent to many people at once, making it an efficient way for managers to disseminate information or instructions to a broad audience.
Professionalism: Gives a more professional image to the manager, as it is formal and well-organized. It can be particularly important in business situations where the manager represents the organization.
Evidence: Serves as evidence in legal or other disputes and can be used to support decisions or actions.
Consistency: Helps to ensure consistency in messages, instructions, or policies, which is important for maintaining efficiency and order within the organization.
Consideration: Allows managers to take the time to carefully consider their message and organize their thoughts, rather than having to rely on an impromptu or off-the-cuff communication.
Flexibility: Can be edited, revised, or updated, allowing managers to make changes or corrections as needed quickly.
In conclusion, written communication is an essential tool for managers, providing clarity, precision, and reach while promoting professionalism and record-keeping. It can help managers communicate effectively with their teams, maintain consistency and control, and make informed decisions.
Disadvantages of written communication for managers
Lack of personal touch: It can lack the personal touch of face-to-face or verbal communication and can come across as cold or formal. It can lead to a lack of emotional connection or rapport between the manager and employees.
Misinterpretation: Although it provides clarity, it can still be misinterpreted or misunderstood, primarily if it is poorly written or lacks context.
Time-consuming: Writing effective communication can be time-consuming, requiring managers to spend time crafting their message, editing, and proofreading.
Technical issues: Technical issues, such as technical failures or compatibility issues, can impede written communication and prevent important messages from being received.
Formality: It can sometimes be perceived as overly formal, especially when informality and personal connections are essential.
Delay: Communication in writing can take longer to receive and respond to than verbal communication, leading to delays in decision-making or action-taking.
Limited feedback: It often lacks the immediate feedback of verbal communication, making it more difficult for managers to gauge the impact of their message or understand how it is being received.
Inflexibility: Communication in written form can be rigid, making it difficult to respond quickly to changing circumstances or unexpected developments.
In conclusion, while written communication provides many advantages, it also has some disadvantages that managers must be aware of. The lack of personal touch, the possibility of misinterpretation, and the time it takes to produce effective writing are just a few of the drawbacks managers must consider when using this form of communication.
How can managers improve written communication skills?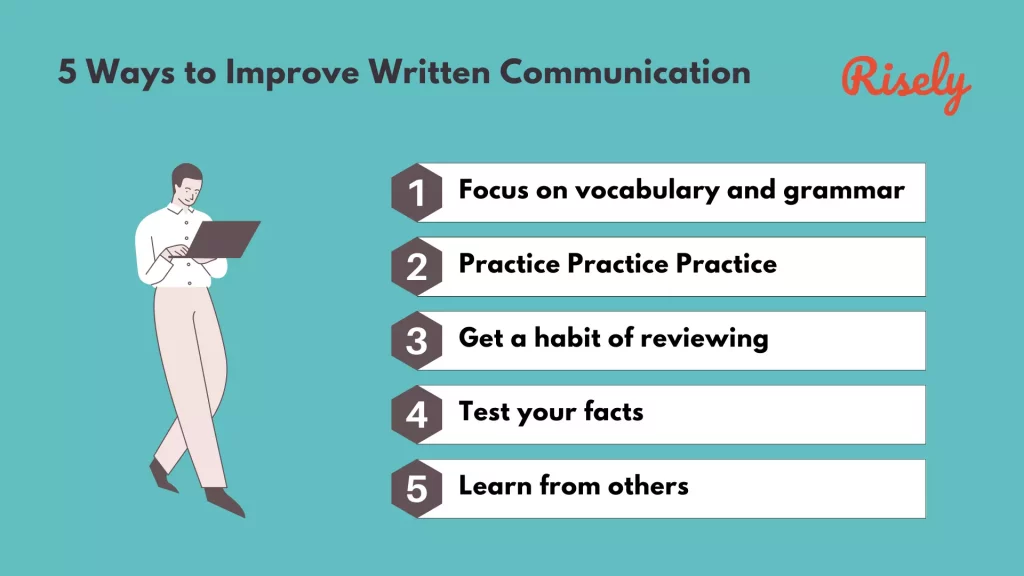 Focus on vocabulary and grammar
One of the main and the most important component of building strong written communication skills as a manager lies in developing the right lexicon for your team communication. Based on your field of operation, some jargons and terminologies are needed to convey ideas accurately. Managers should focus on identifying these ideas that are common to their niche and use them while communicating with teams to stay in the write mindset. In addition, a manager needs to develop a vocabulary of comprehensible and simple words which do the job of sharing complex messages in an easy manner. Your words need not be complicated just for the sake of it. But they should get the job done, i.e., construct clear and understandable sentences. Similarly, a sound knowledge of grammar is needed to demonstrate extensive written communication skills. Check out "
7 Principles of Effective Communication in the Workplace
"
Practise Practice!
As with any other skill, the key to improving written communication skills also lies in constant and consistent practice. Practicing your skills repeatedly is the simplest and also the strongest way to get better. While writing your next email, re-read it a couple of times before you hit send. You might find some interesting ideas to make it better! When you practice longer, you will also develop a personal writing style.
Get a habit of reviewing
It is tempting to send the mail as soon as you are done putting the last period. But – stop right there! Always proofread your work multiple times before you share it with others. While utmost care has been taken while writing the piece originally, some cunning errors escape notice of repeated checks. Also, do not start editing your piece immediately after you finish writing. It is best to wait a few hours and let your brain become active again before you embark on the editorial journey. Starting from small changes, you can slowly move on to bigger ones with sufficient practice. Check out "
How to Overcome Barriers to Effective Communication? 10 Tips for Managers
"
Test your facts
One of the most important advantages of written communication is that it lets you think before you communicate. Hence, make sure that you make the most of this opportunity by ensuring authenticity. Check your facts and review your ideas multiple times before you share them. As written communication is not immediate, it can be too long before you receive feedback and opportunity to rectify mistakes. Therefore, it is crucial to check whether your ideas are correctly represented or not and that their is little scope for misunderstanding. In the formal nature of written communication, the emotional side of things should not be compromised either.
Learn from others
The best way to improve written communication is by learning from others around you. You can look at samples and examples available across the internet to get ideas and inspiration for developing better-written communication skills. A habit of reading can also help you grow awareness and build a better vocabulary. In addition, you can also ask your team members and peers for feedback to see where they can find gaps in your skills. In totality, learning written communication skills is about having a constant appetite for improvement. Check out "
12 Fun Effective Communication Activities for Team Building
"
Conclusion
Written communication is vital in business today. The world of business is evolving at a faster pace than ever before. Therefore, it demands communication skills from everyone. You cannot be effective as a manager if you are not proficient in different forms of communication skills. These skills can help you to communicate better, clarify things more quickly, and manage conflicts more efficiently. They also help you to do your job more efficiently and effectively, which is why they are essential skills for every manager and aspiring leader.
Are your communication skills helping you grow?
Test your communication skills for free with a self-assessment that covers all-round communication skills of managers.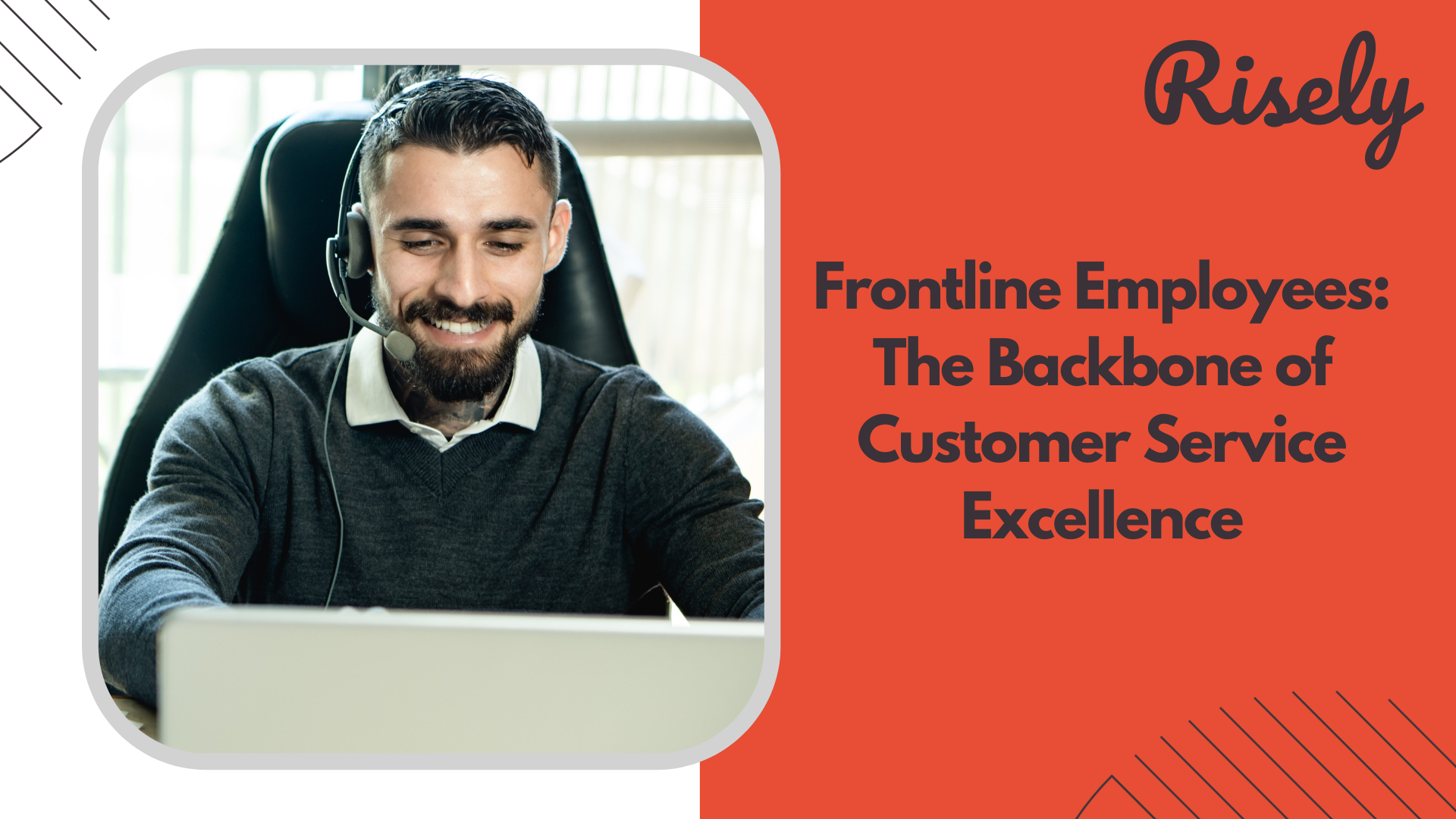 Frontline Employees: The Backbone of Customer Service Excellence Frontline employees are the unsung heroes of many industries. They are the first point of contact between a company and its customers,…
Top 8 Strategies to prevent Groupthink in the workplace Groupthink is a silent menace that can creep into the workplace, undermining the very essence of effective decision-making and innovation. Organizations…