How to Handle Defensive Behavior in the Workplace? 7 Tips for Managers
All of us have experienced defensiveness at some point in our lives. Whether we're feeling overwhelmed or insulted, defensive behavior is simply how our brain reacts in difficult situations. But while defensive behavior in the workplace can be frustrating for employees and managers alike, it's not always easy to deal with. That's where these tips come in – helping you understand why people act defensively, providing ideas on how to identify defensive behavior, and providing steps for effectively managing defensiveness. So whether you're a manager trying to prevent defensiveness from turning into conflict, or an employee looking for ways to handle difficult conversations without acting defensively, let this blog help!
What does Defensive Behavior in the Workplace look like?
When employees exhibit defensive behavior, it can be difficult for managers to handle the situation effectively. Defining defensive behavior can be tricky, but it's essential to do so in order to understand the different methods of defense better. In addition, defensive behavior can also be classified according to its purpose. The main reasons for defensive behavior among employees are emotions, tenure, power, prestige, and self-preservation. Understanding why employees act defensively is key in managing the situation effectively. Emotions can range from slight irritation to deep resentment. Knowing what triggers an employee's defensiveness is essential in understanding the patterns of defensive behavior, which can help managers address the issue more effectively. Additionally,
setting boundaries
and clear expectations will help prevent the development of defensive behavior in the first place. It's important to remember that defining defensive behavior is difficult, but it's necessary to manage it effectively. Let's look at some common examples of defensive behavior in the workplace that we get to see.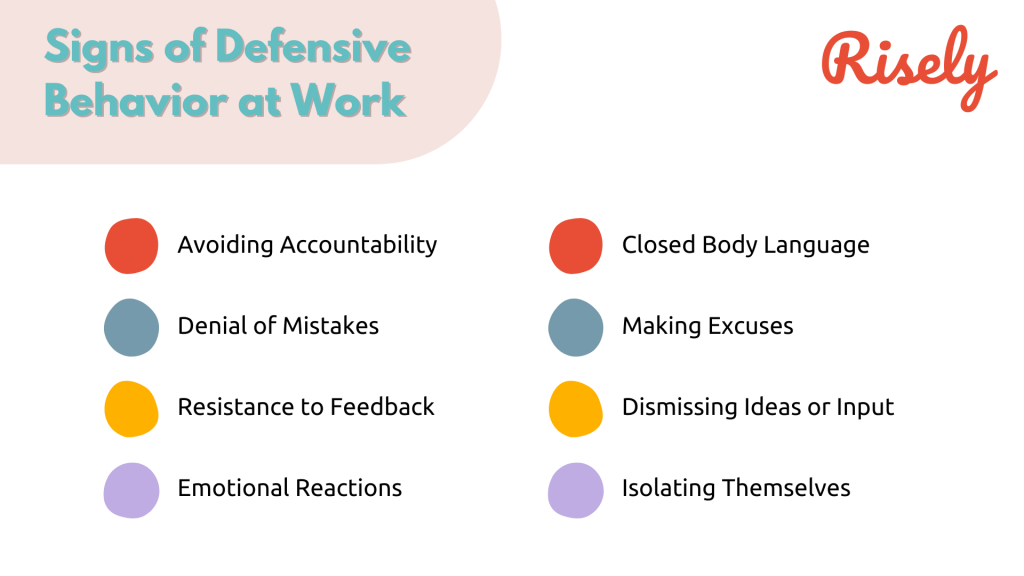 Examples of Defensive Behavior in the Workplace
Blaming others: When a mistake is made or a project fails, some people may immediately look for someone else to blame rather than taking responsibility for their own actions.
Refusing to accept feedback: When someone offers constructive criticism or feedback, defensive individuals may become defensive and dismissive, instead of considering the feedback and making changes.
Avoiding responsibility: Some individuals may avoid taking on new tasks or responsibilities out of fear of failure or making mistakes.
Making excuses: Defensive behavior may involve making excuses for one's own actions or lack of action, rather than taking ownership and finding solutions.
Being closed-minded: Defensive individuals may be resistant to new ideas, perspectives, or feedback, choosing instead to stick to their own ways of thinking.
Being overly critical of others: Some people may deflect attention away from their own shortcomings by being overly critical of others or finding fault with their colleagues' work.
Being defensive in communication: People may get defensive in communication, which involves being dismissive, using confrontational language, interrupting, or taking things personally.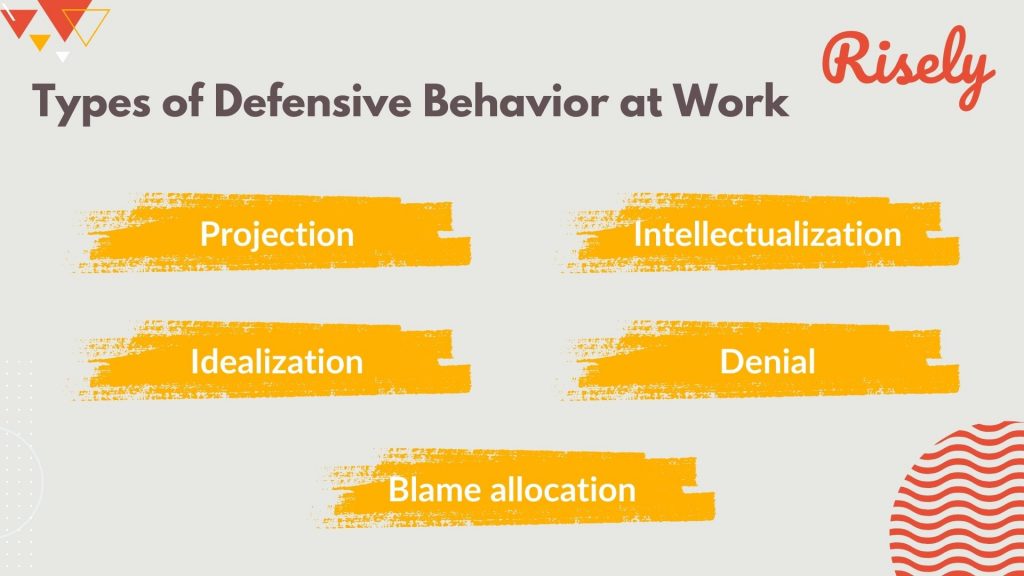 Types of Defensive Behavior at Work
The world of work can be challenging, and employees can get defensive in various ways. It is your responsibility as a manager to create a productive work environment by being proactive and understanding how your employees can defend themselves. There are five types of defensive behavior:
Projection: Employees may project their own problems or emotions onto others in order to avoid being held accountable. Employees may ascribe negative qualities to someone else for them to feel better about a situation. They can often do this out of habit or because it's easier than admitting fault. For example, Ruby often arrives late to the office and, when questioned by her managers about her regular lateness. Instead of acknowledging her mistake, she points out that other team members are also late at work. By blaming others, she shifts the focus on others without taking responsibility for her actions.
Intellectualization: Employees may try to rationalize or explain their behavior to avoid taking responsibility. They may devise elaborate excuses for why they did something wrong or how someone else is responsible. It can be a way of trying to hide from accountability and escape punishment. For example, Sarah, a team member, makes a mistake on an important project, which leads to a delay in the delivery of the project. To avoid responsibility for her mistake, she made up an explanation of how the instructions for the project weren't clear and precise, which led to the delay.
Denial: Employees may refuse to accept responsibility for their actions, even when proof exists that they are at fault. They may claim that nothing happened or that the other person exaggerates the situation. Denial can be a way of defending oneself from guilt, embarrassment, and shame. For example, Linda forgets to forward an important message to her team member, and later, when asked about it, Linda blames it on the other person whom she swears to have conveyed the message to. She insists that she forwarded the info, denying responsibility for her action.
Idealization: Employees may idealize or exaggerate their own abilities and positive qualities to feel better about themselves. They may see themselves as perfect, even when they don't meet those standards. This can lead them to take credit for things that are rightfully someone else's responsibility, or it can cause them to overlook negative behaviors on their behalf. For example, John, who is part of a team project, consistently presents himself as the project's sole driving force, taking credit for the entire project's success. In reality, it was a collective effort. John's idealization of his role overshadows the contributions of his colleagues.
Blame allocation: Employees may try to shift the blame onto someone else to avoid taking responsibility for their actions. They may say that the other person is at fault, or they may assign different levels of responsibility based on who is present and whom they are trying to protect. This can create confusion, conflict, and frustration among coworkers. For example, Suppose a critical part of a project fails, and several team members are involved. Rather than acknowledging his role in the failure, Mark tries to shift the blame onto his colleague by highlighting her involvement in that part. He aims to protect his image and assigns a disproportionate responsibility to her.
Each affects the individual's emotional state and ability to function in the workplace. These five types of defensive behavior are not mutually exclusive – an employee might exhibit some combination of them in different situations. At times, they might be playing the victim card to get out of the situation. You can read more about
dealing with an employee always playing the victim card
here. Managers need to be aware of these behaviors, so they can address them effectively before they get out of hand. If you're ever struggling to manage defensive behavior in the workplace, these five proven tips will help you out.
Why Do People Have Defensive Behavior At Work?
There are times when people act defensively in the workplace – and there's nothing wrong with that. People may have defensive behavior in the workplace because of insecurity or anxiety. Some factors contributing to this behavior include stress, working in a pressure-filled environment, and unfair treatment at work. Some people use defensive behavior as a coping mechanism. By taking charge and asserting themselves, they can feel better about themselves. In turn, this may help them to remain calm and productive in stressful situations. Others may see defending themselves as their job – even if it means frequently coming across as arrogant or entitled. At times, defensive behavior is a symptom of narcissism. Whatever the reason behind it, defensive behavior can negatively affect both the individual and their team members. When employees avoid taking ownership of their actions or behaving aggressively towards others, things start to break down quickly. This often leads to tension and conflict among coworkers, which is counterproductive in terms of both work productivity and morale. Read more:
5 Ways To Master Emotional Management At Work For Managers
How Does Defensiveness at Work Harm The Environment?
Defensiveness in the workplace can be frustrating and counterproductive. It can have a detrimental impact on the productivity of your team. The
team dynamics
and morale are crushed due to tension and conflict. Studies have shown that people who often resort to defensive behavior are usually afflicted by mental fatigue. Effectively, they will be less helpful and engaging. Instead, they will become more disruptive and problematic to the environment. Further, the unyielding nature of a defensive person is a major hurdle in collaboration and teamwork. Resultantly, productivity suffers in the presence of defensive behavior. Defensiveness at work can often foreshadow more significant problems. Some common defensive behaviors to look out for as a manager include controlling the conversation, changing the subject, or avoiding eye contact. When these modes of communication become entrenched in an employee's behavior, it becomes increasingly difficult for them to open up and share their thoughts freely with their manager – something which is essential for
effective communication throughout the workplace
.
What Do Defensive Managers Look Like?
Defensive behavior at work is not limited to employees. Often, managers can take the baton and become defensive at work, creating a ripple effect in their team. A signs of defensive managers include:
Avoiding or dismissing feedback from team members
Not accepting mistakes or pushing the blame on to others
Hoarding tasks and responsibilities
Preventing change and new ideas
When defensive managers step into the role, it can negatively affect their team and employees. How defensive managers react to criticism or challenges can unintentionally create a climate of defensiveness. This means that employees are more likely to be defensive when interacting with them, and they may start to avoid any discussion or interaction, which could lead to confrontation. As a result, the team will become less productive as communication breaks down. Defensive management also harms employee morale – it's difficult for people who feel like they're constantly on guard emotionally and physically too! The bottom line is that when defensive managers take.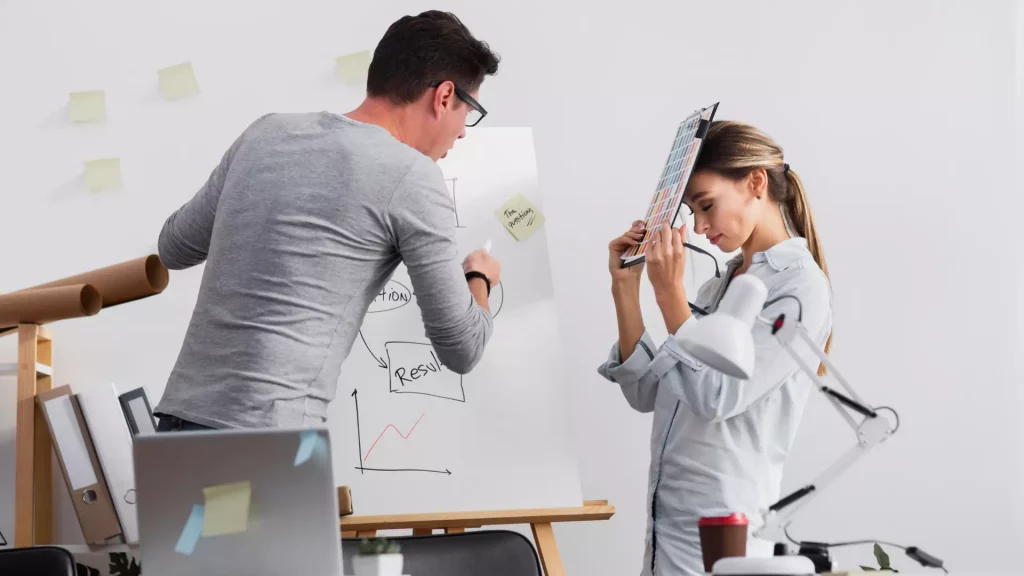 How to Deal with Defensive Employees at Work?
Managing defensive behavior can be tricky, but with the right approach, it can be manageable. Here are some effective ways to handle defensive employees at work:
Understand the signs and reasons
There might be times when people act defensively in response to criticism or feedback. However, if you're not patient, the situation could turn into a negative one that neither of you will enjoy. The best way to deal with defensive employees is by understanding and attempting to understand their points of view. Defensiveness might also be caused by feeling overwhelmed, threatened, or unsupported at work. In such cases, it can be helpful to take some time off for rest and recovery so that the individual can return with fresh eyes and ideas to
resolve the conflict
constructively.
Use communication as a tool
While dealing with defensive behavior in the workplace, it is essential to remember that you should fall into the same behavior patterns yourself. It would be best if you remembered not to reply to a defensive team member in the same tone they used. One way to communicate with employees that won't make them defensive is by rewarding
good behavior
instead of punishing bad behavior – this will help encourage positive proclamations from the individual in question. In addition, communication is vital when it comes to managing defensive employees;
let them know what your expectations are
as well as why they're necessary. Be clear about the consequences should they fail to meet these standards and avoid reacting defensively – trusting your employee's ability to work through their frustration constructively may result in a smoother relationship overall. You can learn more about assertive communication to get this right:
What Is Assertive Communication? A One-Stop Guide For Managers
Understand Communication Preferences
There's no one-size-fits-all answer to how to deal with defensive behavior of employees. However, understanding an employee's communication preferences can help managers take steps that will avoid confrontation altogether. For example, defensive people tend to react aggressively when they feel attacked or threatened. They might become inaccessible or stay silent instead of engaging with other team members. In such cases, it is best not to try and reason with them; positive reinforcement, such as praises, may be more effective in breaking the defensive behavior pattern.
Allow The Defensive Employee To Process Their Behavior
When employees display defensive behavior, it can be challenging for managers to handle the situation effectively. Sometimes, the employees might do so in the heat of emotions without realizing it. In such a situation, it is crucial to give the person the space they need – time to process their feelings safely and productively. Secondly, ensure that you communicate calmly and rationally instead of resorting to sarcasm or insults. Third, let them know their attitude is unacceptable, and fourth, provide constructive feedback to help them improve their skills. Lastly: keep an open mind towards change- even if it initially seems complicated! See
some examples of positive feedback
that employers can give here!
Don't Point Out Defensive Behavior Directly
In the heat of the moment, it can be challenging to think straight.
Dealing with difficult people
is hard. This is when defensiveness kicks in, and things quickly spiral out of control. Don't try and fix the person's behavior – this will only make them defensive and more entrenched in their position. In most cases, staying in the background is better and letting them talk first. Often, they will open up once they feel safe enough to do so. If defensiveness persists after following these steps, consider taking appropriate measures such as counseling or firing the employee. You can also help them seek outside help. By understanding why they react this way, you can perhaps help bring about a change for the better in future interactions with them.
Guide toward the right resources
As a manager, a way to help out your defensive employees is to help them break the unhealthy patterns associated with defensiveness. It includes overcoming habits like isolation and limiting beliefs. Managers can nudge this process by creating a safe and welcoming environment where offering contrarian or opposing views is not perceived as challenging. Pointing out resources such as the
growth mindset toolkit
or engaging in
feedback exercises
within the workplace can also help employees shed off defensiveness and become their true selves. Understand that defensive behavior at work often could be a response to present or past workplace interactions. Providing a helping hand can create a positive team environment rather than ostracizing.
Build a bridge with trust
A
lack of trust among team members
or a perception of hostility often pushes people to adopt defensive behavior at work. In such scenarios, managers and team leaders can reinforce trust and healthy team relationships through initiatives such as
team-building activities
or
lunch and learn sessions
. The key lies in
building a psychologically safe workplace
that enables growth.
Am I being defensive? How to not be defensive at work?
While defensive behavior sounds like a red flag, it is also a legitimate reaction to many life situations. Here are a few steps to handle your own defensive behavior at work:
Recognize Your Defensiveness: The first step is self-awareness. When receiving feedback or facing challenging situations, pay attention to your emotional reactions and behaviors. Acknowledge when you start to feel defensive, and take note of the triggers.
Stay Calm and Pause: When you feel yourself becoming defensive, take a deep breath and give yourself a moment to pause before responding. It allows you to gain composure and respond more thoughtfully.
Listen Actively: Practice active listening when receiving feedback or engaging in discussions. Focus on understanding the other person's perspective without interrupting or immediately reacting.
Seek Feedback Proactively: Take the initiative to ask for feedback from colleagues, superiors, or subordinates. Create an environment where constructive criticism is welcomed and appreciated.
Use "I" Statements: When expressing your thoughts or concerns, use "I" statements to communicate your feelings and perspective without sounding accusatory. For example, "I feel concerned when…" instead of "You always…"
Take Responsibility: Accept accountability for your mistakes and shortcomings. Admitting errors shows humility and a willingness to learn. Practice some habits that will help you strengthen personal accountability.
Practice Mindfulness: Engage in mindfulness exercises or meditation to increase self-awareness and emotional regulation, which can help manage defensiveness. Ultimately, the best way is to adopt a growth mindset that enables you to envision simultaneous personal and professional growth as a contributor to your team.
Conclusion
Managers face a constant battle against defensive behavior in the workplace. This behavior can range from passive-aggressive comments to outright resistance to authority. All in all, it is essential to remember that everyone has feelings and needs time to process them. Handling defensive employees calmly and rationally will go a long way in maintaining positive relationships within the workplace. In conclusion, it is essential to remember that there is no one-size-fits-all solution to managing defensive behavior. It takes different approaches for different people, and sometimes it can be challenging to know when the best course of action is to confront or ignore the behavior. However, with a bit of patience and understanding, you'll be able to manage this type of behavior in the workplace successfully.
Overcome challenges like defensiveness through assertive communication.
Test your assertive communication skills now for free to uncover the strengths to navigate these challenges.
---
Defensive Behavior at Work FAQs
How to deal with defensive behavior at work?
Dealing with defensive behavior starts with an objective analysis of the situation. Do not jump into the matter; instead, look at the causes of defensiveness and work on them with the team member. Be helpful in the process and help them realize their behavior.
What are defensive characteristics?
A defensive person would try to project themselves as the hurt party in the interaction. Then, as the focus shifts away from your or your team's loss, defensive behavior, such as counterattacks or rationalizing issues, help them avoid confronting the truth.
What is the root cause of defensiveness?
Defensive behavior typically happens due to an inability to accept mistakes. Such team members could fear being seen as erroneous and avoid taking the blame. As a result, they could fear rejection, have low confidence in their plans, and thus shy away from being noticed.
What are the three types of defensive behavior?
Defensive behavior refers to responses in the face of a threat or challenge. Typically, defensive behaviors take the form of counterattacks on the person starting the conversation, freezing and going unresponsive, or deflecting blame for the action onto someone else.
---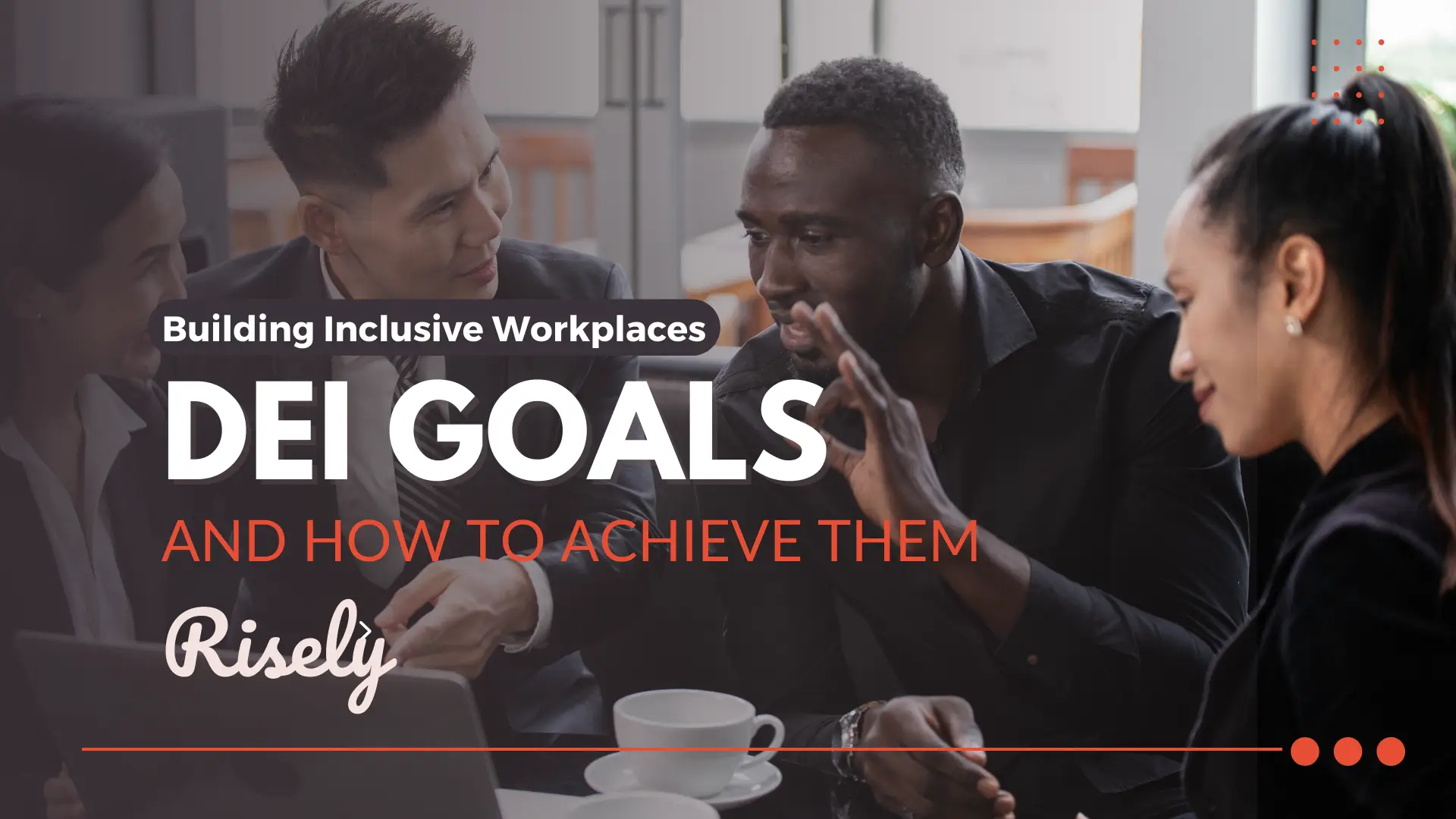 Building Inclusive Workplaces: DEI Goals and How to Achieve Them According to a LinkedIn study, 76% of job seekers mentioned diversity as a critical factor in evaluating potential workplaces. Yet, we…
How to overcome the top 10 manager biases at work? In our day-to-day interactions, unconscious intuitions play a significant role that goes unnoticed. Nobel laureate Daniel Kahneman has been a…