5 Secrets to Effectively Managing a Training Program at Work
Are you a learning and development manager waiting for the perfect recipe for a training program to strike? If yes, worry not. We have got you covered. Managing a training program at work can be a daunting task. It requires strategic planning, implementation, and evaluation to ensure that the program is effective and meets the needs of both the organization and the learners. This blog will share five secrets to effectively managing a training program. We will cover everything from designing programs with the learner in mind to leveraging technology for effective training. By following these tips, you can create a successful training program that benefits your organization and helps employees reach their full potential. And if you're looking for an all-in-one solution, Risely has got you covered!
What are the secrets to effectively managing a training program?
Managing a training program is certainly not as simple as it sounds. But there are ways around the web to make this mess clearer! Effective training and development programs come in many shapes and sizes. They are as varied as the teams and team members taking them up daily. For instance, a learning and development manager leading a management development program for their up-and-coming management professionals would need to focus on leadership and managerial skills. On the other hand, a manager developing
individual development plans
for their team would seek courses for skills relevant to long-term professional growth. As their needs are different, so would their methods. But some things remain in common! These five essential tips are the key to managing a training program right at work.
#1 Designing programs with the learner in mind
Designing an effective training program that takes your team members to the next level of professionalism requires understanding their competencies and development initiatives. Next, determine their career goals and create programs that align with their professional development needs. Here, the manager needs to ensure that they are making a parallel between the team's needs and the skills required by the team members individually for their professional growth. Keeping both in sync can create a win-win situation for all.
The importance of a learner-centric approach
Designing an effective training program requires considering the learner-centric approach. By tailoring the training program to meet the learners' needs and preferences, incorporating interactive activities, simulations, and assessments can keep them engaged. This approach leads to better learning outcomes,
higher employee engagement
, and improved performance metrics for learning and development professionals. Incorporating this technique into your employee development initiatives should be one of the basic steps in achieving career goals. To accomplish this, one needs more than just regular
performance reviews
. Instead, take the aid of individual development plans, and discuss development plans with the team member to arrive at the program.
Planning for the Present and the Future
To ensure effective training program management, one must plan for present and future training needs considering the competencies required for organizational change and new product releases. Therefore, the learning and development managers need to adopt a two-pronged approach:
In essence, ensure that your team is prepared with the human resources it needs to build a competitive edge in the future too. Managers can use performance reviews, assessments, and goal-tracking methods to understand these areas. Training needs assessments can be generic and specific to the role and scope of work. It can also include training for taking up management and leadership positions.
#2 Leveraging technology for effective training
Effectively managing a training program involves leveraging technology to optimize employee development programs. Conventional training and development methods rely heavily on human interaction and efforts from the learner, making it challenging to retain and practice additional skills on top of an already hectic schedule. Hence, as a learning and development manager, making this journey smoother using technology can be a game-changer for your team. Learn more:
Pros and Cons of Managerial Training Programs Every Manager Needs to Know
Benefits of using an LMS platform for certification
An LMS is the best way to manage a training program as it helps HR to schedule courses, track progress, and manage metrics effectively. Technically, a learning management system (LMS) is a software application designed to facilitate the administration, delivery, and tracking of educational courses, training programs, or other learning experiences. Using an LMS platform is one of the best ways to facilitate employee training and certification while streamlining the process. This online system enables managers to manage and track employee development initiatives, competencies, and career goals comfortably. With features like automated reminders, centralized resources, and in-depth metrics available through Google Analytics or similar tools, you can develop effective training programs that improve employee performance over time.
Utilizing AI-based tools for training programs
Teams are always looking for ways to take their managing a training program to the next level, and utilizing AI-based tools for training programs is one of the best ways to achieve this goal. The use of these tools helps companies to revolutionize their approach to employee development by automating and personalizing the entire process. As a result, organizations can reduce costs while improving outcomes with customized feedback based on employee performance. Streamlined administrative processes make it easy for team leaders to manage certification requirements, while automated reminders keep everyone on track. In addition, certificates can be earned through computer-based training or online learning courses giving employees flexibility while completing necessary training goals. That sounds like a whole package! And it can be yours for the next 14 days for free with Risely.
Sign up now
!
#3 Key components of a successful training program
It's crucial to have an effective training program in place to manage a training program effectively. It entails various components, such as:
developing clear objectives for the necessary training needs
engaging the learner with multiple teaching methods tailored to their competencies
providing hands-on experience with coaching and mentoring support for crucial personnel like team leaders and project managers
keeping track of metrics via online learning platforms
tools needed to evaluate employee performance adequately
Developing measurable goals and objectives
As we move towards managing a training program effectively, developing measurable goals and objectives is a must-do. The best way to do this is by using
SMART
criteria which helps set clear objectives that are Specific, Measurable, Achievable, Relevant, and Time-Bound. Aligning training goals with team objectives ensures relevance and helps identify which metrics to measure to track progress and success. Regularly reviewing these metrics helps keep everyone on track toward meeting their professional goals while helping the team achieve its bottom line.
Tracking progress through analytics and data analysis
Effective training programs require continuous improvement to meet the ever-changing needs of a company's workforce. The best way to do this is by tracking progress through analytics and data analysis. Following the impact and ensuring that the program delivers the desired result is the key to efficiency for learning and development managers.
Incorporating feedback and evaluation
Incorporating feedback
and evaluation is crucial to guarantee the effective management of a training program. Gathering feedback during and after the training sessions helps identify necessary improvements while ensuring the program meets trainees' needs. Evaluation measures its effectiveness and allows essential changes to be made. Surveys or focus groups are different evaluation methods that can offer valuable insights into employee performance metrics and training costs. Incorporating such development activities alongside tailored communication skills coaching could take your organization's employee development initiatives to the next level while boosting morale among your team members as they can visibly see the concern of their team leads toward growth and development.
#4 Techniques for managing difficult situations during training
When planning and managing a training program for your team members' professional development initiatives, it's essential to have strategies to handle any challenges. Establishing clear objectives and creating a positive learning environment encouraging participation and feedback are crucial steps in effective training. Addressing conflicts among learners promptly while using various training methods can help maintain morale. The key is to remember that
learning styles vary across people
. Hence,
one size may not fit all
. Evaluating the effectiveness of different types of training through post-training surveys or follow-up assessments can reveal which strategies work best for your team members' needs and which ones are not matching their style.
Addressing conflicts among trainees
Addressing conflicts
among trainees is essential for its success during a training program. Such disputes often arise due to differences in personality, learning style, or work experience. As a manager or project manager overseeing the training program, it's crucial to deal with such conflicts objectively and promptly so they do not escalate further. Encouraging
open communication
and active listening among trainees can promote understanding and help resolve conflicts amicably. In addition, conducting team-building exercises and group activities can foster a positive learning environment that promotes teamwork.
Dealing with unresponsive or uninterested learners
Keeping trainees engaged during a training program is crucial for its success. Identifying the root cause is the first step toward creating a practical solution for unresponsive or uninterested learners. Issues in managing training and development programs typically arise due to resistance and lack of buy-in. Some team members could feel uncomfortable accepting training at a further stage in their careers. Others could face challenges in establishing compatibility with coaches and mentors. To accomplish training goals here, creating comfortable learning environments that encourage interaction using various forms of communication like group discussions or role-play activities can increase participation. Furthermore, providing clear instructions on assignments while incorporating interactive assessment types like quizzes or simulations can improve engagement levels. Lastly, remembering that these training programs are being developed for professionals with busy schedules and numerous responsibilities can help you enhance suitability by adding flexible options.
#5 Strategies for maintaining engagement in long-term training programs
Maintaining learner engagement in long-term training programs can be challenging. To overcome this challenge, it is essential to use varied and interactive training methods such as coaching or computer-based training. Furthermore, ensuring that the training content remains relevant, practical, and up-to-date is vital so that learners feel invested in their learning process. Additionally, ongoing support and encouragement throughout the program fosters a sense of community among team members. Finally, regular assessments of metrics like employee performance or project management are also essential to ascertain the efficacy of development initiatives and gauge the interest levels of the team members.
Providing ongoing support and resources
Providing ongoing support and resources is critical to engaging in long-term training programs. Ongoing support includes coaching, mentoring, and access to additional resources like online tools,
books
, or podcasts that aid in developing competencies beyond the training needs. Creating a community of learners through forums or social media groups helps participants connect with other team members from different backgrounds with similar goals while sharing their experiences.
Regular follow-ups
with trainees ensure effective training's success by assessing its metrics while providing constructive feedback on areas that need improvement.
Celebrating milestones
achieved during the development program motivates employees to strive for more significant achievements. Remember that it's all about enabling learning for your team.
Offering certification opportunities
Certification opportunities are an effective way of keeping employees motivated and engaged in their development initiatives. A certificate is a tangible goal for trainees to work towards while enhancing their
professional development
. Not just that, it also serves as an incentive for those who complete the program successfully. To ensure your offering is relevant & aligned with your organizational objectives, assess your team members' competencies & career goals while designing programs using various training courses like computer-based training or project management certification courses.
Risely does this all! And more
Risely is not just a platform for effectively managing a training program; it is much more than that. It offers an array of development initiatives such as toolkits, assessments, insightful webinars, and more for managers and leaders to achieve their professional goals and reach the next level in their careers. With its professional development programs, Risely ensures managers receive training tailored to meet their challenges while keeping their team in the loop. In addition, with Risely, you get access to best practices in communication skills, conflict resolution, and leadership skills through AI-enabled leadership coaching, which will impact your growth brilliantly.
Sign up today to get started on this learning journey leading to growth.
Conclusion
Managing a training program can be challenging, but it can be highly effective with the right approach. By designing programs with the learner in mind, leveraging technology for effective training, incorporating critical components of a successful training program, and using techniques to manage difficult situations and maintain engagement in long-term programs, you can ensure your training program is successful. At Risely, we offer all this and more! Join us today to learn how RIsely can help you manage your training and development journey more effectively.
Effective goal-setting is the key to the success of training programs. Fail-proof your skills now.
Start the free goal-setting assessment now to unleash the true potential of your team's learning initiatives.
---
How do you manage a training program?
Managing a training program involves several key steps. First, identify the training needs by assessing gaps in knowledge or skills. Next, set clear objectives and define the scope of the program. Develop a detailed training plan, including content, delivery methods, and resources. Execute the program, ensuring effective facilitation and participant engagement. Finally, evaluate the program's outcomes and collect feedback for continuous improvement.
What is a management training program?
A management training program is a structured initiative designed to enhance the knowledge, skills, and abilities of individuals in managerial positions. It aims to equip managers with the necessary tools and competencies to effectively lead teams, make informed decisions, and drive organizational success.
What are the five steps in the training program?
The five steps in a typical training program are:
a) Needs assessment: Identify the gaps in knowledge or skills that the training program should address.
b) Design: Develop the program's objectives, content, and delivery methods.
c) Delivery: Execute the program by delivering the training to participants using appropriate methods, such as workshops, presentations, or online modules.
d) Evaluation: Assess the effectiveness of the training program through participant feedback, performance evaluations, or other metrics.
e) Continuous improvement: Use the evaluation results to make necessary adjustments and improvements to the training program for future iterations.
What makes a good management training program?
A good management training program has several key characteristics. It aligns with the organization's strategic goals and addresses specific development needs of managers. The program should be well-designed, incorporating relevant and practical content that is delivered through effective training methods. It should provide opportunities for hands-on learning, encourage participant engagement, and promote collaboration. Regular evaluation and feedback mechanisms ensure continuous improvement and measure the program's impact on managerial performance.
---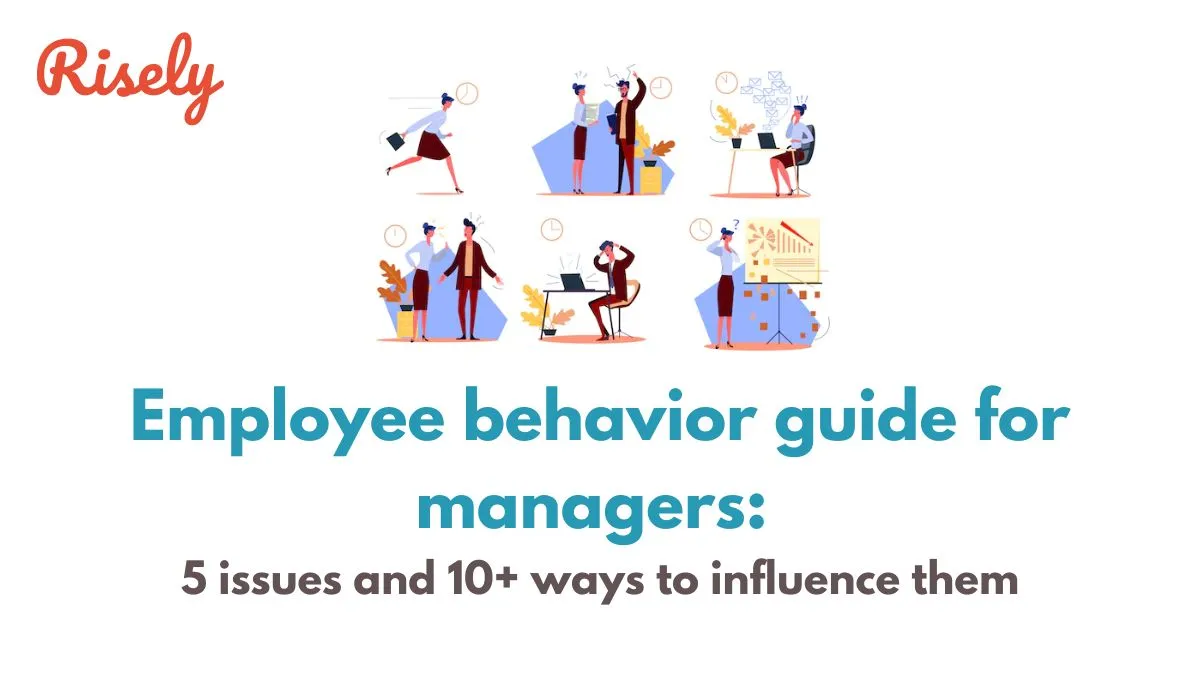 Employee behavior guide for managers: 5 issues and 10+ ways to influence them The behavior of employees in an organization can make or break its success. Positive employee behavior can…
The Power of Storytelling in Training: Top 6 Tips to become a master storyteller Have you ever been engrossed in a story that made you forget everything else? That's the…