The 7 Major Causes Of Miscommunication At Work That Hurt Teams
Are you a manager whose team is losing much on its effectiveness due to miscommunication? Then this blog is for you! Miscommunication can be a significant issue at work, disrupting the flow of work and causing tension between team members. By understanding the reasons behind miscommunication, managers can address it more effectively and ensure that everyone spreads and receives the correct information. In this article, we'll explore seven of the most common causes of workplace miscommunication and offer tips on how to fix them as managers.
What is Miscommunication?
Miscommunication is a communication error that occurs when two or more people fail to exchange information effectively. The basic definition of miscommunication is "Failure to
communicate adequately
." It can happen anywhere, anytime, and through any medium. But it can cause a lot of harm. This ineffectiveness in communication causes ineffectiveness, inaccuracy, and inefficiency in further endeavors. Therefore, it is vital to be aware of the potential for miscommunication in all types of communication, from face-to-face conversations to email exchanges. Some examples of miscommunication include:
A team member does not receive clear instructions from their supervisor and ends up completing a task incorrectly
A team member misinterpreted an email from a coworker and ended up misunderstanding the task or getting offended
Two colleagues have different understandings of a task that needs to be completed
There are several potential adverse outcomes of miscommunication in the workplace. These can include decreased productivity, morale, and even employee conflict. Additionally, it can lead to errors in work that can be costly for the company. In some cases, miscommunication can even lead to legal problems for the company. It is entirely the managers' responsibility to ensure that there is no or at least close to no miscommunication in their team. But what are the causes of this miscommunication in the workplace, and
what can managers do
to fix them? Let's discuss that in our next section.
The seven major and common causes of miscommunication and how to fix them
Lack of context
Lack of context is one of the leading causes of miscommunication within teams. It refers to either party's lack of information about the situation. It is the inability to understand the communication and what it will lead to. When team members don't have access to the same information, it can lead to misunderstandings and frustration. It can be a big problem for managers trying to keep their teams organized and on track. There are two ways in which managers can fix this problem.
First, they should provide employees with the necessary information and context for the task at hand. It can be done by sharing documents and files electronically or having regular team meetings.
Second, managers can encourage team members to ask questions when they're unsure about something. Asking questions can help to clarify things and prevent miscommunication.
Cultural differences
Cultural differences that come with different geographical regions are one of the significant causes of miscommunication. That is because different cultures come with different ways of communication. There is a foreign language, different vocabulary, different accents, and even a different dictionary for each culture or geographical region. These differences can cause many communication barriers and can ultimately cause significant miscommunication. Even people from cultures having a common language can still face miscommunication due to differences in accents, vocabulary, and dialects. Managerial strategies to fix this issue include employee education on various cultures, effective interpreters, and clear communication of company expectations.
Employee education can help to prevent misunderstandings due to cultural differences. Teaching employees about various cultures can make them more aware of potential differences and be better prepared to avoid or resolve conflict.
Managers can use interpreters to facilitate communication between employees of different cultures. By having someone familiar with both cultures, employees can be sure that they understand each other correctly.
Finally, clear communication of company expectations can help avoid misunderstandings due to cultural differences. By clearly stating what is expected of employees, there is less room for misinterpretation.
Assumptions and jumping to conclusions
Assuming and jumping to conclusions are common causes of miscommunication in the workplace. We are often inaccurate when we assume things about someone or something, which can lead to misunderstanding. The inaccuracy occurs due to the assumptions being driven by our personal biases and beliefs, which can never be enough for us to have the right picture of the situation. Jumping to conclusions means we make assumptions and conclude the same without having all the information, which can lead to miscommunication. There are two ways in which managers can fix this:
The first way to fix it is through open communication. When employees feel free to speak up and share their thoughts, it allows for a free flow of ideas and a better exchange of information. It will leave much lesser room for assumptions or jumping to conclusions.
Another way is encouraging the habit of reconfirmation. It refers to the practice of reconfirming and seeking clarity over the information from others involved before passing it on. When information is confirmed and clarified, there won't be a need to make assumptions or jump to conclusions.
Lack of trust
Lack of trust is often a cause of miscommunication within teams. It can lead to misunderstandings and conflict. When team members do not trust each other, they may withhold information or fail to communicate their true intentions. These
trust issues
may also push the team members to rely on their assumptions instead of the information provided by other team members. Managers can help build trust within teams by creating an environment of openness and respect. They can also model trustworthiness and
encourage team members to collaborate and communicate regularly.
By taking these steps, managers can help create a team that is more likely to trust each other and communicate effectively.
Too much information
Too much information is one of the leading causes of miscommunication within teams. The ever-increasing flow of information has become a source of frustration for many people trying to communicate with others. The problem is that we often receive more information than we can process, leading to misinterpretation and miscommunication. This information overload can cause essential and critical information to slip through the cracks. If left unchecked, this can negatively affect productivity and morale. Managers can help alleviate this problem by creating clear and concise communication plans. They should also ensure that team members have the time and space to process information and ask questions. By taking these steps, managers can help reduce the risk of miscommunication and help their teams function more effectively.
Employee turnover
It's no secret that miscommunication can lead to a variety of problems in the workplace. But did you know that employee turnover can also significantly cause mis-communication? Employees take their knowledge and expertise with them
when they leave
a company. It can create a knowledge gap that can lead to miscommunication and many other problems. So what can managers do to fix this issue?
First, they need to create a system for documenting institutional knowledge. This way, it will be easier to pass their knowledge to others when employees leave.
Second, managers need to create a culture of open communication. It will help to ensure that everyone is on the same page and that there are no misunderstandings.
Finally, managers need to be aware of the potential for miscommunication at times of turnover depending upon the role of the departing employee and take steps to prevent it.
Inactive listening
Inactive listening
is a major cause of miscommunication within teams. It occurs when people are not fully paying attention to what is being said and instead are focusing on other things, such as their thoughts or reacting to what is being said. It can lead to misunderstanding and conflict, as people misinterpret what is being said or take things the wrong way. There are a few ways that managers can fix this problem:
First, they must ensure that everyone knows the importance of active listening and why it is necessary.
Second, they must provide opportunities for people to practice active listening, such as in team meetings or training sessions.
Finally, they need to model active listening and set an example for others to follow.
Conclusion
In this post, we discussed the causes of miscommunication in the workplace. We have also provided some helpful tips on how managers can fix them. By reading through this blog, you will better understand the difficulties a manager may experience at work due to miscommunication within their team members and learn how to overcome them. So, don't wait any longer and start fixing mis-communication problems today!
Beat the menace of miscommunication with active listening.
Download the free active listening toolkit that helps managers master active listening with sample questions, tips, and quick self-assessments.
---
FAQs
What is the problem of miscommunication?
The problem of miscommunication is the lack of understanding between team members that leads to frequent misinterpretation of messages shared by other team members. It typically happens due to lack of trust and a shared understanding across the team. Linguistic and cultural differences can also add to miscommunication if sufficient context is not provided.
What are the three types of miscommunication?
The three types of miscommunication are:
– Lack of context: This happens when messages are shared without background information and clarity of expectations
– Misinterpretation: It happens when clearly phrased messages are interpreted in an unintended manner due to biases or previous knowledge
– Lack of clarity: Messages that are shared without setting expectations can lead to confusion in teams. For instance, a manager saying "we want to grow a lot" does not set clear goals for the team to work toward.
What are the causes of miscommunication?
A few major causes of miscommunication are:
– Biases and assumptions
– Ambiguity
– Using the wrong communication channel
– Linguistic and semantic differences
– Inactive listening
---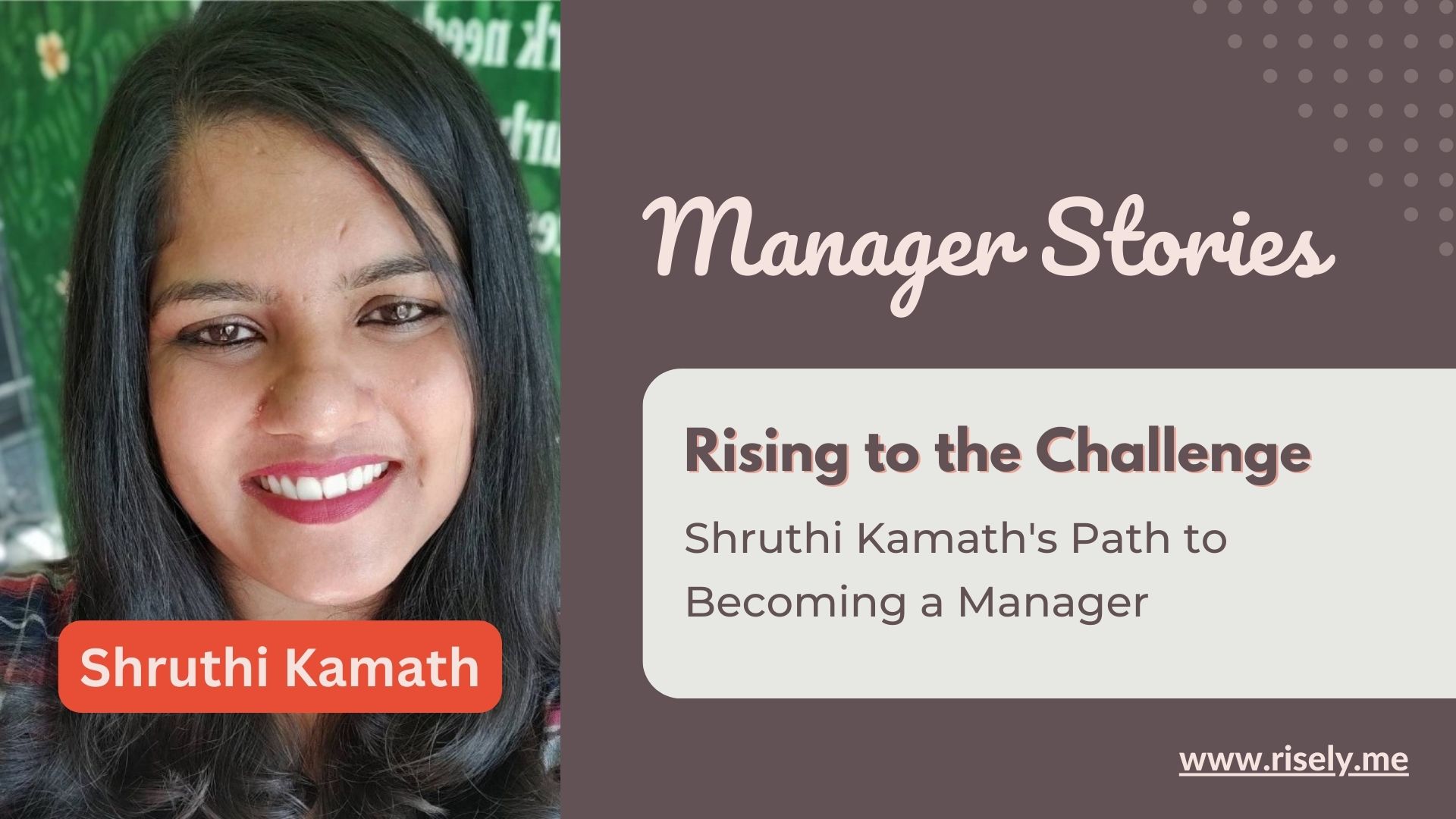 Rising to the Challenge: Shruthi Kamath's Path to Becoming a Manager "Can I really do this?" It's a question that echoes in the minds of countless professionals contemplating a leap…
Understanding Modern Leadership: Ananya Narang's Perspective on Team Management Founders and managers, the unsung heroes of the business world, often find themselves juggling various challenges. From instilling accountability to motivating…