What Makes A Great Manager Stand Out? 10 Traits Of Great Managers
As a manager, it's your job to lead and effectively manage your team. Good managers can carry out these responsibilities considerably and achieve their targets. But what makes a great manager better than a good manager? In this blog post, we'll talk about the ten traits of great managers that help them win. From being able to stay calm under pressure to inspiring and motivating others, some extraordinary traits make a manager great. These traits are something every manager should strive for. So read on and learn the ins and outs of becoming a great manager.
What Is A Good Manager?
A good manager handles the day-to-day business operations while
maintaining a positive outlook
. They can delegate tasks efficiently and communicate effectively with their team. Additionally, good managers can set goals and benchmarks and keep track of progress. They also know when to give feedback, step back, and let their team operate autonomously. Above all, good managers can build trust and respect among their team members. But, still, good managers cannot reach the highest potential
managerial effectiveness
. They are good at managing teams but not great or the best manager, which is a significant gap or difference. So, what do great managers do differently? Let's figure it out in our next section.
What Makes A Great Manager Different?
A few traits set a great manager apart from good managers. Great managers can motivate and inspire their teams. They possess excellent management skills and a deep understanding of their team's strengths and weaknesses. They have mastered the art of handling multiple tasks and streamlining various processes smoothly. A great manager knows how to tap into their team's potential and helps them realize their vision. They know how to handle any possible situation, and if not, they know how to face new challenges calmly. Great managers build consensus among their team members while saving them from the chaos that conflicts can invite. How are they able to do so? Several traits of great managers make them significantly different and better than good managers. What are the
qualities of great managers
? Let's unfold that in our next section.
10 Traits Of Great Managers That Summon Success
1. Inspiring and motivating others
Good managers can make their teams work. But a great manager
gets things done like a boss
with their teams. The difference lies in their ability to
inspire
and motivate their teams. A great manager can not only efficiently run operations but also inspire and motivate others, often by setting an example themselves. Their ability to encourage employee activity comes from clarity in vision and an action plan. Communication skills that help in sharing and receiving ideas add to it. As a result, they can build trust and command respect among their team members. Further, they are not shy to accept mistakes and offer due praise.
2. Thinking strategically
Good managers are usually more tactical than strategic. They focus on the here and now and on what needs to be done to get the job done. A great manager, on the other hand, is
more strategic.
They think about the vision and envisage plans to achieve those goals. They are also capable of keenly analyzing their environment and plan their moves accordingly. While both types of managers are essential, a great manager is more likely to succeed in the long run and become a great leader.
3. Making decisions quickly and confidently
A good manager is someone who has adequate
decision-making ability
. You can find them making decisions and implementing them effectively in day-to-day business. They can do this due to their experience and availability of information. Yet, in some instances, you might find them bewildered. Frequent and abrupt changes might throw a good manager off kilter. A great manager, on the other hand, overcomes unanticipated challenges. They make decisions quickly and confidently, even under uncertain situations. It is because they not only can gather and process information quickly, but they also dare to act in the face of uncertainty. Great managers lead their teams through ambiguity on a clear path.
4. Building and maintaining relationships
Good managers are good at managing people, but great managers are great at building and maintaining relationships. Great managers create harmony and balance in their workplaces and connect with their employees on a personal level. They show empathy and understand that people are different, which is why they can work with them in a way that meets their needs and makes them productive. In consequence, great managers can coach their employees into better professionals and future leaders by bringing out their potential. Team members who work with great managers enjoy lasting relationships long after they stop actively working with each other. The team members always look up to their managers for guidance across their careers.
5. Communicating effectively
For a manager to be effective,
assertive
and clear communication is vital. They facilitate the best team meetings and even one-on-one meetings with their teammates. It means being able to communicate clearly and concisely, as well as being able to listen to and understand what others are saying. Good managers often miss active listening and then fail to build emotional connections with their teams, but great managers never miss a beat. They are proactive in planning and communicating the most critical and trivial information. They also know how to handle sensitive communication with care. They can handle exit conversations, negative news, uncertain or volatile situations, with empathy and respect.
6. Delegating and empowering others
A good manager believes in having a close check on and reasonable control of the work within their team. However, they might fall into the habit of
micromanagement
while running after efficiency. A great manager, on the other hand, believes in giving autonomy and empowering their team. Thus, great managers can cultivate ownership and help their teammates grow while focusing on strategic aspects of work. Their
delegation skills
are significantly better than good managers. It is because they have a better understanding of the strengths and weaknesses of their team members, which allows them to make better decisions about what tasks should be delegated to whom. They can set clear expectations and provide straightforward instructions, which helps avoid misunderstandings.
7. Leading by example
Great managers are better able to
lead by example
. Good managers usually try to lead by explaining their expectations from team members. They expect certain behaviors from their team and try to maintain managerial standards. But this is not always successful. Great managers model the behaviors and hard work they want their team members to exhibit. This way, they can better manage the team and ensure their employees have practical knowledge of what exactly they need to follow. Moreover, with a hands-on approach, these managers can better understand and connect with their teams. As a result, they are decisive, transparent, and supportive. These qualities of great managers put them above a good manager.
8. Coaching and developing others
Good managers are content with their lives and are happy with what they have since their current work is being done effectively. They don't see much need for coaching to develop their team if the team is consistently meeting the targets. On the other hand, great managers are constantly looking for ways to improve and
help their team members grow
. They look for new competencies and qualities that their team can develop and then facilitate through professional development and training programs. They are patient and understanding and have the know-how to coach and develop others. Great managers have a growth mindset and a strong sense of purpose and are driven by their goals.
9. Handling difficult conversations
Great managers can better
handle difficult conversations and people
in a way that leads to a productive outcome. They know how to listen attentively and understand the other person's point of view. It allows them to devise a fair and beneficial solution for both parties. Good managers, on the other hand, aren't as good at handling challenging conversations. It is because they often rush into decisions without fully understanding the situation. They might even hesitate and avoid some conversations. As a result, they make decisions that are not well-received by either party involved.
10. Staying calm under pressure
Staying calm under pressure is one of the most required essential of a manager. A great manager is better equipped to remain calm when a situation arises where the good manager is under pressure. Good managers manage stressful situations well, but great managers become stronger from such situations. They understand that mistakes are part of the learning process and that stress will not catalyze them into making the best decision. They know how to help their teams understand the gravity of the errors and
handle disappointment at work
. Ultimately, great managers are masters of balance and know how to use it wisely.
Conclusion
A great manager can balance work and personal life well, is good at problem-solving, and possesses the ten traits listed above. By understanding what makes a great manager better than a good manager, you can develop the skills and traits needed to be a great manager. It will help you ensure that you make the best out of the team and that you come out as a great and effective leader from whom the team follows and takes inspiration.
Delegate effectively and become a good manager.
Download the free effective delegation toolkit to start smart delegation in your teams today.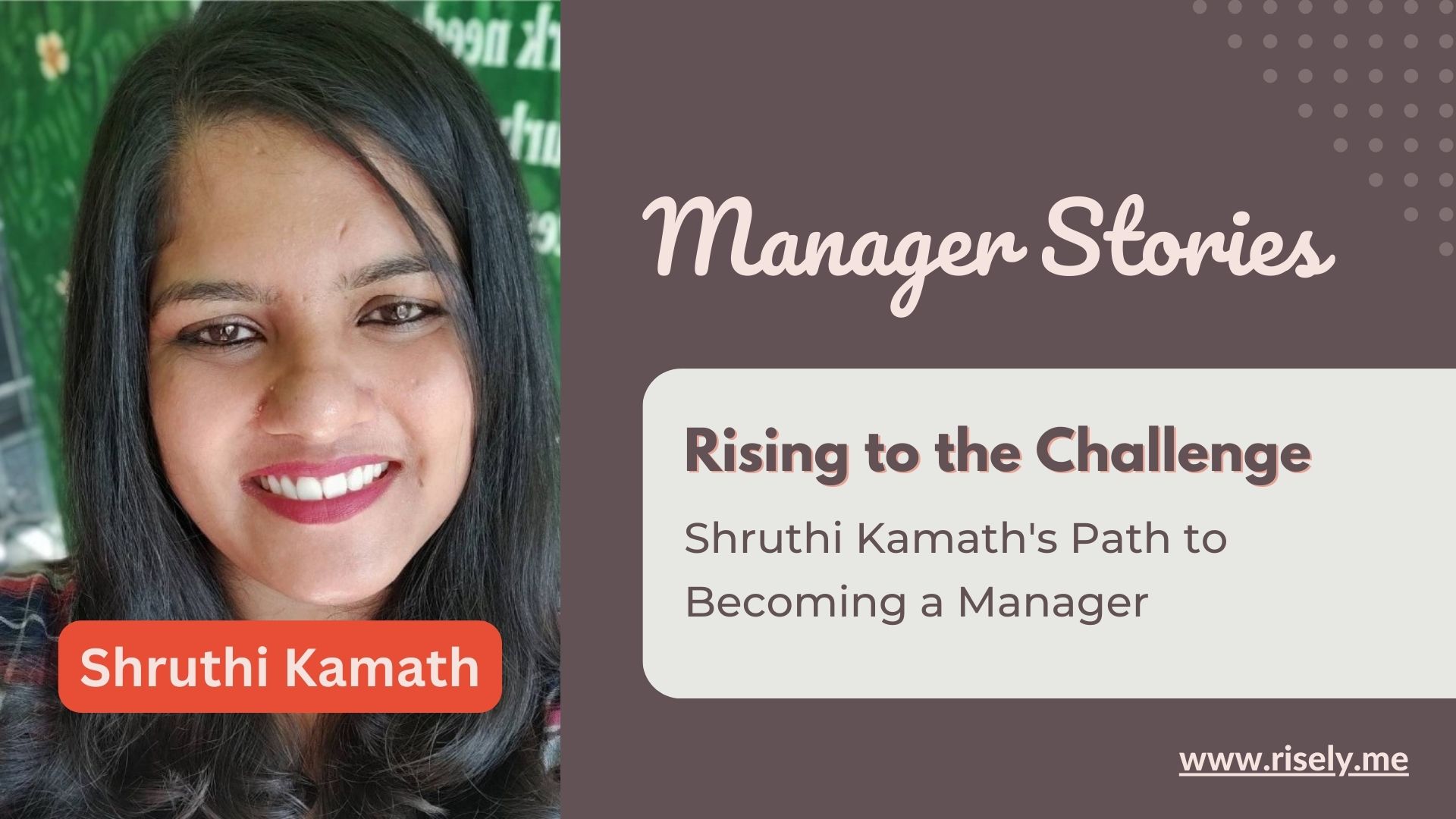 Rising to the Challenge: Shruthi Kamath's Path to Becoming a Manager "Can I really do this?" It's a question that echoes in the minds of countless professionals contemplating a leap…
AI and Management: Preparing for the New Way of Work Nearly a century ago, celebrated economist Keynes remarked, "We are being afflicted with a new disease – technological unemployment." As…