Effective Leadership: An Essential Guide with 10 Tips
In the ever-evolving tapestry of the corporate world, effective leadership is the linchpin that transforms teams into forces of innovation and achievement. Consider the remarkable journey of Indra Nooyi, the former CEO of PepsiCo. Her visionary approach and unyielding commitment steered the company through pivotal transformations, advocating for sustainability and diversity while delivering impressive financial growth. Nooyi's leadership legacy mirrors the essence of effective leadership – an amalgamation of strategic acumen, empathy, and the ability to inspire change. As we explore leadership intricacies, envision how you, too, can shape your team's trajectory. This blog navigates through the corridors of leadership, offering insights, tactics, and tales of triumph that will illuminate your path to becoming an esteemed guide in your professional journey. Whether you're a seasoned manager or a budding team leader, let's chart a course to transformative leadership together.
What is Effective Leadership?
Leadership plays a crucial role in organizations, driving them towards success. Often, it is the key to
managerial effectiveness
. Effective leadership goes beyond just managing a team; it involves inspiring and motivating team members to work towards a common goal. A great leader sets clear expectations, communicates effectively, and leads by example. They possess strong decision-making skills and the ability to adapt to change. Transparency and honesty are vital components of effective leadership, fostering trust and loyalty among team members. Moreover, effective leaders empower individuals within the workforce, providing them with the necessary support and resources for growth and development. By defining and embodying these qualities, leaders can create a positive and productive work environment.
Understanding Leadership Styles
Leadership styles
are the different approaches leaders use to interact with their team members and make decisions. Each style has its strengths and weaknesses, and knowing them can help you choose the right approach for different scenarios. Whether transformational, autocratic, participative, transactional, delegation, bureaucratic, or servant leadership resonates with you the most, remember there is no one-size-fits-all solution.
Effective Leadership Characteristics
Effective Leadership Principles
Effective leadership is built on fundamental principles that guide and shape a leader's actions and decisions. Some of the principles of effective leadership include:
Vision: A leader should have a clear and compelling vision for the future and be able to communicate that vision to inspire and motivate others.
Integrity: A leader should demonstrate honesty, transparency, and ethical behavior, earning the trust and respect of their team.
Accountability: Leaders should take responsibility for their actions and hold themselves and their team members accountable for their performance and results.
Communication: Effective leaders are skilled communicators who listen actively, provide clear direction, give feedback, and foster open dialogue within their team.
Empathy: A leader should be able to understand and connect with others emotionally, showing empathy and compassion towards their team members.
Adaptability: Leaders need to be flexible and adaptable in the face of change or unexpected challenges, adjusting their strategies to achieve success.
Collaboration: Effective leaders foster a collaborative environment where team members feel valued, included, and encouraged to contribute their ideas and expertise.
Leadership Skills for Managers
Decision Making
Time Management
Expectation Setting
Effective Communication
Effective Delegation
How to be an Effective Leader? Leadership Tips for Managers
Leaders must inspire teams and embrace feedback for better leadership
Some of the best leaders are those that can inspire their team. They are important because a good leader can bring out the best abilities in their team members. They further encourage them to work together to avoid delays. They are also organized and keeps the team on track. They need to be able to set an example and be open to feedback, whether it is positive or negative. It helps
create a sense of trust
and communication within the team. If leaders want to truly create a culture within their team, they need to be willing to listen and take feedback seriously.
Effective time management and task delegation are vital for leaders
A leader is not just someone that can inspire their team, they also need to be able to
manage their time effectively
. Effective time management leads to effective leadership. Set aside weekly time for one-on-ones with your team, sometimes with them on a project. Leaders should also delegate tasks appropriately and set clear expectations for each employee. They should also make sure they have a system in place so that everyone knows when deadlines are approaching and what steps need to be taken to meet them.
Building strong relationships and setting clear expectations are key
Leaders need to be able to
build strong relationships with their team members
to ensure a successful and healthy workplace. Although a leader may be able to provide shared vision and supervision. Leaders must develop a relationship with the people they inspire to follow them. A successful leadership relationship inspires people to achieve more than they ever thought they could. Leaders should
set clear expectations
and make sure they are communicated regularly. They should also ensure that feedback is given constructively so that everyone can improve as a team member. You must consistently communicate and reinforce your intentions and expectations to be an effective leader.
Innovative thinking and fresh ideas empower effective leadership
Leaders need to be able to think outside the box to come up with new ideas when needed. They should also be comfortable speaking in front of a group and managing difficult conversations. Leaders must have a strong work ethic and be able to stay focused during challenging times. Great Leaders need not be afraid to make mistakes, and they need to have the confidence to take risks. Effective leadership is about putting together and planning, securing resources, and looking out for and improving errors while also implementing the company's vision (or redefining and improving it in some cases).
Prioritize team success and stay humble for effective leadership
Successful leaders stay humble
. They should focus on the team's success rather than their own and be willing to give up some of their glory to help the team succeed. Leaders must also have a strong work ethic, be able to keep a positive attitude under pressure and be committed to their employees' success. Humility is an important but under-discussed value of leadership, with Humble leaders being more approachable, forgiving of mistakes, and willing to admit others' work, which can encourage employees to share ideas and work harder. As a leader's responsibilities increase, Humility becomes more important.
Leaders must maintain boundaries with their team members
It is highly suggested that Leaders should be able to
set boundaries with their team members
to maintain clear lines of communication and ensure that everyone is working towards the same goal. Leaders also need to be able to discipline team members when necessary, while still maintaining a good relationship with them. It has long been widely believed that leaders' boundaries are a must and that when business leaders set healthy boundaries in the workplace, it can transform the culture and improve team productivity.
Handling tough situations calmly keeps everyone focused
Leaders need to be able to handle difficult situations calmly and effectively to keep everyone calm and focused on the task at hand. Calm leaders encourage employees to trust their bosses and perform better because they know where they stand with them. Managers who are calm instead of impulsive, anxious, or prone to anger are more likely to inspire trust or loyalty. They believe that highly effective leadership behaviors and actions are universal, regardless of the situation, and that difficult times define leaders and their organizations.
Leading by example sets the right tone for effective leadership
Every Leader should be able to
lead by example and set the right tone for their team
. Leading by example is a leadership style in which you model the behavior you want to see in your team members. People who lead by example are actively demonstrating that they value their team's work by carrying some of the weight. When you lead by example, you create a picture of what's possible; people can look at you and say, "Well, if he can do it, I can do it." You make it easy for others to follow you because you provide them with examples.
Staying proactive keeps leaders ahead of the curve
Being proactive is one very important thing leaders need to do to keep up with today's trends and stay ahead of the curve. Leaders constantly monitor their environment to see potential problems and opportunities that may have eluded others. They continuously assess different aspects of their business and make decisions accordingly, always cognizant of how advancements in technology could impact their organization or market niche. In terms of staying ahead of the curve, leaders are adept at recognizing when new ideas are emerging and seizing upon them before their competitors. They also foster an open mind by being curious about new developments, even if they're unfamiliar with them. This constant vigilance keeps leaders up-to-date on the latest changes in their industry. It also helps to ensure that their company remains competitive and attractive to prospective employees.
Good listening is vital for effective leadership
Leaders need to be
good listeners to better understand their team
and what they're looking for when it comes to working together. Good listening skills come from taking time out of your busy schedule and focusing on someone else's words and ideas, instead of trying to monopolize the conversation or insert your thoughts into it. Effective leaders listen attentively by absorbing all that the person speaking has to say. They don't merely listen for what they want to hear. They instead look for clues that will help them better understand the situation and the person speaking. By taking this type of approach, leaders gain an understanding of their team's concerns. They can then more effectively identify potential solutions. This allows teams to work together more productively and efficiently, ultimately leading to improved performance on everyone's part.
Leadership Development Programs
Leadership development programs are structured initiatives designed to enhance individuals' skills, capabilities, and qualities to
develop their leadership potential
. These programs typically aim to cultivate various leadership competencies, such as communication, decision-making, problem-solving, strategic thinking, and team management. Leadership development programs can take various forms, including workshops, seminars,
training sessions
, mentorship programs,
executive coaching
, and experiential learning activities. Often, they are offered within organizations. However, individuals can avail of them too! Leadership development programs aim to equip individuals with the knowledge, tools, and mindset necessary for effective leadership in their respective roles. Yet, conventional leadership development programs fail to achieve their objective accurately for several reasons, such as generic content and guidelines with little to no mechanisms to promote retention or application of the learnings. Sometimes, team leaders hesitate before signing up for such programs and fail to make the most of such opportunities.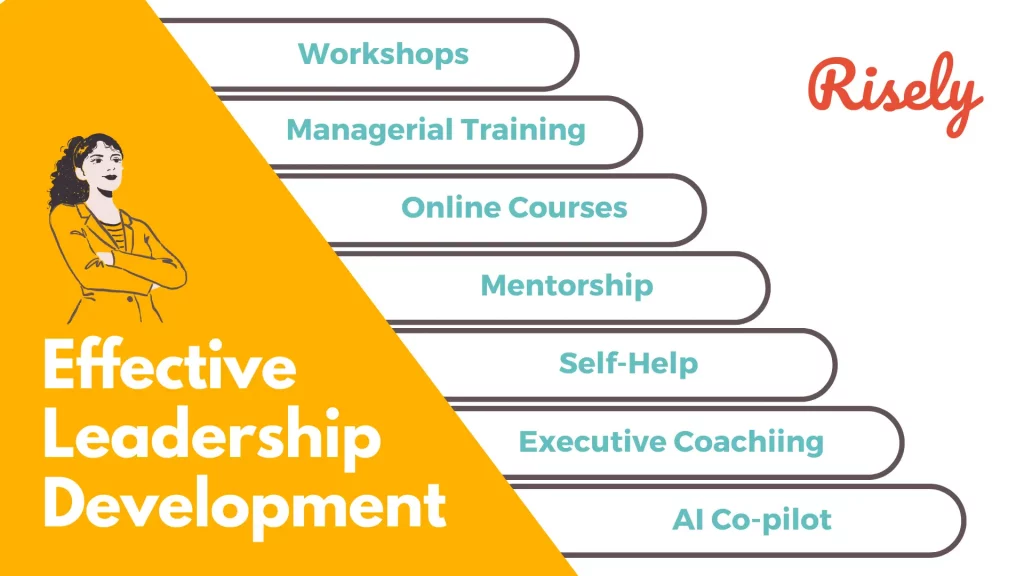 Hence, choosing a solution that fits your needs and answers your concerns is vital. The AI co-pilot for leadership development, Risely, can be your buddy in overcoming these challenges. Learn more here:
Becoming The Best Manager: Why AI Co-Pilot Overtakes Manual Solutions?
How to Measure Effective Leadership?
Measuring effective leadership can be complex, as it involves assessing various factors and outcomes. However, some common indicators of effective leadership include:
Employee satisfaction and engagement: Effective leaders can create a positive work environment where employees feel valued, motivated, and engaged in their work.
Team performance and productivity: Effective leaders can inspire and guide their teams to achieve high levels of performance and productivity.
Employee retention: Effective leaders can attract and retain talented employees by creating an inclusive and supportive workplace culture that curbs turnover.
Innovation and adaptability: Effective leaders foster a culture of innovation and encourage their teams to think creatively and adapt to changing circumstances.
Ethical behavior: Effective leaders demonstrate integrity, fairness, and ethical behavior in their decision-making and interactions with others.
It is important to note that measuring effective leadership is not an exact science, as different organizations may prioritize various aspects of leadership effectiveness based on their unique goals and values. Additionally, leadership effectiveness may vary depending on the context or situation. In case you are looking for solutions to measure and improve specific leadership skills, head over to leadership skill assessments by Risely:
Leadership Skills Assessments
Conclusion
Effective leadership is the art of motivating people to achieve goals. Good leaders know how to motivate their team members. They also know how to inspire them and make them feel like they are a part of something special. It's not enough to just be a good leader; you must also set clear expectations for your team and demonstrate that you care about their development as individuals. Effective leaders focus on their team's individual needs. They consistently communicate with them to ensure that they are aware of the company's goals. They also make sure that their team knows what is expected of them. At last, they also provide feedback so that they can improve their performance.
Master problem-solving to become an effective leader.
Download the free problem-solving toolkit to understand the roadmap to efficient problem-solving that smart managers use.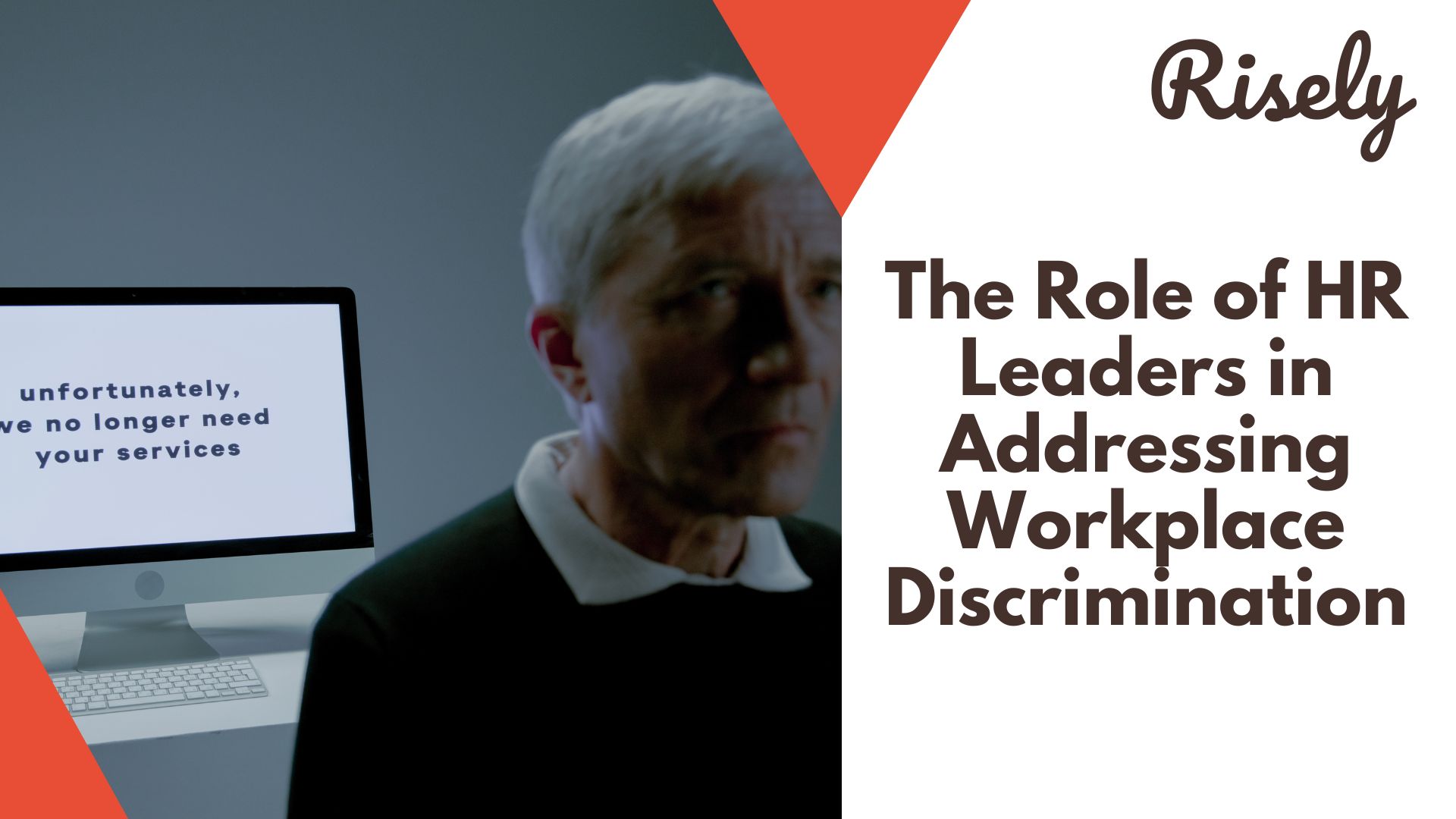 The Role of HR Leaders in Addressing Workplace Discrimination Discrimination in the workplace is a pervasive issue that can have far-reaching consequences for individuals and organizations. It transcends boundaries of…
Building a Leadership Team: 8 Tips to Strengthen Your Organizational Core In the intricate tapestry of any successful organization, a leadership team stands as the backbone, providing guidance, inspiration, and…