Leadership development in organizations is an ongoing process in which team members should be engaged. It is not a one-time action that involves putting people into leadership roles and expecting them to get results. Instead, leadership development in organizations is the continuous process of training, developing, and improving leaders' skills so they can work better as a team, drive organizational performance, and ensure sustainability over the long term. In teams today, leadership development is a vital need rather than an optional or discretionary one. Organizations are expected to drive business growth, employee engagement, customer satisfaction, and overall company performance. However, organizations struggle to achieve these goals because they lack leaders with the skills and knowledge required for success.
What is leadership development in organizations?
Leadership development
in organizations refers to the process of helping individuals develop the skills and knowledge needed to lead successful teams and organizations. Leadership development aims to help individuals grow and improve their skills to be more effective leaders in their respective fields. One of the most important aspects of leadership development in organizations is training individuals on how to handle difficult situations effectively. It teaches them how to manage emotions, think strategically, and make sound decisions under pressure. Other key focus areas include developing people's communication and interpersonal skills, enhancing their problem-solving abilities, and increasing their understanding of organizational culture and values. Because leadership development is an ongoing process, it is important to continuously update your skills and knowledge to remain competent and effective in your leadership role. By implementing
effective leadership development programs
, you can help your employees become better leaders and contribute more effectively to the organization. Moreover, an organization manager who focuses on leadership development can also help their employees grow their skills. Such teams grow as they have concentrated team members who are prepared to take up challenges. In addition, the team can create a line of succession if the manager leaves the team.

Why do organizations need to focus on leadership development?
Build a continuous culture for the team
Leadership development in organizations helps build a continuous
culture in the teams
. A culture is a set of norms, values, and practices that define an organization. It affects how employees work and interact with each other. A team with a strong culture can be more creative, productive, oriented in the right direction, and innovative than one without it. Leadership development in organizations sets a flow through which these shared values are passed on to the next one holding the baton.
Attract and retain top talent
Leadership development in organizations helps
recruit and retain talent
. Top talent is hard to find. Organizations must continuously attract the best people by providing opportunities for professional growth and developing employees' leadership skills. Leading organizations today focus on employee engagement which plays a significant role in shaping employee attitudes and behaviors that affect retention within an organization irrespective of their job function or organizational level. Leadership development opportunities in a team also build engagement among team members.
Prepare teams for your exit
Organizations must also focus on leadership development
when a leader leaves the team
. Leadership development helps leaders prepare their teams for their voluntary or involuntary exit. Leaders need to provide clear guidance, direction, and skills training so that their teams can continue to function effectively even after they leave. Additionally, organizational leadership development helps create a line of succession if the manager leaves the team. It ensures that qualified people are ready to take over for the leader should they leave the team.
Make change easier
Leadership development in organizations can make change easier for leaders. Change is inevitable, and leadership development helps leaders navigate the changes smoothly. Developmental measures allow leaders to work with an experienced professional who can provide guidance, support, and skills training to help them
handle change successfully
. Moreover, the skills you can build during leadership development help overcome challenges put by changes too.
Competitive advantage
Leadership development in organizations creates a competitive advantage. Leaders who undergo leadership development learn how to break through challenges and seize opportunities. They also develop interpersonal skills essential when interacting with others in an organization. The skills that leaders learn during leadership development help them create cooperative environments, overcome resistance and build strong relationships with their team members. It gives the team an edge over its competitors.
How can you do leadership development in organizations?
Leadership development in organizations is critical to their success. Leaders can take the organization forward, but it takes skills and knowledge to scale great heights. The training helps leaders become experts in various fields, such as business development and management. It not only makes them better leaders but also makes employees work better for the organization. Thus, leadership development helps an organization to grow smarter, stronger, and more effective over time. A few ways to lead leadership development in organizations are:
Executive Coaching
Executive coaching
is a type of counseling that helps executives improve their performance and career trajectory. Executive coaching is a great way to help leaders become better at their job. A professional coach helps leaders look at the big picture and provide them with skills that will help them make better decisions. They also work on personal development, which allows leadership development to impact all areas of life for the leader. The main benefit of executive coaching is that it can improve an individual's career trajectory, making leadership development one of the most valuable investments an organization can make. Executive coaching aims to help executives identify and address personal challenges and develop strategies for addressing them. Executive coaches can provide guidance and support in a variety of areas, including:
Managing stress and anxiety
Navigating the corporate bureaucracy
Developing strategic planning and business planning skills
Enhancing communication and teamwork skills
Developing leadership skills
Improving decision-making skills
Strengthening personal productivity
Maximizing career growth potential
One-on-One Mentorship
A
one-on-one mentorship
is a form of coaching or teaching in which a mentor helps learners achieve their goals in a personal, one-on-one environment. A mentor typically has experience and expertise in the area the manager seeks to improve upon. They are available to provide guidance and support throughout their journey, offering close real-time support. Mentors can be helpful in a variety of areas, such as learning new skills, developing business skills, improving personal productivity, and overcoming challenges. They can also provide emotional support and guidance during uncertainty or stress. One-on-one mentorship can be an excellent way to gain the skills and knowledge you need to achieve your goals, and it can also allow you to connect with someone who understands what you're going through. However, finding the right mentor and setting a rhythm with them to work continuously is where managers often feel stuck.
Coaching Leadership Style
Coaching leadership style
can help leaders become better communicators, team players, and effective decision-makers. It helps leaders develop skills such as problem-solving, delegation, coaching others, and developing policies or procedures while working with their team members. The coaching leadership style offers managers the opportunity to gain new skills while taking advantage of the expertise of their coach. Many different types of coaching available can help you lead more effectively. For example, in interactive coaching, coaches work with learners to identify specific goals they want to achieve, set deadlines for completing them, and provide feedback on progress made. Moreover, managers can become coaches for their team members to help them grow their leadership skills.
On-the-job learning
One of the best ways to develop leadership skills is through on-the-job learning. Managers can take advantage of opportunities to learn from their team members and observe how they lead. It also allows them to get training when needed, which helps them improve their leadership skills faster. On-the-job learning can take many forms, such as rotational shifts and enriched jobs, which let team members explore new roles. When choosing a mentor or coaching program, managers must consider what type of support they need and want. For example, some people prefer individual and personal mentorship, and others benefit more from group coaching programs where other leaders can provide feedback and support. Finding the right program that meets your specific needs is the key.
AI-Based Leadership Coaching
Artificial intelligence-based coaching
is one of the newest ways to develop leadership skills. This approach uses algorithms to analyze data from leader behaviors to provide feedback and advice for unique solutions. For example, a program might suggest how Leaders can improve their communication skills or work with other leaders more effectively. AI-based coaching has many potential benefits, such as the reduced need for training resources for managers and increased efficiency while developing leadership skills. While it is still developing, this technology offers great promise for future leaders. Risely offers this and much more to managers! Risely is your buddy for leadership development and overcoming managerial challenges with customized learning journeys. It provides real-time support for your challenges as and when they come. It presents expert-curated resources in accessible formats like toolkits to develop leadership skills. Moreover, it brings assessments that managers can use individually and with their teams. Check out the exciting features of Risely now here.

Conclusion
There is a clear need for leadership development in today's organizations. It is especially true in teams facing increasingly complex and competitive environments. By providing leaders with the skills and knowledge they need to manage and lead their teams effectively, organizations can maximize their potential and achieve success in the long term. In this blog, we have outlined some of the critical benefits of leadership development and why it is so important for businesses to invest in this type of training. If you found this blog helpful, keep revisiting for more insights on leadership development.
Start your leadership journey today by gaining the essential skills.
Test your leadership and managerial skills in just a few minutes to overcome hidden loopholes that hold you back.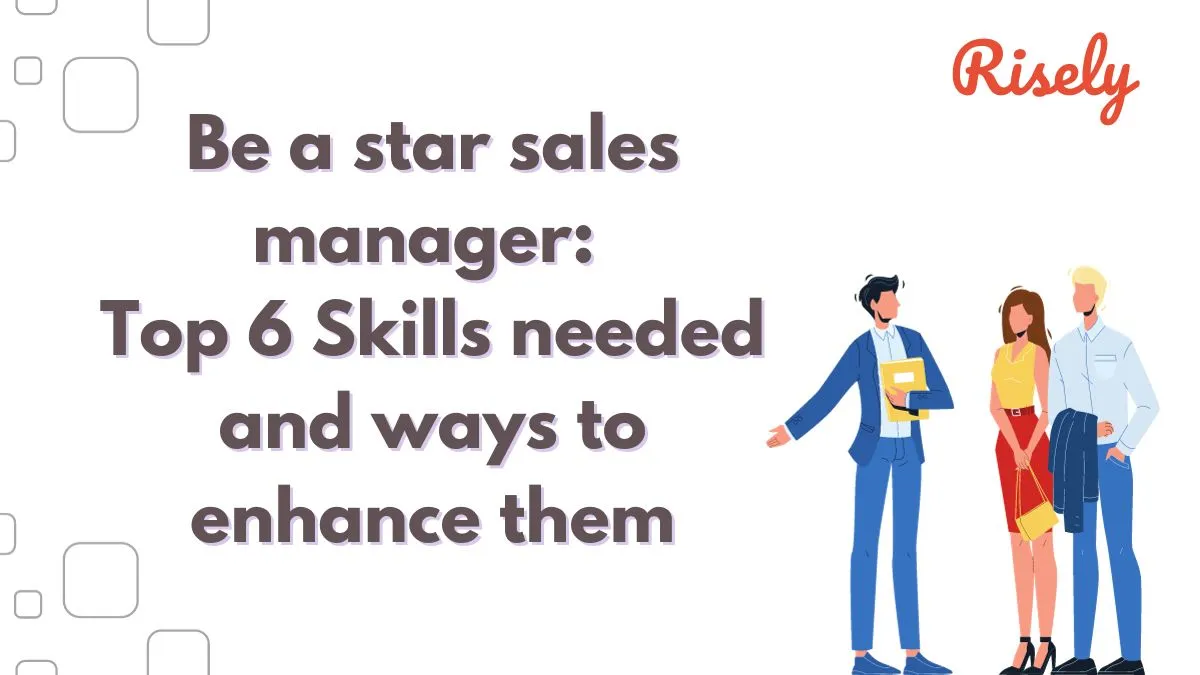 Be a Star Sales Manager: Top 6 Skills needed and ways to enhance them Behind every successful sales team, there is an exceptional sales manager. A sales manager is critical…
Leadership Gaps: Identifying and Filling the Loopholes as a Manager As a manager, you strive to create a cohesive team that works together to achieve common goals. However, sometimes, you…