The Three Cs of Coaching That You Need To Adopt
What makes a great leader? It's the ability to inspire confidence, credibility, and challenge in those around them. However, becoming a great leader isn't easy – in fact, it takes a lot of hard work and dedication. That's why leadership coaching is such a valuable tool – it helps managers and leaders achieve their full potential by focusing on the three Cs – confidence, credibility, and challenge. With this knowledge at your disposal, you'll be able to provide maximum value from leadership coaching to your takers and achieve success in whatever you set your mind to!
Essentials of leadership coaching
Leadership coaching is a specialized form of counselling that helps individuals seeking to lead effectively and efficiently. A leadership coach can help you identify your strengths, weaknesses, opportunities, and threats in the context of leadership. They also offer guidance on how to address these issues constructively and consistently so that you can
improve your leadership performance
. Coaching may benefit people who currently lead or want to take leadership positions in organizations. It can also help those who want to develop their leadership skills but feel inhibited by uncertainty or fear. On the other hand, adopting the
role of a coach
brings many benefits to managers and leaders. We have discussed why managers should turn into coaches in detail here. As a leadership coach, you must have a strong understanding of the
principles of leadership
. This knowledge will allow you to provide relevant and helpful feedback to your clients. Understanding and empathizing with your clients will also enable you to build trust and rapport. When this happens, they are more likely to open up and share their thoughts and feelings with you.
Can managers turn into coaches?
Yes, managers can often become coaches when they understand their employees' needs and work collaboratively to
improve their performance.
The manager can help equip the employee with the tools and skills necessary for success by developing a clear understanding of an employee's strengths and weaknesses. In addition, the manager should create a supportive environment where employees feel comfortable sharing their ideas and feedback to make improvements promptly. As a result, the manager and employee can learn from each other positively.
The Three Cs Of Coaching
If this is what you are planning to do with your team, here are the three Cs of leadership coaching that you need to keep in mind consistently:
Confidence
Confidence is an important characteristic that can make or break a person's life. It affects everything from how you think to how you behave, and it is essential for success in any field. When someone has confidence, they feel more positive about themselves and their abilities. This positive outlook allows them to take risks and venture out of their comfort zone more quickly. If you want to be a successful coach, you need to have confidence in your skills and abilities. It starts with the understanding that coaching is not about fixing things – it's about helping people learn and grow. If you lack self-confidence, taking charge and leading a team will be difficult. That's why it's essential to find someone who believes in you as a coach and build from there. Hence, when you become a coach for your team, try your best to build their confidence. There are many different ways that people can achieve confidence, but one of the most common routes is self-development. From here, it becomes easier for you to identify your strengths and weaknesses so that you can focus on developing skills that will help you achieve your goals sooner rather than later. Moreover, becoming a coach will help you become more confident about your skills and abilities as well. Read more about
confidence building techniques for managers and teams
here.
Credibility
Credibility credibility is the foundation of leadership coaching. If your employees don't believe you have their best interests at heart, they will likely not be motivated to follow your advice and strategies. Building credibility is essential if you want to be an influential leader and coach in your team. It starts with being true to yourself and your values. The coaching should help you build credibility. And to ensure people stick around and learn what you offer, ensure they see results. Showcase your success in coaching others – it will show that you're practical and credible. You can achieve this through the experience of working with other leaders or engaging in research that has been designed to improve leadership skills. Additionally, ensure that all your content is original and does not contain any recycled information or outdated theories. Finally, always deliver high-quality services by being consistently communicative and attending to your clients' needs. By doing this, you'll be building trust and creating a relationship of trust with them. In the end, credibility will be a given, and you'll be well on your way to becoming an influential leader.
Challenge
Managing a team is hard, so taking on challenges is essential. As a coach, it's your responsibility to make sure that your team is prepared for this. The importance of
preparing for challenges
through leadership coaching cannot be overstated. The skills and knowledge you learn help you become a successful leader. In addition, this type of training can equip me to handle difficult conversations and navigate complex interpersonal relationships. As such, leadership coaching can be incredibly beneficial for the career and the employees' personal life. One way to do this is by finding things that present a challenge and pushing the boundaries of your employees. It will help you grow into their roles and explore new areas. Additionally, by taking on new challenges, they'll be able to get your team to stretch their abilities and grow in the process. So, make sure you focus on giving challenging but achievable tasks to your team to ensure that they are motivated and constantly learning on the go. In short, leadership coaching is all about empowering and guiding people towards a successful career. And if done expertly, it can also add an extra layer of confidence to professional life. The right kind of assistance from a specialist who can pick up on your strengths and offer you prompt advice that will put you ahead in this competitive field. If you want help setting up goals for your teams, sign up for
Risely
today. Risely understands that with AI-powered leadership development programs, you can build a team of leaders who know how to adapt and thrive in changing environments. When you choose Risely for your next training program, you'll get access to our curated resources full of engaging content and assessments that will help you develop new skills and increase your confidence as a leader. All from your home or office, whenever you want!
Conclusion
In conclusion, a coach needs to understand the essential qualities they need to build through leadership coaching. It is crucial not just for the employee receiving the coaching but also to offer value to the manager who is offering the coaching. While ensuring the upcoming managers and leaders are confident in their roles and ready to take challenges head-on, managers need to ensure that they are credible figures who can lead teams effectively. Additionally, by providing challenging tasks and fostering a growth-orientated environment, coaching can help teams to achieve their objectives more efficiently.
Adopt the growth mindset with Risely!
Get the free growth mindset toolkit for managers to unleash the hidden potential of your team.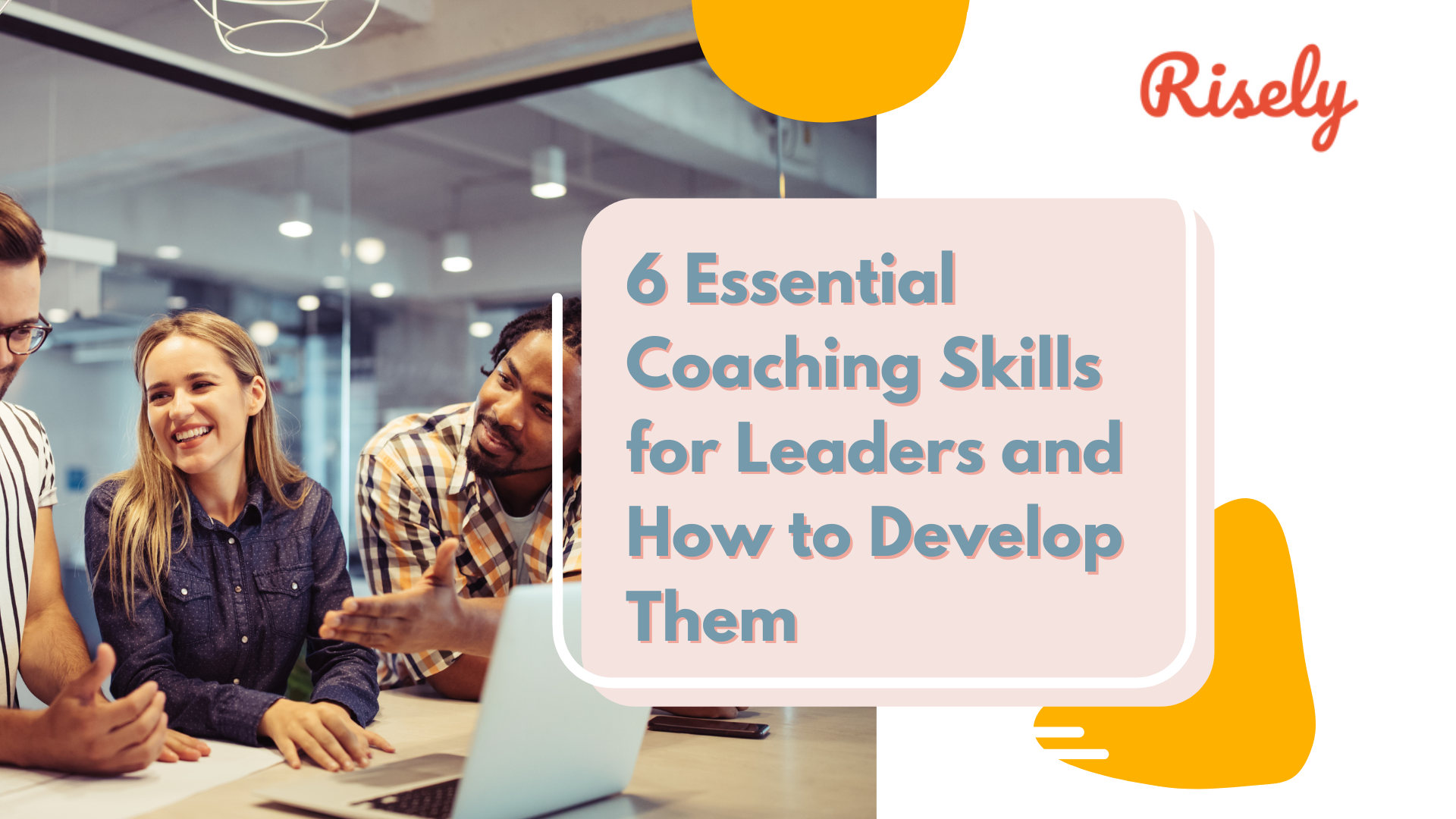 6 Essential Coaching Skills for Leaders and How to Develop Them Fulfilling the job of a manager needs us to wear multiple hats. Often, we find ourselves guiding our team…
5 Primary Coaching Skills for Managers and How to Develop Them Coaching is an essential skill for any manager. However, many managers lack the necessary skills to coach their team…