How Can A Manager Facilitate Hybrid Meetings Effectively?
The way meetings are done is rapidly changing as businesses look for more effective communication methods. Technology has made it easier for people to collaborate from anywhere globally, and hybrid meeting environments allow managers to combine the convening power of face-to-face meetings with the flexibility and reach of electronic communications. On the other hand, it is also true that managers face unique challenges when facilitating meetings in a hybrid environment. This article will discuss the challenges managers face in the hybrid working model and six simple steps for managers to facilitate meetings in the hybrid work environment effectively.
What is a hybrid work environment?
A hybrid work environment is a type of working environment that combines the best of both worlds, i.e., the traditional office and the distributed workplace. A hybrid workplace allows for a more flexible and mobile working environment, which helps employees manage their work-life balance efficiently. It brings the convenience of working from anywhere and accessing team members and superiors anytime needed. It saves both time and energy, as employees no longer have to waste time traveling to and from work or waiting on hold for hours on end. This hybrid work model also allows for more collaboration and integration between teams, which leads to better communication and synergy among team members. A recent study found that employees in a hybrid workplace are more productive than those in a traditional office setting. Like it or not, hybrid working is here to stay. It is perfect for businesses that want to keep up with the latest trends and keep their employees engaged and motivated.
What challenges does Hybrid Working present for managers?
Lack of clarity about decision rights
Hybrid work models, which combine elements of both an on-demand and a traditional workforce, present several challenges for managers. Specifically, these models lack clarity about decision rights and the level of engagement between employees and managers. It can result in power imbalances which create tension and conflict, as employees feel that they are not being given the autonomy to do their jobs effectively. Additionally, the lack of clarity about decision rights can make it challenging to allocate resources and make decisions about long-term strategies. A great way to avoid this as a manager is to implement clear communication policies and guidelines and ensure everyone understands them clearly.
Difficulty in balancing centralized and local control
Centralized control is necessary to ensure consistency and compliance with company policies and procedures. However, local control is essential for businesses to be agile and responsive to customer needs. Centralized work models involve a single point of control, while local work models (an outcome of the hybrid work model) give individuals more autonomy and responsibility. The trade-off, of course, is that this decentralization can lead to difficulty in balancing centralized and local control. In a hybrid work model, it can be challenging to determine which authority should be vested in which location, and employees may feel restricted or frustrated with their roles. As a result, managers may experience difficulty coordinating and integrating centralized and local functions.
Misalignment of incentives
Managers' main challenge in a hybrid work model is the misalignment of incentives. In a traditional setting, managers are rewarded for producing results. On the other hand, in a hybrid environment, they are often rewarded for adopting a work style that is more flexible and adaptive. It can lead to tension and conflict between managers and employees striving to achieve different goals. To mitigate this, managers need to develop clear and concise goals and expectations. They should then reward employees for achieving them in a way that is both fair and motivating.
Difficulties in scaling up or down meeting agendas and processes
When a company adopts a hybrid work model, it cannot scale up or down its meeting agendas and processes smoothly and seamlessly. In many cases, this leads to chaos and inconsistency in the workplace. It can also lead to a loss of focus and morale among employees as they cannot manage their work schedule smoothly and efficiently. Additionally, many managers find it difficult to delegate work effectively under a hybrid work model. This is because it becomes difficult to track who is responsible for what.
Communication breakdowns
Hybrid work models present several challenges for managers, as
communication between employees
and supervisors can get tricky. It is because the lines of authority can become blurred, and employees may not know to whom they should report. Tracking progress and managing expectations can be challenging when employees work in different time zones or on different projects. With a hybrid work model, managers must establish clear protocols and systems for communication so that breakdowns don't occur. As is this hybrid working model, a part of the workforce works online. Communication breakdowns, therefore, can also happen due to poor connectivity. But managers can overcome that by ensuring that all their remote colleagues or employees have active internet connections.
How can a manager facilitate productive meetings in this type of environment? 6 simple steps
The modern workplace is becoming more and more diverse, with employees working remotely and even in different time zones. It is the time of remote work and virtual meetings instead of the in-person meeting we used to have in the meeting room. The ground rules, too, are way different for these online meetings. A remote participant is not always expected to be formally dressed or seated at a desk to attend the meeting, which used to be or even still is compulsory for an in-person attendee. Conference rooms have shifted to an online chatbox, and the whiteboard has changed to online Jamboards. The entire workplace has shifted to the respective laptops of employees. Ultimately, many things have changed due to this shift from a traditional to a hybrid working model, which has brought many difficulties to facilitate productive meetings with their workforce. As a manager, it's essential to facilitate effective and productive meetings in a hybrid environment. It is essential to make sure that both your remote and in-person participants of the meetings can make something out of the meetings, and the meetings add to their
productivity and efficiency
. Here are six simple steps to help you become a meeting facilitator and ensure effective facilitation of meetings with your hybrid teams.
1. Define the purpose of the meeting and what you hope to achieve
When organizing a meeting in the hybrid model, it is essential to define the purpose of the meeting and what you hope to achieve. It will help you set the right tone and focus the discussion on the most critical issues. Once you have identified the objectives of the meeting, it will be easier to determine how best to accommodate them. Make sure to choose the right time and place/platform (Zoom, Google meets) for the meeting and prepare a reasonable agenda that covers all the key points. Finally, enforce good communication and attendance policies so that everyone is aware of what is happening in the meeting and can contribute effectively.
2. Send out an agenda in advance, and request participants to come prepared
A lot can happen in a meeting, and it can be tough to keep track of everything going on. It can be even more challenging in the case of hybrid meetings as you do not have everyone present in one place. Therefore when trying to facilitate a hybrid meeting as a manager, you should send out an agenda in advance so that everyone knows what's expected of them and what they need to bring. It will help minimize distractions and ensure that everyone has enough time to prepare. Additionally, ask attendees to come prepared by bringing any relevant documents or materials they think may be relevant. You may also ask online participants to make notes of the meeting using notepads or a virtual Jamboard. It will help foster a productive meeting environment and ensure that everyone is on their toes!
3. Share relevant material in advance for pre-reads
Suppose you're trying to hold productive team meetings in a hybrid work environment, where people are both in the office and remote. It can be tricky to ensure that everyone has the relevant material before the meeting starts. One way to overcome this hurdle is to share your material well in advance for pre-reads with the meeting attendees. This way, everyone knows what to expect and can get down to business quicker. Additionally, by setting up pre-read schedules for all team members, you can manage expectations and avoid any disruptions or misunderstandings during the meeting. You can guarantee that your team meetings are productive and fruitful with adequate preparation and communication!
4. Make sure everyone has access to the necessary tools and technology to participate
If you're looking to have productive meetings in a hybrid work environment, make sure everyone has more accessible access to the necessary tools and technology to participate. E.g., Make sure everyone has internet connectivity, access to chat rooms, a compatible company or own device, a working camera and microphone, access to the digital Whiteboard for making notes, and all other digital tools they'll require to participate in the meetings. This way, no one is left out or left behind, and everyone can be productive and engaged in the meeting. This way, they can share their inputs and ideas effortlessly. It will also help ensure that the meeting proceedings are efficient and effective. By ensuring that everyone has access to the latest tools and technologies, you will be able to maximize the potential of your team and achieve better results. Your team members will also have a more productive meeting by utilizing remote platforms and applications.
5. Be mindful of time zones and scheduling conflicts
Managing a productive meeting in a hybrid work environment can be tricky. Especially when there are time zones differences and scheduling conflicts to consider. By being mindful of these factors, you can help your team members to join on time. It will also help them focus on the meeting without any distractions. Plan your meetings well in advance to avoid any clashes. You should always be on the lookout for new opportunities brought about by the meeting. Additionally, try to keep the discussion as streamlined as possible. This will ensure that everyone can get their point across in the shortest amount of time. Taking these measures can help your team have productive meetings worth their time.
6. Keep meetings short and concise
Business meetings can be pretty tedious and time-consuming, not to mention frustrating. Managers need to keep meetings short and concise in a hybrid work environment. Keeping them concise is the key to making them productive and efficient. It will help keep the team mobilized and focused on the task at hand while also avoiding unnecessary delays. Managers should also avoid going into too much detail. They should stick to the key points that need to be discussed at the meeting. This way, everyone can get their point across quickly and move on to more critical tasks. Additionally, breaking the meeting into smaller segments will help address any issues that may arise promptly. You can create more efficient and productive meetings that will help your team move forward in unison by following this.
Conclusion
A hybrid work environment is a mix of traditional and modern workplace styles. It's becoming increasingly common as more companies adopt hybrid work arrangements. It allows employees to work flexibly and take care of their responsibilities in their free time. It can be a great way to provide employees with the flexibility they need and foster creativity and innovation. At the same time, it can also present some challenges for managers. We have outlined six simple steps for managers to facilitate productive meetings in a hybrid environment. We believe that by following these steps, you will be on the road to facilitating hybrid meetings effectively with your team. It will ultimately help you plan and manage your business better.
Practice active listening to be cognizant of everyone's needs in the hybrid mode.
Use the free active listening toolkit to understand the do's and don'ts of of active listening for managers.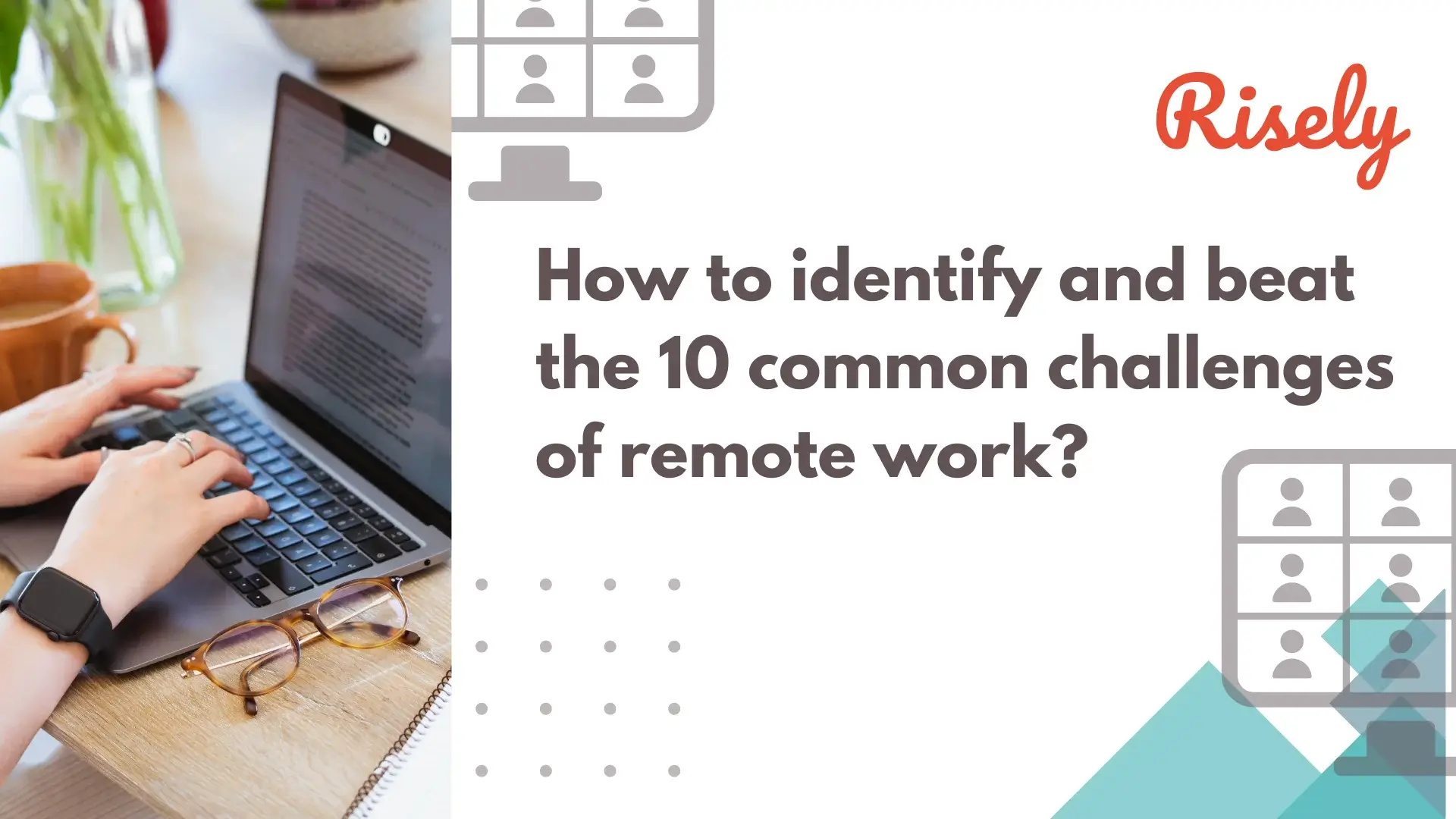 How to identify and beat the 10 common challenges of remote work? As work moves increasingly out of the office and into remote work environments, the challenges facing remote team…
Fostering a Culture of Belonging in the Hybrid Workplace: 5 Proven Strategies Have you ever wondered how to create a sense of belonging and inclusivity in a hybrid workplace? As…