5 Interesting Types Of Leadership Coaching For Emerging Managers
A healthy leader leads a healthy team. That's why it's important for new leaders and managers to take the time to get coaching – it can help them grow in their role and develop the skills they need to be successful. But which types of leadership coaching are fit for them? This blog provides an overview of the different kinds of coaching that are available and outlines the key characteristics of each. By understanding which of the types of leadership coaching best suits your needs, you can start working towards becoming a more decisive leader today!
The 5 Types of Leadership Coaching
Leadership coaching is a program to enable the career growth of managers and leaders. It focuses on developing the skills needed for adequately carrying out the duties associated with a leadership role. It includes skills like assertive communication, conflict management, and people management. In leadership coaching, managers and leaders turn into students. They typically work with a leadership coach. A leadership coach is an experienced individual who helps them
maximize performance in their role
by highlighting challenges and guiding solutions through their insights and knowledge. It is also helpful for managers to get feedback on their habits and methods and update their technical expertise in the scope of people management. Such expert-guided growth is considered one of the best ways of leadership development worldwide. Leadership coaching comes in many forms. In this blog, we will understand the five main types of leadership coaching so that you know them all before you choose for yourself. So, let's begin.
Targeted behavioral coaching
The purpose of this type of coaching is to help individuals change specific behaviors for them to achieve desirable outcomes at work. This may include changing employee attitudes and productivity, improving team performance, or increasing customer satisfaction. It focuses on specific aspects that might hamper a leader's productivity and mold them to generate better results. Behavioral coaching typically takes two forms: problem-solving coaching and skill development coaching.
Problem-solving coaching focuses on helping the individual identify the problem and develop a plan of action to address it. It often includes giving feedback on how well the plan has worked so far and providing support along the way. It is useful when the individual has realized the inefficiency but cannot identify a particular reason for it.
Skill development coaching helps employees learn new skills or improve the ones they already have. It can cover various topics, from interpersonal communication to leadership principles. This is useful when the individual is looking to grow or move into new roles.
Team/group coaching
As the name suggests, team coaching is organized for groups and teams. One coach deals with and offers training to several managers who may or may not be at similar levels. Organizations generally involve undertaking team coaching to help their managers overcome the common challenges associated with their jobs, such as inefficiency in communication, absence of feedback, etc., that hinder the achievement of organizational goals. Team coaching typically takes one of two forms: participative coaching and reflective coaching.
Participative coaching involves taking the lead role in the group. While reflecting, the coach listens attentively and offers prompts for group members to share their thoughts. It allows more consensus-building among team members, enabling them to reach common goals more quickly.
Reflective coaching, on the other hand, involves members of the team taking turns being thoughtful coaches. It allows everyone to share their thoughts and ideas freely without feeling pressured.
One-on-one coaching
One-on-one coaching is more personal and targeted. The coach meets with the individual to discuss their goals and how they can help them achieve them. This type of coaching is ideal for individuals who want personalized assistance in reaching their professional goals. Due to its nature, this type of coaching allows the
leadership coach
to focus solely on one learner. As a result, they can get customized advice, insights, and learning that actually helps them solve their challenges instead of addressing general issues. One-on-one coaching provided by organizations generally focuses on helping managers improve in skills and areas that will help them realize organizational goals easily. It is a critical part of many teams' human resource development initiatives. However, one-on-one coaching can pose several difficulties for learners. First, they must build a rapport with the coach to complete the coaching effectively. Without a connection or a mismatch of core values, they will be unable to take complete advantage of the coach's presence. Moreover, they might hesitate to open up and, thus, remain unable to discuss their specific challenges.
Executive Coaching
Executive coaching
differs from one-on-one coaching because it focuses on developing leadership skills and abilities. This type of coaching is directed at individuals with experience in management and leadership positions. Therefore, executive coaching focuses on those leaders who hold the potential to grow more and can help their teams achieve success. It is one of the most popular modes of leadership development adopted by organizations worldwide for developing in-house talent. It assists leaders in overcoming challenges, building new and old skills, and starting healthy habits for development. They encompass both the hard and soft skills of a manager. Executive coaches are typically experienced professionals matched with the manager based on compatibility.

Technology enabled coaching
Technology-enabled coaching differs from executive coaching because it does not require as many resources. It can be used by anyone, regardless of their skills and knowledge. This type of coaching focuses on using technology for development purposes such as training and development, team collaboration, communication, and performance improvement. Technology enables coaches to provide tailored programs to improve critical areas such as leadership skillset or work-life balance. They often use video conferencing tools so participants can feel more connected with one another while taking part in the program. Experts with relevant knowledge and experience typically prepare the material. It can be presented in many ways, such as booklets, toolkits, and quizzes. Most technology-enabled coaches offer a flexible payment plan, enabling individuals and organizations to adopt them without incurring high costs. The customizations available in technology-enhanced leadership coaching programs make them an excellent pick for managers and leaders.
Which type of leadership coaching is right for you?
Leadership coaching is a valuable and life-changing tool to help you achieve your goals and dreams. However, choosing the right type of coaching can be daunting. Luckily, the five types of leadership coaching available have different benefits. Once you've understood the types of leadership coaching best for you, you must research the various providers to find one that fits your needs perfectly. Make sure to keep a few key features in mind, including:
Customized and match
Suitable leadership coaching should help you find solutions for your challenges. A typical problem with many leadership coaching is that they are not designed for anyone. They are intended for everyone. As a result, they focus on general ideas but do not give due attention to the specific challenges of the individual. This mismatch between what the manager is learning and what the manager needs reduces the effectiveness of leadership coaching to a great extent. Hence it would help if you looked for a medium that can match and keep up with your needs.
Real-time support and retention
Leadership coaching should be a two-way street in which the coach provides real-time feedback and support to the manager. An ineffective leadership coaching program will not help you achieve your goals, as it does not offer any guidance or direction. You should look for a leadership coaching program that creates a long-lasting impact so that the learning is retained and not forgotten once the sessions end. Additionally, real-time support for actual challenges through feedback and progress tracking would greatly benefit. Without real-time support and retention, even effective leadership coaching can fail.
Little cost and time required
One of the most important things to consider while choosing leadership coaching is its cost and time. There are many leadership coaches available in different prices range. However, you need to check whether the program offered by your potential coach falls within your budget and timeline requirements. Most of these coaching programs come with a one-time fee that can be recurring depending on your needs. Similarly, they are generally time-consuming long sessions. These reasons can dissuade many managers. Hence, you should look for a solution that can fit your pocket and your schedule without making a lot of mess!
Nonjudgmental and empathetic
Coaching is not one-size-fits-all. Leaders vary tremendously in their style and how they like to be led. You should look for a leadership coach who is nonjudgmental, emphatic, and can understand your unique leadership style. Additionally, the coach should also be able to offer constructive feedback that will help you grow as a leader. Moreover, seeking support for personal development is an uneasy topic for many. Thus, the medium of leadership coaching needs to offer empathy and understanding without judging the candidate for their mistakes or learning. A coaching program that does not meet these criteria would ultimately fail and could even backfire on you if applied incorrectly.
Motivation
Leadership coaching is all about motivation. However, you cannot expect to be motivated just by paying a coach or going for a leadership development program. Leaders need to feel that the coaching goals are essential and relevant to their day-to-day work environment can only happen when you establish a connection with your coach through honesty and vulnerability. Regular updates, appreciation, and recognition for improvement are essential for motivating learners. Thus, you should look for a leadership coaching tool that also helps you remain consistent and keeps you going even on your bad days.

Leaders must stay ahead of the curve and keep their teams in line with the
latest trends and developments
. Tools that help you do just that are essential for all types of leadership coaching programs. This is where
Risley
comes in as an AI-enabled leadership coaching platform that uses cutting-edge technology to provide optimal learning experiences for managers and leaders alike. Risely comes with all of these features and much more. It allows managers and leaders who pick challenges and design their learning journeys to let them learn at their pace. With small daily efforts, it provides regular nudges, multi-form content, and adequate progress tracking to keep you on track toward your goals.
Conclusion
If you're looking to improve your leadership skills, you'll need to find the right type of coaching. Thankfully, five different types of leadership coaching can help you reach your goals. Whether you're seeking personal or team development, our team of experts can help you find the right coaching for you. So why wait? Check our website for more information on leadership coaching and make an informed decision about which types of leadership coaching suit you!
Are problem-solving skills the hallmark of your leadership style? Test now!
Risely's free problem-solving skills self-assessment for managers combat problems impacting their team's productivity.
---
FAQs
What are two types of coaching in leadership?
Two types of coaching in leadership are directive and non-directive. Directive coaching involves a more structured approach with clear guidance from the coach, while non-directive coaching is more open-ended and focuses on the coachee's own insights and solutions.
What is coaching method of leadership?
Coaching as a leadership method involves helping individuals or teams develop their skills and abilities through guidance, feedback, and support. It is a collaborative and empowering approach that emphasizes growth and development rather than control.
What are the 5 C's of coaching?
The 5 C's of coaching are competence, confidence, connection, character, and contribution. Competence involves developing the necessary skills and knowledge, while confidence focuses on building self-assurance and belief. Connection emphasizes building strong relationships, while character focuses on ethical and moral development. Finally, contribution involves giving back and making a positive impact on others.
---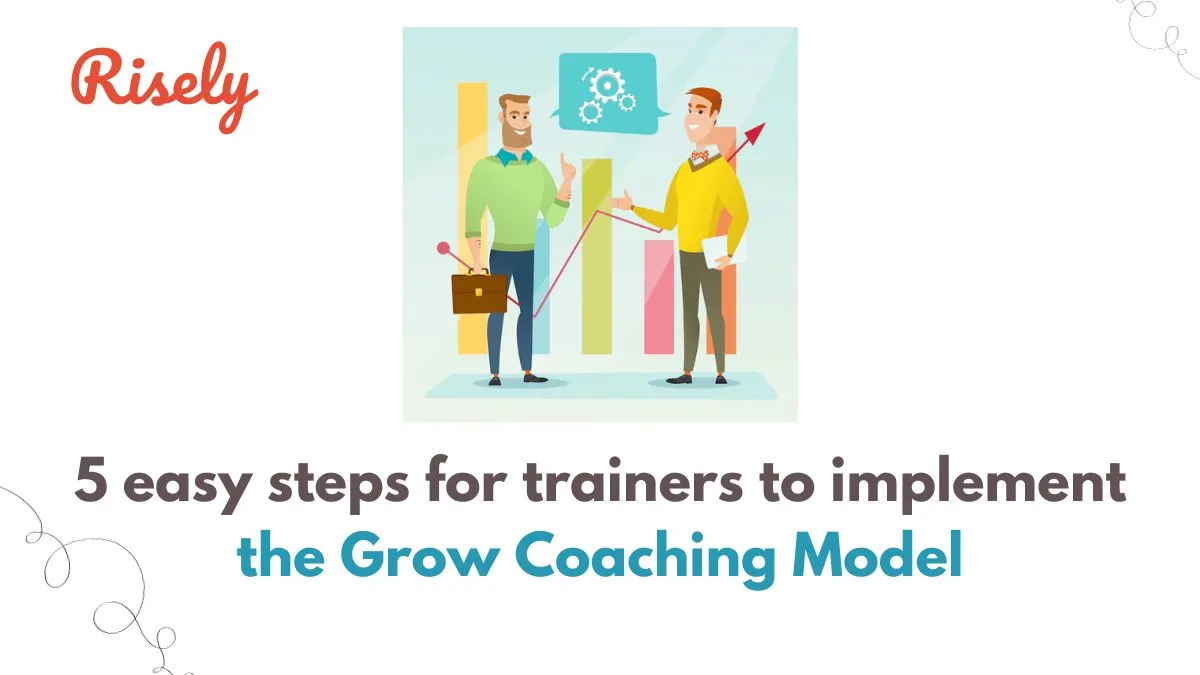 5 easy steps for trainers to implement the Grow Coaching Model As a coach, you strive to empower your clients to reach their full potential. Sometimes, however, knowing where to…
6 Essential Coaching Skills for Leaders and How to Develop Them Fulfilling the job of a manager needs us to wear multiple hats. Often, we find ourselves guiding our team…